2e. Al-Baqarah (201 to 250)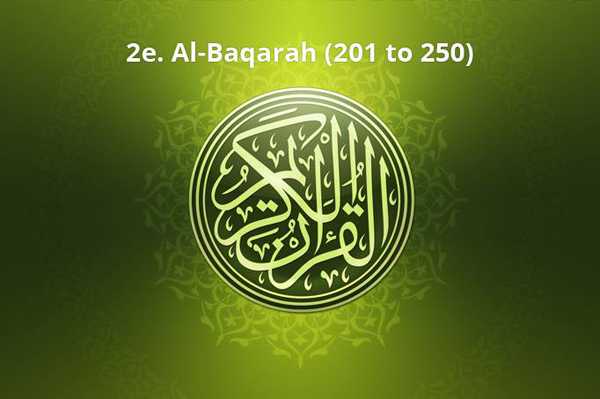 And of them ( also ) is he who saith : "Our Lord! Give unto us
in the world that which is good and in the Hereafter that which…
2.201
وَمِنْهُم مَّن يَقُولُ رَبَّنَا آتِنَا فِي الدُّنْيَا حَسَنَةً وَفِي الْآخِرَةِ حَسَنَةً وَقِنَا عَذَابَ النَّارِ (201)
Waminhum man yaqoolu rabbana atina fee alddunya hasanatan wafee alakhirati hasanatan waqina AAathaba alnnari
And of them ( also ) is he who saith : "Our Lord! Give unto us 
in the world that which is good and in the Hereafter that which 
is good , and guard us from the doom of Fire . "

---
2.202
أُولَٰئِكَ لَهُمْ نَصِيبٌ مِّمَّا كَسَبُوا ۚ وَاللَّهُ سَرِيعُ الْحِسَابِ (202)
Olaika lahum naseebun mimma kasaboo waAllahu sareeAAu alhisabi
For them there is in store a goodly portion out of that which 
they have earned . Allah is swift at reckoning .

---
2.203
۞ وَاذْكُرُوا اللَّهَ فِي أَيَّامٍ مَّعْدُودَاتٍ ۚ فَمَن تَعَجَّلَ فِي يَوْمَيْنِ فَلَا إِثْمَ عَلَيْهِ وَمَن تَأَخَّرَ فَلَا إِثْمَ عَلَيْهِ ۚ لِمَنِ اتَّقَىٰ ۗ وَاتَّقُوا اللَّهَ وَاعْلَمُوا أَنَّكُمْ إِلَيْهِ تُحْشَرُونَ (203)
Waothkuroo Allaha fee ayyamin maAAdoodatin faman taAAajjala fee yawmayni fala ithma AAalayhi waman taakhkhara fala ithma AAalayhi limani ittaqa waittaqoo Allaha waiAAlamoo annakum ilayhi tuhsharoona
Remember Allah through the appointed days . Then whoso 
hasteneth ( his departure ) by two days , it is no sin for him , 
and whoso delayeth , it is no sin for him ; that is for him who 
wardeth off ( evil ) . Be careful of your duty to Allah , and know 
that unto Him ye will be gathered .

---
2.204
وَمِنَ النَّاسِ مَن يُعْجِبُكَ قَوْلُهُ فِي الْحَيَاةِ الدُّنْيَا وَيُشْهِدُ اللَّهَ عَلَىٰ مَا فِي قَلْبِهِ وَهُوَ أَلَدُّ الْخِصَامِ (204)
Wamina alnnasi man yuAAjibuka qawluhu fee alhayati alddunya wayushhidu Allaha AAala ma fee qalbihi wahuwa aladdu alkhisami
And of mankind there is he whose conversation on the life 
of this world pleaseth thee ( Muhammad ) , and he calleth 
Allah to witness as to that which is in his heart ; yet he is the 
most rigid of opponents .

---
2.205
وَإِذَا تَوَلَّىٰ سَعَىٰ فِي الْأَرْضِ لِيُفْسِدَ فِيهَا وَيُهْلِكَ الْحَرْثَ وَالنَّسْلَ ۗ وَاللَّهُ لَا يُحِبُّ الْفَسَادَ (205)
Waitha tawalla saAAa fee alardi liyufsida feeha wayuhlika alhartha waalnnasla waAllahu la yuhibbu alfasada
And when he turneth away ( from thee ) his effort in the land 
is to make mischief therein and to destroy the crops and the
cattle ; and Allah loveth not mischief .

---
2.206
وَإِذَا قِيلَ لَهُ اتَّقِ اللَّهَ أَخَذَتْهُ الْعِزَّةُ بِالْإِثْمِ ۚ فَحَسْبُهُ جَهَنَّمُ ۚ وَلَبِئْسَ الْمِهَادُ (206)
Waitha qeela lahu ittaqi Allaha akhathathu alAAizzatu bialithmi fahasbuhu jahannamu walabisa almihadu
And when it is said unto him : Be careful of thy duty to Allah , 
pride taketh him to sin . Hell will settle his account , an evil 
resting place .

---
2.207
وَمِنَ النَّاسِ مَن يَشْرِي نَفْسَهُ ابْتِغَاءَ مَرْضَاتِ اللَّهِ ۗ وَاللَّهُ رَءُوفٌ بِالْعِبَادِ (207)
Wamina alnnasi man yashree nafsahu ibtighaa mardati Allahi waAllahu raoofun bialAAibadi
And of mankind is he who would sell himself , seeking the 
pleasure of Allah ; and Allah hath compassion on ( His ) 
bondmen .

---
2.208
يَا أَيُّهَا الَّذِينَ آمَنُوا ادْخُلُوا فِي السِّلْمِ كَافَّةً وَلَا تَتَّبِعُوا خُطُوَاتِ الشَّيْطَانِ ۚ إِنَّهُ لَكُمْ عَدُوٌّ مُّبِينٌ (208)
Ya ayyuha allatheena amanoo odkhuloo fee alssilmi kaffatan wala tattabiAAoo khutuwati alshshaytani innahu lakum AAaduwwun mubeenun
O ye who believe! Come , all of you , into submission 
( unto Him ) ; and follow not the footsteps of the devil . 
Lo! he is an open enemy for you .

---
2.209
فَإِن زَلَلْتُم مِّن بَعْدِ مَا جَاءَتْكُمُ الْبَيِّنَاتُ فَاعْلَمُوا أَنَّ اللَّهَ عَزِيزٌ حَكِيمٌ (209)
Fain zalaltum min baAAdi ma jaatkumu albayyinatu faiAAlamoo anna Allaha AAazeezun hakeemun
And if ye slide back after the clear proofs have come unto 
you , then know that Allah is Mighty , Wise .

---
2.210
هَلْ يَنظُرُونَ إِلَّا أَن يَأْتِيَهُمُ اللَّهُ فِي ظُلَلٍ مِّنَ الْغَمَامِ وَالْمَلَائِكَةُ وَقُضِيَ الْأَمْرُ ۚ وَإِلَى اللَّهِ تُرْجَعُ الْأُمُورُ (210)
Hal yanthuroona illa an yatiyahumu Allahu fee thulalin mina alghamami waalmalaikatu waqudiya alamru waila Allahi turjaAAu alomooru
Wait they for naught else than that Allah should come unto 
them in the shadows of the clouds with the angels? Then the 
case would be already judged . All cases go back to Allah 
( for judgment ) .

---
2.211
سَلْ بَنِي إِسْرَائِيلَ كَمْ آتَيْنَاهُم مِّنْ آيَةٍ بَيِّنَةٍ ۗ وَمَن يُبَدِّلْ نِعْمَةَ اللَّهِ مِن بَعْدِ مَا جَاءَتْهُ فَإِنَّ اللَّهَ شَدِيدُ الْعِقَابِ (211)
Sal banee israeela kam ataynahum min ayatin bayyinatin waman yubaddil niAAmata Allahi min baAAdi ma jaathu fainna Allaha shadeedu alAAiqabi
Ask of the Children of Israel how many a clear revelation We 
gave them! He who altereth the grace of Allah after it hath 
come unto him ( for him ) , lo! Allah is severe in punishment .

---
2.212
زُيِّنَ لِلَّذِينَ كَفَرُوا الْحَيَاةُ الدُّنْيَا وَيَسْخَرُونَ مِنَ الَّذِينَ آمَنُوا ۘ وَالَّذِينَ اتَّقَوْا فَوْقَهُمْ يَوْمَ الْقِيَامَةِ ۗ وَاللَّهُ يَرْزُقُ مَن يَشَاءُ بِغَيْرِ حِسَابٍ (212)
Zuyyina lillatheena kafaroo alhayatu alddunya wayaskharoona mina allatheena amanoo waallatheena ittaqaw fawqahum yawma alqiyamati waAllahu yarzuqu man yashao bighayri hisabin
Beautified is the life of the world for those who disbelieve ; 
they make a jest of the believers . But those who keep their 
duty to Allah will be above them on the Day of Resurrection . 
Allah giveth without stint to whom He will .

---
2.213
كَانَ النَّاسُ أُمَّةً وَاحِدَةً فَبَعَثَ اللَّهُ النَّبِيِّينَ مُبَشِّرِينَ وَمُنذِرِينَ وَأَنزَلَ مَعَهُمُ الْكِتَابَ بِالْحَقِّ لِيَحْكُمَ بَيْنَ النَّاسِ فِيمَا اخْتَلَفُوا فِيهِ ۚ وَمَا اخْتَلَفَ فِيهِ إِلَّا الَّذِينَ أُوتُوهُ مِن بَعْدِ مَا جَاءَتْهُمُ الْبَيِّنَاتُ بَغْيًا بَيْنَهُمْ ۖ فَهَدَى اللَّهُ الَّذِينَ آمَنُوا لِمَا اخْتَلَفُوا فِيهِ مِنَ الْحَقِّ بِإِذْنِهِ ۗ وَاللَّهُ يَهْدِي مَن يَشَاءُ إِلَىٰ صِرَاطٍ مُّسْتَقِيمٍ (213)
Kana alnnasu ommatan wahidatan fabaAAatha Allahu alnnabiyyeena mubashshireena wamunthireena waanzala maAAahumu alkitaba bialhaqqi liyahkuma bayna alnnasi feema ikhtalafoo feehi wama ikhtalafa feehi illa allatheena ootoohu min baAAdi ma jaathumu albayyinatu baghyan baynahum fahada Allahu allatheena amanoo lima ikhtalafoo feehi mina alhaqqi biithnihi waAllahu yahdee man yashao ila siratin mustaqeemin
Mankind were one community , and Allah sent ( unto them ) 
Prophets as bearers of good tidings and as warners , and 
revealed therewith the Scripture with the truth that it might 
judge between mankind concerning that wherein they differed . 
And only those unto whom ( the Scripture ) was given differed 
concerning it , after clear proofs had come unto them , through 
hatred one of another . And Allah by His will guided those w 
believe unto the truth of that concerning which they differed . 
Allah guideth whom He will unto a straight path

---
2.214
أَمْ حَسِبْتُمْ أَن تَدْخُلُوا الْجَنَّةَ وَلَمَّا يَأْتِكُم مَّثَلُ الَّذِينَ خَلَوْا مِن قَبْلِكُم ۖ مَّسَّتْهُمُ الْبَأْسَاءُ وَالضَّرَّاءُ وَزُلْزِلُوا حَتَّىٰ يَقُولَ الرَّسُولُ وَالَّذِينَ آمَنُوا مَعَهُ مَتَىٰ نَصْرُ اللَّهِ ۗ أَلَا إِنَّ نَصْرَ اللَّهِ قَرِيبٌ (214)
Am hasibtum an tadkhuloo aljannata walamma yatikum mathalu allatheena khalaw min qablikum massathumu albasao waalddarrao wazulziloo hatta yaqoola alrrasoolu waallatheena amanoo maAAahu mata nasru Allahi ala inna nasra Allahi qareebun
Or think ye that ye will enter Paradise while yet there hath not 
come unto you the like of ( that which came to ) those who 
passed away before you? Affliction and adversity befell them , 
they were shaken as with earthquake , till the messenger 
( of Allah ) and those who believed along with him said : When 
cometh Allah ' s help? Now surely Allah ' s help is nigh .

---
2.215
يَسْأَلُونَكَ مَاذَا يُنفِقُونَ ۖ قُلْ مَا أَنفَقْتُم مِّنْ خَيْرٍ فَلِلْوَالِدَيْنِ وَالْأَقْرَبِينَ وَالْيَتَامَىٰ وَالْمَسَاكِينِ وَابْنِ السَّبِيلِ ۗ وَمَا تَفْعَلُوا مِنْ خَيْرٍ فَإِنَّ اللَّهَ بِهِ عَلِيمٌ (215)
Yasaloonaka matha yunfiqoona qul ma anfaqtum min khayrin falilwalidayni waalaqrabeena waalyatama waalmasakeeni waibni alssabeeli wama tafAAaloo min khayrin fainna Allaha bihi AAaleemun
They ask thee , ( O Muhammad ) , what they shall spend . 
Say : That which ye spend for good ( must go ) to parents 
and near kindred and orphans and the needy and the 
wayfarer . And whatsoever good ye do , lo! Allah is Aware 
of it .

---
2.216
كُتِبَ عَلَيْكُمُ الْقِتَالُ وَهُوَ كُرْهٌ لَّكُمْ ۖ وَعَسَىٰ أَن تَكْرَهُوا شَيْئًا وَهُوَ خَيْرٌ لَّكُمْ ۖ وَعَسَىٰ أَن تُحِبُّوا شَيْئًا وَهُوَ شَرٌّ لَّكُمْ ۗ وَاللَّهُ يَعْلَمُ وَأَنتُمْ لَا تَعْلَمُونَ (216)
Kutiba AAalaykumu alqitalu wahuwa kurhun lakum waAAasa an takrahoo shayan wahuwa khayrun lakum waAAasa an tuhibboo shayan wahuwa sharrun lakum waAllahu yaAAlamu waantum la taAAlamoona
Warfare is ordained for you , though it is hateful unto you ; but 
it may happen that ye hate a thing which is good for you , and 
it may happen that ye love a thing which is bad for you . Allah 
knoweth , ye know not .

---
2.217
يَسْأَلُونَكَ عَنِ الشَّهْرِ الْحَرَامِ قِتَالٍ فِيهِ ۖ قُلْ قِتَالٌ فِيهِ كَبِيرٌ ۖ وَصَدٌّ عَن سَبِيلِ اللَّهِ وَكُفْرٌ بِهِ وَالْمَسْجِدِ الْحَرَامِ وَإِخْرَاجُ أَهْلِهِ مِنْهُ أَكْبَرُ عِندَ اللَّهِ ۚ وَالْفِتْنَةُ أَكْبَرُ مِنَ الْقَتْلِ ۗ وَلَا يَزَالُونَ يُقَاتِلُونَكُمْ حَتَّىٰ يَرُدُّوكُمْ عَن دِينِكُمْ إِنِ اسْتَطَاعُوا ۚ وَمَن يَرْتَدِدْ مِنكُمْ عَن دِينِهِ فَيَمُتْ وَهُوَ كَافِرٌ فَأُولَٰئِكَ حَبِطَتْ أَعْمَالُهُمْ فِي الدُّنْيَا وَالْآخِرَةِ ۖ وَأُولَٰئِكَ أَصْحَابُ النَّارِ ۖ هُمْ فِيهَا خَالِدُونَ (217)
Yasaloonaka AAani alshshahri alharami qitalin feehi qul qitalun feehi kabeerun wasaddun AAan sabeeli Allahi wakufrun bihi waalmasjidi alharami waikhraju ahlihi minhu akbaru AAinda Allahi waalfitnatu akbaru mina alqatli wala yazaloona yuqatiloonakum hatta yaruddookum AAan deenikum ini istataAAoo waman yartadid minkum AAan deenihi fayamut wahuwa kafirun faolaika habitat aAAmaluhum fee alddunya waalakhirati waolaika ashabu alnnari hum feeha khalidoona
They question thee ( O Muhammad ) with regard to warfare 
in the sacred month . Say : Warfare therein is a great 
( transgression ) , but to turn ( men ) from the way of Allah , 
and to disbelieve in Him and in the Inviolable Place of 
Worship , and to expel his people thence , is a greater with 
Allah ; for persecution is worse than killing . And they will not 
cease from fighting against you till they have made you 
renegades from your religion , if they can . And whoso 
becometh a renegade and dieth in his disbelief : such are 
they whose works have fallen both in the world and the 
Hereafter . Such are rightful owners of the Fire : they will 
abide there in .

---
2.218
إِنَّ الَّذِينَ آمَنُوا وَالَّذِينَ هَاجَرُوا وَجَاهَدُوا فِي سَبِيلِ اللَّهِ أُولَٰئِكَ يَرْجُونَ رَحْمَتَ اللَّهِ ۚ وَاللَّهُ غَفُورٌ رَّحِيمٌ (218)
Inna allatheena amanoo waallatheena hajaroo wajahadoo fee sabeeli Allahi olaika yarjoona rahmata Allahi waAllahu ghafoorun raheemun
Lo! those who believe , and those who emigrate 
( to escape the persecution ) and strive in the way of Allah , 
these have hope of Allah ' s mercy . Allah is Forgiving , 
Merciful .

---
2.219
۞ يَسْأَلُونَكَ عَنِ الْخَمْرِ وَالْمَيْسِرِ ۖ قُلْ فِيهِمَا إِثْمٌ كَبِيرٌ وَمَنَافِعُ لِلنَّاسِ وَإِثْمُهُمَا أَكْبَرُ مِن نَّفْعِهِمَا ۗ وَيَسْأَلُونَكَ مَاذَا يُنفِقُونَ قُلِ الْعَفْوَ ۗ كَذَٰلِكَ يُبَيِّنُ اللَّهُ لَكُمُ الْآيَاتِ لَعَلَّكُمْ تَتَفَكَّرُونَ (219)
Yasaloonaka AAani alkhamri waalmaysiri qul feehima ithmun kabeerun wamanafiAAu lilnnasi waithmuhuma akbaru min nafAAihima wayasaloonaka matha yunfiqoona quli alAAafwa kathalika yubayyinu Allahu lakumu alayati laAAallakum tatafakkaroona
They question thee about strong drink and games of chance . 
Say : In both is great sin , and ( some ) utility for men ; but the 
sin of them is greater than their usefulness . And they ask thee 
what they ought to spend . Say : That which is superfluous . 
Thus Allah maketh plain to you ( His ) revelations , that haply
ye may reflect

---
2.220
فِي الدُّنْيَا وَالْآخِرَةِ ۗ وَيَسْأَلُونَكَ عَنِ الْيَتَامَىٰ ۖ قُلْ إِصْلَاحٌ لَّهُمْ خَيْرٌ ۖ وَإِن تُخَالِطُوهُمْ فَإِخْوَانُكُمْ ۚ وَاللَّهُ يَعْلَمُ الْمُفْسِدَ مِنَ الْمُصْلِحِ ۚ وَلَوْ شَاءَ اللَّهُ لَأَعْنَتَكُمْ ۚ إِنَّ اللَّهَ عَزِيزٌ حَكِيمٌ (220)
Fee alddunya waalakhirati wayasaloonaka AAani alyatama qul islahun lahum khayrun wain tukhalitoohum faikhwanukum waAllahu yaAAlamu almufsida mina almuslihi walaw shaa Allahu laaAAnatakum inna Allaha AAazeezun hakeemun
Upon the world and the Hereafter . And they question thee 
concerning orphans . Say : To improve their lot is best . And 
if ye mingle your affairs with theirs , then ( they are ) your 
brothers . Allah knoweth him who spoileth from him who 
improveth . Had Allah willed He could have overburdened 
you . Allah is Mighty , Wise .

---
2.221
وَلَا تَنكِحُوا الْمُشْرِكَاتِ حَتَّىٰ يُؤْمِنَّ ۚ وَلَأَمَةٌ مُّؤْمِنَةٌ خَيْرٌ مِّن مُّشْرِكَةٍ وَلَوْ أَعْجَبَتْكُمْ ۗ وَلَا تُنكِحُوا الْمُشْرِكِينَ حَتَّىٰ يُؤْمِنُوا ۚ وَلَعَبْدٌ مُّؤْمِنٌ خَيْرٌ مِّن مُّشْرِكٍ وَلَوْ أَعْجَبَكُمْ ۗ أُولَٰئِكَ يَدْعُونَ إِلَى النَّارِ ۖ وَاللَّهُ يَدْعُو إِلَى الْجَنَّةِ وَالْمَغْفِرَةِ بِإِذْنِهِ ۖ وَيُبَيِّنُ آيَاتِهِ لِلنَّاسِ لَعَلَّهُمْ يَتَذَكَّرُونَ (221)
Wala tankihoo almushrikati hatta yuminna walaamatun muminatun khayrun min mushrikatin walaw aAAjabatkum wala tunkihoo almushrikeena hatta yuminoo walaAAabdun muminun khayrun min mushrikin walaw aAAjabakum olaika yadAAoona ila alnnari waAllahu yadAAoo ila aljannati waalmaghfirati biithnihi wayubayyinu ayatihi lilnnasi laAAallahum yatathakkaroona
Wed not idolatresses till they believe ; for lo! a believing 
bondwoman is better than an idolatress though she please 
you ; and give not your daughters in marriage to idolaters till 
they believe , for lo! a believing slave is better than an 
idolater though he please you . These invite unto the Fire , 
and Allah inviteth unto the Garden , and unto forgiveness by 
His grace , and expoundeth thus His revelations to mankind 
that haply they may remember .

---
2.222
وَيَسْأَلُونَكَ عَنِ الْمَحِيضِ ۖ قُلْ هُوَ أَذًى فَاعْتَزِلُوا النِّسَاءَ فِي الْمَحِيضِ ۖ وَلَا تَقْرَبُوهُنَّ حَتَّىٰ يَطْهُرْنَ ۖ فَإِذَا تَطَهَّرْنَ فَأْتُوهُنَّ مِنْ حَيْثُ أَمَرَكُمُ اللَّهُ ۚ إِنَّ اللَّهَ يُحِبُّ التَّوَّابِينَ وَيُحِبُّ الْمُتَطَهِّرِينَ (222)
Wayasaloonaka AAani almaheedi qul huwa athan faiAAtaziloo alnnisaa fee almaheedi wala taqraboohunna hatta yathurna faitha tatahharna fatoohunna min haythu amarakumu Allahu inna Allaha yuhibbu alttawwabeena wayuhibbu almutatahhireena
They question thee ( O Muhammad ) concerning menstruation . 
Say : It is an illness , so let women alone at such time and go 
not in unto them till they are cleansed . And when they have 
purified themselves , then go in unto them as Allah hath 
enjoined upon you . Truly Allah loveth those who turn unto Him , 
and loveth those who have a care for cleanness .

---
2.223
نِسَاؤُكُمْ حَرْثٌ لَّكُمْ فَأْتُوا حَرْثَكُمْ أَنَّىٰ شِئْتُمْ ۖ وَقَدِّمُوا لِأَنفُسِكُمْ ۚ وَاتَّقُوا اللَّهَ وَاعْلَمُوا أَنَّكُم مُّلَاقُوهُ ۗ وَبَشِّرِ الْمُؤْمِنِينَ (223)
Nisaokum harthun lakum fatoo harthakum anna shitum waqaddimoo lianfusikum waittaqoo Allaha waiAAlamoo annakum mulaqoohu wabashshiri almumineena
Your women are a tilth for you ( to cultivate ) go to your tilth as 
ye will , and send ( good deeds ) before you for your souls , 
and fear Allah , and know that ye will ( one day ) meet Him . 
Give glad tidings to believers , ( O Muhammad ) .

---
2.224
وَلَا تَجْعَلُوا اللَّهَ عُرْضَةً لِّأَيْمَانِكُمْ أَن تَبَرُّوا وَتَتَّقُوا وَتُصْلِحُوا بَيْنَ النَّاسِ ۗ وَاللَّهُ سَمِيعٌ عَلِيمٌ (224)
Wala tajAAaloo Allaha AAurdatan liaymanikum an tabarroo watattaqoo watuslihoo bayna alnnasi waAllahu sameeAAun AAaleemun
And make not Allah , by your oaths , a hindrance to your 
being righteous and observing your duty unto Him and making 
peace among mankind . Allah is Nearer , Knower .

---
2.225
لَّا يُؤَاخِذُكُمُ اللَّهُ بِاللَّغْوِ فِي أَيْمَانِكُمْ وَلَٰكِن يُؤَاخِذُكُم بِمَا كَسَبَتْ قُلُوبُكُمْ ۗ وَاللَّهُ غَفُورٌ حَلِيمٌ (225)
La yuakhithukumu Allahu biallaghwi fee aymanikum walakin yuakhithukum bima kasabat quloobukum waAllahu ghafoorun haleemun
Allah will not take you to task for that which unintentional in 
your oaths . But He will take you to task for that which your 
hearts have garnered . Allah is Forgiving , Clement .

---
2.226
لِّلَّذِينَ يُؤْلُونَ مِن نِّسَائِهِمْ تَرَبُّصُ أَرْبَعَةِ أَشْهُرٍ ۖ فَإِن فَاءُوا فَإِنَّ اللَّهَ غَفُورٌ رَّحِيمٌ (226)
Lillatheena yuloona min nisaihim tarabbusu arbaAAati ashhurin fain faoo fainna Allaha ghafoorun raheemun
Those who forswear their wives must wait four months ; then , 
if they change their mind , lo! Allah is Forgiving , Merciful .

---
2.227
وَإِنْ عَزَمُوا الطَّلَاقَ فَإِنَّ اللَّهَ سَمِيعٌ عَلِيمٌ (227)
Wain AAazamoo alttalaqa fainna Allaha sameeAAun AAaleemun
And if they decide upon divorce ( let them remember that ) 
Allah is Nearer , Knower .

---
2.228
وَالْمُطَلَّقَاتُ يَتَرَبَّصْنَ بِأَنفُسِهِنَّ ثَلَاثَةَ قُرُوءٍ ۚ وَلَا يَحِلُّ لَهُنَّ أَن يَكْتُمْنَ مَا خَلَقَ اللَّهُ فِي أَرْحَامِهِنَّ إِن كُنَّ يُؤْمِنَّ بِاللَّهِ وَالْيَوْمِ الْآخِرِ ۚ وَبُعُولَتُهُنَّ أَحَقُّ بِرَدِّهِنَّ فِي ذَٰلِكَ إِنْ أَرَادُوا إِصْلَاحًا ۚ وَلَهُنَّ مِثْلُ الَّذِي عَلَيْهِنَّ بِالْمَعْرُوفِ ۚ وَلِلرِّجَالِ عَلَيْهِنَّ دَرَجَةٌ ۗ وَاللَّهُ عَزِيزٌ حَكِيمٌ (228)
Waalmutallaqatu yatarabbasna bianfusihinna thalathata qurooin wala yahillu lahunna an yaktumna ma khalaqa Allahu fee arhamihinna in kunna yuminna biAllahi waalyawmi alakhiri wabuAAoolatuhunna ahaqqu biraddihinna fee thalika in aradoo islahan walahunna mithlu allathee AAalayhinna bialmaAAroofi walilrrijali AAalayhinna darajatun waAllahu AAazeezun hakeemun
Women who are divorced shall wait , keeping themselves 
apart , three ( monthly ) courses . And it is not lawful for them 
that they should conceal that which Allah hath created in their 
wombs if they are believers in Allah and the Last Day . And 
their husbands would do better to take them back in that case 
if they desire a reconciliation . And they ( women ) have rights 
similar to those ( of men ) over them in kindness , and men are 
a degree above them . Allah is Mighty , Wise .

---
2.229
الطَّلَاقُ مَرَّتَانِ ۖ فَإِمْسَاكٌ بِمَعْرُوفٍ أَوْ تَسْرِيحٌ بِإِحْسَانٍ ۗ وَلَا يَحِلُّ لَكُمْ أَن تَأْخُذُوا مِمَّا آتَيْتُمُوهُنَّ شَيْئًا إِلَّا أَن يَخَافَا أَلَّا يُقِيمَا حُدُودَ اللَّهِ ۖ فَإِنْ خِفْتُمْ أَلَّا يُقِيمَا حُدُودَ اللَّهِ فَلَا جُنَاحَ عَلَيْهِمَا فِيمَا افْتَدَتْ بِهِ ۗ تِلْكَ حُدُودُ اللَّهِ فَلَا تَعْتَدُوهَا ۚ وَمَن يَتَعَدَّ حُدُودَ اللَّهِ فَأُولَٰئِكَ هُمُ الظَّالِمُونَ (229)
Alttalaqu marratani faimsakun bimaAAroofin aw tasreehun biihsanin wala yahillu lakum an takhuthoo mimma ataytumoohunna shayan illa an yakhafa alla yuqeema hudooda Allahi fain khiftum alla yuqeema hudooda Allahi fala junaha AAalayhima feema iftadat bihi tilka hudoodu Allahi fala taAAtadooha waman yataAAadda hudooda Allahi faolaika humu alththalimoona
Divorce must be pronounced twice and then ( a woman ) 
must be retained in honor or released in kindness . And it is 
not lawful for you that ye take from women aught of that which 
ye have given them ; except ( in the case ) when both fear that 
they may not be able to keep within the limits ( imposed by ) 
Allah . And if ye fear that they may not be able to keep the 
limits of Allah , in that case it is no sin for either of them if the 
woman ransom herself . These are the limits ( imposed by ) 
Allah . Transgress them not . For whoso transgresseth Allah ' s 
limits : such are wrongdoers .

---
2.230
فَإِن طَلَّقَهَا فَلَا تَحِلُّ لَهُ مِن بَعْدُ حَتَّىٰ تَنكِحَ زَوْجًا غَيْرَهُ ۗ فَإِن طَلَّقَهَا فَلَا جُنَاحَ عَلَيْهِمَا أَن يَتَرَاجَعَا إِن ظَنَّا أَن يُقِيمَا حُدُودَ اللَّهِ ۗ وَتِلْكَ حُدُودُ اللَّهِ يُبَيِّنُهَا لِقَوْمٍ يَعْلَمُونَ (230)
Fain tallaqaha fala tahillu lahu min baAAdu hatta tankiha zawjan ghayrahu fain tallaqaha fala junaha AAalayhima an yatarajaAAa in thanna an yuqeema hudooda Allahi watilka hudoodu Allahi yubayyinuha liqawmin yaAAlamoona
And if he hath divorced her ( the third time ) , then she is not 
lawful unto him thereafter until she hath wedded another 
husband . Then if he ( the other husband ) divorce her it is no 
sin for both of them that they come together again if they 
consider that they are able to observe the limits of Allah . 
These are the limits of Allah . He manifesteth them for people 
who have knowledge .

---
2.231
وَإِذَا طَلَّقْتُمُ النِّسَاءَ فَبَلَغْنَ أَجَلَهُنَّ فَأَمْسِكُوهُنَّ بِمَعْرُوفٍ أَوْ سَرِّحُوهُنَّ بِمَعْرُوفٍ ۚ وَلَا تُمْسِكُوهُنَّ ضِرَارًا لِّتَعْتَدُوا ۚ وَمَن يَفْعَلْ ذَٰلِكَ فَقَدْ ظَلَمَ نَفْسَهُ ۚ وَلَا تَتَّخِذُوا آيَاتِ اللَّهِ هُزُوًا ۚ وَاذْكُرُوا نِعْمَتَ اللَّهِ عَلَيْكُمْ وَمَا أَنزَلَ عَلَيْكُم مِّنَ الْكِتَابِ وَالْحِكْمَةِ يَعِظُكُم بِهِ ۚ وَاتَّقُوا اللَّهَ وَاعْلَمُوا أَنَّ اللَّهَ بِكُلِّ شَيْءٍ عَلِيمٌ (231)
Waitha tallaqtumu alnnisaa fabalaghna ajalahunna faamsikoohunna bimaAAroofin aw sarrihoohunna bimaAAroofin wala tumsikoohunna diraran litaAAtadoo waman yafAAal thalika faqad thalama nafsahu wala tattakhithoo ayati Allahi huzuwan waothkuroo niAAmata Allahi AAalaykum wama anzala AAalaykum mina alkitabi waalhikmati yaAAithukum bihi waittaqoo Allaha waiAAlamoo anna Allaha bikulli shayin AAaleemun
When ye have divorced women , and they have reached their 
term , then retain them in kindness or release them in 
kindness . Retain them not to their hurt so that ye transgress 
( the limits ) . He who doeth that hath wronged his soul . Make 
not the revelations of Allah a laughing stock 
( by your behavior ) , but remember Allah ' s grace upon you 
and that which He hath revealed unto you of the Scripture and 
of wisdom , whereby He doth exhort you . Observe your duty to 
Allah and know that Allah is Aware of all things .

---
2.232
وَإِذَا طَلَّقْتُمُ النِّسَاءَ فَبَلَغْنَ أَجَلَهُنَّ فَلَا تَعْضُلُوهُنَّ أَن يَنكِحْنَ أَزْوَاجَهُنَّ إِذَا تَرَاضَوْا بَيْنَهُم بِالْمَعْرُوفِ ۗ ذَٰلِكَ يُوعَظُ بِهِ مَن كَانَ مِنكُمْ يُؤْمِنُ بِاللَّهِ وَالْيَوْمِ الْآخِرِ ۗ ذَٰلِكُمْ أَزْكَىٰ لَكُمْ وَأَطْهَرُ ۗ وَاللَّهُ يَعْلَمُ وَأَنتُمْ لَا تَعْلَمُونَ (232)
Waitha tallaqtumu alnnisaa fabalaghna ajalahunna fala taAAduloohunna an yankihna azwajahunna itha taradaw baynahum bialmaAAroofi thalika yooAAathu bihi man kana minkum yuminu biAllahi waalyawmi alakhiri thalikum azka lakum waatharu waAllahu yaAAlamu waantum la taAAlamoona
And when ye have divorced women and they reach their term , 
place not difficulties in the way of their marrying their husbands 
if it is agreed between them in kindness . This is an admonition 
for him among you who believeth in Allah and the Last Day . 
That is more virtuous for you , and cleaner . Allah knoweth : ye 
know not .

---
2.233
۞ وَالْوَالِدَاتُ يُرْضِعْنَ أَوْلَادَهُنَّ حَوْلَيْنِ كَامِلَيْنِ ۖ لِمَنْ أَرَادَ أَن يُتِمَّ الرَّضَاعَةَ ۚ وَعَلَى الْمَوْلُودِ لَهُ رِزْقُهُنَّ وَكِسْوَتُهُنَّ بِالْمَعْرُوفِ ۚ لَا تُكَلَّفُ نَفْسٌ إِلَّا وُسْعَهَا ۚ لَا تُضَارَّ وَالِدَةٌ بِوَلَدِهَا وَلَا مَوْلُودٌ لَّهُ بِوَلَدِهِ ۚ وَعَلَى الْوَارِثِ مِثْلُ ذَٰلِكَ ۗ فَإِنْ أَرَادَا فِصَالًا عَن تَرَاضٍ مِّنْهُمَا وَتَشَاوُرٍ فَلَا جُنَاحَ عَلَيْهِمَا ۗ وَإِنْ أَرَدتُّمْ أَن تَسْتَرْضِعُوا أَوْلَادَكُمْ فَلَا جُنَاحَ عَلَيْكُمْ إِذَا سَلَّمْتُم مَّا آتَيْتُم بِالْمَعْرُوفِ ۗ وَاتَّقُوا اللَّهَ وَاعْلَمُوا أَنَّ اللَّهَ بِمَا تَعْمَلُونَ بَصِيرٌ (233)
Waalwalidatu yurdiAAna awladahunna hawlayni kamilayni liman arada an yutimma alrradaAAata waAAala almawloodi lahu rizquhunna wakiswatuhunna bialmaAAroofi la tukallafu nafsun illa wusAAaha la tudarra walidatun biwaladiha wala mawloodun lahu biwaladihi waAAala alwarithi mithlu thalika fain arada fisalan AAan taradin minhuma watashawurin fala junaha AAalayhima wain aradtum an tastardiAAoo awladakum fala junaha AAalaykum itha sallamtum ma ataytum bialmaAAroofi waittaqoo Allaha waiAAlamoo anna Allaha bima taAAmaloona baseerun
Mothers shall suckle their children for two whole years ; 
( that is ) for those who wish to complete the suckling . The 
duty of feeding and clothing nursing mothers in a seemly 
manner is upon the father of the child . No one should be 
charged beyond his capacity . A mother should not be made 
to suffer because of her child , nor should he to whom the 
child is born ( be made to suffer ) because of his child . And 
on the ( father ' s ) heir is incumbent the like of that 
( which was incumbent on the father ) . If they desire to wean 
the child by mutual consent and ( after ) consultation , it is no 
sin for them ; and if ye wish to give your children out to nurse ,
it is no sin for you , provided that ye pay what is due from you 
in kindness . Observe your duty to Allah , and know that Allah 
is Seer of what ye do .

---
2.234
وَالَّذِينَ يُتَوَفَّوْنَ مِنكُمْ وَيَذَرُونَ أَزْوَاجًا يَتَرَبَّصْنَ بِأَنفُسِهِنَّ أَرْبَعَةَ أَشْهُرٍ وَعَشْرًا ۖ فَإِذَا بَلَغْنَ أَجَلَهُنَّ فَلَا جُنَاحَ عَلَيْكُمْ فِيمَا فَعَلْنَ فِي أَنفُسِهِنَّ بِالْمَعْرُوفِ ۗ وَاللَّهُ بِمَا تَعْمَلُونَ خَبِيرٌ (234)
Waallatheena yutawaffawna minkum wayatharoona azwajan yatarabbasna bianfusihinna arbaAAata ashhurin waAAashran faitha balaghna ajalahunna fala junaha AAalaykum feema faAAalna fee anfusihinna bialmaAAroofi waAllahu bima taAAmaloona khabeerun
Such of you as die and leave behind them wives , they 
( the wives ) shall wait , keeping themselves apart , four months 
and ten days . And when they reach the term 
( prescribed for them ) then there is no sin for you in aught that 
they may do with themselves in decency . Allah is Informed of 
what ye do .

---
2.235
وَلَا جُنَاحَ عَلَيْكُمْ فِيمَا عَرَّضْتُم بِهِ مِنْ خِطْبَةِ النِّسَاءِ أَوْ أَكْنَنتُمْ فِي أَنفُسِكُمْ ۚ عَلِمَ اللَّهُ أَنَّكُمْ سَتَذْكُرُونَهُنَّ وَلَٰكِن لَّا تُوَاعِدُوهُنَّ سِرًّا إِلَّا أَن تَقُولُوا قَوْلًا مَّعْرُوفًا ۚ وَلَا تَعْزِمُوا عُقْدَةَ النِّكَاحِ حَتَّىٰ يَبْلُغَ الْكِتَابُ أَجَلَهُ ۚ وَاعْلَمُوا أَنَّ اللَّهَ يَعْلَمُ مَا فِي أَنفُسِكُمْ فَاحْذَرُوهُ ۚ وَاعْلَمُوا أَنَّ اللَّهَ غَفُورٌ حَلِيمٌ (235)
Wala junaha AAalaykum feema AAarradtum bihi min khitbati alnnisai aw aknantum fee anfusikum AAalima Allahu annakum satathkuroonahunna walakin la tuwaAAidoohunna sirran illa an taqooloo qawlan maAAroofan wala taAAzimoo AAuqdata alnnikahi hatta yablugha alkitabu ajalahu waiAAlamoo anna Allaha yaAAlamu ma fee anfusikum faihtharoohu waiAAlamoo anna Allaha ghafoorun haleemun
There is no sin for you in that which ye proclaim or hide in 
your minds concerning your troth with women . Allah knoweth 
that ye will remember them . But plight not your troth with 
women except by uttering a recognized form of words . And 
do not consummate the marriage until ( the term ) prescribed 
is run . Know that Allah knoweth what is in your minds , so 
beware of Him ; and know that Allah is Forgiving , Clement .

---
2.236
لَّا جُنَاحَ عَلَيْكُمْ إِن طَلَّقْتُمُ النِّسَاءَ مَا لَمْ تَمَسُّوهُنَّ أَوْ تَفْرِضُوا لَهُنَّ فَرِيضَةً ۚ وَمَتِّعُوهُنَّ عَلَى الْمُوسِعِ قَدَرُهُ وَعَلَى الْمُقْتِرِ قَدَرُهُ مَتَاعًا بِالْمَعْرُوفِ ۖ حَقًّا عَلَى الْمُحْسِنِينَ (236)
La junaha AAalaykum in tallaqtumu alnnisaa ma lam tamassoohunna aw tafridoo lahunna fareedatan wamattiAAoohunna AAala almoosiAAi qadaruhu waAAala almuqtiri qadaruhu mataAAan bialmaAAroofi haqqan AAala almuhsineena
It is no sin for you if ye divorce women while yet ye have not 
touched them , nor appointed unto them a portion . Provide 
for them , the rich according to his means , and the straitened 
according to his means , a fair provision . ( This is ) a bounden 
duty for those who do good .

---
2.237
وَإِن طَلَّقْتُمُوهُنَّ مِن قَبْلِ أَن تَمَسُّوهُنَّ وَقَدْ فَرَضْتُمْ لَهُنَّ فَرِيضَةً فَنِصْفُ مَا فَرَضْتُمْ إِلَّا أَن يَعْفُونَ أَوْ يَعْفُوَ الَّذِي بِيَدِهِ عُقْدَةُ النِّكَاحِ ۚ وَأَن تَعْفُوا أَقْرَبُ لِلتَّقْوَىٰ ۚ وَلَا تَنسَوُا الْفَضْلَ بَيْنَكُمْ ۚ إِنَّ اللَّهَ بِمَا تَعْمَلُونَ بَصِيرٌ (237)
Wain tallaqtumoohunna min qabli an tamassoohunna waqad faradtum lahunna fareedatan fanisfu ma faradtum illa an yaAAfoona aw yaAAfuwa allathee biyadihi AAuqdatu alnnikahi waan taAAfoo aqrabu lilttaqwa wala tansawoo alfadla baynakum inna Allaha bima taAAmaloona baseerun
If ye divorce them before ye have touched them and ye have 
appointed unto them a portion , then ( pay the ) half of that 
which ye appointed , unless they ( the women ) agree to forgo 
it , or he agreeth to forgo it in whose hand is the marriage tie . 
To forgo is nearer to piety ; And forget not kindness among 
yourselves . Allah is Seer of what ye do .

---
2.238
حَافِظُوا عَلَى الصَّلَوَاتِ وَالصَّلَاةِ الْوُسْطَىٰ وَقُومُوا لِلَّهِ قَانِتِينَ (238)
Hafithoo AAala alssalawati waalssalati alwusta waqoomoo lillahi qaniteena
Be guardians of your prayers , and of the midmost prayer , 
and stand up with devotion to Allah .

---
2.239
فَإِنْ خِفْتُمْ فَرِجَالًا أَوْ رُكْبَانًا ۖ فَإِذَا أَمِنتُمْ فَاذْكُرُوا اللَّهَ كَمَا عَلَّمَكُم مَّا لَمْ تَكُونُوا تَعْلَمُونَ (239)
Fain khiftum farijalan aw rukbanan faitha amintum faothkuroo Allaha kama AAallamakum ma lam takoonoo taAAlamoona
And if ye go in fear , then ( pray ) standing or on horseback . 
And when ye are again in safety , remember Allah , as He 
hath taught you that which ( heretofore ) ye knew not .

---
2.240
وَالَّذِينَ يُتَوَفَّوْنَ مِنكُمْ وَيَذَرُونَ أَزْوَاجًا وَصِيَّةً لِّأَزْوَاجِهِم مَّتَاعًا إِلَى الْحَوْلِ غَيْرَ إِخْرَاجٍ ۚ فَإِنْ خَرَجْنَ فَلَا جُنَاحَ عَلَيْكُمْ فِي مَا فَعَلْنَ فِي أَنفُسِهِنَّ مِن مَّعْرُوفٍ ۗ وَاللَّهُ عَزِيزٌ حَكِيمٌ (240)
Waallatheena yutawaffawna minkum wayatharoona azwajan wasiyyatan liazwajihim mataAAan ila alhawli ghayra ikhrajin fain kharajna fala junaha AAalaykum fee ma faAAalna fee anfusihinna min maAAroofin waAllahu AAazeezun hakeemun
( In the case of ) those of you who are about to die and leave 
behind them wives , they should bequeath unto their wives a 
provision for the year without turning them out , but if they go 
out ( of their own accord ) there is no sin for you in that which 
they do of themselves within their rights . Allah is Mighty , Wise .

---
2.241
وَلِلْمُطَلَّقَاتِ مَتَاعٌ بِالْمَعْرُوفِ ۖ حَقًّا عَلَى الْمُتَّقِينَ (241)
Walilmutallaqati mataAAun bialmaAAroofi haqqan AAala almuttaqeena
For divorced women a provision in kindness : a duty for 
those who ward off ( evil ) .

---
2.242
كَذَٰلِكَ يُبَيِّنُ اللَّهُ لَكُمْ آيَاتِهِ لَعَلَّكُمْ تَعْقِلُونَ (242)
Kathalika yubayyinu Allahu lakum ayatihi laAAallakum taAAqiloona
Thus Allah expoundeth unto you His revelations so that ye 
may understand .

---
2.243
۞ أَلَمْ تَرَ إِلَى الَّذِينَ خَرَجُوا مِن دِيَارِهِمْ وَهُمْ أُلُوفٌ حَذَرَ الْمَوْتِ فَقَالَ لَهُمُ اللَّهُ مُوتُوا ثُمَّ أَحْيَاهُمْ ۚ إِنَّ اللَّهَ لَذُو فَضْلٍ عَلَى النَّاسِ وَلَٰكِنَّ أَكْثَرَ النَّاسِ لَا يَشْكُرُونَ (243)
Alam tara ila allatheena kharajoo min diyarihim wahum oloofun hathara almawti faqala lahumu Allahu mootoo thumma ahyahum inna Allaha lathoo fadlin AAala alnnasi walakinna akthara alnnasi la yashkuroona
Bethink thee ( O Muhammad ) of those of old , who went 
forth from their habitations in their thousands , fearing death , 
and Allah said unto them : Die , and then He brought them 
back to life . Lo! Allah is a Lord of Kindness to mankind , but 
most of mankind give not thanks .

---
2.244
وَقَاتِلُوا فِي سَبِيلِ اللَّهِ وَاعْلَمُوا أَنَّ اللَّهَ سَمِيعٌ عَلِيمٌ (244)
Waqatiloo fee sabeeli Allahi waiAAlamoo anna Allaha sameeAAun AAaleemun
Fight in the way of Allah , and know that Allah is Nearer , Knower .

---
2.245
مَّن ذَا الَّذِي يُقْرِضُ اللَّهَ قَرْضًا حَسَنًا فَيُضَاعِفَهُ لَهُ أَضْعَافًا كَثِيرَةً ۚ وَاللَّهُ يَقْبِضُ وَيَبْسُطُ وَإِلَيْهِ تُرْجَعُونَ (245)
Man tha allathee yuqridu Allaha qardan hasanan fayudaAAifahu lahu adAAafan katheeratan waAllahu yaqbidu wayabsutu wailayhi turjaAAoona
Who is it that will lend unto Allah a goodly loan , so that He 
may give it increase manifold? Allah straiteneth and enlargeth .
Unto Him ye will return .

---
2.246
أَلَمْ تَرَ إِلَى الْمَلَإِ مِن بَنِي إِسْرَائِيلَ مِن بَعْدِ مُوسَىٰ إِذْ قَالُوا لِنَبِيٍّ لَّهُمُ ابْعَثْ لَنَا مَلِكًا نُّقَاتِلْ فِي سَبِيلِ اللَّهِ ۖ قَالَ هَلْ عَسَيْتُمْ إِن كُتِبَ عَلَيْكُمُ الْقِتَالُ أَلَّا تُقَاتِلُوا ۖ قَالُوا وَمَا لَنَا أَلَّا نُقَاتِلَ فِي سَبِيلِ اللَّهِ وَقَدْ أُخْرِجْنَا مِن دِيَارِنَا وَأَبْنَائِنَا ۖ فَلَمَّا كُتِبَ عَلَيْهِمُ الْقِتَالُ تَوَلَّوْا إِلَّا قَلِيلًا مِّنْهُمْ ۗ وَاللَّهُ عَلِيمٌ بِالظَّالِمِينَ (246)
Alam tara ila almalai min banee israeela min baAAdi moosa ith qaloo linabiyyin lahumu ibAAath lana malikan nuqatil fee sabeeli Allahi qala hal AAasaytum in kutiba AAalaykumu alqitalu alla tuqatiloo qaloo wama lana alla nuqatila fee sabeeli Allahi waqad okhrijna min diyarina waabnaina falamma kutiba AAalayhimu alqitalu tawallaw illa qaleelan minhum waAllahu AAaleemun bialththalimeena
Bethink thee of the leaders of the Children of Israel after 
Moses , how they said unto a Prophet whom they had : Set 
up for us a King and we will fight in Allah ' s way . He said : 
Would ye then refrain from fighting if fighting were 
prescribed for you? They said : Why should we not fight in 
Allah ' s way when we have been driven from our dwellings 
with our children? Yet , when fighting was prescribed for 
them , they turned away , all save a few of them . Allah is 
Aware of evil doers .

---
2.247
وَقَالَ لَهُمْ نَبِيُّهُمْ إِنَّ اللَّهَ قَدْ بَعَثَ لَكُمْ طَالُوتَ مَلِكًا ۚ قَالُوا أَنَّىٰ يَكُونُ لَهُ الْمُلْكُ عَلَيْنَا وَنَحْنُ أَحَقُّ بِالْمُلْكِ مِنْهُ وَلَمْ يُؤْتَ سَعَةً مِّنَ الْمَالِ ۚ قَالَ إِنَّ اللَّهَ اصْطَفَاهُ عَلَيْكُمْ وَزَادَهُ بَسْطَةً فِي الْعِلْمِ وَالْجِسْمِ ۖ وَاللَّهُ يُؤْتِي مُلْكَهُ مَن يَشَاءُ ۚ وَاللَّهُ وَاسِعٌ عَلِيمٌ (247)
Waqala lahum nabiyyuhum inna Allaha qad baAAatha lakum taloota malikan qaloo anna yakoonu lahu almulku AAalayna wanahnu ahaqqu bialmulki minhu walam yuta saAAatan mina almali qala inna Allaha istafahu AAalaykum wazadahu bastatan fee alAAilmi waaljismi waAllahu yutee mulkahu man yashao waAllahu wasiAAun AAaleemun
Their Prophet said unto them : Lo! Allah hath raised up 
Saul to be a king for you . They said : How can he have 
kingdom over us when we are more deserving of the 
kingdom than he is , since he hath not been given wealth 
enough? He said : Lo! Allah hath chosen him above you , 
and hath increased him abundantly in wisdom and stature .
Allah bestoweth His sovereignty on whom He will . Allah is 
All Embracing , All Knowing .

---
2.248
وَقَالَ لَهُمْ نَبِيُّهُمْ إِنَّ آيَةَ مُلْكِهِ أَن يَأْتِيَكُمُ التَّابُوتُ فِيهِ سَكِينَةٌ مِّن رَّبِّكُمْ وَبَقِيَّةٌ مِّمَّا تَرَكَ آلُ مُوسَىٰ وَآلُ هَارُونَ تَحْمِلُهُ الْمَلَائِكَةُ ۚ إِنَّ فِي ذَٰلِكَ لَآيَةً لَّكُمْ إِن كُنتُم مُّؤْمِنِينَ (248)
Waqala lahum nabiyyuhum inna ayata mulkihi an yatiyakumu alttabootu feehi sakeenatun min rabbikum wabaqiyyatun mimma taraka alu moosa waalu haroona tahmiluhu almalaikatu inna fee thalika laayatan lakum in kuntum mumineena
And their Prophet said unto them : Lo! the token of his 
kingdom is that there shall come unto you the ark wherein 
is peace of reassurance from your Lord , and a remnant of 
that which the house of Moses and the house of Aaron left 
behind , the angels bearing it . Lo! herein shall be a token 
for you if ( in truth ) ye are believers .

---
2.249
فَلَمَّا فَصَلَ طَالُوتُ بِالْجُنُودِ قَالَ إِنَّ اللَّهَ مُبْتَلِيكُم بِنَهَرٍ فَمَن شَرِبَ مِنْهُ فَلَيْسَ مِنِّي وَمَن لَّمْ يَطْعَمْهُ فَإِنَّهُ مِنِّي إِلَّا مَنِ اغْتَرَفَ غُرْفَةً بِيَدِهِ ۚ فَشَرِبُوا مِنْهُ إِلَّا قَلِيلًا مِّنْهُمْ ۚ فَلَمَّا جَاوَزَهُ هُوَ وَالَّذِينَ آمَنُوا مَعَهُ قَالُوا لَا طَاقَةَ لَنَا الْيَوْمَ بِجَالُوتَ وَجُنُودِهِ ۚ قَالَ الَّذِينَ يَظُنُّونَ أَنَّهُم مُّلَاقُو اللَّهِ كَم مِّن فِئَةٍ قَلِيلَةٍ غَلَبَتْ فِئَةً كَثِيرَةً بِإِذْنِ اللَّهِ ۗ وَاللَّهُ مَعَ الصَّابِرِينَ (249)
Falamma fasala talootu bialjunoodi qala inna Allaha mubtaleekum binaharin faman shariba minhu falaysa minnee waman lam yatAAamhu fainnahu minnee illa mani ightarafa ghurfatan biyadihi fashariboo minhu illa qaleelan minhum falamma jawazahu huwa waallatheena amanoo maAAahu qaloo la taqata lana alyawma bijaloota wajunoodihi qala allatheena yathunnoona annahum mulaqoo Allahi kam min fiatin qaleelatin ghalabat fiatan katheeratan biithni Allahi waAllahu maAAa alssabireena
And when Saul set out with the army , be said : Lo! Allah will 
try you by ( the ordeal of ) a river . Whosoever therefore 
drinketh thereof he is not of me , and whosoever tasteth it 
not he is of me , save him who taketh ( thereof ) in the hollow 
of his hand . But they drank thereof , all save a few of them . 
And after he had crossed ( the river ) , he and those who 
believed with him , they said : We have no power this day 
against Goliath and his hosts . But those who knew that they 
would meet their Lord exclaimed : How many a little 
company hath overcome a mighty host by Allah ' s leave! 
Allah is with the steadfast .

---
2.250
وَلَمَّا بَرَزُوا لِجَالُوتَ وَجُنُودِهِ قَالُوا رَبَّنَا أَفْرِغْ عَلَيْنَا صَبْرًا وَثَبِّتْ أَقْدَامَنَا وَانصُرْنَا عَلَى الْقَوْمِ الْكَافِرِينَ (250)
Walamma barazoo lijaloota wajunoodihi qaloo rabbana afrigh AAalayna sabran wathabbit aqdamana waonsurna AAala alqawmi alkafireena
And when they went into the field against Goliath and his 
hosts they said : Our Lord! Bestow on us endurance , make 
our foothold sure , and give us help against the disbelieving 
folk .