3d. Ali-Imran (151 to 200)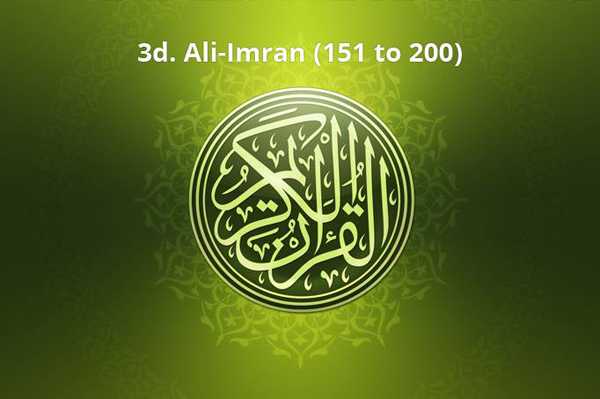 We shall cast terror into the hearts of those who
disbelieve because they ascribe unto Allah partners , for…
3.151
سَنُلْقِي فِي قُلُوبِ الَّذِينَ كَفَرُوا الرُّعْبَ بِمَا أَشْرَكُوا بِاللَّهِ مَا لَمْ يُنَزِّلْ بِهِ سُلْطَانًا ۖ وَمَأْوَاهُمُ النَّارُ ۚ وَبِئْسَ مَثْوَى الظَّالِمِينَ (151)
Sanulqee fee quloobi allatheena kafaroo alrruAAba bima ashrakoo biAllahi ma lam yunazzil bihi sultanan wamawahumu alnnaru wabisa mathwa alththalimeena
We shall cast terror into the hearts of those who 
disbelieve because they ascribe unto Allah partners , for
which no warrant hath been revealed . Their habitation is the 
Fire , and hapless the abode of the wrong doers .

---
3.152
وَلَقَدْ صَدَقَكُمُ اللَّهُ وَعْدَهُ إِذْ تَحُسُّونَهُم بِإِذْنِهِ ۖ حَتَّىٰ إِذَا فَشِلْتُمْ وَتَنَازَعْتُمْ فِي الْأَمْرِ وَعَصَيْتُم مِّن بَعْدِ مَا أَرَاكُم مَّا تُحِبُّونَ ۚ مِنكُم مَّن يُرِيدُ الدُّنْيَا وَمِنكُم مَّن يُرِيدُ الْآخِرَةَ ۚ ثُمَّ صَرَفَكُمْ عَنْهُمْ لِيَبْتَلِيَكُمْ ۖ وَلَقَدْ عَفَا عَنكُمْ ۗ وَاللَّهُ ذُو فَضْلٍ عَلَى الْمُؤْمِنِينَ (152)
Walaqad sadaqakumu Allahu waAAdahu ith tahussoonahum biithnihi hatta itha fashiltum watanazaAAtum fee alamri waAAasaytum min baAAdi ma arakum ma tuhibboona minkum man yureedu alddunya waminkum man yureedu alakhirata thumma sarafakum AAanhum liyabtaliyakum walaqad AAafa AAankum waAllahu thoo fadlin AAala almumineena
Allah verily made good His promise unto you when ye 
routed them by His leave , until ( the moment ) when your 
courage failed you , and ye disagreed about the order and 
ye disobeyed , after He had shown you that for which ye long . 
Some of you desired the world , and some of you desired the 
Hereafter . Therefore He made you flee from them , that 
He might try you . Yet now He hath forgiven you . Allah is a 
Lord of Kindness to believers .

---
3.153
۞ إِذْ تُصْعِدُونَ وَلَا تَلْوُونَ عَلَىٰ أَحَدٍ وَالرَّسُولُ يَدْعُوكُمْ فِي أُخْرَاكُمْ فَأَثَابَكُمْ غَمًّا بِغَمٍّ لِّكَيْلَا تَحْزَنُوا عَلَىٰ مَا فَاتَكُمْ وَلَا مَا أَصَابَكُمْ ۗ وَاللَّهُ خَبِيرٌ بِمَا تَعْمَلُونَ (153)
Ith tusAAidoona wala talwoona AAala ahadin waalrrasoolu yadAAookum fee okhrakum faathabakum ghamman bighammin likayla tahzanoo AAala ma fatakum wala ma asabakum waAllahu khabeerun bima taAAmaloona
When ye climbed ( the hill ) and paid no heed to anyone , 
while the messenger , in your rear , was calling you ( to fight ) . 
Therefor He rewarded you grief for ( his ) grief , that 
( He might teach ) you not to sorrow either for that which ye 
missed or for that which befell you . Allah is Informed of what ye do .

---
3.154
ثُمَّ أَنزَلَ عَلَيْكُم مِّن بَعْدِ الْغَمِّ أَمَنَةً نُّعَاسًا يَغْشَىٰ طَائِفَةً مِّنكُمْ ۖ وَطَائِفَةٌ قَدْ أَهَمَّتْهُمْ أَنفُسُهُمْ يَظُنُّونَ بِاللَّهِ غَيْرَ الْحَقِّ ظَنَّ الْجَاهِلِيَّةِ ۖ يَقُولُونَ هَل لَّنَا مِنَ الْأَمْرِ مِن شَيْءٍ ۗ قُلْ إِنَّ الْأَمْرَ كُلَّهُ لِلَّهِ ۗ يُخْفُونَ فِي أَنفُسِهِم مَّا لَا يُبْدُونَ لَكَ ۖ يَقُولُونَ لَوْ كَانَ لَنَا مِنَ الْأَمْرِ شَيْءٌ مَّا قُتِلْنَا هَاهُنَا ۗ قُل لَّوْ كُنتُمْ فِي بُيُوتِكُمْ لَبَرَزَ الَّذِينَ كُتِبَ عَلَيْهِمُ الْقَتْلُ إِلَىٰ مَضَاجِعِهِمْ ۖ وَلِيَبْتَلِيَ اللَّهُ مَا فِي صُدُورِكُمْ وَلِيُمَحِّصَ مَا فِي قُلُوبِكُمْ ۗ وَاللَّهُ عَلِيمٌ بِذَاتِ الصُّدُورِ (154)
Thumma anzala AAalaykum min baAAdi alghammi amanatan nuAAasan yaghsha taifatan minkum wataifatun qad ahammathum anfusuhum yathunnoona biAllahi ghayra alhaqqi thanna aljahiliyyati yaqooloona hal lana mina alamri min shayin qul inna alamra kullahu lillahi yukhfoona fee anfusihim ma la yubdoona laka yaqooloona law kana lana mina alamri shayon ma qutilna hahuna qul law kuntum fee buyootikum labaraza allatheena kutiba AAalayhimu alqatlu ila madajiAAihim waliyabtaliya Allahu ma fee sudoorikum waliyumahhisa ma fee quloobikum waAllahu AAaleemun bithati alssudoori
Then , after grief , He sent clown security for you . 
As slumber did it overcome a party of you , while 
( the other ) party , who were anxious on their own account , 
thought wrongly of Allah , the thought of ignorance . They 
said : Have we any part in the cause? Say 
( O Muhammad ) : The cause belongeth wholly to Allah . 
They hide within themselves ( a thought ) which they reveal
not unto thee , saying : Had we had any part in the cause 
we should not have been slain here . Say : Even though ye 
had been in your houses , those appointed to be slain would 
have gone forth to the places where they were to lie . 
( All this hath been ) in order that Allah might try what is in 
your breasts and prove what is in your hearts . Allah is Aware 
of what is hidden in the breasts ( of men ) .

---
3.155
إِنَّ الَّذِينَ تَوَلَّوْا مِنكُمْ يَوْمَ الْتَقَى الْجَمْعَانِ إِنَّمَا اسْتَزَلَّهُمُ الشَّيْطَانُ بِبَعْضِ مَا كَسَبُوا ۖ وَلَقَدْ عَفَا اللَّهُ عَنْهُمْ ۗ إِنَّ اللَّهَ غَفُورٌ حَلِيمٌ (155)
Inna allatheena tawallaw minkum yawma iltaqa aljamAAani innama istazallahumu alshshaytanu bibaAAdi ma kasaboo walaqad AAafa Allahu AAanhum inna Allaha ghafoorun haleemun
Lo! those of you who turned back on the day when 
the two hosts met , Satan alone it was who caused them 
to backslide , because of some of that which they have 
earned . Now Allah hath forgiven them . Lo! Allah is
Forgiving . Clement .

---
3.156
يَا أَيُّهَا الَّذِينَ آمَنُوا لَا تَكُونُوا كَالَّذِينَ كَفَرُوا وَقَالُوا لِإِخْوَانِهِمْ إِذَا ضَرَبُوا فِي الْأَرْضِ أَوْ كَانُوا غُزًّى لَّوْ كَانُوا عِندَنَا مَا مَاتُوا وَمَا قُتِلُوا لِيَجْعَلَ اللَّهُ ذَٰلِكَ حَسْرَةً فِي قُلُوبِهِمْ ۗ وَاللَّهُ يُحْيِي وَيُمِيتُ ۗ وَاللَّهُ بِمَا تَعْمَلُونَ بَصِيرٌ (156)
Ya ayyuha allatheena amanoo la takoonoo kaallatheena kafaroo waqaloo liikhwanihim itha daraboo fee alardi aw kanoo ghuzzan law kanoo AAindana ma matoo wama qutiloo liyajAAala Allahu thalika hasratan fee quloobihim waAllahu yuhyee wayumeetu waAllahu bima taAAmaloona baseerun
O ye who believe! Be not as those who disbelieved 
and said of their brethren who went abroad in the land or 
were fighting in the field : If they had been ( here ) with us
they would not have died or been killed ; that Allah may 
make it anguish in their hearts . Allah giveth life and causeth 
death ; and Allah is Seer of what ye do .

---
3.157
وَلَئِن قُتِلْتُمْ فِي سَبِيلِ اللَّهِ أَوْ مُتُّمْ لَمَغْفِرَةٌ مِّنَ اللَّهِ وَرَحْمَةٌ خَيْرٌ مِّمَّا يَجْمَعُونَ (157)
Walain qutiltum fee sabeeli Allahi aw muttum lamaghfiratun mina Allahi warahmatun khayrun mimma yajmaAAoona
And what though ye be slain in Allah ' s way or die 
therein? Surely pardon from Allah and mercy are better
than all that they amass .

---
3.158
وَلَئِن مُّتُّمْ أَوْ قُتِلْتُمْ لَإِلَى اللَّهِ تُحْشَرُونَ (158)
Walain muttum aw qutiltum laila Allahi tuhsharoona
What though ye be slain or die , 
when unto Allah ye are gathered?

---
3.159
فَبِمَا رَحْمَةٍ مِّنَ اللَّهِ لِنتَ لَهُمْ ۖ وَلَوْ كُنتَ فَظًّا غَلِيظَ الْقَلْبِ لَانفَضُّوا مِنْ حَوْلِكَ ۖ فَاعْفُ عَنْهُمْ وَاسْتَغْفِرْ لَهُمْ وَشَاوِرْهُمْ فِي الْأَمْرِ ۖ فَإِذَا عَزَمْتَ فَتَوَكَّلْ عَلَى اللَّهِ ۚ إِنَّ اللَّهَ يُحِبُّ الْمُتَوَكِّلِينَ (159)
Fabima rahmatin mina Allahi linta lahum walaw kunta faththan ghaleetha alqalbi lainfaddoo min hawlika faoAAfu AAanhum waistaghfir lahum washawirhum fee alamri faitha AAazamta fatawakkal AAala Allahi inna Allaha yuhibbu almutawakkileena
It was by the mercy of Allah that thou wast lenient 
with them ( O Muhammad ) , for if thou hadst been stern 
and fierce of heart they would have dispersed from round 
about thee . So pardon them and ask forgiveness for 
them and consult with them upon the conduct of affairs . 
And when thou art resolved , then put thy trust in Allah . 
Lo! Allah loveth those who put their trust ( in Him ) .

---
3.160
إِن يَنصُرْكُمُ اللَّهُ فَلَا غَالِبَ لَكُمْ ۖ وَإِن يَخْذُلْكُمْ فَمَن ذَا الَّذِي يَنصُرُكُم مِّن بَعْدِهِ ۗ وَعَلَى اللَّهِ فَلْيَتَوَكَّلِ الْمُؤْمِنُونَ (160)
In yansurkumu Allahu fala ghaliba lakum wain yakhthulkum faman tha allathee yansurukum min baAAdihi waAAala Allahi falyatawakkali almuminoona
If Allah is your helper none can overcome you , 
and if He withdraw His help from you , who is there who 
can help you? In Allah let believers put their trust .

---
3.161
وَمَا كَانَ لِنَبِيٍّ أَن يَغُلَّ ۚ وَمَن يَغْلُلْ يَأْتِ بِمَا غَلَّ يَوْمَ الْقِيَامَةِ ۚ ثُمَّ تُوَفَّىٰ كُلُّ نَفْسٍ مَّا كَسَبَتْ وَهُمْ لَا يُظْلَمُونَ (161)
Wama kana linabiyyin an yaghulla waman yaghlul yati bima ghalla yawma alqiyamati thumma tuwaffa kullu nafsin ma kasabat wahum la yuthlamoona
It is not for any Prophet to deceive ( mankind ) . 
Whoso deceiveth will bring his deceit with him on the 
Day of Resurrection . Then every soul will be paid in full 
what it hath earned ; and they will not be wronged .

---
3.162
أَفَمَنِ اتَّبَعَ رِضْوَانَ اللَّهِ كَمَن بَاءَ بِسَخَطٍ مِّنَ اللَّهِ وَمَأْوَاهُ جَهَنَّمُ ۚ وَبِئْسَ الْمَصِيرُ (162)
Afamani ittabaAAa ridwana Allahi kaman baa bisakhatin mina Allahi wamawahu jahannamu wabisa almaseeru
Is one who followeth the pleasure of Allah as one who 
hath earned condemnation from Allah , whose habitation is 
the Fire , a hapless journey ' s end?

---
3.163
هُمْ دَرَجَاتٌ عِندَ اللَّهِ ۗ وَاللَّهُ بَصِيرٌ بِمَا يَعْمَلُونَ (163)
Hum darajatun AAinda Allahi waAllahu baseerun bima yaAAmaloona
There are degrees ( of grace and reprobation ) 
with Allah , and Allah is Seer of what ye do .

---
3.164
لَقَدْ مَنَّ اللَّهُ عَلَى الْمُؤْمِنِينَ إِذْ بَعَثَ فِيهِمْ رَسُولًا مِّنْ أَنفُسِهِمْ يَتْلُو عَلَيْهِمْ آيَاتِهِ وَيُزَكِّيهِمْ وَيُعَلِّمُهُمُ الْكِتَابَ وَالْحِكْمَةَ وَإِن كَانُوا مِن قَبْلُ لَفِي ضَلَالٍ مُّبِينٍ (164)
Laqad manna Allahu AAala almumineena ith baAAatha feehim rasoolan min anfusihim yatloo AAalayhim ayatihi wayuzakkeehim wayuAAallimuhumu alkitaba waalhikmata wain kanoo min qablu lafee dalalin mubeenin
Allah verily hath shown grace to the believers by 
sending unto them a messenger of their own who reciteth 
unto them His revelations , and causeth them to grow , 
and teacheth them the Scripture and wisdom ; although 
before ( he came to them ) they were in flagrant error .

---
3.165
أَوَلَمَّا أَصَابَتْكُم مُّصِيبَةٌ قَدْ أَصَبْتُم مِّثْلَيْهَا قُلْتُمْ أَنَّىٰ هَٰذَا ۖ قُلْ هُوَ مِنْ عِندِ أَنفُسِكُمْ ۗ إِنَّ اللَّهَ عَلَىٰ كُلِّ شَيْءٍ قَدِيرٌ (165)
Awalamma asabatkum museebatun qad asabtum mithlayha qultum anna hatha qul huwa min AAindi anfusikum inna Allaha AAala kulli shayin qadeerun
And was it so , when a disaster smote you , though 
ye had smitten ( them with a disaster ) twice ( as great ) , 
that ye said : How is this? Say 
( unto them , O Muhammad ) : It is from yourselves . 
Lo! Allah is Able to do all things .

---
3.166
وَمَا أَصَابَكُمْ يَوْمَ الْتَقَى الْجَمْعَانِ فَبِإِذْنِ اللَّهِ وَلِيَعْلَمَ الْمُؤْمِنِينَ (166)
Wama asabakum yawma iltaqa aljamAAani fabiithni Allahi waliyaAAlama almumineena
That which befell you , on the day when the two 
armies met , was by permission of Allah ; that He might 
know the true believers ;

---
3.167
وَلِيَعْلَمَ الَّذِينَ نَافَقُوا ۚ وَقِيلَ لَهُمْ تَعَالَوْا قَاتِلُوا فِي سَبِيلِ اللَّهِ أَوِ ادْفَعُوا ۖ قَالُوا لَوْ نَعْلَمُ قِتَالًا لَّاتَّبَعْنَاكُمْ ۗ هُمْ لِلْكُفْرِ يَوْمَئِذٍ أَقْرَبُ مِنْهُمْ لِلْإِيمَانِ ۚ يَقُولُونَ بِأَفْوَاهِهِم مَّا لَيْسَ فِي قُلُوبِهِمْ ۗ وَاللَّهُ أَعْلَمُ بِمَا يَكْتُمُونَ (167)
WaliyaAAlama allatheena nafaqoo waqeela lahum taAAalaw qatiloo fee sabeeli Allahi awi idfaAAoo qaloo law naAAlamu qitalan laittabaAAnakum hum lilkufri yawmaithin aqrabu minhum lileemani yaqooloona biafwahihim ma laysa fee quloobihim waAllahu aAAlamu bima yaktumoona
And that He might know the hypocrites , unto whom 
it was said : Come , fight in the way of Allah , or defend 
yourselves . They answered : If we knew aught of fighting 
we would follow you . On that day they were nearer 
disbelief than faith . They utter with their mouths a thing 
which is not in their hearts . Allah is best aware of what 
they hide .

---
3.168
الَّذِينَ قَالُوا لِإِخْوَانِهِمْ وَقَعَدُوا لَوْ أَطَاعُونَا مَا قُتِلُوا ۗ قُلْ فَادْرَءُوا عَنْ أَنفُسِكُمُ الْمَوْتَ إِن كُنتُمْ صَادِقِينَ (168)
Allatheena qaloo liikhwanihim waqaAAadoo law ataAAoona ma qutiloo qul faidraoo AAan anfusikumu almawta in kuntum sadiqeena
Those who , while they sat at home , said of their 
brethren ( who were fighting for the cause of Allah ) : If they 
had been guided by us they would not have been slain . 
Say ( unto them , O Muhammad ) : Then avert death from 
yourselves if ye are truthful .

---
3.169
وَلَا تَحْسَبَنَّ الَّذِينَ قُتِلُوا فِي سَبِيلِ اللَّهِ أَمْوَاتًا ۚ بَلْ أَحْيَاءٌ عِندَ رَبِّهِمْ يُرْزَقُونَ (169)
Wala tahsabanna allatheena qutiloo fee sabeeli Allahi amwatan bal ahyaon AAinda rabbihim yurzaqoona
Think not of those , who are slain in the way of Allah , 
as dead . Nay , they are living . With their Lord they have 
provision .

---
3.170
فَرِحِينَ بِمَا آتَاهُمُ اللَّهُ مِن فَضْلِهِ وَيَسْتَبْشِرُونَ بِالَّذِينَ لَمْ يَلْحَقُوا بِهِم مِّنْ خَلْفِهِمْ أَلَّا خَوْفٌ عَلَيْهِمْ وَلَا هُمْ يَحْزَنُونَ (170)
Fariheena bima atahumu Allahu min fadlihi wayastabshiroona biallatheena lam yalhaqoo bihim min khalfihim alla khawfun AAalayhim wala hum yahzanoona
Jubilant ( are they ) because of that which Allah hath
bestowed upon them of His bounty , rejoicing for the sake 
of those who have not joined them but are left behind : that 
there shall no fear come upon them neither shall they grieve .

---
3.171
۞ يَسْتَبْشِرُونَ بِنِعْمَةٍ مِّنَ اللَّهِ وَفَضْلٍ وَأَنَّ اللَّهَ لَا يُضِيعُ أَجْرَ الْمُؤْمِنِينَ (171)
Yastabshiroona biniAAmatin mina Allahi wafadlin waanna Allaha la yudeeAAu ajra almumineena
They rejoice because of favor from Allah and kindness , 
and that Allah wasteth not the wage of the believers .

---
3.172
الَّذِينَ اسْتَجَابُوا لِلَّهِ وَالرَّسُولِ مِن بَعْدِ مَا أَصَابَهُمُ الْقَرْحُ ۚ لِلَّذِينَ أَحْسَنُوا مِنْهُمْ وَاتَّقَوْا أَجْرٌ عَظِيمٌ (172)
Allatheena istajaboo lillahi waalrrasooli min baAAdi ma asabahumu alqarhu lillatheena ahsanoo minhum waittaqaw ajrun AAatheemun
As for those who heard the call of Allah and His 
messenger after the harm befell them ( in the fight ) ; 
for such of them as do right and ward off ( evil ) , 
there is great reward ,

---
3.173
الَّذِينَ قَالَ لَهُمُ النَّاسُ إِنَّ النَّاسَ قَدْ جَمَعُوا لَكُمْ فَاخْشَوْهُمْ فَزَادَهُمْ إِيمَانًا وَقَالُوا حَسْبُنَا اللَّهُ وَنِعْمَ الْوَكِيلُ (173)
Allatheena qala lahumu alnnasu inna alnnasa qad jamaAAoo lakum faikhshawhum fazadahum eemanan waqaloo hasbuna Allahu waniAAma alwakeelu
Those unto whom men said : Lo! the people have 
gathered against you , therefor fear them . 
( The threat of danger ) but increased the faith of them and 
they cried : Allah is sufficient for us! Most Excellent is 
He in Whom we trust!

---
3.174
فَانقَلَبُوا بِنِعْمَةٍ مِّنَ اللَّهِ وَفَضْلٍ لَّمْ يَمْسَسْهُمْ سُوءٌ وَاتَّبَعُوا رِضْوَانَ اللَّهِ ۗ وَاللَّهُ ذُو فَضْلٍ عَظِيمٍ (174)
Fainqalaboo biniAAmatin mina Allahi wafadlin lam yamsashum sooon waittabaAAoo ridwana Allahi waAllahu thoo fadlin AAatheemin
So they returned with grace and favor from Allah , 
and no harm touched them . They followed the good 
pleasure of Allah , and Allah is of infinite bounty .

---
3.175
إِنَّمَا ذَٰلِكُمُ الشَّيْطَانُ يُخَوِّفُ أَوْلِيَاءَهُ فَلَا تَخَافُوهُمْ وَخَافُونِ إِن كُنتُم مُّؤْمِنِينَ (175)
Innama thalikumu alshshaytanu yukhawwifu awliyaahu fala takhafoohum wakhafooni in kuntum mumineena
It is only the devil who would make ( men ) fear his 
partisans . Fear them not ; fear Me , if ye are true believers .

---
3.176
وَلَا يَحْزُنكَ الَّذِينَ يُسَارِعُونَ فِي الْكُفْرِ ۚ إِنَّهُمْ لَن يَضُرُّوا اللَّهَ شَيْئًا ۗ يُرِيدُ اللَّهُ أَلَّا يَجْعَلَ لَهُمْ حَظًّا فِي الْآخِرَةِ ۖ وَلَهُمْ عَذَابٌ عَظِيمٌ (176)
Wala yahzunka allatheena yusariAAoona fee alkufri innahum lan yadurroo Allaha shayan yureedu Allahu alla yajAAala lahum haththan fee alakhirati walahum AAathabun AAatheemun
Let not their conduct grieve thee , who run easily to 
disbelief , for Lo! they injure Allah not at all . It is Allah ' s 
will to assign them no portion in the Hereafter , and theirs 
will be an awful doom .

---
3.177
إِنَّ الَّذِينَ اشْتَرَوُا الْكُفْرَ بِالْإِيمَانِ لَن يَضُرُّوا اللَّهَ شَيْئًا وَلَهُمْ عَذَابٌ أَلِيمٌ (177)
Inna allatheena ishtarawoo alkufra bialeemani lan yadurroo Allaha shayan walahum AAathabun aleemun
Those who purchase disbelief at the price of faith 
harm Allah not at all , but theirs will be a painful doom .

---
3.178
وَلَا يَحْسَبَنَّ الَّذِينَ كَفَرُوا أَنَّمَا نُمْلِي لَهُمْ خَيْرٌ لِّأَنفُسِهِمْ ۚ إِنَّمَا نُمْلِي لَهُمْ لِيَزْدَادُوا إِثْمًا ۚ وَلَهُمْ عَذَابٌ مُّهِينٌ (178)
Wala yahsabanna allatheena kafaroo annama numlee lahum khayrun lianfusihim innama numlee lahum liyazdadoo ithman walahum AAathabun muheenun
And let not those who disbelieve imagine that the rein
We give them bodeth good unto their souls . We only give 
them rein that they may grow in sinfulness . And theirs will
be a shameful doom .

---
3.179
مَّا كَانَ اللَّهُ لِيَذَرَ الْمُؤْمِنِينَ عَلَىٰ مَا أَنتُمْ عَلَيْهِ حَتَّىٰ يَمِيزَ الْخَبِيثَ مِنَ الطَّيِّبِ ۗ وَمَا كَانَ اللَّهُ لِيُطْلِعَكُمْ عَلَى الْغَيْبِ وَلَٰكِنَّ اللَّهَ يَجْتَبِي مِن رُّسُلِهِ مَن يَشَاءُ ۖ فَآمِنُوا بِاللَّهِ وَرُسُلِهِ ۚ وَإِن تُؤْمِنُوا وَتَتَّقُوا فَلَكُمْ أَجْرٌ عَظِيمٌ (179)
Ma kana Allahu liyathara almumineena AAala ma antum AAalayhi hatta yameeza alkhabeetha mina alttayyibi wama kana Allahu liyutliAAakum AAala alghaybi walakinna Allaha yajtabee min rusulihi man yashao faaminoo biAllahi warusulihi wain tuminoo watattaqoo falakum ajrun AAatheemun
It is not ( the purpose ) of Allah to leave you in your 
present state till He shall separate the wicked from the 
good . And it is not ( the purpose of ) Allah to let you know 
the unseen . But Allah chooseth of His messengers whom 
He will , ( to receive knowledge thereof . ) So believe in 
Allah and His messengers . If ye believe and ward off 
( evil ) , yours will be a vast reward .

---
3.180
وَلَا يَحْسَبَنَّ الَّذِينَ يَبْخَلُونَ بِمَا آتَاهُمُ اللَّهُ مِن فَضْلِهِ هُوَ خَيْرًا لَّهُم ۖ بَلْ هُوَ شَرٌّ لَّهُمْ ۖ سَيُطَوَّقُونَ مَا بَخِلُوا بِهِ يَوْمَ الْقِيَامَةِ ۗ وَلِلَّهِ مِيرَاثُ السَّمَاوَاتِ وَالْأَرْضِ ۗ وَاللَّهُ بِمَا تَعْمَلُونَ خَبِيرٌ (180)
Wala yahsabanna allatheena yabkhaloona bima atahummu Allahu min fadlihi huwa khayran lahum bal huwa sharrun lahum sayutawwaqoona ma bakhiloo bihi yawma alqiyamati walillahi meerathu alssamawati waalardi waAllahu bima taAAmaloona khabeerun
And let not those who hoard up that which Allah 
hath bestowed upon them of His bounty think that it is
better for them . Nay , it is worse for them . That which 
they hoard will be their collar on the Day of Resurrection .
Allah ' s is the heritage of the heavens and the earth , 
and Allah is Informed of what ye do .

---
3.181
لَّقَدْ سَمِعَ اللَّهُ قَوْلَ الَّذِينَ قَالُوا إِنَّ اللَّهَ فَقِيرٌ وَنَحْنُ أَغْنِيَاءُ ۘ سَنَكْتُبُ مَا قَالُوا وَقَتْلَهُمُ الْأَنبِيَاءَ بِغَيْرِ حَقٍّ وَنَقُولُ ذُوقُوا عَذَابَ الْحَرِيقِ (181)
Laqad samiAAa Allahu qawla allatheena qaloo inna Allaha faqeerun wanahnu aghniyaon sanaktubu ma qaloo waqatlahumu alanbiyaa bighayri haqqin wanaqoolu thooqoo AAathaba alhareeqi
Verily Allah heard the saying of those who said , 
( when asked for contributions to the war ) : "Allah , 
forsooth , is poor , and we are rich! We shall record 
their saying with their slaying of the Prophets wrongfully 
and We shall say : Taste ye the punishment of burning!

---
3.182
ذَٰلِكَ بِمَا قَدَّمَتْ أَيْدِيكُمْ وَأَنَّ اللَّهَ لَيْسَ بِظَلَّامٍ لِّلْعَبِيدِ (182)
Thalika bima qaddamat aydeekum waanna Allaha laysa bithallamin lilAAabeedi
This is on account of that which your own hands 
have sent before ( you to the judgment ) . Allah is no 
oppressor of ( His ) bondmen .

---
3.183
الَّذِينَ قَالُوا إِنَّ اللَّهَ عَهِدَ إِلَيْنَا أَلَّا نُؤْمِنَ لِرَسُولٍ حَتَّىٰ يَأْتِيَنَا بِقُرْبَانٍ تَأْكُلُهُ النَّارُ ۗ قُلْ قَدْ جَاءَكُمْ رُسُلٌ مِّن قَبْلِي بِالْبَيِّنَاتِ وَبِالَّذِي قُلْتُمْ فَلِمَ قَتَلْتُمُوهُمْ إِن كُنتُمْ صَادِقِينَ (183)
Allatheena qaloo inna Allaha AAahida ilayna alla numina lirasoolin hatta yatiyana biqurbanin takuluhu alnnaru qul qad jaakum rusulun min qablee bialbayyinati wabiallathee qultum falima qataltumoohum in kutum sadiqeena
( The same are ) those who say : Lo! Allah hath 
charged us that we believe not in any messenger until he 
bring us an offering which fire ( from heaven ) shall 
devour . Say ( unto them , O Muhammad ) : Messengers 
came unto you before me with miracles , and with that 
( very miracle ) which ye describe . Why then did ye slay 
them? ( Answer that ) if ye are truthful

---
3.184
فَإِن كَذَّبُوكَ فَقَدْ كُذِّبَ رُسُلٌ مِّن قَبْلِكَ جَاءُوا بِالْبَيِّنَاتِ وَالزُّبُرِ وَالْكِتَابِ الْمُنِيرِ (184)
Fain kaththabooka faqad kuththiba rusulun min qablika jaoo bialbayyinati waalzzuburi waalkitabi almuneeri
And if they deny thee , even so did they deny 
messengers who were before thee , who came with 
miracles and with the Psalms and with the Scripture giving 
light .

---
3.185
كُلُّ نَفْسٍ ذَائِقَةُ الْمَوْتِ ۗ وَإِنَّمَا تُوَفَّوْنَ أُجُورَكُمْ يَوْمَ الْقِيَامَةِ ۖ فَمَن زُحْزِحَ عَنِ النَّارِ وَأُدْخِلَ الْجَنَّةَ فَقَدْ فَازَ ۗ وَمَا الْحَيَاةُ الدُّنْيَا إِلَّا مَتَاعُ الْغُرُورِ (185)
Kullu nafsin thaiqatu almawti wainnama tuwaffawna ojoorakum yawma alqiyamati faman zuhziha AAani alnnari waodkhila aljannata faqad faza wama alhayatu alddunya illa mataAAu alghuroori
Every soul will taste of death . And ye will be paid on 
the Day of Resurrection only that which ye have fairly 
earned . Whoso is removed from the Fire and is made to 
enter Paradise , he indeed is triumphant . The life of this 
world is but comfort of illusion .

---
3.186
۞ لَتُبْلَوُنَّ فِي أَمْوَالِكُمْ وَأَنفُسِكُمْ وَلَتَسْمَعُنَّ مِنَ الَّذِينَ أُوتُوا الْكِتَابَ مِن قَبْلِكُمْ وَمِنَ الَّذِينَ أَشْرَكُوا أَذًى كَثِيرًا ۚ وَإِن تَصْبِرُوا وَتَتَّقُوا فَإِنَّ ذَٰلِكَ مِنْ عَزْمِ الْأُمُورِ (186)
Latublawunna fee amwalikum waanfusikum walatasmaAAunna mina allatheena ootoo alkitaba min qablikum wamina allatheena ashrakoo athan katheeran wain tasbiroo watattaqoo fainna thalika min AAazmi alomoori
Assuredly ye will be tried in your property and in your 
persons , and ye will hear much wrong from those who were 
given the Scripture before you , and from the idolaters . But if 
ye persevere and ward off ( evil ) , then that is of the steadfast 
heart of things .

---
3.187
وَإِذْ أَخَذَ اللَّهُ مِيثَاقَ الَّذِينَ أُوتُوا الْكِتَابَ لَتُبَيِّنُنَّهُ لِلنَّاسِ وَلَا تَكْتُمُونَهُ فَنَبَذُوهُ وَرَاءَ ظُهُورِهِمْ وَاشْتَرَوْا بِهِ ثَمَنًا قَلِيلًا ۖ فَبِئْسَ مَا يَشْتَرُونَ (187)
Waith akhatha Allahu meethaqa allatheena ootoo alkitaba latubayyinunnahu lilnnasi wala taktumoonahu fanabathoohu waraa thuhoorihim waishtaraw bihi thamanan qaleelan fabisa ma yashtaroona
And ( remember ) when Allah laid a charge on those 
who had received the Scripture ( He said ) : Ye are to 
expound it to mankind and not to hide it . But they flung it 
behind their backs and bought thereby a little gain . Verily 
evil is that which they have gained thereby .

---
3.188
لَا تَحْسَبَنَّ الَّذِينَ يَفْرَحُونَ بِمَا أَتَوا وَّيُحِبُّونَ أَن يُحْمَدُوا بِمَا لَمْ يَفْعَلُوا فَلَا تَحْسَبَنَّهُم بِمَفَازَةٍ مِّنَ الْعَذَابِ ۖ وَلَهُمْ عَذَابٌ أَلِيمٌ (188)
La tahsabanna allatheena yafrahoona bima ataw wayuhibboona an yuhmadoo bima lam yafAAaloo fala tahsabannahum bimafazatin mina alAAathabi walahum AAathabun aleemun
Think not that those who exult in what they have given , 
and love to be praised for what they have not done Think not , 
they are in safety from the doom . A painful doom is theirs .

---
3.189
وَلِلَّهِ مُلْكُ السَّمَاوَاتِ وَالْأَرْضِ ۗ وَاللَّهُ عَلَىٰ كُلِّ شَيْءٍ قَدِيرٌ (189)
Walillahi mulku alssamawati waalardi waAllahu AAala kulli shayin qadeerun
Unto Allah belongeth the Sovereignty of the heavens 
and the earth . Allah is Able to do all things .

---
3.190
إِنَّ فِي خَلْقِ السَّمَاوَاتِ وَالْأَرْضِ وَاخْتِلَافِ اللَّيْلِ وَالنَّهَارِ لَآيَاتٍ لِّأُولِي الْأَلْبَابِ (190)
Inna fee khalqi alssamawati waalardi waikhtilafi allayli waalnnahari laayatin liolee alalbabi
Lo! In the creation of the heavens and the earth and 
( in ) the difference of night and day are tokens 
( of His sovereignty ) for men of understanding ,

---
3.191
الَّذِينَ يَذْكُرُونَ اللَّهَ قِيَامًا وَقُعُودًا وَعَلَىٰ جُنُوبِهِمْ وَيَتَفَكَّرُونَ فِي خَلْقِ السَّمَاوَاتِ وَالْأَرْضِ رَبَّنَا مَا خَلَقْتَ هَٰذَا بَاطِلًا سُبْحَانَكَ فَقِنَا عَذَابَ النَّارِ (191)
Allatheena yathkuroona Allaha qiyaman waquAAoodan waAAala junoobihim wayatafakkaroona fee khalqi alssamawati waalardi rabbana ma khalaqta hatha batilan subhanaka faqina AAathaba alnnari
Such as remember Allah , standing , sitting , and 
reclining , and consider the creation of the heavens and the 
earth , ( and say ) : Our Lord! Thou createdst not this in 
vain . Glory be to Thee! Preserve us from the doom of Fire

---
3.192
رَبَّنَا إِنَّكَ مَن تُدْخِلِ النَّارَ فَقَدْ أَخْزَيْتَهُ ۖ وَمَا لِلظَّالِمِينَ مِنْ أَنصَارٍ (192)
Rabbana innaka man tudkhili alnnara faqad akhzaytahu wama lilththalimeena min ansarin
Our Lord! Whom Thou causest to enter the Fire : 
him indeed Thou hast confounded . For evil doers there 
will be no helpers .

---
3.193
رَّبَّنَا إِنَّنَا سَمِعْنَا مُنَادِيًا يُنَادِي لِلْإِيمَانِ أَنْ آمِنُوا بِرَبِّكُمْ فَآمَنَّا ۚ رَبَّنَا فَاغْفِرْ لَنَا ذُنُوبَنَا وَكَفِّرْ عَنَّا سَيِّئَاتِنَا وَتَوَفَّنَا مَعَ الْأَبْرَارِ (193)
Rabbana innana samiAAna munadiyan yunadee lileemani an aminoo birabbikum faamanna rabbana faighfir lana thunoobana wakaffir AAanna sayyiatina watawaffana maAAa alabrari
Our Lord! Lo! we have heard a crier calling unto Faith :
 "Believe ye in your Lord!" So we believed . Our Lord! 
Therefor forgive us our sins , and remit from us our evil 
deeds , and make us die the death of the righteous .

---
3.194
رَبَّنَا وَآتِنَا مَا وَعَدتَّنَا عَلَىٰ رُسُلِكَ وَلَا تُخْزِنَا يَوْمَ الْقِيَامَةِ ۗ إِنَّكَ لَا تُخْلِفُ الْمِيعَادَ (194)
Rabbana waatina ma waAAadtana AAala rusulika wala tukhzina yawma alqiyamati innaka la tukhlifu almeeAAada
Our Lord! And give us that which Thou hast promised 
to us by Thy messengers . Confound us not upon the Day of 
Resurrection . Lo! Thou breakest not the tryst .

---
3.195
فَاسْتَجَابَ لَهُمْ رَبُّهُمْ أَنِّي لَا أُضِيعُ عَمَلَ عَامِلٍ مِّنكُم مِّن ذَكَرٍ أَوْ أُنثَىٰ ۖ بَعْضُكُم مِّن بَعْضٍ ۖ فَالَّذِينَ هَاجَرُوا وَأُخْرِجُوا مِن دِيَارِهِمْ وَأُوذُوا فِي سَبِيلِي وَقَاتَلُوا وَقُتِلُوا لَأُكَفِّرَنَّ عَنْهُمْ سَيِّئَاتِهِمْ وَلَأُدْخِلَنَّهُمْ جَنَّاتٍ تَجْرِي مِن تَحْتِهَا الْأَنْهَارُ ثَوَابًا مِّنْ عِندِ اللَّهِ ۗ وَاللَّهُ عِندَهُ حُسْنُ الثَّوَابِ (195)
Faistajaba lahum rabbuhum annee la odeeAAu AAamala AAamilin minkum min thakarin aw ontha baAAdukum min baAAdin faallatheena hajaroo waokhrijoo min diyarihim waoothoo fee sabeelee waqataloo waqutiloo laokaffiranna AAanhum sayyiatihim walaodkhilannahum jannatin tajree min tahtiha alanharu thawaban min AAindi Allahi waAllahu AAindahu husnu alththawabi
And their Lord hath heard them ( and He saith ) : Lo! I 
suffer not the work of any worker , male or female , 
to be lost . Ye proceed one from another . So those who 
fled and were driven forth from their homes and suffered 
damage for My cause , and fought and were slain , verity I 
shall remit their evil deeds from them and verily I shall bring 
them into Gardens underneath which rivers flow . A reward 
from Allah . And with Allah is the fairest of rewards .

---
3.196
لَا يَغُرَّنَّكَ تَقَلُّبُ الَّذِينَ كَفَرُوا فِي الْبِلَادِ (196)
La yaghurrannaka taqallubu allatheena kafaroo fee albiladi
Let not the vicissitude ( of the success ) of those who
disbelieve , in the land , deceive thee ( O Muhammad ) .

---
3.197
مَتَاعٌ قَلِيلٌ ثُمَّ مَأْوَاهُمْ جَهَنَّمُ ۚ وَبِئْسَ الْمِهَادُ (197)
MataAAun qaleelun thumma mawahum jahannamu wabisa almihadu
It is but a brief comfort . And afterward their 
habitation will be hell , an ill abode .

---
3.198
لَٰكِنِ الَّذِينَ اتَّقَوْا رَبَّهُمْ لَهُمْ جَنَّاتٌ تَجْرِي مِن تَحْتِهَا الْأَنْهَارُ خَالِدِينَ فِيهَا نُزُلًا مِّنْ عِندِ اللَّهِ ۗ وَمَا عِندَ اللَّهِ خَيْرٌ لِّلْأَبْرَارِ (198)
Lakini allatheena ittaqaw rabbahum lahum jannatun tajree min tahtiha alanharu khalideena feeha nuzulan min AAindi Allahi wama AAinda Allahi khayrun lilabrari
But those who keep their duty to their Lord , for them 
are Gardens underneath which rivers flow , wherein they 
will be safe for ever . A gift of welcome from their Lord . 
That which Allah hath in store is better for the righteous .

---
3.199
وَإِنَّ مِنْ أَهْلِ الْكِتَابِ لَمَن يُؤْمِنُ بِاللَّهِ وَمَا أُنزِلَ إِلَيْكُمْ وَمَا أُنزِلَ إِلَيْهِمْ خَاشِعِينَ لِلَّهِ لَا يَشْتَرُونَ بِآيَاتِ اللَّهِ ثَمَنًا قَلِيلًا ۗ أُولَٰئِكَ لَهُمْ أَجْرُهُمْ عِندَ رَبِّهِمْ ۗ إِنَّ اللَّهَ سَرِيعُ الْحِسَابِ (199)
Wainna min ahli alkitabi laman yuminu biAllahi wama onzila ilaykum wama onzila ilayhim khashiAAeena lillahi la yashtaroona biayati Allahi thamanan qaleelan olaika lahum ajruhum AAinda rabbihim inna Allaha sareeAAu alhisabi
And Lo! of the People of the Scripture there are some 
who believe in Allah and that which is revealed unto you and
that which was revealed unto them , humbling themselves 
before Allah . They purchase not a trifling gain at the price of 
the revelations of Allah . Verily their reward is with their Lord , 
and Lo! Allah is swift to take account .

---
3.200
يَا أَيُّهَا الَّذِينَ آمَنُوا اصْبِرُوا وَصَابِرُوا وَرَابِطُوا وَاتَّقُوا اللَّهَ لَعَلَّكُمْ تُفْلِحُونَ (200)
Ya ayyuha allatheena amanoo isbiroo wasabiroo warabitoo waittaqoo Allaha laAAallakum tuflihoona
O ye who believe! Endure , 
outdo all others in endurance , be ready , and observe
your duty to Allah , in order that ye may succeed .