3c. Ali-Imran (101 to 150)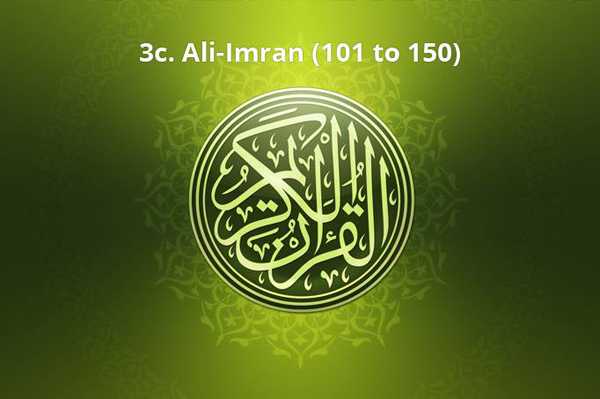 How can ye disbelieve , when Allah ' s revelations are
recited unto you , and His messenger is in your midst?…
3.101
وَكَيْفَ تَكْفُرُونَ وَأَنتُمْ تُتْلَىٰ عَلَيْكُمْ آيَاتُ اللَّهِ وَفِيكُمْ رَسُولُهُ ۗ وَمَن يَعْتَصِم بِاللَّهِ فَقَدْ هُدِيَ إِلَىٰ صِرَاطٍ مُّسْتَقِيمٍ (101)
Wakayfa takfuroona waantum tutla AAalaykum ayatu Allahi wafeekum rasooluhu waman yaAAtasim biAllahi faqad hudiya ila siratin mustaqeemin
How can ye disbelieve , when Allah ' s revelations are 
recited unto you , and His messenger is in your midst? 
He who holdeth fast to Allah , he indeed is guided unto 
a right path .

---
3.102
يَا أَيُّهَا الَّذِينَ آمَنُوا اتَّقُوا اللَّهَ حَقَّ تُقَاتِهِ وَلَا تَمُوتُنَّ إِلَّا وَأَنتُم مُّسْلِمُونَ (102)
Ya ayyuha allatheena amanoo ittaqoo Allaha haqqa tuqatihi wala tamootunna illa waantum muslimoona
O ye who believe! Observe your duty to Allah with right 
observance , and die not save as those who have 
surrendered ( unto Him ) ;

---
3.103
وَاعْتَصِمُوا بِحَبْلِ اللَّهِ جَمِيعًا وَلَا تَفَرَّقُوا ۚ وَاذْكُرُوا نِعْمَتَ اللَّهِ عَلَيْكُمْ إِذْ كُنتُمْ أَعْدَاءً فَأَلَّفَ بَيْنَ قُلُوبِكُمْ فَأَصْبَحْتُم بِنِعْمَتِهِ إِخْوَانًا وَكُنتُمْ عَلَىٰ شَفَا حُفْرَةٍ مِّنَ النَّارِ فَأَنقَذَكُم مِّنْهَا ۗ كَذَٰلِكَ يُبَيِّنُ اللَّهُ لَكُمْ آيَاتِهِ لَعَلَّكُمْ تَهْتَدُونَ (103)
WaiAAtasimoo bihabli Allahi jameeAAan wala tafarraqoo waothkuroo niAAmata Allahi AAalaykum ith kuntum aAAdaan faallafa bayna quloobikum faasbahtum biniAAmatihi ikhwanan wakuntum AAala shafa hufratin mina alnnari faanqathakum minha kathalika yubayyinu Allahu lakum ayatihi laAAallakum tahtadoona
And hold fast , all of you together , to the cable of Allah , 
and do not separate . And remember Allah ' s favor unto 
you : how ye were enemies and He made friendship 
between your hearts so that ye became as brothers by His 
grace ; and ( how ) ye were upon the brink of an abyss of fire , 
and He did save you from it . Thus Allah maketh clear His 
revelations unto you , that haply ye may be guided ,

---
3.104
وَلْتَكُن مِّنكُمْ أُمَّةٌ يَدْعُونَ إِلَى الْخَيْرِ وَيَأْمُرُونَ بِالْمَعْرُوفِ وَيَنْهَوْنَ عَنِ الْمُنكَرِ ۚ وَأُولَٰئِكَ هُمُ الْمُفْلِحُونَ (104)
Waltakun minkum ommatun yadAAoona ila alkhayri wayamuroona bialmaAAroofi wayanhawna AAani almunkari waolaika humu almuflihoona
And there may spring from you a nation who invite to 
goodness , and enjoin right conduct and forbid indecency . 
Such are they who are successful .

---
3.105
وَلَا تَكُونُوا كَالَّذِينَ تَفَرَّقُوا وَاخْتَلَفُوا مِن بَعْدِ مَا جَاءَهُمُ الْبَيِّنَاتُ ۚ وَأُولَٰئِكَ لَهُمْ عَذَابٌ عَظِيمٌ (105)
Wala takoonoo kaallatheena tafarraqoo waikhtalafoo min baAAdi ma jaahumu albayyinatu waolaika lahum AAathabun AAatheemun
And be ye not as those who separated and disputed after 
the clear proofs had come unto them . For such there is an 
awful doom ,

---
3.106
يَوْمَ تَبْيَضُّ وُجُوهٌ وَتَسْوَدُّ وُجُوهٌ ۚ فَأَمَّا الَّذِينَ اسْوَدَّتْ وُجُوهُهُمْ أَكَفَرْتُم بَعْدَ إِيمَانِكُمْ فَذُوقُوا الْعَذَابَ بِمَا كُنتُمْ تَكْفُرُونَ (106)
Yawma tabyaddu wujoohun wataswaddu wujoohun faamma allatheena iswaddat wujoohuhum akafartum baAAda eemanikum fathooqoo alAAathaba bima kuntum takfuroona
On the day when ( some ) faces will be whitened and 
( some ) faces will be blackened ; and as for those whose
faces have been blackened , it will be said unto them : 
Disbelieved ye after your ( profession of ) belief? Then taste 
the punishment for that ye disbelieved .

---
3.107
وَأَمَّا الَّذِينَ ابْيَضَّتْ وُجُوهُهُمْ فَفِي رَحْمَةِ اللَّهِ هُمْ فِيهَا خَالِدُونَ (107)
Waamma allatheena ibyaddat wujoohuhum fafee rahmati Allahi hum feeha khalidoona
As for those whose faces have been whitened , Lo! in the 
mercy of Allah they dwell for ever .

---
3.108
تِلْكَ آيَاتُ اللَّهِ نَتْلُوهَا عَلَيْكَ بِالْحَقِّ ۗ وَمَا اللَّهُ يُرِيدُ ظُلْمًا لِّلْعَالَمِينَ (108)
Tilka ayatu Allahi natlooha AAalayka bialhaqqi wama Allahu yureedu thulman lilAAalameena
These are revelations of Allah . We recite them unto thee 
in truth . Allah willeth no injustice to ( His ) creatures .

---
3.109
وَلِلَّهِ مَا فِي السَّمَاوَاتِ وَمَا فِي الْأَرْضِ ۚ وَإِلَى اللَّهِ تُرْجَعُ الْأُمُورُ (109)
Walillahi ma fee alssamawati wama fee alardi waila Allahi turjaAAu alomooru
Unto Allah belongeth whatsoever is in the heavens and 
whatsoever is in the earth ; and unto Allah all things are 
returned .

---
3.110
كُنتُمْ خَيْرَ أُمَّةٍ أُخْرِجَتْ لِلنَّاسِ تَأْمُرُونَ بِالْمَعْرُوفِ وَتَنْهَوْنَ عَنِ الْمُنكَرِ وَتُؤْمِنُونَ بِاللَّهِ ۗ وَلَوْ آمَنَ أَهْلُ الْكِتَابِ لَكَانَ خَيْرًا لَّهُم ۚ مِّنْهُمُ الْمُؤْمِنُونَ وَأَكْثَرُهُمُ الْفَاسِقُونَ (110)
Kuntum khayra ommatin okhrijat lilnnasi tamuroona bialmaAAroofi watanhawna AAani almunkari watuminoona biAllahi walaw amana ahlu alkitabi lakana khayran lahum minhumu almuminoona waaktharuhumu alfasiqoona
Ye are the best community that hath been raised up for 
mankind . Ye enjoin right conduct and forbid indecency ; 
and ye believe in Allah . And if the People of the Scripture 
had believed it had been better for them . Some of them are
believers ; but most of them are evil livers .

---
3.111
لَن يَضُرُّوكُمْ إِلَّا أَذًى ۖ وَإِن يُقَاتِلُوكُمْ يُوَلُّوكُمُ الْأَدْبَارَ ثُمَّ لَا يُنصَرُونَ (111)
Lan yadurrookum illa athan wain yuqatilookum yuwallookumu aladbara thumma la yunsaroona
They will not harm you save a trifling hurt , and if they fight 
against you they will turn and flee . And afterward they will 
not be helped .

---
3.112
ضُرِبَتْ عَلَيْهِمُ الذِّلَّةُ أَيْنَ مَا ثُقِفُوا إِلَّا بِحَبْلٍ مِّنَ اللَّهِ وَحَبْلٍ مِّنَ النَّاسِ وَبَاءُوا بِغَضَبٍ مِّنَ اللَّهِ وَضُرِبَتْ عَلَيْهِمُ الْمَسْكَنَةُ ۚ ذَٰلِكَ بِأَنَّهُمْ كَانُوا يَكْفُرُونَ بِآيَاتِ اللَّهِ وَيَقْتُلُونَ الْأَنبِيَاءَ بِغَيْرِ حَقٍّ ۚ ذَٰلِكَ بِمَا عَصَوا وَّكَانُوا يَعْتَدُونَ (112)
Duribat AAalayhimu alththillatu ayna ma thuqifoo illa bihablin mina Allahi wahablin mina alnnasi wabaoo bighadabin mina Allahi waduribat AAalayhimu almaskanatu thalika biannahum kanoo yakfuroona biayati Allahi wayaqtuloona alanbiyaa bighayri haqqin thalika bima AAasaw wakanoo yaAAtadoona
Ignominy shall be theft portion wheresoever they are found 
save ( where they grasp ) a rope from Allah and a rope from 
men . They have incurred anger from their Lord , and 
wretchedness is laid upon them . That is because they used 
to disbelieve the revelations of Allah , and slew the Prophets 
wrongfully . That is because they were rebellious and used to 
transgress .

---
3.113
۞ لَيْسُوا سَوَاءً ۗ مِّنْ أَهْلِ الْكِتَابِ أُمَّةٌ قَائِمَةٌ يَتْلُونَ آيَاتِ اللَّهِ آنَاءَ اللَّيْلِ وَهُمْ يَسْجُدُونَ (113)
Laysoo sawaan min ahli alkitabi ommatun qaimatun yatloona ayati Allahi anaa allayli wahum yasjudoona
They are not all alike . Of the People of the Scripture there 
is a staunch community who recite the revelations of Allah 
in the night season , falling prostrate ( before Him ) .

---
3.114
يُؤْمِنُونَ بِاللَّهِ وَالْيَوْمِ الْآخِرِ وَيَأْمُرُونَ بِالْمَعْرُوفِ وَيَنْهَوْنَ عَنِ الْمُنكَرِ وَيُسَارِعُونَ فِي الْخَيْرَاتِ وَأُولَٰئِكَ مِنَ الصَّالِحِينَ (114)
Yuminoona biAllahi waalyawmi alakhiri wayamuroona bialmaAAroofi wayanhawna AAani almunkari wayusariAAoona fee alkhayrati waolaika mina alssaliheena
They believe in Allah and the Last Day , and enjoin right 
conduct and forbid indecency , and vie one with another in 
good works . They are of the righteous .

---
3.115
وَمَا يَفْعَلُوا مِنْ خَيْرٍ فَلَن يُكْفَرُوهُ ۗ وَاللَّهُ عَلِيمٌ بِالْمُتَّقِينَ (115)
Wama yafAAaloo min khayrin falan yukfaroohu waAllahu AAaleemun bialmuttaqeena
And whatever good they do , they will not be denied the 
meed thereof . Allah is Aware of those who ward off ( evil ) .

---
3.116
إِنَّ الَّذِينَ كَفَرُوا لَن تُغْنِيَ عَنْهُمْ أَمْوَالُهُمْ وَلَا أَوْلَادُهُم مِّنَ اللَّهِ شَيْئًا ۖ وَأُولَٰئِكَ أَصْحَابُ النَّارِ ۚ هُمْ فِيهَا خَالِدُونَ (116)
Inna allatheena kafaroo lan tughniya AAanhum amwaluhum wala awladuhum mina Allahi shayan waolaika ashabu alnnari hum feeha khalidoona
Lo! the riches and the progeny of those who disbelieve will 
not avail them aught against Allah ; and such are rightful 
owners of the Fire . They will abide therein .

---
3.117
مَثَلُ مَا يُنفِقُونَ فِي هَٰذِهِ الْحَيَاةِ الدُّنْيَا كَمَثَلِ رِيحٍ فِيهَا صِرٌّ أَصَابَتْ حَرْثَ قَوْمٍ ظَلَمُوا أَنفُسَهُمْ فَأَهْلَكَتْهُ ۚ وَمَا ظَلَمَهُمُ اللَّهُ وَلَٰكِنْ أَنفُسَهُمْ يَظْلِمُونَ (117)
Mathalu ma yunfiqoona fee hathihi alhayati alddunya kamathali reehin feeha sirrun asabat hartha qawmin thalamoo anfusahum faahlakathu wama thalamahumu Allahu walakin anfusahum yathlimoona
The likeness of that which they spend in this life of the 
world is as the likeness of a biting , icy wind which smiteth 
the harvest of a people who have wronged themselves , 
and devastateth it . Allah wronged them not , but they did 
wrong themselves .

---
3.118
يَا أَيُّهَا الَّذِينَ آمَنُوا لَا تَتَّخِذُوا بِطَانَةً مِّن دُونِكُمْ لَا يَأْلُونَكُمْ خَبَالًا وَدُّوا مَا عَنِتُّمْ قَدْ بَدَتِ الْبَغْضَاءُ مِنْ أَفْوَاهِهِمْ وَمَا تُخْفِي صُدُورُهُمْ أَكْبَرُ ۚ قَدْ بَيَّنَّا لَكُمُ الْآيَاتِ ۖ إِن كُنتُمْ تَعْقِلُونَ (118)
Ya ayyuha allatheena amanoo la tattakhithoo bitanatan min doonikum la yaloonakum khabalan waddoo ma AAanittum qad badati albaghdao min afwahihim wama tukhfee sudooruhum akbaru qad bayyanna lakumu alayati in kuntum taAAqiloona
O ye who believe! Take not for intimates others than your 
own folk , who would spare no pains to ruin you ; they love
to hamper you . Hatred is revealed by ( the utterance of ) their 
mouths , but that which their breasts hide is greater . We have 
made plain for you the revelations if ye will understand .

---
3.119
هَا أَنتُمْ أُولَاءِ تُحِبُّونَهُمْ وَلَا يُحِبُّونَكُمْ وَتُؤْمِنُونَ بِالْكِتَابِ كُلِّهِ وَإِذَا لَقُوكُمْ قَالُوا آمَنَّا وَإِذَا خَلَوْا عَضُّوا عَلَيْكُمُ الْأَنَامِلَ مِنَ الْغَيْظِ ۚ قُلْ مُوتُوا بِغَيْظِكُمْ ۗ إِنَّ اللَّهَ عَلِيمٌ بِذَاتِ الصُّدُورِ (119)
Haantum olai tuhibboonahum wala yuhibboonakum watuminoona bialkitabi kullihi waitha laqookum qaloo amanna waitha khalaw AAaddoo AAalaykumu alanamila mina alghaythi qul mootoo bighaythikum inna Allaha AAaleemun bithati alssudoori
O ye are those who love them though they love you not , and ye
believe in all the Scripture . When they fall in with you they say : 
We believe ; but when they go apart they bite their finger tips 
at you , for rage . Say : Perish in your rage! Lo! Allah is Aware 
of what is hidden in ( your ) breasts .

---
3.120
إِن تَمْسَسْكُمْ حَسَنَةٌ تَسُؤْهُمْ وَإِن تُصِبْكُمْ سَيِّئَةٌ يَفْرَحُوا بِهَا ۖ وَإِن تَصْبِرُوا وَتَتَّقُوا لَا يَضُرُّكُمْ كَيْدُهُمْ شَيْئًا ۗ إِنَّ اللَّهَ بِمَا يَعْمَلُونَ مُحِيطٌ (120)
In tamsaskum hasanatun tasuhum wain tusibkum sayyiatun yafrahoo biha wain tasbiroo watattaqoo la yadurrukum kayduhum shayan inna Allaha bima yaAAmaloona muheetun
If a lucky chance befall you , it is evil unto them , and if 
disaster strike you they rejoice thereat . But if ye persevere 
and keep from evil their guile will never harm you . Lo! Allah 
is Surrounding what they do .

---
3.121
وَإِذْ غَدَوْتَ مِنْ أَهْلِكَ تُبَوِّئُ الْمُؤْمِنِينَ مَقَاعِدَ لِلْقِتَالِ ۗ وَاللَّهُ سَمِيعٌ عَلِيمٌ (121)
Waith ghadawta min ahlika tubawwio almumineena maqaAAida lilqitali waAllahu sameeAAun AAaleemun
And remember when thou settedst forth at daybreak from 
thy housefolk to assign to the believers their positions for the 
battle , Allah was Hearer , Knower .

---
3.122
إِذْ هَمَّت طَّائِفَتَانِ مِنكُمْ أَن تَفْشَلَا وَاللَّهُ وَلِيُّهُمَا ۗ وَعَلَى اللَّهِ فَلْيَتَوَكَّلِ الْمُؤْمِنُونَ (122)
Ith hammat taifatani minkum an tafshala waAllahu waliyyuhuma waAAala Allahi falyatawakkali almuminoona
When two parties of you almost fell away , and Allah was 
their Protecting Friend . In Allah do believers put their trust .

---
3.123
وَلَقَدْ نَصَرَكُمُ اللَّهُ بِبَدْرٍ وَأَنتُمْ أَذِلَّةٌ ۖ فَاتَّقُوا اللَّهَ لَعَلَّكُمْ تَشْكُرُونَ (123)
Walaqad nasarakumu Allahu bibadrin waantum athillatun faittaqoo Allaha laAAallakum tashkuroona
Allah had already given you the victory at Badr , when ye 
were contemptible . So observe your duty to Allah in order 
that ye may be thankful .

---
3.124
إِذْ تَقُولُ لِلْمُؤْمِنِينَ أَلَن يَكْفِيَكُمْ أَن يُمِدَّكُمْ رَبُّكُم بِثَلَاثَةِ آلَافٍ مِّنَ الْمَلَائِكَةِ مُنزَلِينَ (124)
Ith taqoolu lilmumineena alan yakfiyakum an yumiddakum rabbukum bithalathati alafin mina almalaikati munzaleena
And when thou didst say unto the believers : Is it not 
sufficient for you that your Lord should support you with 
three thousand angels sent down ( to your help ) ?

---
3.125
بَلَىٰ ۚ إِن تَصْبِرُوا وَتَتَّقُوا وَيَأْتُوكُم مِّن فَوْرِهِمْ هَٰذَا يُمْدِدْكُمْ رَبُّكُم بِخَمْسَةِ آلَافٍ مِّنَ الْمَلَائِكَةِ مُسَوِّمِينَ (125)
Bala in tasbiroo watattaqoo wayatookum min fawrihim hatha yumdidkum rabbukum bikhamsati alafin mina almalaikati musawwimeena
Nay , but if ye persevere , and keep from evil , and 
( the enemy ) attack you suddenly , your Lord will help 
you with five thousand angels sweeping on .

---
3.126
وَمَا جَعَلَهُ اللَّهُ إِلَّا بُشْرَىٰ لَكُمْ وَلِتَطْمَئِنَّ قُلُوبُكُم بِهِ ۗ وَمَا النَّصْرُ إِلَّا مِنْ عِندِ اللَّهِ الْعَزِيزِ الْحَكِيمِ (126)
Wama jaAAalahu Allahu illa bushra lakum walitatmainna quloobukum bihi wama alnnasru illa min AAindi Allahi alAAazeezi alhakeemi
Allah ordained this only as a message of good cheer for you , 
and that thereby your hearts might be at rest . Victory cometh 
only from Allah , the Mighty , the Wise

---
3.127
لِيَقْطَعَ طَرَفًا مِّنَ الَّذِينَ كَفَرُوا أَوْ يَكْبِتَهُمْ فَيَنقَلِبُوا خَائِبِينَ (127)
LiyaqtaAAa tarafan mina allatheena kafaroo aw yakbitahum fayanqaliboo khaibeena
That He may cut off a part of those who disbelieve , or 
overwhelm them so that they retire , frustrated .

---
3.128
لَيْسَ لَكَ مِنَ الْأَمْرِ شَيْءٌ أَوْ يَتُوبَ عَلَيْهِمْ أَوْ يُعَذِّبَهُمْ فَإِنَّهُمْ ظَالِمُونَ (128)
Laysa laka mina alamri shayon aw yatooba AAalayhim aw yuAAaththibahum fainnahum thalimoona
It is no concern at all of thee ( Muhammad ) whether 
He relent toward them or punish them ; for they are evil doers .

---
3.129
وَلِلَّهِ مَا فِي السَّمَاوَاتِ وَمَا فِي الْأَرْضِ ۚ يَغْفِرُ لِمَن يَشَاءُ وَيُعَذِّبُ مَن يَشَاءُ ۚ وَاللَّهُ غَفُورٌ رَّحِيمٌ (129)
Walillahi ma fee alssamawati wama fee alardi yaghfiru liman yashao wayuAAaththibu man yashao waAllahu ghafoorun raheemun
Unto Allah belongeth whatsoever is in the heavens and 
whatsoever is in the earth . He forgiveth whom He will , 
and punisheth whom He will . Allah is Forgiving , Merciful .

---
3.130
يَا أَيُّهَا الَّذِينَ آمَنُوا لَا تَأْكُلُوا الرِّبَا أَضْعَافًا مُّضَاعَفَةً ۖ وَاتَّقُوا اللَّهَ لَعَلَّكُمْ تُفْلِحُونَ (130)
Ya ayyuha allatheena amanoo la takuloo alrriba adAAafan mudaAAafatan waittaqoo Allaha laAAallakum tuflihoona
O ye who believe! Devour not usury , doubling and 
quadrupling ( the sum lent ) . Observe your duty to Allah ,
that ye may be successful .

---
3.131
وَاتَّقُوا النَّارَ الَّتِي أُعِدَّتْ لِلْكَافِرِينَ (131)
Waittaqoo alnnara allatee oAAiddat lilkafireena
And ward off ( from yourselves ) the Fire prepared for 
disbelievers .

---
3.132
وَأَطِيعُوا اللَّهَ وَالرَّسُولَ لَعَلَّكُمْ تُرْحَمُونَ (132)
WaateeAAoo Allaha waalrrasoola laAAallakum turhamoona
And obey Allah and the messenger , that ye may find mercy .

---
3.133
۞ وَسَارِعُوا إِلَىٰ مَغْفِرَةٍ مِّن رَّبِّكُمْ وَجَنَّةٍ عَرْضُهَا السَّمَاوَاتُ وَالْأَرْضُ أُعِدَّتْ لِلْمُتَّقِينَ (133)
WasariAAoo ila maghfiratin min rabbikum wajannatin AAarduha alssamawatu waalardu oAAiddat lilmuttaqeena
And vie one with another for forgiveness from your Lord , 
and for a Paradise as wide as are the heavens and the earth , 
prepared for those who ward off ( evil ) ;

---
3.134
الَّذِينَ يُنفِقُونَ فِي السَّرَّاءِ وَالضَّرَّاءِ وَالْكَاظِمِينَ الْغَيْظَ وَالْعَافِينَ عَنِ النَّاسِ ۗ وَاللَّهُ يُحِبُّ الْمُحْسِنِينَ (134)
Allatheena yunfiqoona fee alssarrai waalddarrai waalkathimeena alghaytha waalAAafeena AAani alnnasi waAllahu yuhibbu almuhsineena
Those who spend ( of that which Allah hath given them ) 
in ease and in adversity , those who control their wrath and 
are forgiving toward mankind ; Allah loveth the good ;

---
3.135
وَالَّذِينَ إِذَا فَعَلُوا فَاحِشَةً أَوْ ظَلَمُوا أَنفُسَهُمْ ذَكَرُوا اللَّهَ فَاسْتَغْفَرُوا لِذُنُوبِهِمْ وَمَن يَغْفِرُ الذُّنُوبَ إِلَّا اللَّهُ وَلَمْ يُصِرُّوا عَلَىٰ مَا فَعَلُوا وَهُمْ يَعْلَمُونَ (135)
Waallatheena itha faAAaloo fahishatan aw thalamoo anfusahum thakaroo Allaha faistaghfaroo lithunoobihim waman yaghfiru alththunooba illa Allahu walam yusirroo AAala ma faAAaloo wahum yaAAlamoona
And those who , when they do an evil thing or wrong
themselves , remember Allah and implore forgiveness for 
their sins . Who forgiveth sins save Allah only? . and will not 
knowingly repeat ( the wrong ) they did .

---
3.136
أُولَٰئِكَ جَزَاؤُهُم مَّغْفِرَةٌ مِّن رَّبِّهِمْ وَجَنَّاتٌ تَجْرِي مِن تَحْتِهَا الْأَنْهَارُ خَالِدِينَ فِيهَا ۚ وَنِعْمَ أَجْرُ الْعَامِلِينَ (136)
Olaika jazaohum maghfiratun min rabbihim wajannatun tajree min tahtiha alanharu khalideena feeha waniAAma ajru alAAamileena
The reward of such will be forgiveness from their 
Lord , and Gardens underneath which rivers flow , wherein 
they will abide for ever , a bountiful reward for workers!

---
3.137
قَدْ خَلَتْ مِن قَبْلِكُمْ سُنَنٌ فَسِيرُوا فِي الْأَرْضِ فَانظُرُوا كَيْفَ كَانَ عَاقِبَةُ الْمُكَذِّبِينَ (137)
Qad khalat min qablikum sunanun faseeroo fee alardi faonthuroo kayfa kana AAaqibatu almukaththibeena
Systems have passed away before you . Do but travel 
in the land and see the nature of the consequence for those 
who did deny ( the messengers ) .

---
3.138
هَٰذَا بَيَانٌ لِّلنَّاسِ وَهُدًى وَمَوْعِظَةٌ لِّلْمُتَّقِينَ (138)
Hatha bayanun lilnnasi wahudan wamawAAithatun lilmuttaqeena
This is a declaration for mankind , a guidance and an 
admonition unto those who ward off ( evil ) .

---
3.139
وَلَا تَهِنُوا وَلَا تَحْزَنُوا وَأَنتُمُ الْأَعْلَوْنَ إِن كُنتُم مُّؤْمِنِينَ (139)
Wala tahinoo wala tahzanoo waantumu alaAAlawna in kuntum mumineena
Faint not nor grieve , for ye will overcome them if ye 
are ( indeed ) believers .

---
3.140
إِن يَمْسَسْكُمْ قَرْحٌ فَقَدْ مَسَّ الْقَوْمَ قَرْحٌ مِّثْلُهُ ۚ وَتِلْكَ الْأَيَّامُ نُدَاوِلُهَا بَيْنَ النَّاسِ وَلِيَعْلَمَ اللَّهُ الَّذِينَ آمَنُوا وَيَتَّخِذَ مِنكُمْ شُهَدَاءَ ۗ وَاللَّهُ لَا يُحِبُّ الظَّالِمِينَ (140)
In yamsaskum qarhun faqad massa alqawma qarhun mithluhu watilka alayyamu nudawiluha bayna alnnasi waliyaAAlama Allahu allatheena amanoo wayattakhitha minkum shuhadaa waAllahu la yuhibbu alththalimeena
If ye have received a blow , the ( disbelieving ) people 
have received a blow the like thereof : These are ( only ) the 
vicissitudes which We cause to follow one another for 
mankind , to the end that Allah may know those who believe 
and may choose witnesses from among you ; and Allah 
loveth not wrong doers .

---
3.141
وَلِيُمَحِّصَ اللَّهُ الَّذِينَ آمَنُوا وَيَمْحَقَ الْكَافِرِينَ (141)
Waliyumahhisa Allahu allatheena amanoo wayamhaqa alkafireena
And that Allah may prove those who believe , and may 
blight the disbelievers .

---
3.142
أَمْ حَسِبْتُمْ أَن تَدْخُلُوا الْجَنَّةَ وَلَمَّا يَعْلَمِ اللَّهُ الَّذِينَ جَاهَدُوا مِنكُمْ وَيَعْلَمَ الصَّابِرِينَ (142)
Am hasibtum an tadkhuloo aljannata walamma yaAAlami Allahu allatheena jahadoo minkum wayaAAlama alssabireena
Or deemed ye that ye would enter Paradise while 
yet Allah knoweth not those of you who really strive , nor 
knoweth those ( of you ) who are steadfast?

---
3.143
وَلَقَدْ كُنتُمْ تَمَنَّوْنَ الْمَوْتَ مِن قَبْلِ أَن تَلْقَوْهُ فَقَدْ رَأَيْتُمُوهُ وَأَنتُمْ تَنظُرُونَ (143)
Walaqad kuntum tamannawna almawta min qabli an talqawhu faqad raaytumoohu waantum tanthuroona
And verily ye used to wish for death before ye met it 
( in the field ) . Now ye have seen it with your eyes!

---
3.144
وَمَا مُحَمَّدٌ إِلَّا رَسُولٌ قَدْ خَلَتْ مِن قَبْلِهِ الرُّسُلُ ۚ أَفَإِن مَّاتَ أَوْ قُتِلَ انقَلَبْتُمْ عَلَىٰ أَعْقَابِكُمْ ۚ وَمَن يَنقَلِبْ عَلَىٰ عَقِبَيْهِ فَلَن يَضُرَّ اللَّهَ شَيْئًا ۗ وَسَيَجْزِي اللَّهُ الشَّاكِرِينَ (144)
Wama muhammadun illa rasoolun qad khalat min qablihi alrrusulu afain mata aw qutila inqalabtum AAala aAAqabikum waman yanqalib AAala AAaqibayhi falan yadurra Allaha shayan wasayajzee Allahu alshshakireena
Muhammad is but a messenger , messengers 
( the like of whom ) have passed away before him . 
Will it be that , when he dieth or is slain , ye will turn back 
on your heels? He who turneth back doth no hurt to Allah , 
and Allah will reward the thankful .

---
3.145
وَمَا كَانَ لِنَفْسٍ أَن تَمُوتَ إِلَّا بِإِذْنِ اللَّهِ كِتَابًا مُّؤَجَّلًا ۗ وَمَن يُرِدْ ثَوَابَ الدُّنْيَا نُؤْتِهِ مِنْهَا وَمَن يُرِدْ ثَوَابَ الْآخِرَةِ نُؤْتِهِ مِنْهَا ۚ وَسَنَجْزِي الشَّاكِرِينَ (145)
Wama kana linafsin an tamoota illa biithni Allahi kitaban muajjalan waman yurid thawaba alddunya nutihi minha waman yurid thawaba alakhirati nutihi minha wasanajzee alshshakireena
No soul can ever die except by Allah ' s leave and at 
a term appointed . Whoso desireth the reward of the world , 
We bestow on him thereof ; and whoso desireth the reward 
of the Hereafter , thankful . We bestow on him thereof . 
We shall reward the

---
3.146
وَكَأَيِّن مِّن نَّبِيٍّ قَاتَلَ مَعَهُ رِبِّيُّونَ كَثِيرٌ فَمَا وَهَنُوا لِمَا أَصَابَهُمْ فِي سَبِيلِ اللَّهِ وَمَا ضَعُفُوا وَمَا اسْتَكَانُوا ۗ وَاللَّهُ يُحِبُّ الصَّابِرِينَ (146)
Wakaayyin min nabiyyin qatala maAAahu ribbiyyoona katheerun fama wahanoo lima asabahum fee sabeeli Allahi wama daAAufoo wama istakanoo waAllahu yuhibbu alssabireena
And with how many a prophet have there been a 
number of devoted men who fought ( beside him ) . They 
quailed not for aught that befell them in the way of Allah , 
nor did they weaken , nor were they brought low . Allah 
loveth the steadfast .

---
3.147
وَمَا كَانَ قَوْلَهُمْ إِلَّا أَن قَالُوا رَبَّنَا اغْفِرْ لَنَا ذُنُوبَنَا وَإِسْرَافَنَا فِي أَمْرِنَا وَثَبِّتْ أَقْدَامَنَا وَانصُرْنَا عَلَى الْقَوْمِ الْكَافِرِينَ (147)
Wama kana qawlahum illa an qaloo rabbana ighfir lana thunoobana waisrafana fee amrina wathabbit aqdamana waonsurna AAala alqawmi alkafireena
Their cry was only that they said : Our Lord! Forgive 
us for our sins and wasted efforts , make our foothold sure , 
and give us victory over the disbelieving folk .

---
3.148
فَآتَاهُمُ اللَّهُ ثَوَابَ الدُّنْيَا وَحُسْنَ ثَوَابِ الْآخِرَةِ ۗ وَاللَّهُ يُحِبُّ الْمُحْسِنِينَ (148)
Faatahumu Allahu thawaba alddunya wahusna thawabi alakhirati waAllahu yuhibbu almuhsineena
So Allah gave them the reward of the world and the 
good reward of the Hereafter . Allah loveth those whose
deeds are good .

---
3.149
يَا أَيُّهَا الَّذِينَ آمَنُوا إِن تُطِيعُوا الَّذِينَ كَفَرُوا يَرُدُّوكُمْ عَلَىٰ أَعْقَابِكُمْ فَتَنقَلِبُوا خَاسِرِينَ (149)
Ya ayyuha allatheena amanoo in tuteeAAoo allatheena kafaroo yaruddookum AAala aAAqabikum fatanqaliboo khasireena
O ye who believe! If ye obey those who disbelieve , 
they will make you turn back on your heels , and ye turn 
back as losers .

---
3.150
بَلِ اللَّهُ مَوْلَاكُمْ ۖ وَهُوَ خَيْرُ النَّاصِرِينَ (150)
Bali Allahu mawlakum wahuwa khayru alnnasireena
But Allah is your Protector , and He is the best of helpers .