2d. Al-Baqarah (151 to 200)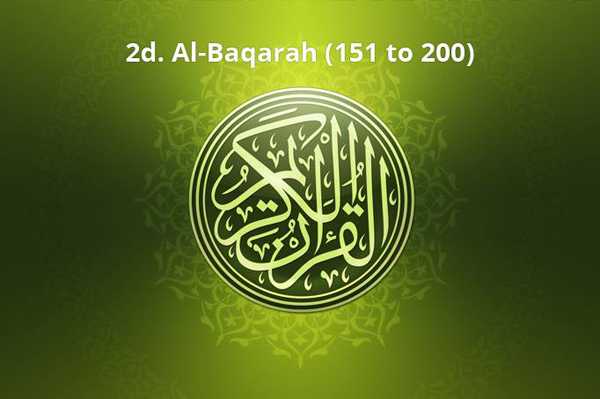 Even as We have sent unto you a messenger from among
you , who reciteth unto you Our revelations and causeth you…
2.151
كَمَا أَرْسَلْنَا فِيكُمْ رَسُولًا مِّنكُمْ يَتْلُو عَلَيْكُمْ آيَاتِنَا وَيُزَكِّيكُمْ وَيُعَلِّمُكُمُ الْكِتَابَ وَالْحِكْمَةَ وَيُعَلِّمُكُم مَّا لَمْ تَكُونُوا تَعْلَمُونَ (151)
Kama arsalna feekum rasoolan minkum yatloo AAalaykum ayatina wayuzakkeekum wayuAAallimukumu alkitaba waalhikmata wayuAAallimukum ma lam takoonoo taAAlamoona
Even as We have sent unto you a messenger from among 
you , who reciteth unto you Our revelations and causeth you 
to grow , and teacheth you the Scripture and wisdom , and 
teacheth you that which ye knew not . '

---
2.152
فَاذْكُرُونِي أَذْكُرْكُمْ وَاشْكُرُوا لِي وَلَا تَكْفُرُونِ (152)
Faothkuroonee athkurkum waoshkuroo lee wala takfurooni
Therefore remember Me , I will remember you . Give thanks
to Me , and reject not Me .

---
2.153
يَا أَيُّهَا الَّذِينَ آمَنُوا اسْتَعِينُوا بِالصَّبْرِ وَالصَّلَاةِ ۚ إِنَّ اللَّهَ مَعَ الصَّابِرِينَ (153)
Ya ayyuha allatheena amanoo istaAAeenoo bialssabri waalssalati inna Allaha maAAa alssabireena
O ye who believe! Seek help in steadfastness , and prayer . 
Lo! Allah is with the steadfast .

---
2.154
وَلَا تَقُولُوا لِمَن يُقْتَلُ فِي سَبِيلِ اللَّهِ أَمْوَاتٌ ۚ بَلْ أَحْيَاءٌ وَلَٰكِن لَّا تَشْعُرُونَ (154)
Wala taqooloo liman yuqtalu fee sabeeli Allahi amwatun bal ahyaon walakin la tashAAuroona
And call not those who are slain in the way of Allah "dead . " 
Nay , they are living , only ye perceive not .

---
2.155
وَلَنَبْلُوَنَّكُم بِشَيْءٍ مِّنَ الْخَوْفِ وَالْجُوعِ وَنَقْصٍ مِّنَ الْأَمْوَالِ وَالْأَنفُسِ وَالثَّمَرَاتِ ۗ وَبَشِّرِ الصَّابِرِينَ (155)
Walanabluwannakum bishayin mina alkhawfi waaljooAAi wanaqsin mina alamwali waalanfusi waalththamarati wabashshiri alssabireena
And surely We shall try you with something of fear and 
hunger , and loss of wealth and lives and crops ; but give 
glad tidings to the steadfast ,

---
2.156
الَّذِينَ إِذَا أَصَابَتْهُم مُّصِيبَةٌ قَالُوا إِنَّا لِلَّهِ وَإِنَّا إِلَيْهِ رَاجِعُونَ (156)
Allatheena itha asabathum museebatun qaloo inna lillahi wainna ilayhi rajiAAoona
Who say , when a misfortune striketh them : Lo! we are Allah ' s 
and Lo! unto Him we are returning .

---
2.157
أُولَٰئِكَ عَلَيْهِمْ صَلَوَاتٌ مِّن رَّبِّهِمْ وَرَحْمَةٌ ۖ وَأُولَٰئِكَ هُمُ الْمُهْتَدُونَ (157)
Olaika AAalayhim salawatun min rabbihim warahmatun waolaika humu almuhtadoona
Such are they on whom are blessings from their Lord , and 
mercy . Such are the rightly guided .

---
2.158
۞ إِنَّ الصَّفَا وَالْمَرْوَةَ مِن شَعَائِرِ اللَّهِ ۖ فَمَنْ حَجَّ الْبَيْتَ أَوِ اعْتَمَرَ فَلَا جُنَاحَ عَلَيْهِ أَن يَطَّوَّفَ بِهِمَا ۚ وَمَن تَطَوَّعَ خَيْرًا فَإِنَّ اللَّهَ شَاكِرٌ عَلِيمٌ (158)
Inna alssafa waalmarwata min shaAAairi Allahi faman hajja albayta awi iAAtamara fala junaha AAalayhi an yattawwafa bihima waman tatawwaAAa khayran fainna Allaha shakirun AAaleemun
Lo! ( the mountains ) Al-Safa and Al-Marwah are among the 
indications of Allah . It is therefore no sin for him who is on 
pilgrimage to the House ( of God ) or visiteth it , to go around 
them ( as the pagan custom is ) . And he who doeth good of 
his own accord ( for him ) , Lo! Allah is Responsive , Aware .

---
2.159
إِنَّ الَّذِينَ يَكْتُمُونَ مَا أَنزَلْنَا مِنَ الْبَيِّنَاتِ وَالْهُدَىٰ مِن بَعْدِ مَا بَيَّنَّاهُ لِلنَّاسِ فِي الْكِتَابِ ۙ أُولَٰئِكَ يَلْعَنُهُمُ اللَّهُ وَيَلْعَنُهُمُ اللَّاعِنُونَ (159)
Inna allatheena yaktumoona ma anzalna mina albayyinati waalhuda min baAAdi ma bayyannahu lilnnasi fee alkitabi olaika yalAAanuhumu Allahu wayalAAanuhumu allaAAinoona
Those who hide the proofs and the guidance which We 
revealed , after We had made it clear in the Scripture : such 
are accursed of Allah and accursed of those who have the 
power to curse .

---
2.160
إِلَّا الَّذِينَ تَابُوا وَأَصْلَحُوا وَبَيَّنُوا فَأُولَٰئِكَ أَتُوبُ عَلَيْهِمْ ۚ وَأَنَا التَّوَّابُ الرَّحِيمُ (160)
Illa allatheena taboo waaslahoo wabayyanoo faolaika atoobu AAalayhim waana alttawwabu alrraheemu
Except such of them as repent and amend and make 
manifest ( the truth ) . These it is toward whom I relent . 
I am the Relenting , the Merciful .

---
2.161
إِنَّ الَّذِينَ كَفَرُوا وَمَاتُوا وَهُمْ كُفَّارٌ أُولَٰئِكَ عَلَيْهِمْ لَعْنَةُ اللَّهِ وَالْمَلَائِكَةِ وَالنَّاسِ أَجْمَعِينَ (161)
Inna allatheena kafaroo wamatoo wahum kuffarun olaika AAalayhim laAAnatu Allahi waalmalaikati waalnnasi ajmaAAeena
Lo! those who disbelieve , and die while they are 
disbelievers ; on them is the curse of Allah and of angels 
and of men combined .

---
2.162
خَالِدِينَ فِيهَا ۖ لَا يُخَفَّفُ عَنْهُمُ الْعَذَابُ وَلَا هُمْ يُنظَرُونَ (162)
Khalideena feeha la yukhaffafu AAanhumu alAAathabu wala hum yuntharoona
They ever dwell therein . The doom will not be lightened for 
them , neither will they be reprieved .

---
2.163
وَإِلَٰهُكُمْ إِلَٰهٌ وَاحِدٌ ۖ لَّا إِلَٰهَ إِلَّا هُوَ الرَّحْمَٰنُ الرَّحِيمُ (163)
Wailahukum ilahun wahidun la ilaha illa huwa alrrahmanu alrraheemu
Your God is One God ; there is no God save Him , the 
Beneficent , the Merciful .

---
2.164
إِنَّ فِي خَلْقِ السَّمَاوَاتِ وَالْأَرْضِ وَاخْتِلَافِ اللَّيْلِ وَالنَّهَارِ وَالْفُلْكِ الَّتِي تَجْرِي فِي الْبَحْرِ بِمَا يَنفَعُ النَّاسَ وَمَا أَنزَلَ اللَّهُ مِنَ السَّمَاءِ مِن مَّاءٍ فَأَحْيَا بِهِ الْأَرْضَ بَعْدَ مَوْتِهَا وَبَثَّ فِيهَا مِن كُلِّ دَابَّةٍ وَتَصْرِيفِ الرِّيَاحِ وَالسَّحَابِ الْمُسَخَّرِ بَيْنَ السَّمَاءِ وَالْأَرْضِ لَآيَاتٍ لِّقَوْمٍ يَعْقِلُونَ (164)
Inna fee khalqi alssamawati waalardi waikhtilafi allayli waalnnahari waalfulki allatee tajree fee albahri bima yanfaAAu alnnasa wama anzala Allahu mina alssamai min main faahya bihi alarda baAAda mawtiha wabaththa feeha min kulli dabbatin watasreefi alrriyahi waalssahabi almusakhkhari bayna alssamai waalardi laayatin liqawmin yaAAqiloona
Lo! in the creation of the heavens and the earth , and the 
difference of night and day , and the ships which run upon the 
sea with that which is of use to men , and the water which 
Allah sendeth down from the sky , thereby reviving the earth 
after its death , and dispersing all kinds of beasts therein , 
and ( in ) the ordinance of the winds , and the clouds obedient 
between heaven and earth : are signs ( of Allah ' s sovereignty ) 
for people who have sense .

---
2.165
وَمِنَ النَّاسِ مَن يَتَّخِذُ مِن دُونِ اللَّهِ أَندَادًا يُحِبُّونَهُمْ كَحُبِّ اللَّهِ ۖ وَالَّذِينَ آمَنُوا أَشَدُّ حُبًّا لِّلَّهِ ۗ وَلَوْ يَرَى الَّذِينَ ظَلَمُوا إِذْ يَرَوْنَ الْعَذَابَ أَنَّ الْقُوَّةَ لِلَّهِ جَمِيعًا وَأَنَّ اللَّهَ شَدِيدُ الْعَذَابِ (165)
Wamina alnnasi man yattakhithu min dooni Allahi andadan yuhibboonahum kahubbi Allahi waallatheena amanoo ashaddu hubban lillahi walaw yara allatheena thalamoo ith yarawna alAAathaba anna alquwwata lillahi jameeAAan waanna Allaha shadeedu alAAathabi
Yet of mankind are some who take unto themselves objects 
of worship which they set as ) rivals to Allah , loving them with 
a love like ( that which is the due ) of Allah ( only ) Those who 
believe are stauncher in their love for Allah , that those who do 
evil had but known , ( on the day ) when they behold the doom , 
that power belongeth wholly to Allah , and that Allah is severe 
in punishment!

---
2.166
إِذْ تَبَرَّأَ الَّذِينَ اتُّبِعُوا مِنَ الَّذِينَ اتَّبَعُوا وَرَأَوُا الْعَذَابَ وَتَقَطَّعَتْ بِهِمُ الْأَسْبَابُ (166)
Ith tabarraa allatheena ittubiAAoo mina allatheena ittabaAAoo waraawoo alAAathaba wataqattaAAat bihimu alasbabu
( On the day ) when those who were followed disown those 
who followed ( them ) , and they behold the doom , and all 
their aims collapse with them .

---
2.167
وَقَالَ الَّذِينَ اتَّبَعُوا لَوْ أَنَّ لَنَا كَرَّةً فَنَتَبَرَّأَ مِنْهُمْ كَمَا تَبَرَّءُوا مِنَّا ۗ كَذَٰلِكَ يُرِيهِمُ اللَّهُ أَعْمَالَهُمْ حَسَرَاتٍ عَلَيْهِمْ ۖ وَمَا هُم بِخَارِجِينَ مِنَ النَّارِ (167)
Waqala allatheena ittabaAAoo law anna lana karratan fanatabarraa minhum kama tabarraoo minna kathalika yureehimu Allahu aAAmalahum hasaratin AAalayhim wama hum bikharijeena mina alnnari
And those who were but followers will say : If a return were 
possible for us , we would disown them even as they have 
disowned us . Thus will Allah show them their own deeds as
anguish for them , and they will not emerge from the Fire .

---
2.168
يَا أَيُّهَا النَّاسُ كُلُوا مِمَّا فِي الْأَرْضِ حَلَالًا طَيِّبًا وَلَا تَتَّبِعُوا خُطُوَاتِ الشَّيْطَانِ ۚ إِنَّهُ لَكُمْ عَدُوٌّ مُّبِينٌ (168)
Ya ayyuha alnnasu kuloo mimma fee alardi halalan tayyiban wala tattabiAAoo khutuwati alshshaytani innahu lakum AAaduwwun mubeenun
O mankind! Eat of that which is lawful and wholesome in the 
earth , and follow not the footsteps of the devil . Lo! he is an 
open enemy for you .

---
2.169
إِنَّمَا يَأْمُرُكُم بِالسُّوءِ وَالْفَحْشَاءِ وَأَن تَقُولُوا عَلَى اللَّهِ مَا لَا تَعْلَمُونَ (169)
Innama yamurukum bialssooi waalfahshai waan taqooloo AAala Allahi ma la taAAlamoona
He enjoineth upon you only the evil and the foul , and that ye 
should tell concerning Allah that which ye know not .

---
2.170
وَإِذَا قِيلَ لَهُمُ اتَّبِعُوا مَا أَنزَلَ اللَّهُ قَالُوا بَلْ نَتَّبِعُ مَا أَلْفَيْنَا عَلَيْهِ آبَاءَنَا ۗ أَوَلَوْ كَانَ آبَاؤُهُمْ لَا يَعْقِلُونَ شَيْئًا وَلَا يَهْتَدُونَ (170)
Waitha qeela lahumu ittabiAAoo ma anzala Allahu qaloo bal nattabiAAu ma alfayna AAalayhi abaana awalaw kana abaohum la yaAAqiloona shayan wala yahtadoona
And when it is said unto them : Follow that which Allah hath 
revealed , they say : We follow that wherein we found our 
fathers . What! Even though their fathers were wholly 
unintelligent and had no guidance?

---
2.171
وَمَثَلُ الَّذِينَ كَفَرُوا كَمَثَلِ الَّذِي يَنْعِقُ بِمَا لَا يَسْمَعُ إِلَّا دُعَاءً وَنِدَاءً ۚ صُمٌّ بُكْمٌ عُمْيٌ فَهُمْ لَا يَعْقِلُونَ (171)
Wamathalu allatheena kafaroo kamathali allathee yanAAiqu bima la yasmaAAu illa duAAaan wanidaan summun bukmun AAumyun fahum la yaAAqiloona
The likeness of those who disbelieve 
( in relation to the messenger ) is as the likeness of one who 
calleth unto that which heareth naught except a shout and cry . 
Deaf , dumb , blind , therefore they have no sense .

---
2.172
يَا أَيُّهَا الَّذِينَ آمَنُوا كُلُوا مِن طَيِّبَاتِ مَا رَزَقْنَاكُمْ وَاشْكُرُوا لِلَّهِ إِن كُنتُمْ إِيَّاهُ تَعْبُدُونَ (172)
Ya ayyuha allatheena amanoo kuloo min tayyibati ma razaqnakum waoshkuroo lillahi in kuntum iyyahu taAAbudoona
O ye who believe! Eat of the good things wherewith We 
have provided you , and render thanks to Allah if it is 
( indeed ) He whom ye worship .

---
2.173
إِنَّمَا حَرَّمَ عَلَيْكُمُ الْمَيْتَةَ وَالدَّمَ وَلَحْمَ الْخِنزِيرِ وَمَا أُهِلَّ بِهِ لِغَيْرِ اللَّهِ ۖ فَمَنِ اضْطُرَّ غَيْرَ بَاغٍ وَلَا عَادٍ فَلَا إِثْمَ عَلَيْهِ ۚ إِنَّ اللَّهَ غَفُورٌ رَّحِيمٌ (173)
Innama harrama AAalaykumu almaytata waalddama walahma alkhinzeeri wama ohilla bihi lighayri Allahi famani idturra ghayra baghin wala AAadin fala ithma AAalayhi inna Allaha ghafoorun raheemun
He hath forbidden you only carrion , and blood , and 
swineflesh , and that which hath been immolated to 
( the name of ) any other than Allah . But he who is driven by 
necessity , neither craving nor transgressing , it is no sin for 
him . Lo! Allah is Forgiving , Merciful .

---
2.174
إِنَّ الَّذِينَ يَكْتُمُونَ مَا أَنزَلَ اللَّهُ مِنَ الْكِتَابِ وَيَشْتَرُونَ بِهِ ثَمَنًا قَلِيلًا ۙ أُولَٰئِكَ مَا يَأْكُلُونَ فِي بُطُونِهِمْ إِلَّا النَّارَ وَلَا يُكَلِّمُهُمُ اللَّهُ يَوْمَ الْقِيَامَةِ وَلَا يُزَكِّيهِمْ وَلَهُمْ عَذَابٌ أَلِيمٌ (174)
Inna allatheena yaktumoona ma anzala Allahu mina alkitabi wayashtaroona bihi thamanan qaleelan olaika ma yakuloona fee butoonihim illa alnnara wala yukallimuhumu Allahu yawma alqiyamati wala yuzakkeehim walahum AAathabun aleemun
Lo! those who hide aught of the Scripture which Allah hath 
revealed , and purchase a small gain therewith , they eat into 
their bellies nothing else than fire . Allah will not speak to
them on the Day of Resurrection , nor will He make them 
grow . Theirs will be a painful doom .

---
2.175
أُولَٰئِكَ الَّذِينَ اشْتَرَوُا الضَّلَالَةَ بِالْهُدَىٰ وَالْعَذَابَ بِالْمَغْفِرَةِ ۚ فَمَا أَصْبَرَهُمْ عَلَى النَّارِ (175)
Olaika allatheena ishtarawoo alddalalata bialhuda waalAAathaba bialmaghfirati fama asbarahum AAala alnnari
Those are they who purchase error at the price of guidance , 
and torment at the price of pardon . How constant are they in 
their strife to reach the Fire!

---
2.176
ذَٰلِكَ بِأَنَّ اللَّهَ نَزَّلَ الْكِتَابَ بِالْحَقِّ ۗ وَإِنَّ الَّذِينَ اخْتَلَفُوا فِي الْكِتَابِ لَفِي شِقَاقٍ بَعِيدٍ (176)
Thalika bianna Allaha nazzala alkitaba bialhaqqi wainna allatheena ikhtalafoo fee alkitabi lafee shiqaqin baAAeedin
That is because Allah hath revealed the Scripture with the 
truth . Lo! those who find ( a cause of ) disagreement in the 
Scripture are in open schism .

---
2.177
۞ لَّيْسَ الْبِرَّ أَن تُوَلُّوا وُجُوهَكُمْ قِبَلَ الْمَشْرِقِ وَالْمَغْرِبِ وَلَٰكِنَّ الْبِرَّ مَنْ آمَنَ بِاللَّهِ وَالْيَوْمِ الْآخِرِ وَالْمَلَائِكَةِ وَالْكِتَابِ وَالنَّبِيِّينَ وَآتَى الْمَالَ عَلَىٰ حُبِّهِ ذَوِي الْقُرْبَىٰ وَالْيَتَامَىٰ وَالْمَسَاكِينَ وَابْنَ السَّبِيلِ وَالسَّائِلِينَ وَفِي الرِّقَابِ وَأَقَامَ الصَّلَاةَ وَآتَى الزَّكَاةَ وَالْمُوفُونَ بِعَهْدِهِمْ إِذَا عَاهَدُوا ۖ وَالصَّابِرِينَ فِي الْبَأْسَاءِ وَالضَّرَّاءِ وَحِينَ الْبَأْسِ ۗ أُولَٰئِكَ الَّذِينَ صَدَقُوا ۖ وَأُولَٰئِكَ هُمُ الْمُتَّقُونَ (177)
Laysa albirra an tuwalloo wujoohakum qibala almashriqi waalmaghribi walakinna albirra man amana biAllahi waalyawmi alakhiri waalmalaikati waalkitabi waalnnabiyyeena waata almala AAala hubbihi thawee alqurba waalyatama waalmasakeena waibna alssabeeli waalssaileena wafee alrriqabi waaqama alssalata waata alzzakata waalmoofoona biAAahdihim itha AAahadoo waalssabireena fee albasai waalddarrai waheena albasi olaika allatheena sadaqoo waolaika humu almuttaqoona
It is not righteousness that ye turn your faces to the East and 
the West ; but righteous is he who believeth in Allah and the 
Last Day and the angels and the Scripture and the Prophets ; 
and giveth his wealth , for love of Him , to kinsfolk and to 
orphans and the needy and the wayfarer and to those who ask , 
and to set slaves free ; and observeth proper worship and 
payeth the poor due . And those who keep their treaty when 
they make one , and the patient in tribulation and adversity and 
time of stress . Such are they who are sincere . Such are the 
God fearing .

---
2.178
يَا أَيُّهَا الَّذِينَ آمَنُوا كُتِبَ عَلَيْكُمُ الْقِصَاصُ فِي الْقَتْلَى ۖ الْحُرُّ بِالْحُرِّ وَالْعَبْدُ بِالْعَبْدِ وَالْأُنثَىٰ بِالْأُنثَىٰ ۚ فَمَنْ عُفِيَ لَهُ مِنْ أَخِيهِ شَيْءٌ فَاتِّبَاعٌ بِالْمَعْرُوفِ وَأَدَاءٌ إِلَيْهِ بِإِحْسَانٍ ۗ ذَٰلِكَ تَخْفِيفٌ مِّن رَّبِّكُمْ وَرَحْمَةٌ ۗ فَمَنِ اعْتَدَىٰ بَعْدَ ذَٰلِكَ فَلَهُ عَذَابٌ أَلِيمٌ (178)
Ya ayyuha allatheena amanoo kutiba AAalaykumu alqisasu fee alqatla alhurru bialhurri waalAAabdu bialAAabdi waalontha bialontha faman AAufiya lahu min akheehi shayon faittibaAAun bialmaAAroofi waadaon ilayhi biihsanin thalika takhfeefun min rabbikum warahmatun famani iAAtada baAAda thalika falahu AAathabun aleemun
O ye who believe! Retaliation is prescribed for you in the 
matter of the murdered ; the freeman for the freeman , and 
the slave for the slave , and the female for the female . And 
for him who is forgiven somewhat by his ( injured ) brother , 
prosecution according to usage and payment unto him in 
kindness . This is an alleviation and a mercy from your Lord . 
He who transgresseth after this will have a painful doom .

---
2.179
وَلَكُمْ فِي الْقِصَاصِ حَيَاةٌ يَا أُولِي الْأَلْبَابِ لَعَلَّكُمْ تَتَّقُونَ (179)
Walakum fee alqisasi hayatun ya olee alalbabi laAAallakum tattaqoona
And there is life for you in retaliation , O men of 
understanding , that ye may ward off ( evil ) .

---
2.180
كُتِبَ عَلَيْكُمْ إِذَا حَضَرَ أَحَدَكُمُ الْمَوْتُ إِن تَرَكَ خَيْرًا الْوَصِيَّةُ لِلْوَالِدَيْنِ وَالْأَقْرَبِينَ بِالْمَعْرُوفِ ۖ حَقًّا عَلَى الْمُتَّقِينَ (180)
Kutiba AAalaykum itha hadara ahadakumu almawtu in taraka khayran alwasiyyatu lilwalidayni waalaqrabeena bialmaAAroofi haqqan AAala almuttaqeena
It is prescribed for you , when one of you approacheth death , 
if he leave wealth , that he bequeath unto parents and near 
relatives in kindness . ( This is ) a duty for all those who ward 
off ( evil ) .

---
2.181
فَمَن بَدَّلَهُ بَعْدَمَا سَمِعَهُ فَإِنَّمَا إِثْمُهُ عَلَى الَّذِينَ يُبَدِّلُونَهُ ۚ إِنَّ اللَّهَ سَمِيعٌ عَلِيمٌ (181)
Faman baddalahu baAAdama samiAAahu fainnama ithmuhu AAala allatheena yubaddiloonahu inna Allaha sameeAAun AAaleemun
And whoso changeth ( the will ) after he hath heard it the 
sin thereof is only upon those who change it . Lo! Allah is 
Hearer , Knower .

---
2.182
فَمَنْ خَافَ مِن مُّوصٍ جَنَفًا أَوْ إِثْمًا فَأَصْلَحَ بَيْنَهُمْ فَلَا إِثْمَ عَلَيْهِ ۚ إِنَّ اللَّهَ غَفُورٌ رَّحِيمٌ (182)
Faman khafa min moosin janafan aw ithman faaslaha baynahum fala ithma AAalayhi inna Allaha ghafoorun raheemun
But he who feareth from a testator some unjust or sinful 
clause , and maketh peace between the parties , 
( it shall be ) no sin for him . Lo! Allah is Forgiving , Merciful .

---
2.183
يَا أَيُّهَا الَّذِينَ آمَنُوا كُتِبَ عَلَيْكُمُ الصِّيَامُ كَمَا كُتِبَ عَلَى الَّذِينَ مِن قَبْلِكُمْ لَعَلَّكُمْ تَتَّقُونَ (183)
Ya ayyuha allatheena amanoo kutiba AAalaykumu alssiyamu kama kutiba AAala allatheena min qablikum laAAallakum tattaqoona
O ye who believe! Fasting is prescribed for you , even as it 
was prescribed for those before you , that ye may ward off evil ) ;

---
2.184
أَيَّامًا مَّعْدُودَاتٍ ۚ فَمَن كَانَ مِنكُم مَّرِيضًا أَوْ عَلَىٰ سَفَرٍ فَعِدَّةٌ مِّنْ أَيَّامٍ أُخَرَ ۚ وَعَلَى الَّذِينَ يُطِيقُونَهُ فِدْيَةٌ طَعَامُ مِسْكِينٍ ۖ فَمَن تَطَوَّعَ خَيْرًا فَهُوَ خَيْرٌ لَّهُ ۚ وَأَن تَصُومُوا خَيْرٌ لَّكُمْ ۖ إِن كُنتُمْ تَعْلَمُونَ (184)
Ayyaman maAAdoodatin faman kana minkum mareedan aw AAala safarin faAAiddatun min ayyamin okhara waAAala allatheena yuteeqoonahu fidyatun taAAamu miskeenin faman tatawwaAAa khayran fahuwa khayrun lahu waan tasoomoo khayrun lakum in kuntum taAAlamoona
( Fast ) a certain number of days ; and ( for ) him who is sick 
among you , or on a journey , ( the same ) number of other 
days ; and for those who can afford it there is a ransom : the 
feeding of a man in need . But whoso doeth good of his own 
accord , it is better for him : and that ye fast is better for you 
if ye did but know

---
2.185
شَهْرُ رَمَضَانَ الَّذِي أُنزِلَ فِيهِ الْقُرْآنُ هُدًى لِّلنَّاسِ وَبَيِّنَاتٍ مِّنَ الْهُدَىٰ وَالْفُرْقَانِ ۚ فَمَن شَهِدَ مِنكُمُ الشَّهْرَ فَلْيَصُمْهُ ۖ وَمَن كَانَ مَرِيضًا أَوْ عَلَىٰ سَفَرٍ فَعِدَّةٌ مِّنْ أَيَّامٍ أُخَرَ ۗ يُرِيدُ اللَّهُ بِكُمُ الْيُسْرَ وَلَا يُرِيدُ بِكُمُ الْعُسْرَ وَلِتُكْمِلُوا الْعِدَّةَ وَلِتُكَبِّرُوا اللَّهَ عَلَىٰ مَا هَدَاكُمْ وَلَعَلَّكُمْ تَشْكُرُونَ (185)
Shahru ramadana allathee onzila feehi alquranu hudan lilnnasi wabayyinatin mina alhuda waalfurqani faman shahida minkumu alshshahra falyasumhu waman kana mareedan aw AAala safarin faAAiddatun min ayyamin okhara yureedu Allahu bikumu alyusra wala yureedu bikumu alAAusra walitukmiloo alAAiddata walitukabbiroo Allaha AAala ma hadakum walaAAallakum tashkuroona
The month of Ramadan in which was revealed the quran_en , 
a guidance for mankind , and clear proofs of the guidance , 
and the Criterion ( of right and wrong ) . And whosoever of you 
is present , let him fast the month , and whosoever of you is sick 
or on a journey , ( let him fast the same ) number of other days . 
Allah desireth for you ease ; He desireth not hardship for you ; 
and ( He desireth ) that ye should complete the period , and that 
ye should magnify Allah for having guided you , and that 
peradventure ye may be thankful .

---
2.186
وَإِذَا سَأَلَكَ عِبَادِي عَنِّي فَإِنِّي قَرِيبٌ ۖ أُجِيبُ دَعْوَةَ الدَّاعِ إِذَا دَعَانِ ۖ فَلْيَسْتَجِيبُوا لِي وَلْيُؤْمِنُوا بِي لَعَلَّهُمْ يَرْشُدُونَ (186)
Waitha saalaka AAibadee AAannee fainnee qareebun ojeebu daAAwata alddaAAi itha daAAani falyastajeeboo lee walyuminoo bee laAAallahum yarshudoona
And when My servant question thee concerning Me , then 
surely I am nigh . I answer the prayer of the suppliant when 
he crieth unto Me . So let them bear My call and let them trust 
in Me , in order that they may be led aright .

---
2.187
أُحِلَّ لَكُمْ لَيْلَةَ الصِّيَامِ الرَّفَثُ إِلَىٰ نِسَائِكُمْ ۚ هُنَّ لِبَاسٌ لَّكُمْ وَأَنتُمْ لِبَاسٌ لَّهُنَّ ۗ عَلِمَ اللَّهُ أَنَّكُمْ كُنتُمْ تَخْتَانُونَ أَنفُسَكُمْ فَتَابَ عَلَيْكُمْ وَعَفَا عَنكُمْ ۖ فَالْآنَ بَاشِرُوهُنَّ وَابْتَغُوا مَا كَتَبَ اللَّهُ لَكُمْ ۚ وَكُلُوا وَاشْرَبُوا حَتَّىٰ يَتَبَيَّنَ لَكُمُ الْخَيْطُ الْأَبْيَضُ مِنَ الْخَيْطِ الْأَسْوَدِ مِنَ الْفَجْرِ ۖ ثُمَّ أَتِمُّوا الصِّيَامَ إِلَى اللَّيْلِ ۚ وَلَا تُبَاشِرُوهُنَّ وَأَنتُمْ عَاكِفُونَ فِي الْمَسَاجِدِ ۗ تِلْكَ حُدُودُ اللَّهِ فَلَا تَقْرَبُوهَا ۗ كَذَٰلِكَ يُبَيِّنُ اللَّهُ آيَاتِهِ لِلنَّاسِ لَعَلَّهُمْ يَتَّقُونَ (187)
Ohilla lakum laylata alssiyami alrrafathu ila nisaikum hunna libasun lakum waantum libasun lahunna AAalima Allahu annakum kuntum takhtanoona anfusakum fataba AAalaykum waAAafa AAankum faalana bashiroohunna waibtaghoo ma kataba Allahu lakum wakuloo waishraboo hatta yatabayyana lakumu alkhaytu alabyadu mina alkhayti alaswadi mina alfajri thumma atimmoo alssiyama ila allayli wala tubashiroohunna waantum AAakifoona fee almasajidi tilka hudoodu Allahi fala taqrabooha kathalika yubayyinu Allahu ayatihi lilnnasi laAAallahum yattaqoona
It is made lawful for you to go unto your wives on the night of 
the fast . They are raiment for you and ye are raiment for them . 
Allah is aware that ye were deceiving yourselves in this 
respect and He hath turned in mercy toward you and relieved 
you . So hold intercourse with them and seek that which Allah 
hath ordained for you , and eat and drink until the white thread 
becometh distinct to you from the black thread of the dawn . 
Then strictly observe the fast till nightfall and touch them not , 
but be at your devotions in the mosques . These are the limits 
imposed by Allah , so approach them not . Thus Allah 
expoundeth His revelations to mankind that they may ward off 
( evil ) .

---
2.188
وَلَا تَأْكُلُوا أَمْوَالَكُم بَيْنَكُم بِالْبَاطِلِ وَتُدْلُوا بِهَا إِلَى الْحُكَّامِ لِتَأْكُلُوا فَرِيقًا مِّنْ أَمْوَالِ النَّاسِ بِالْإِثْمِ وَأَنتُمْ تَعْلَمُونَ (188)
Wala takuloo amwalakum baynakum bialbatili watudloo biha ila alhukkami litakuloo fareeqan min amwali alnnasi bialithmi waantum taAAlamoona
And eat not up your property among yourselves in vanity , 
nor seek by it to gain the hearing of the judges that ye may 
knowingly devour a portion of the property of others 
wrongfully .

---
2.189
۞ يَسْأَلُونَكَ عَنِ الْأَهِلَّةِ ۖ قُلْ هِيَ مَوَاقِيتُ لِلنَّاسِ وَالْحَجِّ ۗ وَلَيْسَ الْبِرُّ بِأَن تَأْتُوا الْبُيُوتَ مِن ظُهُورِهَا وَلَٰكِنَّ الْبِرَّ مَنِ اتَّقَىٰ ۗ وَأْتُوا الْبُيُوتَ مِنْ أَبْوَابِهَا ۚ وَاتَّقُوا اللَّهَ لَعَلَّكُمْ تُفْلِحُونَ (189)
Yasaloonaka AAani alahillati qul hiya mawaqeetu lilnnasi waalhajji walaysa albirru bian tatoo albuyoota min thuhooriha walakinna albirra mani ittaqa watoo albuyoota min abwabiha waittaqoo Allaha laAAallakum tuflihoona
They ask thee , ( O Muhammad ) , of new moons . Say : 
They are fixed seasons for mankind and for the pilgrimage . 
It is not righteousness that ye go to houses by the backs 
there of ( as do the idolaters at certain seasons ) , but the 
righteous man is he who wardeth off ( evil ) . So go to houses 
by the gates thereof , and observe your duty to Allah , that ye 
may be successful

---
2.190
وَقَاتِلُوا فِي سَبِيلِ اللَّهِ الَّذِينَ يُقَاتِلُونَكُمْ وَلَا تَعْتَدُوا ۚ إِنَّ اللَّهَ لَا يُحِبُّ الْمُعْتَدِينَ (190)
Waqatiloo fee sabeeli Allahi allatheena yuqatiloonakum wala taAAtadoo inna Allaha la yuhibbu almuAAtadeena
Fight in the way of Allah against those who fight against you , 
but begin not hostilities . Lo! Allah loveth not , aggressors .

---
2.191
وَاقْتُلُوهُمْ حَيْثُ ثَقِفْتُمُوهُمْ وَأَخْرِجُوهُم مِّنْ حَيْثُ أَخْرَجُوكُمْ ۚ وَالْفِتْنَةُ أَشَدُّ مِنَ الْقَتْلِ ۚ وَلَا تُقَاتِلُوهُمْ عِندَ الْمَسْجِدِ الْحَرَامِ حَتَّىٰ يُقَاتِلُوكُمْ فِيهِ ۖ فَإِن قَاتَلُوكُمْ فَاقْتُلُوهُمْ ۗ كَذَٰلِكَ جَزَاءُ الْكَافِرِينَ (191)
Waoqtuloohum haythu thaqiftumoohum waakhrijoohum min haythu akhrajookum waalfitnatu ashaddu mina alqatli wala tuqatiloohum AAinda almasjidi alharami hatta yuqatilookum feehi fain qatalookum faoqtuloohum kathalika jazao alkafireena
And slay them wherever ye find them , and drive them out 
of the places whence they drove you out , for persecution 
is worse than slaughter . And fight not with them at the 
Inviolable Place of Worship until they first attack you there , 
but if they attack you ( there ) then slay them . Such is the 
reward of disbelievers .

---
2.192
فَإِنِ انتَهَوْا فَإِنَّ اللَّهَ غَفُورٌ رَّحِيمٌ (192)
Faini intahaw fainna Allaha ghafoorun raheemun
But if they desist , then lo! Allah is Forgiving , Merciful .

---
2.193
وَقَاتِلُوهُمْ حَتَّىٰ لَا تَكُونَ فِتْنَةٌ وَيَكُونَ الدِّينُ لِلَّهِ ۖ فَإِنِ انتَهَوْا فَلَا عُدْوَانَ إِلَّا عَلَى الظَّالِمِينَ (193)
Waqatiloohum hatta la takoona fitnatun wayakoona alddeenu lillahi faini intahaw fala AAudwana illa AAala alththalimeena
And fight them until persecution is no more , and religion is 
for Allah . But if they desist , then let there be no hostility 
except against wrongdoers .

---
2.194
الشَّهْرُ الْحَرَامُ بِالشَّهْرِ الْحَرَامِ وَالْحُرُمَاتُ قِصَاصٌ ۚ فَمَنِ اعْتَدَىٰ عَلَيْكُمْ فَاعْتَدُوا عَلَيْهِ بِمِثْلِ مَا اعْتَدَىٰ عَلَيْكُمْ ۚ وَاتَّقُوا اللَّهَ وَاعْلَمُوا أَنَّ اللَّهَ مَعَ الْمُتَّقِينَ (194)
Alshshahru alharamu bialshshahri alharami waalhurumatu qisasun famani iAAtada AAalaykum faiAAtadoo AAalayhi bimithli ma iAAtada AAalaykum waittaqoo Allaha waiAAlamoo anna Allaha maAAa almuttaqeena
The forbidden month for the forbidden month , and forbidden 
things in retaliation . And one who attacketh you , attack him 
like manner as he attacked you . Observe your duty to Allah , 
and know that Allah is with those who ward off ( evil ) .

---
2.195
وَأَنفِقُوا فِي سَبِيلِ اللَّهِ وَلَا تُلْقُوا بِأَيْدِيكُمْ إِلَى التَّهْلُكَةِ ۛ وَأَحْسِنُوا ۛ إِنَّ اللَّهَ يُحِبُّ الْمُحْسِنِينَ (195)
Waanfiqoo fee sabeeli Allahi wala tulqoo biaydeekum ila alttahlukati waahsinoo inna Allaha yuhibbu almuhsineena
Spend your wealth for the cause of Allah , and be not cast by 
your own hands to ruin ; and do good . Lo! Allah loveth the 
beneficent

---
2.196
وَأَتِمُّوا الْحَجَّ وَالْعُمْرَةَ لِلَّهِ ۚ فَإِنْ أُحْصِرْتُمْ فَمَا اسْتَيْسَرَ مِنَ الْهَدْيِ ۖ وَلَا تَحْلِقُوا رُءُوسَكُمْ حَتَّىٰ يَبْلُغَ الْهَدْيُ مَحِلَّهُ ۚ فَمَن كَانَ مِنكُم مَّرِيضًا أَوْ بِهِ أَذًى مِّن رَّأْسِهِ فَفِدْيَةٌ مِّن صِيَامٍ أَوْ صَدَقَةٍ أَوْ نُسُكٍ ۚ فَإِذَا أَمِنتُمْ فَمَن تَمَتَّعَ بِالْعُمْرَةِ إِلَى الْحَجِّ فَمَا اسْتَيْسَرَ مِنَ الْهَدْيِ ۚ فَمَن لَّمْ يَجِدْ فَصِيَامُ ثَلَاثَةِ أَيَّامٍ فِي الْحَجِّ وَسَبْعَةٍ إِذَا رَجَعْتُمْ ۗ تِلْكَ عَشَرَةٌ كَامِلَةٌ ۗ ذَٰلِكَ لِمَن لَّمْ يَكُنْ أَهْلُهُ حَاضِرِي الْمَسْجِدِ الْحَرَامِ ۚ وَاتَّقُوا اللَّهَ وَاعْلَمُوا أَنَّ اللَّهَ شَدِيدُ الْعِقَابِ (196)
Waatimmoo alhajja waalAAumrata lillahi fain ohsirtum fama istaysara mina alhadyi wala tahliqoo ruoosakum hatta yablugha alhadyu mahillahu faman kana minkum mareedan aw bihi athan min rasihi fafidyatun min siyamin aw sadaqatin aw nusukin faitha amintum faman tamattaAAa bialAAumrati ila alhajji fama istaysara mina alhadyi faman lam yajid fasiyamu thalathati ayyamin fee alhajji wasabAAatin itha rajaAAtum tilka AAasharatun kamilatun thalika liman lam yakun ahluhu hadiree almasjidi alharami waittaqoo Allaha waiAAlamoo anna Allaha shadeedu alAAiqabi
Perform the pilgrimage and the visit ( to Mecca ) for Allah . 
And if ye are prevented , then send such gifts as can be 
obtained with ease , and shave not your heads until the gifts 
have reached their destination . And whoever among you is 
sick or hath an ailment of the head must pay a ransom of 
fasting or alms giving or offering . And if ye are in safety , 
then whosoever contenteth himself with the Visit for the 
Pilgrimage ( shall give ) such gifts as can be had with ease . 
And whosoever cannot find ( such gifts , then a fast of three 
days while on the pilgrimage , and of seven when ye have 
returned ; that is , ten in all . That is for him whose folk are not 
present at the Inviolable Place of Worship . Observe your duty 
to Allah , and know that Allah is severe in punishment .

---
2.197
الْحَجُّ أَشْهُرٌ مَّعْلُومَاتٌ ۚ فَمَن فَرَضَ فِيهِنَّ الْحَجَّ فَلَا رَفَثَ وَلَا فُسُوقَ وَلَا جِدَالَ فِي الْحَجِّ ۗ وَمَا تَفْعَلُوا مِنْ خَيْرٍ يَعْلَمْهُ اللَّهُ ۗ وَتَزَوَّدُوا فَإِنَّ خَيْرَ الزَّادِ التَّقْوَىٰ ۚ وَاتَّقُونِ يَا أُولِي الْأَلْبَابِ (197)
Alhajju ashhurun maAAloomatun faman farada feehinna alhajja fala rafatha wala fusooqa wala jidala fee alhajji wama tafAAaloo min khayrin yaAAlamhu Allahu watazawwadoo fainna khayra alzzadi alttaqwa waittaqooni ya olee alalbabi
The pilgrimage is ( in ) the well known months , and whoever is 
minded to perform the pilgrimage therein 
( let him remember that ) there is ( to be ) no lewdness nor 
abuse nor angry conversation on the pilgrimage . And 
whatsoever good ye do Allah knoweth it . So make provision 
for yourselves ( here after ) ; for the best provision is to ward off 
evil . Therefore keep your duty unto Me , O men of 
understanding .

---
2.198
لَيْسَ عَلَيْكُمْ جُنَاحٌ أَن تَبْتَغُوا فَضْلًا مِّن رَّبِّكُمْ ۚ فَإِذَا أَفَضْتُم مِّنْ عَرَفَاتٍ فَاذْكُرُوا اللَّهَ عِندَ الْمَشْعَرِ الْحَرَامِ ۖ وَاذْكُرُوهُ كَمَا هَدَاكُمْ وَإِن كُنتُم مِّن قَبْلِهِ لَمِنَ الضَّالِّينَ (198)
Laysa AAalaykum junahun an tabtaghoo fadlan min rabbikum faitha afadtum min AAarafatin faothkuroo Allaha AAinda almashAAari alharami waothkuroohu kama hadakum wain kuntum min qablihi lamina alddalleena
It is no sin for you that ye seek the bounty of your Lord 
( by trading ) . But , when ye press on in the multitude from 
Arafat , remember Allah by the sacred monument . 
Remember Him as He hath guided you , although before ye 
were of those astray .

---
2.199
ثُمَّ أَفِيضُوا مِنْ حَيْثُ أَفَاضَ النَّاسُ وَاسْتَغْفِرُوا اللَّهَ ۚ إِنَّ اللَّهَ غَفُورٌ رَّحِيمٌ (199)
Thumma afeedoo min haythu afada alnnasu waistaghfiroo Allaha inna Allaha ghafoorun raheemun
Then hasten onward from the place whence the multitude 
hasteneth onward , and ask forgiveness of Allah . Lo! Allah 
is Forgiving , Merciful .

---
2.200
فَإِذَا قَضَيْتُم مَّنَاسِكَكُمْ فَاذْكُرُوا اللَّهَ كَذِكْرِكُمْ آبَاءَكُمْ أَوْ أَشَدَّ ذِكْرًا ۗ فَمِنَ النَّاسِ مَن يَقُولُ رَبَّنَا آتِنَا فِي الدُّنْيَا وَمَا لَهُ فِي الْآخِرَةِ مِنْ خَلَاقٍ (200)
Faitha qadaytum manasikakum faothkuroo Allaha kathikrikum abaakum aw ashadda thikran famina alnnasi man yaqoolu rabbana atina fee alddunya wama lahu fee alakhirati min khalaqin
And when ye have completed your devotions , then remember 
Allah as ye remember your fathers or with a more lively 
remembrance . But of mankind is he who saith : "our Lord! 
Give unto us in the world , " and he hath no portion in the 
Hereafter .