3b. Ali-Imran (51 to 100)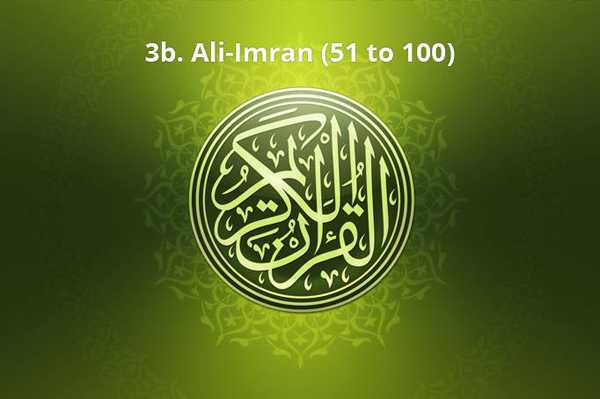 Lo! Allah is my Lord and your Lord , so worship Him ., But when Jesus became conscious of their disbelief ,  Our Lord! We believe in that which Thou hast revealed …
3.51
إِنَّ اللَّهَ رَبِّي وَرَبُّكُمْ فَاعْبُدُوهُ ۗ هَٰذَا صِرَاطٌ مُّسْتَقِيمٌ (51)
Inna Allaha rabbee warabbukum faoAAbudoohu hatha siratun mustaqeemun
Lo! Allah is my Lord and your Lord , so worship Him . 
That is a straight path .

---
3.52
۞ فَلَمَّا أَحَسَّ عِيسَىٰ مِنْهُمُ الْكُفْرَ قَالَ مَنْ أَنصَارِي إِلَى اللَّهِ ۖ قَالَ الْحَوَارِيُّونَ نَحْنُ أَنصَارُ اللَّهِ آمَنَّا بِاللَّهِ وَاشْهَدْ بِأَنَّا مُسْلِمُونَ (52)
Falamma ahassa AAeesa minhumu alkufra qala man ansaree ila Allahi qala alhawariyyoona nahnu ansaru Allahi amanna biAllahi waishhad bianna muslimoona
But when Jesus became conscious of their disbelief , 
he cried : Who will be my helpers in the cause of Allah? 
The disciples said : We will be Allah ' s helpers . 
We believe in Allah , and bear thou witness that we have 
surrendered ( unto Him ) .

---
3.53
رَبَّنَا آمَنَّا بِمَا أَنزَلْتَ وَاتَّبَعْنَا الرَّسُولَ فَاكْتُبْنَا مَعَ الشَّاهِدِينَ (53)
Rabbana amanna bima anzalta waittabaAAna alrrasoola faoktubna maAAa alshshahideena
Our Lord! We believe in that which Thou hast revealed 
and we follow him whom Thou hast sent . Enroll us 
among those who witness ( to the truth ) .

---
3.54
وَمَكَرُوا وَمَكَرَ اللَّهُ ۖ وَاللَّهُ خَيْرُ الْمَاكِرِينَ (54)
Wamakaroo wamakara Allahu waAllahu khayru almakireena
And they ( the disbelievers ) schemed , and Allah schemed 
( against them ) : and Allah is the best of schemers .

---
3.55
إِذْ قَالَ اللَّهُ يَا عِيسَىٰ إِنِّي مُتَوَفِّيكَ وَرَافِعُكَ إِلَيَّ وَمُطَهِّرُكَ مِنَ الَّذِينَ كَفَرُوا وَجَاعِلُ الَّذِينَ اتَّبَعُوكَ فَوْقَ الَّذِينَ كَفَرُوا إِلَىٰ يَوْمِ الْقِيَامَةِ ۖ ثُمَّ إِلَيَّ مَرْجِعُكُمْ فَأَحْكُمُ بَيْنَكُمْ فِيمَا كُنتُمْ فِيهِ تَخْتَلِفُونَ (55)
Ith qala Allahu ya AAeesa innee mutawaffeeka warafiAAuka ilayya wamutahhiruka mina allatheena kafaroo wajaAAilu allatheena ittabaAAooka fawqa allatheena kafaroo ila yawmi alqiyamati thumma ilayya marjiAAukum faahkumu baynakum feema kuntum feehi takhtalifoona
( And remember ) when Allah said : O Jesus! Lo! I 
am gathering thee and causing thee to ascend unto Me , 
and am cleansing thee of those who disbelieve and am 
setting those who follow thee above those who disbelieve 
until the Day of Resurrection . Then unto Me ye will ( all ) 
return , and I shall judge between you as to that wherein 
ye used to differ .

---
3.56
فَأَمَّا الَّذِينَ كَفَرُوا فَأُعَذِّبُهُمْ عَذَابًا شَدِيدًا فِي الدُّنْيَا وَالْآخِرَةِ وَمَا لَهُم مِّن نَّاصِرِينَ (56)
Faamma allatheena kafaroo faoAAaththibuhum AAathaban shadeedan fee alddunya waalakhirati wama lahum min nasireena
As for those who disbelieve I shah chastise them 
with a heavy chastisement in the world and the Hereafter ; 
and they will have no helpers .

---
3.57
وَأَمَّا الَّذِينَ آمَنُوا وَعَمِلُوا الصَّالِحَاتِ فَيُوَفِّيهِمْ أُجُورَهُمْ ۗ وَاللَّهُ لَا يُحِبُّ الظَّالِمِينَ (57)
Waamma allatheena amanoo waAAamiloo alssalihati fayuwaffeehim ojoorahum waAllahu la yuhibbu alththalimeena
And as for those who believe and do good works , 
He will pay them their wages in full . Allah loveth not 
wrongdoers .

---
3.58
ذَٰلِكَ نَتْلُوهُ عَلَيْكَ مِنَ الْآيَاتِ وَالذِّكْرِ الْحَكِيمِ (58)
Thalika natloohu AAalayka mina alayati waalththikri alhakeemi
This ( which ) We recite unto thee is a revelation and a 
wise reminder .

---
3.59
إِنَّ مَثَلَ عِيسَىٰ عِندَ اللَّهِ كَمَثَلِ آدَمَ ۖ خَلَقَهُ مِن تُرَابٍ ثُمَّ قَالَ لَهُ كُن فَيَكُونُ (59)
Inna mathala AAeesa AAinda Allahi kamathali adama khalaqahu min turabin thumma qala lahu kun fayakoonu
Lo! the likeness of Jesus with Allah is as the likeness 
of Adam . He created him of dust , then He said unto him : 
Be! and he is .

---
3.60
الْحَقُّ مِن رَّبِّكَ فَلَا تَكُن مِّنَ الْمُمْتَرِينَ (60)
Alhaqqu min rabbika fala takun mina almumtareena
( This is ) the truth from thy Lord ( O Muhammad ) , 
so be not thou of those who waver .

---
3.61
فَمَنْ حَاجَّكَ فِيهِ مِن بَعْدِ مَا جَاءَكَ مِنَ الْعِلْمِ فَقُلْ تَعَالَوْا نَدْعُ أَبْنَاءَنَا وَأَبْنَاءَكُمْ وَنِسَاءَنَا وَنِسَاءَكُمْ وَأَنفُسَنَا وَأَنفُسَكُمْ ثُمَّ نَبْتَهِلْ فَنَجْعَل لَّعْنَتَ اللَّهِ عَلَى الْكَاذِبِينَ (61)
Faman hajjaka feehi min baAAdi ma jaaka mina alAAilmi faqul taAAalaw nadAAu abnaana waabnaakum wanisaana wanisaakum waanfusana waanfusakum thumma nabtahil fanajAAal laAAnata Allahi AAala alkathibeena
And whoso disputeth with thee concerning him , 
after the knowledge which hath come unto thee , say 
( unto him ) : Come! We will summon our sons and your 
sons , and our women and your women , and ourselves 
and yourselves , then we will pray humbly ( to our Lord ) 
and ( solemnly ) invoke the curse of Allah upon those who lie .

---
3.62
إِنَّ هَٰذَا لَهُوَ الْقَصَصُ الْحَقُّ ۚ وَمَا مِنْ إِلَٰهٍ إِلَّا اللَّهُ ۚ وَإِنَّ اللَّهَ لَهُوَ الْعَزِيزُ الْحَكِيمُ (62)
Inna hatha lahuwa alqasasu alhaqqu wama min ilahin illa Allahu wainna Allaha lahuwa alAAazeezu alhakeemu
Lo! This verily is the true narrative . There is no God 
save Allah , and lo! Allah is the Mighty , , the Wise .

---
3.63
فَإِن تَوَلَّوْا فَإِنَّ اللَّهَ عَلِيمٌ بِالْمُفْسِدِينَ (63)
Fain tawallaw fainna Allaha AAaleemun bialmufsideena
And if they turn away , then Lo! Allah is Aware of 
( who are ) the corrupters .

---
3.64
قُلْ يَا أَهْلَ الْكِتَابِ تَعَالَوْا إِلَىٰ كَلِمَةٍ سَوَاءٍ بَيْنَنَا وَبَيْنَكُمْ أَلَّا نَعْبُدَ إِلَّا اللَّهَ وَلَا نُشْرِكَ بِهِ شَيْئًا وَلَا يَتَّخِذَ بَعْضُنَا بَعْضًا أَرْبَابًا مِّن دُونِ اللَّهِ ۚ فَإِن تَوَلَّوْا فَقُولُوا اشْهَدُوا بِأَنَّا مُسْلِمُونَ (64)
Qul ya ahla alkitabi taAAalaw ila kalimatin sawain baynana wabaynakum alla naAAbuda illa Allaha wala nushrika bihi shayan wala yattakhitha baAAduna baAAdan arbaban min dooni Allahi fain tawallaw faqooloo ishhadoo bianna muslimoona
Say : O People of the Scripture . Come to an 
agreement between us and you : that we shall worship 
none but Allah , and that we shall ascribe no partners unto 
Him , and that none of us shall take others for lords beside 
Allah . And if they turn away , then say : Bear witness that 
we are they who have surrendered ( unto Him ) .

---
3.65
يَا أَهْلَ الْكِتَابِ لِمَ تُحَاجُّونَ فِي إِبْرَاهِيمَ وَمَا أُنزِلَتِ التَّوْرَاةُ وَالْإِنجِيلُ إِلَّا مِن بَعْدِهِ ۚ أَفَلَا تَعْقِلُونَ (65)
Ya ahla alkitabi lima tuhajjoona fee ibraheema wama onzilati alttawratu waalinjeelu illa min baAAdihi afala taAAqiloona
O People of the Scripture! Why will ye argue about Abraham , 
when the Torah and the Gospel were not revealed till after 
him? Have ye then no sense?

---
3.66
هَا أَنتُمْ هَٰؤُلَاءِ حَاجَجْتُمْ فِيمَا لَكُم بِهِ عِلْمٌ فَلِمَ تُحَاجُّونَ فِيمَا لَيْسَ لَكُم بِهِ عِلْمٌ ۚ وَاللَّهُ يَعْلَمُ وَأَنتُمْ لَا تَعْلَمُونَ (66)
Haantum haolai hajajtum feema lakum bihi AAilmun falima tuhajjoona feema laysa lakum bihi AAilmun waAllahu yaAAlamu waantum la taAAlamoona
Lo! ye are those who argue about that whereof ye have 
some knowledge : Why then argue ye concerning that where 
of ye have no knowledge? Allah knoweth . Ye know not .

---
3.67
مَا كَانَ إِبْرَاهِيمُ يَهُودِيًّا وَلَا نَصْرَانِيًّا وَلَٰكِن كَانَ حَنِيفًا مُّسْلِمًا وَمَا كَانَ مِنَ الْمُشْرِكِينَ (67)
Ma kana ibraheemu yahoodiyyan wala nasraniyyan walakin kana haneefan musliman wama kana mina almushrikeena
Abraham was not a Jew , nor yet a Christian ; but he was
an upright man who had surrendered ( to Allah ) , and he 
was not of the idolaters .

---
3.68
إِنَّ أَوْلَى النَّاسِ بِإِبْرَاهِيمَ لَلَّذِينَ اتَّبَعُوهُ وَهَٰذَا النَّبِيُّ وَالَّذِينَ آمَنُوا ۗ وَاللَّهُ وَلِيُّ الْمُؤْمِنِينَ (68)
Inna awla alnnasi biibraheema lallatheena ittabaAAoohu wahatha alnnabiyyu waallatheena amanoo waAllahu waliyyu almumineena
Lo! those of mankind who have the best claim to Abraham 
are those who followed him , and this Prophet and those 
who believe ( with him ) ; and Allah is the Protecting 
Friend of the believers .

---
3.69
وَدَّت طَّائِفَةٌ مِّنْ أَهْلِ الْكِتَابِ لَوْ يُضِلُّونَكُمْ وَمَا يُضِلُّونَ إِلَّا أَنفُسَهُمْ وَمَا يَشْعُرُونَ (69)
Waddat taifatun min ahli alkitabi law yudilloonakum wama yudilloona illa anfusahum wama yashAAuroona
A party of the people of the Scripture long to make you 
go astray ; and they make none to go astray except 
themselves , but they perceive not .

---
3.70
يَا أَهْلَ الْكِتَابِ لِمَ تَكْفُرُونَ بِآيَاتِ اللَّهِ وَأَنتُمْ تَشْهَدُونَ (70)
Ya ahla alkitabi lima takfuroona biayati Allahi waantum tashhadoona
O People of the Scripture! Why disbelieve ye in the 
revelations of Allah , when ye ( yourselves ) bear witness 
( to theft truth ) ?

---
3.71
يَا أَهْلَ الْكِتَابِ لِمَ تَلْبِسُونَ الْحَقَّ بِالْبَاطِلِ وَتَكْتُمُونَ الْحَقَّ وَأَنتُمْ تَعْلَمُونَ (71)
Ya ahla alkitabi lima talbisoona alhaqqa bialbatili wataktumoona alhaqqa waantum taAAlamoona
O People of the Scripture! Why confound ye truth 
with falsehood and knowingly conceal the troth?

---
3.72
وَقَالَت طَّائِفَةٌ مِّنْ أَهْلِ الْكِتَابِ آمِنُوا بِالَّذِي أُنزِلَ عَلَى الَّذِينَ آمَنُوا وَجْهَ النَّهَارِ وَاكْفُرُوا آخِرَهُ لَعَلَّهُمْ يَرْجِعُونَ (72)
Waqalat taifatun min ahli alkitabi aminoo biallathee onzila AAala allatheena amanoo wajha alnnahari waokfuroo akhirahu laAAallahum yarjiAAoona
And a party of the People of the Scripture say : Believe in 
that which hath been revealed , unto those who believe at 
the opening of the day , and disbelieve at the end thereof , 
in order that they may return ;

---
3.73
وَلَا تُؤْمِنُوا إِلَّا لِمَن تَبِعَ دِينَكُمْ قُلْ إِنَّ الْهُدَىٰ هُدَى اللَّهِ أَن يُؤْتَىٰ أَحَدٌ مِّثْلَ مَا أُوتِيتُمْ أَوْ يُحَاجُّوكُمْ عِندَ رَبِّكُمْ ۗ قُلْ إِنَّ الْفَضْلَ بِيَدِ اللَّهِ يُؤْتِيهِ مَن يَشَاءُ ۗ وَاللَّهُ وَاسِعٌ عَلِيمٌ (73)
Wala tuminoo illa liman tabiAAa deenakum qul inna alhuda huda Allahi an yuta ahadun mithla ma ooteetum aw yuhajjookum AAinda rabbikum qul inna alfadla biyadi Allahi yuteehi man yashao waAllahu wasiAAun AAaleemun
And believe not save in one who followeth your religion . 
Say ( O Muhammad ) : Lo! the guidance is Allah ' s 
guidance . that any one is given the like of that which 
was given unto you or that they may argue with you in 
the presence of their Lord . Say ( O Muhammad ) : Lo! 
the bounty is in Allah ' s hand . He bestoweth it on whom
He will . Allah is All Embracing , All Knowing .

---
3.74
يَخْتَصُّ بِرَحْمَتِهِ مَن يَشَاءُ ۗ وَاللَّهُ ذُو الْفَضْلِ الْعَظِيمِ (74)
Yakhtassu birahmatihi man yashao waAllahu thoo alfadli alAAatheemi
He selecteth for His mercy whom He will . 
Allah is of infinite bounty .

---
3.75
۞ وَمِنْ أَهْلِ الْكِتَابِ مَنْ إِن تَأْمَنْهُ بِقِنطَارٍ يُؤَدِّهِ إِلَيْكَ وَمِنْهُم مَّنْ إِن تَأْمَنْهُ بِدِينَارٍ لَّا يُؤَدِّهِ إِلَيْكَ إِلَّا مَا دُمْتَ عَلَيْهِ قَائِمًا ۗ ذَٰلِكَ بِأَنَّهُمْ قَالُوا لَيْسَ عَلَيْنَا فِي الْأُمِّيِّينَ سَبِيلٌ وَيَقُولُونَ عَلَى اللَّهِ الْكَذِبَ وَهُمْ يَعْلَمُونَ (75)
Wamin ahli alkitabi man in tamanhu biqintarin yuaddihi ilayka waminhum man in tamanhu bideenarin la yuaddihi ilayka illa ma dumta AAalayhi qaiman thalika biannahum qaloo laysa AAalayna fee alommiyyeena sabeelun wayaqooloona AAala Allahi alkathiba wahum yaAAlamoona
Among the People of the Scripture there is he who , 
if thou trust him with a weight of treasure , will return it 
to thee . And among them there is he who , if thou trust 
him with a piece of gold , will not return it to thee unless 
thou keep standing over him . That is because they say : 
We have no duty to the Gentiles . They speak a lie 
concerning Allah knowingly .

---
3.76
بَلَىٰ مَنْ أَوْفَىٰ بِعَهْدِهِ وَاتَّقَىٰ فَإِنَّ اللَّهَ يُحِبُّ الْمُتَّقِينَ (76)
Bala man awfa biAAahdihi waittaqa fainna Allaha yuhibbu almuttaqeena
Nay , but ( the chosen of Allah is ) he who fulfilleth his 
pledge and wardeth off ( evil ) ; for lot Allah loveth those 
who ward off ( evil ) .

---
3.77
إِنَّ الَّذِينَ يَشْتَرُونَ بِعَهْدِ اللَّهِ وَأَيْمَانِهِمْ ثَمَنًا قَلِيلًا أُولَٰئِكَ لَا خَلَاقَ لَهُمْ فِي الْآخِرَةِ وَلَا يُكَلِّمُهُمُ اللَّهُ وَلَا يَنظُرُ إِلَيْهِمْ يَوْمَ الْقِيَامَةِ وَلَا يُزَكِّيهِمْ وَلَهُمْ عَذَابٌ أَلِيمٌ (77)
Inna allatheena yashtaroona biAAahdi Allahi waaymanihim thamanan qaleelan olaika la khalaqa lahum fee alakhirati wala yukallimuhumu Allahu wala yanthuru ilayhim yawma alqiyamati wala yuzakkeehim walahum AAathabun aleemun
Lo! those who purchase a small gain at the cost of Allah ' s 
covenant and their oaths , they have no portion in the Hereafter . 
Allah will neither speak to them nor look upon them on the 
Day of Resurrection , nor will He make them grow . Theirs will 
be a painful doom .

---
3.78
وَإِنَّ مِنْهُمْ لَفَرِيقًا يَلْوُونَ أَلْسِنَتَهُم بِالْكِتَابِ لِتَحْسَبُوهُ مِنَ الْكِتَابِ وَمَا هُوَ مِنَ الْكِتَابِ وَيَقُولُونَ هُوَ مِنْ عِندِ اللَّهِ وَمَا هُوَ مِنْ عِندِ اللَّهِ وَيَقُولُونَ عَلَى اللَّهِ الْكَذِبَ وَهُمْ يَعْلَمُونَ (78)
Wainna minhum lafareeqan yalwoona alsinatahum bialkitabi litahsaboohu mina alkitabi wama huwa mina alkitabi wayaqooloona huwa min AAindi Allahi wama huwa min AAindi Allahi wayaqooloona AAala Allahi alkathiba wahum yaAAlamoona
And Lo! there is a party of them who distort the Scripture 
with their tongues , that ye may think that what they say is 
from the Scripture , when it is not from the Scripture . And
they say : It is from Allah , when it is not from Allah ; and they 
speak a lie concerning Allah knowingly .

---
3.79
مَا كَانَ لِبَشَرٍ أَن يُؤْتِيَهُ اللَّهُ الْكِتَابَ وَالْحُكْمَ وَالنُّبُوَّةَ ثُمَّ يَقُولَ لِلنَّاسِ كُونُوا عِبَادًا لِّي مِن دُونِ اللَّهِ وَلَٰكِن كُونُوا رَبَّانِيِّينَ بِمَا كُنتُمْ تُعَلِّمُونَ الْكِتَابَ وَبِمَا كُنتُمْ تَدْرُسُونَ (79)
Ma kana libasharin an yutiyahu Allahu alkitaba waalhukma waalnnubuwwata thumma yaqoola lilnnasi koonoo AAibadan lee min dooni Allahi walakin koonoo rabbaniyyeena bima kuntum tuAAallimoona alkitaba wabima kuntum tadrusoona
It is not ( possible ) for any human being unto whom Allah 
had given the Scripture and wisdom and the Prophethood 
that he should afterwards have said unto mankind : Be 
slaves of me instead of Allah ; but ( what he said was ) : 
Be ye faithful servants of the Lord by virtue of your constant 
teaching of the Scripture and of your constant study thereof .

---
3.80
وَلَا يَأْمُرَكُمْ أَن تَتَّخِذُوا الْمَلَائِكَةَ وَالنَّبِيِّينَ أَرْبَابًا ۗ أَيَأْمُرُكُم بِالْكُفْرِ بَعْدَ إِذْ أَنتُم مُّسْلِمُونَ (80)
Wala yamurakum an tattakhithoo almalaikata waalnnabiyyeena arbaban ayamurukum bialkufri baAAda ith antum muslimoona
And he commanded you not that ye should take the angels 
and the Prophets for lords . Would he command you to 
disbelieve after ye had surrendered ( to Allah ) ?

---
3.81
وَإِذْ أَخَذَ اللَّهُ مِيثَاقَ النَّبِيِّينَ لَمَا آتَيْتُكُم مِّن كِتَابٍ وَحِكْمَةٍ ثُمَّ جَاءَكُمْ رَسُولٌ مُّصَدِّقٌ لِّمَا مَعَكُمْ لَتُؤْمِنُنَّ بِهِ وَلَتَنصُرُنَّهُ ۚ قَالَ أَأَقْرَرْتُمْ وَأَخَذْتُمْ عَلَىٰ ذَٰلِكُمْ إِصْرِي ۖ قَالُوا أَقْرَرْنَا ۚ قَالَ فَاشْهَدُوا وَأَنَا مَعَكُم مِّنَ الشَّاهِدِينَ (81)
Waith akhatha Allahu meethaqa alnnabiyyeena lama ataytukum min kitabin wahikmatin thumma jaakum rasoolun musaddiqun lima maAAakum latuminunna bihi walatansurunnahu qala aaqrartum waakhathtum AAala thalikum isree qaloo aqrarna qala faishhadoo waana maAAakum mina alshshahideena
When Allah made ( His ) covenant with the Prophets , 
( He said ) : Behold that which I have given you of the 
Scripture and knowledge . And afterward there will come 
unto you a messenger , confirming that which ye possess . 
Ye shall believe in him and ye shah help him . He said : Do 
ye agree , and will ye take up My burden ( which I lay upon you )
in this ( matter ) ? They answered : We agree . He said : 
Then bear ye witness . I will be a witness with you .

---
3.82
فَمَن تَوَلَّىٰ بَعْدَ ذَٰلِكَ فَأُولَٰئِكَ هُمُ الْفَاسِقُونَ (82)
Faman tawalla baAAda thalika faolaika humu alfasiqoona
Then whosoever after this shall turn away : they will be 
miscreants .

---
3.83
أَفَغَيْرَ دِينِ اللَّهِ يَبْغُونَ وَلَهُ أَسْلَمَ مَن فِي السَّمَاوَاتِ وَالْأَرْضِ طَوْعًا وَكَرْهًا وَإِلَيْهِ يُرْجَعُونَ (83)
Afaghayra deeni Allahi yabghoona walahu aslama man fee alssamawati waalardi tawAAan wakarhan wailayhi yurjaAAoona
Seek they other than the religion of Allah , when unto Him 
submitteth whosoever is in the heavens and the earth , 
willingly , or unwillingly , and unto Him they will be returned .

---
3.84
قُلْ آمَنَّا بِاللَّهِ وَمَا أُنزِلَ عَلَيْنَا وَمَا أُنزِلَ عَلَىٰ إِبْرَاهِيمَ وَإِسْمَاعِيلَ وَإِسْحَاقَ وَيَعْقُوبَ وَالْأَسْبَاطِ وَمَا أُوتِيَ مُوسَىٰ وَعِيسَىٰ وَالنَّبِيُّونَ مِن رَّبِّهِمْ لَا نُفَرِّقُ بَيْنَ أَحَدٍ مِّنْهُمْ وَنَحْنُ لَهُ مُسْلِمُونَ (84)
Qul amanna biAllahi wama onzila AAalayna wama onzila AAala ibraheema waismaAAeela waishaqa wayaAAqooba waalasbati wama ootiya moosa waAAeesa waalnnabiyyoona min rabbihim la nufarriqu bayna ahadin minhum wanahnu lahu muslimoona
Say ( O Muhammad ) : We believe in Allah and that which 
is revealed unto us and that which was revealed unto 
Abraham and Ishmael and Isaac and Jacob and the tribes , 
and that which was vouchsafed unto Moses and Jesus and 
the Prophets from their Lord . We make no distinction 
between any of them , and unto Him we have surrendered .

---
3.85
وَمَن يَبْتَغِ غَيْرَ الْإِسْلَامِ دِينًا فَلَن يُقْبَلَ مِنْهُ وَهُوَ فِي الْآخِرَةِ مِنَ الْخَاسِرِينَ (85)
Waman yabtaghi ghayra alislami deenan falan yuqbala minhu wahuwa fee alakhirati mina alkhasireena
And whoso seeketh as religion other than the Surrender 
( to Allah ) it will not be accepted from him , and he will 
be a loser in the Hereafter .

---
3.86
كَيْفَ يَهْدِي اللَّهُ قَوْمًا كَفَرُوا بَعْدَ إِيمَانِهِمْ وَشَهِدُوا أَنَّ الرَّسُولَ حَقٌّ وَجَاءَهُمُ الْبَيِّنَاتُ ۚ وَاللَّهُ لَا يَهْدِي الْقَوْمَ الظَّالِمِينَ (86)
Kayfa yahdee Allahu qawman kafaroo baAAda eemanihim washahidoo anna alrrasoola haqqun wajaahumu albayyinatu waAllahu la yahdee alqawma alththalimeena
How shall Allah guide a people who disbelieved after their 
belief and ( after ) they bore witness that the messenger 
is true and after clear proofs ( of Allah ' s sovereignty ) 
had come unto them . And Allah guideth not wrongdoing folk .

---
3.87
أُولَٰئِكَ جَزَاؤُهُمْ أَنَّ عَلَيْهِمْ لَعْنَةَ اللَّهِ وَالْمَلَائِكَةِ وَالنَّاسِ أَجْمَعِينَ (87)
Olaika jazaohum anna AAalayhim laAAnata Allahi waalmalaikati waalnnasi ajmaAAeena
As for such , their guerdon is that on them rests the curse of 
Allah and of angels and of men combined .

---
3.88
خَالِدِينَ فِيهَا لَا يُخَفَّفُ عَنْهُمُ الْعَذَابُ وَلَا هُمْ يُنظَرُونَ (88)
Khalideena feeha la yukhaffafu AAanhumu alAAathabu wala hum yuntharoona
They will abide therein . Their doom will not be lightened , 
neither will they be reprieved ;

---
3.89
إِلَّا الَّذِينَ تَابُوا مِن بَعْدِ ذَٰلِكَ وَأَصْلَحُوا فَإِنَّ اللَّهَ غَفُورٌ رَّحِيمٌ (89)
Illa allatheena taboo min baAAdi thalika waaslahoo fainna Allaha ghafoorun raheemun
Save those who afterward repent and do right . Lo! Allah is 
Forgiving , Merciful .

---
3.90
إِنَّ الَّذِينَ كَفَرُوا بَعْدَ إِيمَانِهِمْ ثُمَّ ازْدَادُوا كُفْرًا لَّن تُقْبَلَ تَوْبَتُهُمْ وَأُولَٰئِكَ هُمُ الضَّالُّونَ (90)
Inna allatheena kafaroo baAAda eemanihim thumma izdadoo kufran lan tuqbala tawbatuhum waolaika humu alddalloona
Lo! those who disbelieve after their ( profession of ) belief , 
and afterward grow violent in disbelief : their repentance will 
not be accepted . And such are those who are astray .

---
3.91
إِنَّ الَّذِينَ كَفَرُوا وَمَاتُوا وَهُمْ كُفَّارٌ فَلَن يُقْبَلَ مِنْ أَحَدِهِم مِّلْءُ الْأَرْضِ ذَهَبًا وَلَوِ افْتَدَىٰ بِهِ ۗ أُولَٰئِكَ لَهُمْ عَذَابٌ أَلِيمٌ وَمَا لَهُم مِّن نَّاصِرِينَ (91)
Inna allatheena kafaroo wamatoo wahum kuffarun falan yuqbala min ahadihim milo alardi thahaban walawi iftada bihi olaika lahum AAathabun aleemun wama lahum min nasireena
Lo! those who disbelieve , and die in disbelief , the ( whole ) 
earth full of gold would not be accepted from such an one if it 
were offered as a ransom ( for his soul ) . Theirs will be a 
painful doom and they will have no helpers .

---
3.92
لَن تَنَالُوا الْبِرَّ حَتَّىٰ تُنفِقُوا مِمَّا تُحِبُّونَ ۚ وَمَا تُنفِقُوا مِن شَيْءٍ فَإِنَّ اللَّهَ بِهِ عَلِيمٌ (92)
Lan tanaloo albirra hatta tunfiqoo mimma tuhibboona wama tunfiqoo min shayin fainna Allaha bihi AAaleemun
Ye will not attain unto piety until ye spend of that which ye love . 
And whatsoever ye spend , Allah is aware thereof .

---
3.93
۞ كُلُّ الطَّعَامِ كَانَ حِلًّا لِّبَنِي إِسْرَائِيلَ إِلَّا مَا حَرَّمَ إِسْرَائِيلُ عَلَىٰ نَفْسِهِ مِن قَبْلِ أَن تُنَزَّلَ التَّوْرَاةُ ۗ قُلْ فَأْتُوا بِالتَّوْرَاةِ فَاتْلُوهَا إِن كُنتُمْ صَادِقِينَ (93)
Kullu alttaAAami kana hillan libanee israeela illa ma harrama israeelu AAala nafsihi min qabli an tunazzala alttawratu qul fatoo bialttawrati faotlooha in kuntum sadiqeena
All food was lawful unto the children of Israel , save that 
which Israel forbade himself , ( in days ) before the Torah 
was revealed . Say : Produce the Torah and read it 
( unto us ) if ye are truthful .

---
3.94
فَمَنِ افْتَرَىٰ عَلَى اللَّهِ الْكَذِبَ مِن بَعْدِ ذَٰلِكَ فَأُولَٰئِكَ هُمُ الظَّالِمُونَ (94)
Famani iftara AAala Allahi alkathiba min baAAdi thalika faolaika humu althalimoona
And whoever shall invent a falsehood after that concerning Allah , 
such will be wrong doers .

---
3.95
قُلْ صَدَقَ اللَّهُ ۗ فَاتَّبِعُوا مِلَّةَ إِبْرَاهِيمَ حَنِيفًا وَمَا كَانَ مِنَ الْمُشْرِكِينَ (95)
Qul sadaqa Allahu faittabiAAoo millata ibraheema haneefan wama kana mina almushrikeena
Say : Allah speaketh truth . So follow the religion of Abraham , 
the upright . He was not of the idolaters .

---
3.96
إِنَّ أَوَّلَ بَيْتٍ وُضِعَ لِلنَّاسِ لَلَّذِي بِبَكَّةَ مُبَارَكًا وَهُدًى لِّلْعَالَمِينَ (96)
Inna awwala baytin wudiAAa lilnnasi lallathee bibakkata mubarakan wahudan lilAAalameena
Lo! the first Sanctuary appointed for mankind was that at Mecca , 
a blessed place , a guidance to the peoples ;

---
3.97
فِيهِ آيَاتٌ بَيِّنَاتٌ مَّقَامُ إِبْرَاهِيمَ ۖ وَمَن دَخَلَهُ كَانَ آمِنًا ۗ وَلِلَّهِ عَلَى النَّاسِ حِجُّ الْبَيْتِ مَنِ اسْتَطَاعَ إِلَيْهِ سَبِيلًا ۚ وَمَن كَفَرَ فَإِنَّ اللَّهَ غَنِيٌّ عَنِ الْعَالَمِينَ (97)
Feehi ayatun bayyinatun maqamu ibraheema waman dakhalahu kana aminan walillahi AAala alnnasi hijju albayti mani istataAAa ilayhi sabeelan waman kafara fainna Allaha ghaniyyun AAani alAAalameena
Wherein are plain memorials ( of Allah ' s guidance ) ; 
the place where Abraham stood up to pray ; and whosoever 
entereth it is safe . And pilgrimage to the House is a duty unto 
Allah for mankind , for him who can find a way thither . 
As for him who disbelieveth , ( let him know that ) Lo! Allah 
is Independent of ( all ) creatures .

---
3.98
قُلْ يَا أَهْلَ الْكِتَابِ لِمَ تَكْفُرُونَ بِآيَاتِ اللَّهِ وَاللَّهُ شَهِيدٌ عَلَىٰ مَا تَعْمَلُونَ (98)
Qul ya ahla alkitabi lima takfuroona biayati Allahi waAllahu shaheedun AAala ma taAAmaloona
Say : O People of the Scripture! Why disbelieve ye in the 
revelations of Allah , when Allah ( Himself ) is Witness of 
what ye do?

---
3.99
قُلْ يَا أَهْلَ الْكِتَابِ لِمَ تَصُدُّونَ عَن سَبِيلِ اللَّهِ مَنْ آمَنَ تَبْغُونَهَا عِوَجًا وَأَنتُمْ شُهَدَاءُ ۗ وَمَا اللَّهُ بِغَافِلٍ عَمَّا تَعْمَلُونَ (99)
Qul ya ahla alkitabi lima tasuddoona AAan sabeeli Allahi man amana tabghoonaha AAiwajan waantum shuhadao wama Allahu bighafilin AAamma taAAmaloona
Say : O People of the Scripture! Why drive ye hack 
believers from the way of Allah , seeking to make it crooked , 
when ye are witnesses ( to Allah ' s guidance ) ? Allah is not 
unaware of what ye do .

---
3.100
يَا أَيُّهَا الَّذِينَ آمَنُوا إِن تُطِيعُوا فَرِيقًا مِّنَ الَّذِينَ أُوتُوا الْكِتَابَ يَرُدُّوكُم بَعْدَ إِيمَانِكُمْ كَافِرِينَ (100)
Ya ayyuha allatheena amanoo in tuteeAAoo fareeqan mina allatheena ootoo alkitaba yaruddookum baAAda eemanikum kafireena
O ye who believe! If ye obey a party of those who have 
received the Scripture they will make you disbelievers 
after your belief .
नम्र निवेदन: वेबसाइट को और बेहतर बनाने हेतु अपने कीमती सुझाव कॉमेंट बॉक्स में लिखें, यह आपको अच्छा लगा हो तो अपनें मित्रों के साथ अवश्य शेयर करें। धन्यवाद।