3a. Ali-Imran (1 to 50)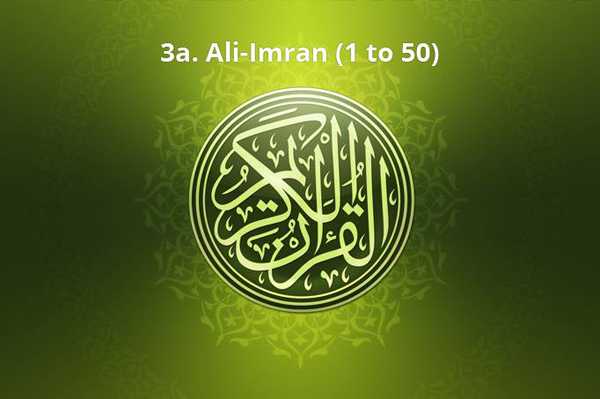 Alif . Lam . Mim ., Allah! There is no God save Him , the Alive , the Eternal ., He hath revealed unto thee ( Muhammad ) the Scripture with truth , confirming that which was ( revealed ) before it , even as He revealed the Torah and the Gospel
3.1
الم (1)
Aliflammeem
Alif . Lam . Mim .

---
3.2
اللَّهُ لَا إِلَٰهَ إِلَّا هُوَ الْحَيُّ الْقَيُّومُ (2)
Allahu la ilaha illa huwa alhayyu alqayyoomu
Allah! There is no God save Him , the Alive , the Eternal .

---
3.3
نَزَّلَ عَلَيْكَ الْكِتَابَ بِالْحَقِّ مُصَدِّقًا لِّمَا بَيْنَ يَدَيْهِ وَأَنزَلَ التَّوْرَاةَ وَالْإِنجِيلَ (3)
Nazzala AAalayka alkitaba bialhaqqi musaddiqan lima bayna yadayhi waanzala alttawrata waalinjeela
He hath revealed unto thee ( Muhammad ) the Scripture 
with truth , confirming that which was ( revealed ) before it , 
even as He revealed the Torah and the Gospel

---
3.4
مِن قَبْلُ هُدًى لِّلنَّاسِ وَأَنزَلَ الْفُرْقَانَ ۗ إِنَّ الَّذِينَ كَفَرُوا بِآيَاتِ اللَّهِ لَهُمْ عَذَابٌ شَدِيدٌ ۗ وَاللَّهُ عَزِيزٌ ذُو انتِقَامٍ (4)
Min qablu hudan lilnnasi waanzala alfurqana inna allatheena kafaroo biayati Allahi lahum AAathabun shadeedun waAllahu AAazeezun thoo intiqamin
Aforetime , for a guidance to mankind ; and hath revealed 
the Criterion ( of right and wrong ) . Lo! those who disbelieve 
the revelations of Allah , theirs will be a heavy doom . Allah is 
Mighty , Able to Requite ( the wrong ) .

---
3.5
إِنَّ اللَّهَ لَا يَخْفَىٰ عَلَيْهِ شَيْءٌ فِي الْأَرْضِ وَلَا فِي السَّمَاءِ (5)
Inna Allaha la yakhfa AAalayhi shayon fee alardi wala fee alssamai
Lo! nothing in the earth or in the heavens is hidden from Allah .

---
3.6
هُوَ الَّذِي يُصَوِّرُكُمْ فِي الْأَرْحَامِ كَيْفَ يَشَاءُ ۚ لَا إِلَٰهَ إِلَّا هُوَ الْعَزِيزُ الْحَكِيمُ (6)
Huwa allathee yusawwirukum fee alarhami kayfa yashao la ilaha illa huwa alAAazeezu alhakeemu
He it is who fashioneth you in the wombs as pleaseth 
Him . There is no God save Him , the Almighty , the Wise .

---
3.7
هُوَ الَّذِي أَنزَلَ عَلَيْكَ الْكِتَابَ مِنْهُ آيَاتٌ مُّحْكَمَاتٌ هُنَّ أُمُّ الْكِتَابِ وَأُخَرُ مُتَشَابِهَاتٌ ۖ فَأَمَّا الَّذِينَ فِي قُلُوبِهِمْ زَيْغٌ فَيَتَّبِعُونَ مَا تَشَابَهَ مِنْهُ ابْتِغَاءَ الْفِتْنَةِ وَابْتِغَاءَ تَأْوِيلِهِ ۗ وَمَا يَعْلَمُ تَأْوِيلَهُ إِلَّا اللَّهُ ۗ وَالرَّاسِخُونَ فِي الْعِلْمِ يَقُولُونَ آمَنَّا بِهِ كُلٌّ مِّنْ عِندِ رَبِّنَا ۗ وَمَا يَذَّكَّرُ إِلَّا أُولُو الْأَلْبَابِ (7)
Huwa allathee anzala AAalayka alkitaba minhu ayatun muhkamatun hunna ommu alkitabi waokharu mutashabihatun faamma allatheena fee quloobihim zayghun fayattabiAAoona ma tashabaha minhu ibtighaa alfitnati waibtighaa taweelihi wama yaAAlamu taweelahu illa Allahu waalrrasikhoona fee alAAilmi yaqooloona amanna bihi kullun min AAindi rabbina wama yaththakkaru illa oloo alalbabi
He it is Who hath revealed unto thee ( Muhammad ) the 
Scripture wherein are clear revelations . They are the 
substance of the Book . and others ( which are ) allegorical . 
But those in whose hearts is doubt pursue , forsooth , that 
which is allegorical seeking ( to cause ) dissension by 
seeking to explain it . None knoweth its explanation save Allah . 
And those who are of sound instruction say : We believe
therein ; the whole is from our Lord ; but only men of 
understanding really heed .

---
3.8
رَبَّنَا لَا تُزِغْ قُلُوبَنَا بَعْدَ إِذْ هَدَيْتَنَا وَهَبْ لَنَا مِن لَّدُنكَ رَحْمَةً ۚ إِنَّكَ أَنتَ الْوَهَّابُ (8)
Rabbana la tuzigh quloobana baAAda ith hadaytana wahab lana min ladunka rahmatan innaka anta alwahhabu
Our Lord! Cause not our hearts to stray after 
Thou hast guided us , and bestow upon us mercy from 
Thy Presence . Lo! Thou , only Thou art the Bestower .

---
3.9
رَبَّنَا إِنَّكَ جَامِعُ النَّاسِ لِيَوْمٍ لَّا رَيْبَ فِيهِ ۚ إِنَّ اللَّهَ لَا يُخْلِفُ الْمِيعَادَ (9)
Rabbana innaka jamiAAu alnnasi liyawmin la rayba feehi inna Allaha la yukhlifu almeeAAada
Our Lord! it is Thou Who gatherest mankind together to 
a Day of which there is no doubt . Lo! Allah faileth not to 
keep the tryst .

---
3.10
إِنَّ الَّذِينَ كَفَرُوا لَن تُغْنِيَ عَنْهُمْ أَمْوَالُهُمْ وَلَا أَوْلَادُهُم مِّنَ اللَّهِ شَيْئًا ۖ وَأُولَٰئِكَ هُمْ وَقُودُ النَّارِ (10)
Inna allatheena kafaroo lan tughniya AAanhum amwaluhum wala awladuhum mina Allahi shayan waolaika hum waqoodu alnnari
( On that day ) neither the riches not the progeny of those 
who disbelieve will aught avail them with Allah . They will be fuel 
for fire .

---
3.11
كَدَأْبِ آلِ فِرْعَوْنَ وَالَّذِينَ مِن قَبْلِهِمْ ۚ كَذَّبُوا بِآيَاتِنَا فَأَخَذَهُمُ اللَّهُ بِذُنُوبِهِمْ ۗ وَاللَّهُ شَدِيدُ الْعِقَابِ (11)
Kadabi ali firAAawna waallatheena min qablihim kaththaboo biayatina faakhathahumu Allahu bithunoobihim waAllahu shadeedu alAAiqabi
Like Pharaoh ' s folk and those who were before them , 
they disbelieved Our revelations and so Allah seized them for 
their sins . And Allah is severe in punishment .

---
3.12
قُل لِّلَّذِينَ كَفَرُوا سَتُغْلَبُونَ وَتُحْشَرُونَ إِلَىٰ جَهَنَّمَ ۚ وَبِئْسَ الْمِهَادُ (12)
Qul lillatheena kafaroo satughlaboona watuhsharoona ila jahannama wabisa almihadu
Say ( O Muhammad ) unto those who disbelieve : 
Ye shall be overcome and gathered unto Hell , an evil 
resting place .

---
3.13
قَدْ كَانَ لَكُمْ آيَةٌ فِي فِئَتَيْنِ الْتَقَتَا ۖ فِئَةٌ تُقَاتِلُ فِي سَبِيلِ اللَّهِ وَأُخْرَىٰ كَافِرَةٌ يَرَوْنَهُم مِّثْلَيْهِمْ رَأْيَ الْعَيْنِ ۚ وَاللَّهُ يُؤَيِّدُ بِنَصْرِهِ مَن يَشَاءُ ۗ إِنَّ فِي ذَٰلِكَ لَعِبْرَةً لِّأُولِي الْأَبْصَارِ (13)
Qad kana lakum ayatun fee fiatayni iltaqata fiatun tuqatilu fee sabeeli Allahi waokhra kafiratun yarawnahum mithlayhim raya alAAayni waAllahu yuayyidu binasrihi man yashao inna fee thalika laAAibratan liolee alabsari
There was a token for you in two hosts which met : 
one army fighting in the way of Allah , and another 
disbelieving , whom they saw as twice their number , 
clearly , with their very eyes . Thus Allah strengtheneth 
with His succour whom He will . Lo! herein verily is a 
lesson for those who have eyes .

---
3.14
زُيِّنَ لِلنَّاسِ حُبُّ الشَّهَوَاتِ مِنَ النِّسَاءِ وَالْبَنِينَ وَالْقَنَاطِيرِ الْمُقَنطَرَةِ مِنَ الذَّهَبِ وَالْفِضَّةِ وَالْخَيْلِ الْمُسَوَّمَةِ وَالْأَنْعَامِ وَالْحَرْثِ ۗ ذَٰلِكَ مَتَاعُ الْحَيَاةِ الدُّنْيَا ۖ وَاللَّهُ عِندَهُ حُسْنُ الْمَآبِ (14)
Zuyyina lilnnasi hubbu alshshahawati mina alnnisai waalbaneena waalqanateeri almuqantarati mina alththahabi waalfiddati waalkhayli almusawwamati waalanAAami waalharthi thalika mataAAu alhayati alddunya waAllahu AAindahu husnu almaabi
Beautified for mankind is love of the joys ( that come ) 
from women and offspring , and stored up heaps of gold 
and silver , and horses branded ( with their mark ) , and 
cattle and land . That is comfort of the life of the world . 
Allah! With Him is a more excellent abode .

---
3.15
۞ قُلْ أَؤُنَبِّئُكُم بِخَيْرٍ مِّن ذَٰلِكُمْ ۚ لِلَّذِينَ اتَّقَوْا عِندَ رَبِّهِمْ جَنَّاتٌ تَجْرِي مِن تَحْتِهَا الْأَنْهَارُ خَالِدِينَ فِيهَا وَأَزْوَاجٌ مُّطَهَّرَةٌ وَرِضْوَانٌ مِّنَ اللَّهِ ۗ وَاللَّهُ بَصِيرٌ بِالْعِبَادِ (15)
Qul aonabbiokum bikhayrin min thalikum lillatheena ittaqaw AAinda rabbihim jannatun tajree min tahtiha alanharu khalideena feeha waazwajun mutahharatun waridwanun mina Allahi waAllahu baseerun bialAAibadi
Say : Shall I inform you of something better than that? 
For those who keep from evil , with their Lord , are Gardens 
underneath which rivers flow , and pure companions , 
and contentment from Allah . Allah is Seer of His bondmen ,

---
3.16
الَّذِينَ يَقُولُونَ رَبَّنَا إِنَّنَا آمَنَّا فَاغْفِرْ لَنَا ذُنُوبَنَا وَقِنَا عَذَابَ النَّارِ (16)
Allatheena yaqooloona rabbana innana amanna faighfir lana thunoobana waqina AAathaba alnnari
Those who say : Our Lord! Lo! we believe . 
So forgive us our sins and guard us from the punishment 
of Fire ;

---
3.17
الصَّابِرِينَ وَالصَّادِقِينَ وَالْقَانِتِينَ وَالْمُنفِقِينَ وَالْمُسْتَغْفِرِينَ بِالْأَسْحَارِ (17)
Alssabireena waalssadiqeena waalqaniteena waalmunfiqeena waalmustaghfireena bialashari
The steadfast , and the truthful , and the obedient , 
those who spend ( and hoard not ) , those who pray for 
pardon in the watches of the night .

---
3.18
شَهِدَ اللَّهُ أَنَّهُ لَا إِلَٰهَ إِلَّا هُوَ وَالْمَلَائِكَةُ وَأُولُو الْعِلْمِ قَائِمًا بِالْقِسْطِ ۚ لَا إِلَٰهَ إِلَّا هُوَ الْعَزِيزُ الْحَكِيمُ (18)
Shahida Allahu annahu la ilaha illa huwa waalmalaikatu waoloo alAAilmi qaiman bialqisti la ilaha illa huwa alAAazeezu alhakeemu
Allah ( Himself ) is witness that there is no God save 
Him . And the angels and the men of learning 
( too are witness ) . Maintaining His creation in justice ,
there is no God save Him , the Almighty , the Wise .

---
3.19
إِنَّ الدِّينَ عِندَ اللَّهِ الْإِسْلَامُ ۗ وَمَا اخْتَلَفَ الَّذِينَ أُوتُوا الْكِتَابَ إِلَّا مِن بَعْدِ مَا جَاءَهُمُ الْعِلْمُ بَغْيًا بَيْنَهُمْ ۗ وَمَن يَكْفُرْ بِآيَاتِ اللَّهِ فَإِنَّ اللَّهَ سَرِيعُ الْحِسَابِ (19)
Inna alddeena AAinda Allahi alislamu wama ikhtalafa allatheena ootoo alkitaba illa min baAAdi ma jaahumu alAAilmu baghyan baynahum waman yakfur biayati Allahi fainna Allaha sareeAAu alhisabi
Lo! religion with Allah ( is ) The Surrender 
( to His will and guidance ) . Those who ( formerly ) received 
the Scripture differed only after knowledge came unto them , 
through transgression among themselves . Whoso 
disbelieveth the revelations of Allah ( will find that ) Lo! Allah is swift at reckoning .

---
3.20
فَإِنْ حَاجُّوكَ فَقُلْ أَسْلَمْتُ وَجْهِيَ لِلَّهِ وَمَنِ اتَّبَعَنِ ۗ وَقُل لِّلَّذِينَ أُوتُوا الْكِتَابَ وَالْأُمِّيِّينَ أَأَسْلَمْتُمْ ۚ فَإِنْ أَسْلَمُوا فَقَدِ اهْتَدَوا ۖ وَّإِن تَوَلَّوْا فَإِنَّمَا عَلَيْكَ الْبَلَاغُ ۗ وَاللَّهُ بَصِيرٌ بِالْعِبَادِ (20)
Fain hajjooka faqul aslamtu wajhiya lillahi wamani ittabaAAani waqul lillatheena ootoo alkitaba waalommiyyeena aaslamtum fain aslamoo faqadi ihtadaw wain tawallaw fainnama AAalayka albalaghu waAllahu baseerun bialAAibadi
And if they argue with thee , ( O Muhammad ) , say : 
I have surrendered my purpose to Allah and ( so have ) 
those who follow me . And say unto those who have received 
the Scripture and those who read not : Have ye ( too ) 
surrendered? If they surrender , then truly they are rightly 
guided , and if they turn away , then it is thy duty only to 
convey the message ( unto them ) . Allah is Seer of ( His ) 
bondmen .

---
3.21
إِنَّ الَّذِينَ يَكْفُرُونَ بِآيَاتِ اللَّهِ وَيَقْتُلُونَ النَّبِيِّينَ بِغَيْرِ حَقٍّ وَيَقْتُلُونَ الَّذِينَ يَأْمُرُونَ بِالْقِسْطِ مِنَ النَّاسِ فَبَشِّرْهُم بِعَذَابٍ أَلِيمٍ (21)
Inna allatheena yakfuroona biayati Allahi wayaqtuloona alnnabiyyeena bighayri haqqin wayaqtuloona allatheena yamuroona bialqisti mina alnnasi fabashshirhum biAAathabin aleemin
Lo! those who disbelieve the revelations of Allah , and 
slay the Prophets wrongfully , and slay those of mankind who
enjoin equity : promise them a painful doom .

---
3.22
أُولَٰئِكَ الَّذِينَ حَبِطَتْ أَعْمَالُهُمْ فِي الدُّنْيَا وَالْآخِرَةِ وَمَا لَهُم مِّن نَّاصِرِينَ (22)
Olaika allatheena habitat aAAmaluhum fee alddunya waalakhirati wama lahum min nasireena
Those are they whose works have failed in the world 
and the Hereafter ; and they have no helpers .

---
3.23
أَلَمْ تَرَ إِلَى الَّذِينَ أُوتُوا نَصِيبًا مِّنَ الْكِتَابِ يُدْعَوْنَ إِلَىٰ كِتَابِ اللَّهِ لِيَحْكُمَ بَيْنَهُمْ ثُمَّ يَتَوَلَّىٰ فَرِيقٌ مِّنْهُمْ وَهُم مُّعْرِضُونَ (23)
Alam tara ila allatheena ootoo naseeban mina alkitabi yudAAawna ila kitabi Allahi liyahkuma baynahum thumma yatawalla fareequn minhum wahum muAAridoona
Hast thou not seen how those who have received the 
Scripture invoke the Scripture of Allah ( in their disputes ) 
that it may judge between them ; then a faction of them turn 
away , being opposed ( to it ) ?

---
3.24
ذَٰلِكَ بِأَنَّهُمْ قَالُوا لَن تَمَسَّنَا النَّارُ إِلَّا أَيَّامًا مَّعْدُودَاتٍ ۖ وَغَرَّهُمْ فِي دِينِهِم مَّا كَانُوا يَفْتَرُونَ (24)
Thalika biannahum qaloo lan tamassana alnnaru illa ayyaman maAAdoodatin wagharrahum fee deenihim ma kanoo yaftaroona
That is because they say : The Fire will not touch us 
save for a certain number of days . That which they used 
to invent hath deceived them regarding their religion .

---
3.25
فَكَيْفَ إِذَا جَمَعْنَاهُمْ لِيَوْمٍ لَّا رَيْبَ فِيهِ وَوُفِّيَتْ كُلُّ نَفْسٍ مَّا كَسَبَتْ وَهُمْ لَا يُظْلَمُونَ (25)
Fakayfa itha jamaAAnahum liyawmin la rayba feehi wawuffiyat kullu nafsin ma kasabat wahum la yuthlamoona
How ( will it be with them ) when We have brought them 
all together to a Day of which there is no doubt , when every 
soul will be paid in full what it hath earned , and they will not 
be wronged .

---
3.26
قُلِ اللَّهُمَّ مَالِكَ الْمُلْكِ تُؤْتِي الْمُلْكَ مَن تَشَاءُ وَتَنزِعُ الْمُلْكَ مِمَّن تَشَاءُ وَتُعِزُّ مَن تَشَاءُ وَتُذِلُّ مَن تَشَاءُ ۖ بِيَدِكَ الْخَيْرُ ۖ إِنَّكَ عَلَىٰ كُلِّ شَيْءٍ قَدِيرٌ (26)
Quli allahumma malika almulki tutee almulka man tashao watanziAAu almulka mimman tashao watuAAizzu man tashao watuthillu man tashao biyadika alkhayru innaka AAala kulli shayin qadeerun
Say : O Allah! Owner of Sovereignty! Thou givest 
sovereignty unto whom Thou wilt , and Thou withdrawest 
sovereignty from whom Thou wilt . Thou exaltest whom 
Thou wilt and Thou abasest whom Thou wilt . In Thy hand 
is the good . Lo! Thou art Able to do all things .

---
3.27
تُولِجُ اللَّيْلَ فِي النَّهَارِ وَتُولِجُ النَّهَارَ فِي اللَّيْلِ ۖ وَتُخْرِجُ الْحَيَّ مِنَ الْمَيِّتِ وَتُخْرِجُ الْمَيِّتَ مِنَ الْحَيِّ ۖ وَتَرْزُقُ مَن تَشَاءُ بِغَيْرِ حِسَابٍ (27)
Tooliju allayla fee alnnahari watooliju alnnahara fee allayli watukhriju alhayya mina almayyiti watukhriju almayyita mina alhayyi watarzuqu man tashao bighayri hisabin
Thou causest the night to pass into the day , and Thou 
causest the day to pass into the night . And Thou bringest 
forth the living from the dead , and Thou bringest forth the 
dead from the living . And Thou givest sustenance to whom 
Thou choosest , without stint .

---
3.28
لَّا يَتَّخِذِ الْمُؤْمِنُونَ الْكَافِرِينَ أَوْلِيَاءَ مِن دُونِ الْمُؤْمِنِينَ ۖ وَمَن يَفْعَلْ ذَٰلِكَ فَلَيْسَ مِنَ اللَّهِ فِي شَيْءٍ إِلَّا أَن تَتَّقُوا مِنْهُمْ تُقَاةً ۗ وَيُحَذِّرُكُمُ اللَّهُ نَفْسَهُ ۗ وَإِلَى اللَّهِ الْمَصِيرُ (28)
La yattakhithi almuminoona alkafireena awliyaa min dooni almumineena waman yafAAal thalika falaysa mina Allahi fee shayin illa an tattaqoo minhum tuqatan wayuhaththirukumu Allahu nafsahu waila Allahi almaseeru
Let not the believers take disbelievers for their friends 
in preference to believers . Whoso doeth that hath no 
connection with Allah unless ( it be ) that ye but guard 
yourselves against them , taking ( as it were ) security . 
Allah biddeth you beware ( only ) of Himself . Unto Allah is 
the journeying .

---
3.29
قُلْ إِن تُخْفُوا مَا فِي صُدُورِكُمْ أَوْ تُبْدُوهُ يَعْلَمْهُ اللَّهُ ۗ وَيَعْلَمُ مَا فِي السَّمَاوَاتِ وَمَا فِي الْأَرْضِ ۗ وَاللَّهُ عَلَىٰ كُلِّ شَيْءٍ قَدِيرٌ (29)
Qul in tukhfoo ma fee sudoorikum aw tubdoohu yaAAlamhu Allahu wayaAAlamu ma fee alssamawati wama fee alardi waAllahu AAala kulli shayin qadeerun
Say , ( O Muhammad ) : Whether ye hide that which 
is in your breasts or reveal it , Allah knoweth it . He knoweth 
that which is in the heavens and that which is in the earth , 
and Allah is Able to do all things .

---
3.30
يَوْمَ تَجِدُ كُلُّ نَفْسٍ مَّا عَمِلَتْ مِنْ خَيْرٍ مُّحْضَرًا وَمَا عَمِلَتْ مِن سُوءٍ تَوَدُّ لَوْ أَنَّ بَيْنَهَا وَبَيْنَهُ أَمَدًا بَعِيدًا ۗ وَيُحَذِّرُكُمُ اللَّهُ نَفْسَهُ ۗ وَاللَّهُ رَءُوفٌ بِالْعِبَادِ (30)
Yawma tajidu kullu nafsin ma AAamilat min khayrin muhdaran wama AAamilat min sooin tawaddu law anna baynaha wabaynahu amadan baAAeedan wayuhaththirukumu Allahu nafsahu waAllahu raoofun bialAAibadi
On the day when every soul will find itself confronted 
with all that it hath done of good and all ' that it hath done 
of evil ( every soul ) will long that there might be a mighty 
apace of distance between it and that ( evil ) . Allah 
biddeth you beware of Him . And Allah is full of pity for 
( His ) bondmen .

---
3.31
قُلْ إِن كُنتُمْ تُحِبُّونَ اللَّهَ فَاتَّبِعُونِي يُحْبِبْكُمُ اللَّهُ وَيَغْفِرْ لَكُمْ ذُنُوبَكُمْ ۗ وَاللَّهُ غَفُورٌ رَّحِيمٌ (31)
Qul in kuntum tuhibboona Allaha faittabiAAoonee yuhbibkumu Allahu wayaghfir lakum thunoobakum waAllahu ghafoorun raheemun
Say , ( O Muhammad , to mankind ) : If ye love Allah , 
follow me ; Allah will love you and forgive you your sins . 
Allah is Forgiving , Merciful .

---
3.32
قُلْ أَطِيعُوا اللَّهَ وَالرَّسُولَ ۖ فَإِن تَوَلَّوْا فَإِنَّ اللَّهَ لَا يُحِبُّ الْكَافِرِينَ (32)
Qul ateeAAoo Allaha waalrrasoola fain tawallaw fainna Allaha la yuhibbu alkafireena
Say : Obey Allah and the messenger . But if they turn 
away , Lo! Allah loveth not the disbelievers ( in His guidance ) .

---
3.33
۞ إِنَّ اللَّهَ اصْطَفَىٰ آدَمَ وَنُوحًا وَآلَ إِبْرَاهِيمَ وَآلَ عِمْرَانَ عَلَى الْعَالَمِينَ (33)
Inna Allaha istafa adama wanoohan waala ibraheema waala AAimrana AAala alAAalameena
Lo! Allah preferred Adam and Noah and the Family of 
Abraham and the Family of ' Imran above ( all His ) creatures .

---
3.34
ذُرِّيَّةً بَعْضُهَا مِن بَعْضٍ ۗ وَاللَّهُ سَمِيعٌ عَلِيمٌ (34)
Thurriyyatan baAAduha min baAAdin waAllahu sameeAAun AAaleemun
They were descendants one of another . Allah is 
Hearer , Knower .

---
3.35
إِذْ قَالَتِ امْرَأَتُ عِمْرَانَ رَبِّ إِنِّي نَذَرْتُ لَكَ مَا فِي بَطْنِي مُحَرَّرًا فَتَقَبَّلْ مِنِّي ۖ إِنَّكَ أَنتَ السَّمِيعُ الْعَلِيمُ (35)
Ith qalati imraatu AAimrana rabbi innee nathartu laka ma fee batnee muharraran fataqabbal minnee innaka anta alssameeAAu alAAaleemu
( Remember ) when the wife of Imran said : My Lord 
I have vowed unto Thee that which is in my belly as a 
consecrated ( offering ) . Accept it from me . Lo! Thou , 
only Thou , art the Hearer , the Knower!

---
3.36
فَلَمَّا وَضَعَتْهَا قَالَتْ رَبِّ إِنِّي وَضَعْتُهَا أُنثَىٰ وَاللَّهُ أَعْلَمُ بِمَا وَضَعَتْ وَلَيْسَ الذَّكَرُ كَالْأُنثَىٰ ۖ وَإِنِّي سَمَّيْتُهَا مَرْيَمَ وَإِنِّي أُعِيذُهَا بِكَ وَذُرِّيَّتَهَا مِنَ الشَّيْطَانِ الرَّجِيمِ (36)
Falamma wadaAAatha qalat rabbi innee wadaAAtuha ontha waAllahu aAAlamu bima wadaAAat walaysa alththakaru kaalontha wainnee sammaytuha maryama wainnee oAAeethuha bika wathurriyyataha mina alshshaytani alrrajeemi
And when she was delivered she said : My Lord! 
Lo! I am delivered of a female . Allah knew best of what 
she was delivered . the male is not as the female ; and 
Lo! I have named her Mary , and Lo! I crave Thy protection
for her and for her offspring from Satan the outcast .

---
3.37
فَتَقَبَّلَهَا رَبُّهَا بِقَبُولٍ حَسَنٍ وَأَنبَتَهَا نَبَاتًا حَسَنًا وَكَفَّلَهَا زَكَرِيَّا ۖ كُلَّمَا دَخَلَ عَلَيْهَا زَكَرِيَّا الْمِحْرَابَ وَجَدَ عِندَهَا رِزْقًا ۖ قَالَ يَا مَرْيَمُ أَنَّىٰ لَكِ هَٰذَا ۖ قَالَتْ هُوَ مِنْ عِندِ اللَّهِ ۖ إِنَّ اللَّهَ يَرْزُقُ مَن يَشَاءُ بِغَيْرِ حِسَابٍ (37)
Fataqabbalaha rabbuha biqaboolin hasanin waanbataha nabatan hasanan wakaffalaha zakariyya kullama dakhala AAalayha zakariyya almihraba wajada AAindaha rizqan qala ya maryamu anna laki hatha qalat huwa min AAindi Allahi inna Allaha yarzuqu man yashao bighayri hisabin
And her Lord accepted her with full acceptance and 
vouchsafed to her a goodly growth ; and made Zachariah 
her guardian . Whenever Zachariah went into the sanctuary 
where she was , he found that she had food . He said : 
O Mary! Whence cometh unto thee this ( food ) ? She 
answered : It is from Allah . Allah giveth without stint to 
whom He will .

---
3.38
هُنَالِكَ دَعَا زَكَرِيَّا رَبَّهُ ۖ قَالَ رَبِّ هَبْ لِي مِن لَّدُنكَ ذُرِّيَّةً طَيِّبَةً ۖ إِنَّكَ سَمِيعُ الدُّعَاءِ (38)
Hunalika daAAa zakariyya rabbahu qala rabbi hab lee min ladunka thurriyyatan tayyibatan innaka sameeAAu aldduAAai
Then Zachariah prayed unto his Lord and said : 
My Lord! Bestow upon me of Thy bounty goodly offspring . 
Lo! Thou an the Hearer of Prayer .

---
3.39
فَنَادَتْهُ الْمَلَائِكَةُ وَهُوَ قَائِمٌ يُصَلِّي فِي الْمِحْرَابِ أَنَّ اللَّهَ يُبَشِّرُكَ بِيَحْيَىٰ مُصَدِّقًا بِكَلِمَةٍ مِّنَ اللَّهِ وَسَيِّدًا وَحَصُورًا وَنَبِيًّا مِّنَ الصَّالِحِينَ (39)
Fanadathu almalaikatu wahuwa qaimun yusallee fee almihrabi anna Allaha yubashshiruka biyahya musaddiqan bikalimatin mina Allahi wasayyidan wahasooran wanabiyyan mina alssaliheena
And the angels called to him as he stood praying in the 
sanctuary : Allah giveth thee glad tidings of 
( a son whose name is ) John , ( who cometh ) to confirm 
a word from Allah , lordly , chaste , a Prophet of the righteous .

---
3.40
قَالَ رَبِّ أَنَّىٰ يَكُونُ لِي غُلَامٌ وَقَدْ بَلَغَنِيَ الْكِبَرُ وَامْرَأَتِي عَاقِرٌ ۖ قَالَ كَذَٰلِكَ اللَّهُ يَفْعَلُ مَا يَشَاءُ (40)
Qala rabbi anna yakoonu lee ghulamun waqad balaghaniya alkibaru waimraatee AAaqirun qala kathalika Allahu yafAAalu ma yashao
He said : My Lord! How can I have a son when age 
hath overtaken me already and my wife is barren? 
( The angel ) answered : So ( it will be ) . Allah doeth 
what He will .

---
3.41
قَالَ رَبِّ اجْعَل لِّي آيَةً ۖ قَالَ آيَتُكَ أَلَّا تُكَلِّمَ النَّاسَ ثَلَاثَةَ أَيَّامٍ إِلَّا رَمْزًا ۗ وَاذْكُر رَّبَّكَ كَثِيرًا وَسَبِّحْ بِالْعَشِيِّ وَالْإِبْكَارِ (41)
Qala rabbi ijAAal lee ayatan qala ayatuka alla tukallima alnnasa thalathata ayyamin illa ramzan waothkur rabbaka katheeran wasabbih bialAAashiyyi waalibkari
He said : My Lord! Appoint a token for me . 
( The angel ) said : The token unto thee ( shall be ) that 
thou shalt not speak unto mankind three days except by 
signs . Remember thy Lord much , and praise ( Him ) in 
the early hours of night and morning .

---
3.42
وَإِذْ قَالَتِ الْمَلَائِكَةُ يَا مَرْيَمُ إِنَّ اللَّهَ اصْطَفَاكِ وَطَهَّرَكِ وَاصْطَفَاكِ عَلَىٰ نِسَاءِ الْعَالَمِينَ (42)
Waith qalati almalaikatu ya maryamu inna Allaha istafaki watahharaki waistafaki AAala nisai alAAalameena
And when the angels said : O Mary! Lo! Allah hath 
chosen thee and made thee pure , and hath preferred thee 
above ( all ) the women of creation .

---
3.43
يَا مَرْيَمُ اقْنُتِي لِرَبِّكِ وَاسْجُدِي وَارْكَعِي مَعَ الرَّاكِعِينَ (43)
Ya maryamu oqnutee lirabbiki waosjudee wairkaAAee maAAa alrrakiAAeena
O Mary! Be obedient to thy Lord , prostrate thyself 
and bow with those who bow ( in worship ) .

---
3.44
ذَٰلِكَ مِنْ أَنبَاءِ الْغَيْبِ نُوحِيهِ إِلَيْكَ ۚ وَمَا كُنتَ لَدَيْهِمْ إِذْ يُلْقُونَ أَقْلَامَهُمْ أَيُّهُمْ يَكْفُلُ مَرْيَمَ وَمَا كُنتَ لَدَيْهِمْ إِذْ يَخْتَصِمُونَ (44)
Thalika min anbai alghaybi nooheehi ilayka wama kunta ladayhim ith yulqoona aqlamahum ayyuhum yakfulu maryama wama kunta ladayhim ith yakhtasimoona
This is of the tidings of things hidden . We reveal it 
unto thee ( Mohammad ) . Thou wast not present with them 
when they threw their pens ( to know ) which of them 
should be the guardian of Mary , nor wast thou present with 
them when they quarrelled ( thereupon ) .

---
3.45
إِذْ قَالَتِ الْمَلَائِكَةُ يَا مَرْيَمُ إِنَّ اللَّهَ يُبَشِّرُكِ بِكَلِمَةٍ مِّنْهُ اسْمُهُ الْمَسِيحُ عِيسَى ابْنُ مَرْيَمَ وَجِيهًا فِي الدُّنْيَا وَالْآخِرَةِ وَمِنَ الْمُقَرَّبِينَ (45)
Ith qalati almalaikatu ya maryamu inna Allaha yubashshiruki bikalimatin minhu ismuhu almaseehu AAeesa ibnu maryama wajeehan fee alddunya waalakhirati wamina almuqarrabeena
( And remember ) when the angels said : O Mary! Allah 
giveth thee glad tidings of a word from Him , whose name is 
the Messiah , Jesus , son of Mary , illustrious in the world 
and the Hereafter , and one of those brought near ( unto Allah ) .

---
3.46
وَيُكَلِّمُ النَّاسَ فِي الْمَهْدِ وَكَهْلًا وَمِنَ الصَّالِحِينَ (46)
Wayukallimu alnnasa fee almahdi wakahlan wamina alssaliheena
He will speak unto mankind in his cradle and in his 
manhood , and he is of the righteous .

---
3.47
قَالَتْ رَبِّ أَنَّىٰ يَكُونُ لِي وَلَدٌ وَلَمْ يَمْسَسْنِي بَشَرٌ ۖ قَالَ كَذَٰلِكِ اللَّهُ يَخْلُقُ مَا يَشَاءُ ۚ إِذَا قَضَىٰ أَمْرًا فَإِنَّمَا يَقُولُ لَهُ كُن فَيَكُونُ (47)
Qalat rabbi anna yakoonu lee waladun walam yamsasnee basharun qala kathaliki Allahu yakhluqu ma yashao itha qada amran fainnama yaqoolu lahu kun fayakoonu
She said : My Lord! How can I have a child when no 
mortal hath touched me? He said : So ( it will be ) . Allah 
createth what He will . if He decreeth a thing , He saith unto 
it only : Be! and it is .

---
3.48
وَيُعَلِّمُهُ الْكِتَابَ وَالْحِكْمَةَ وَالتَّوْرَاةَ وَالْإِنجِيلَ (48)
WayuAAallimuhu alkitaba waalhikmata waalttawrata waalinjeela
And He will teach him the Scripture and wisdom , 
and the Torah and the Gospel .

---
3.49
وَرَسُولًا إِلَىٰ بَنِي إِسْرَائِيلَ أَنِّي قَدْ جِئْتُكُم بِآيَةٍ مِّن رَّبِّكُمْ ۖ أَنِّي أَخْلُقُ لَكُم مِّنَ الطِّينِ كَهَيْئَةِ الطَّيْرِ فَأَنفُخُ فِيهِ فَيَكُونُ طَيْرًا بِإِذْنِ اللَّهِ ۖ وَأُبْرِئُ الْأَكْمَهَ وَالْأَبْرَصَ وَأُحْيِي الْمَوْتَىٰ بِإِذْنِ اللَّهِ ۖ وَأُنَبِّئُكُم بِمَا تَأْكُلُونَ وَمَا تَدَّخِرُونَ فِي بُيُوتِكُمْ ۚ إِنَّ فِي ذَٰلِكَ لَآيَةً لَّكُمْ إِن كُنتُم مُّؤْمِنِينَ (49)
Warasoolan ila banee israeela annee qad jitukum biayatin min rabbikum annee akhluqu lakum mina altteeni kahayati alttayri faanfukhu feehi fayakoonu tayran biithni Allahi waobrio alakmaha waalabrasa waohyee almawta biithni Allahi waonabbiokum bima takuloona wama taddakhiroona fee buyootikum inna fee thalika laayatan lakum in kuntum mumineena
And will make him a messenger unto the children of 
Israel , ( saying ) : Lo! I come unto you with a sign from 
your Lord . Lo! I fashion for you out of clay the likeness 
of a bird , and I breathe into it and it is a bird , by Allah ' s 
leave . I heal him who was born blind , and the leper , and 
I raise the dead , by Allah ' s leave . And I announce unto 
you what ye eat and what ye store up in your houses . 
Lo! herein verily is a portent for you , if ye are believers .

---
3.50
وَمُصَدِّقًا لِّمَا بَيْنَ يَدَيَّ مِنَ التَّوْرَاةِ وَلِأُحِلَّ لَكُم بَعْضَ الَّذِي حُرِّمَ عَلَيْكُمْ ۚ وَجِئْتُكُم بِآيَةٍ مِّن رَّبِّكُمْ فَاتَّقُوا اللَّهَ وَأَطِيعُونِ (50)
Wamusaddiqan lima bayna yadayya mina alttawrati waliohilla lakum baAAda allathee hurrima AAalaykum wajitukum biayatin min rabbikum faittaqoo Allaha waateeAAooni
And ( I come ) confirming that which was before me 
of the Torah , and to make lawful some of that which was 
forbidden unto you . I come unto you with a sign from your 
Lord , so keep your duty to Allah and obey me

---
3.51
إِنَّ اللَّهَ رَبِّي وَرَبُّكُمْ فَاعْبُدُوهُ ۗ هَٰذَا صِرَاطٌ مُّسْتَقِيمٌ (51)
Inna Allaha rabbee warabbukum faoAAbudoohu hatha siratun mustaqeemun
Lo! Allah is my Lord and your Lord , so worship Him . 
That is a straight path .
नम्र निवेदन: वेबसाइट को और बेहतर बनाने हेतु अपने कीमती सुझाव कॉमेंट बॉक्स में लिखें, यह आपको अच्छा लगा हो तो अपनें मित्रों के साथ अवश्य शेयर करें। धन्यवाद।