2b. Al-Baqarah (51 to 100)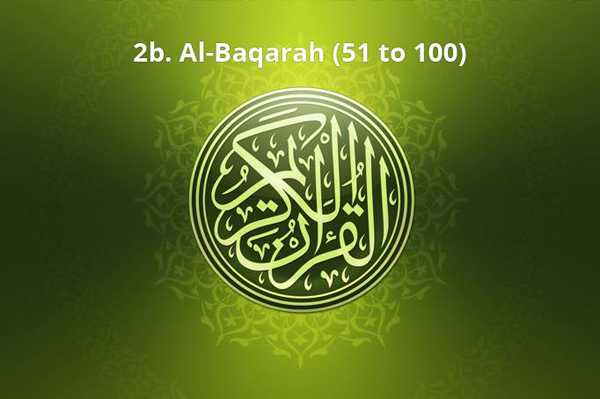 And when We did appoint for Moses forty nights
( of solitude ) , and then ye chose the calf , when he had…
2.51
وَإِذْ وَاعَدْنَا مُوسَىٰ أَرْبَعِينَ لَيْلَةً ثُمَّ اتَّخَذْتُمُ الْعِجْلَ مِن بَعْدِهِ وَأَنتُمْ ظَالِمُونَ (51)
Waith waAAadna moosa arbaAAeena laylatan thumma ittakhathtumu alAAijla min baAAdihi waantum thalimoona
And when We did appoint for Moses forty nights 
( of solitude ) , and then ye chose the calf , when he had 
gone from you , and were wrongdoers .

---
2.52
ثُمَّ عَفَوْنَا عَنكُم مِّن بَعْدِ ذَٰلِكَ لَعَلَّكُمْ تَشْكُرُونَ (52)
Thumma AAafawna AAankum min baAAdi thalika laAAallakum tashkuroona
Then , even after that , We pardoned you in order that ye 
might give thanks .

---
2.53
وَإِذْ آتَيْنَا مُوسَى الْكِتَابَ وَالْفُرْقَانَ لَعَلَّكُمْ تَهْتَدُونَ (53)
Waith atayna moosa alkitaba waalfurqana laAAallakum tahtadoona
And when We gave unto Moses the Scripture and the 
Criterion ( of right and wrong ) , that ye might be led aright .

---
2.54
وَإِذْ قَالَ مُوسَىٰ لِقَوْمِهِ يَا قَوْمِ إِنَّكُمْ ظَلَمْتُمْ أَنفُسَكُم بِاتِّخَاذِكُمُ الْعِجْلَ فَتُوبُوا إِلَىٰ بَارِئِكُمْ فَاقْتُلُوا أَنفُسَكُمْ ذَٰلِكُمْ خَيْرٌ لَّكُمْ عِندَ بَارِئِكُمْ فَتَابَ عَلَيْكُمْ ۚ إِنَّهُ هُوَ التَّوَّابُ الرَّحِيمُ (54)
Waith qala moosa liqawmihi ya qawmi innakum thalamtum anfusakum biittikhathikumu alAAijla fatooboo ila bariikum faoqtuloo anfusakum thalikum khayrun lakum AAinda bariikum fataba AAalaykum innahu huwa alttawwabu alrraheemu
And when Moses said unto his people : O my people! Ye 
have wronged yourselves by your choosing of the calf 
( for worship ) so turn in penitence to your Creator , and 
kill ( the guilty ) yourselves . That will be best for you with 
your Creator and He will relent toward you . Lo! He is the 
Relenting , the Merciful .

---
2.55
وَإِذْ قُلْتُمْ يَا مُوسَىٰ لَن نُّؤْمِنَ لَكَ حَتَّىٰ نَرَى اللَّهَ جَهْرَةً فَأَخَذَتْكُمُ الصَّاعِقَةُ وَأَنتُمْ تَنظُرُونَ (55)
Waith qultum ya moosa lan numina laka hatta nara Allaha jahratan faakhathatkumu alssaAAiqatu waantum tanthuroona
And when ye said : O Moses! We will not believe in thee
till we see Allah plainly ; and even while ye gazed the 
lightning seized you .

---
2.56
ثُمَّ بَعَثْنَاكُم مِّن بَعْدِ مَوْتِكُمْ لَعَلَّكُمْ تَشْكُرُونَ (56)
Thumma baAAathnakum min baAAdi mawtikum laAAallakum tashkuroona
Then We revived you after your extinction , that ye might 
give thanks .

---
2.57
وَظَلَّلْنَا عَلَيْكُمُ الْغَمَامَ وَأَنزَلْنَا عَلَيْكُمُ الْمَنَّ وَالسَّلْوَىٰ ۖ كُلُوا مِن طَيِّبَاتِ مَا رَزَقْنَاكُمْ ۖ وَمَا ظَلَمُونَا وَلَٰكِن كَانُوا أَنفُسَهُمْ يَظْلِمُونَ (57)
Wathallalna AAalaykumu alghamama waanzalna AAalaykumu almanna waalssalwa kuloo min tayyibati ma razaqnakum wama thalamoona walakin kanoo anfusahum yathlimoona
And We caused the white cloud to overshadow you and 
sent down on you the manna and the quails , ( saying ) : 
Eat of the good things wherewith We have provided you 
We wronged them not , but they did wrong themselves .

---
2.58
وَإِذْ قُلْنَا ادْخُلُوا هَٰذِهِ الْقَرْيَةَ فَكُلُوا مِنْهَا حَيْثُ شِئْتُمْ رَغَدًا وَادْخُلُوا الْبَابَ سُجَّدًا وَقُولُوا حِطَّةٌ نَّغْفِرْ لَكُمْ خَطَايَاكُمْ ۚ وَسَنَزِيدُ الْمُحْسِنِينَ (58)
Waith qulna odkhuloo hathihi alqaryata fakuloo minha haythu shitum raghadan waodkhuloo albaba sujjadan waqooloo hittatun naghfir lakum khatayakum wasanazeedu almuhsineena
And when We said : Go into this township and eat freely 
of that which is therein , and enter the gate prostrate , and 
say : "Repentance . " We will forgive you your sins and 
increase ( reward ) for the right-doers .

---
2.59
فَبَدَّلَ الَّذِينَ ظَلَمُوا قَوْلًا غَيْرَ الَّذِي قِيلَ لَهُمْ فَأَنزَلْنَا عَلَى الَّذِينَ ظَلَمُوا رِجْزًا مِّنَ السَّمَاءِ بِمَا كَانُوا يَفْسُقُونَ (59)
Fabaddala allatheena thalamoo qawlan ghayra allathee qeela lahum faanzalna AAala allatheena thalamoo rijzan mina alssamai bima kanoo yafsuqoona
But those who did wrong changed the word which had been 
told them for another saying , and We sent down upon the 
evil-doers wrath from Heaven for their evil doing .

---
2.60
۞ وَإِذِ اسْتَسْقَىٰ مُوسَىٰ لِقَوْمِهِ فَقُلْنَا اضْرِب بِّعَصَاكَ الْحَجَرَ ۖ فَانفَجَرَتْ مِنْهُ اثْنَتَا عَشْرَةَ عَيْنًا ۖ قَدْ عَلِمَ كُلُّ أُنَاسٍ مَّشْرَبَهُمْ ۖ كُلُوا وَاشْرَبُوا مِن رِّزْقِ اللَّهِ وَلَا تَعْثَوْا فِي الْأَرْضِ مُفْسِدِينَ (60)
Waithi istasqa moosa liqawmihi faqulna idrib biAAasaka alhajara fainfajarat minhu ithnata AAashrata AAaynan qad AAalima kullu onasin mashrabahum kuloo waishraboo min rizqi Allahi wala taAAthaw fee alardi mufsideena
And when Moses asked for water for his people , We said : 
Smite with thy staff the rock . And there gushed out therefrom 
twelve springs ( so that ) each tribe knew their drinking place . 
Eat and drink of that which Allah hath provided , and do not act 
corruptly , making mischief in the earth .

---
2.61
وَإِذْ قُلْتُمْ يَا مُوسَىٰ لَن نَّصْبِرَ عَلَىٰ طَعَامٍ وَاحِدٍ فَادْعُ لَنَا رَبَّكَ يُخْرِجْ لَنَا مِمَّا تُنبِتُ الْأَرْضُ مِن بَقْلِهَا وَقِثَّائِهَا وَفُومِهَا وَعَدَسِهَا وَبَصَلِهَا ۖ قَالَ أَتَسْتَبْدِلُونَ الَّذِي هُوَ أَدْنَىٰ بِالَّذِي هُوَ خَيْرٌ ۚ اهْبِطُوا مِصْرًا فَإِنَّ لَكُم مَّا سَأَلْتُمْ ۗ وَضُرِبَتْ عَلَيْهِمُ الذِّلَّةُ وَالْمَسْكَنَةُ وَبَاءُوا بِغَضَبٍ مِّنَ اللَّهِ ۗ ذَٰلِكَ بِأَنَّهُمْ كَانُوا يَكْفُرُونَ بِآيَاتِ اللَّهِ وَيَقْتُلُونَ النَّبِيِّينَ بِغَيْرِ الْحَقِّ ۗ ذَٰلِكَ بِمَا عَصَوا وَّكَانُوا يَعْتَدُونَ (61)
Waith qultum ya moosa lan nasbira AAala taAAamin wahidin faodAAu lana rabbaka yukhrij lana mimma tunbitu alardu min baqliha waqiththaiha wafoomiha waAAadasiha wabasaliha qala atastabdiloona allathee huwa adna biallathee huwa khayrun ihbitoo misran fainna lakum ma saaltum waduribat AAalayhimu alththillatu waalmaskanatu wabaoo bighadabin mina Allahi thalika biannahum kanoo yakfuroona biayati Allahi wayaqtuloona alnnabiyyeena bighayri alhaqqi thalika bima AAasaw wakanoo yaAAtadoona
And when ye said : O Moses! We are weary of one kind of 
food ; so call upon thy Lord for us that he bring forth for us 
of that which the earth groweth of its herbs and its cucumbers 
and its corn and its lentils and its onions . He said : Would ye 
exchange that which is higher for that which is lower? Go 
down to settled country , thus ye shall get that which ye 
demand . And humiliation and wretchedness were stamped 
upon them and they were visited with wrath from Allah . That 
was because they disbelieved in Allah ' s revelations and slew 
the prophets wrongfully . That was for their disobedience and 
transgression .

---
2.62
إِنَّ الَّذِينَ آمَنُوا وَالَّذِينَ هَادُوا وَالنَّصَارَىٰ وَالصَّابِئِينَ مَنْ آمَنَ بِاللَّهِ وَالْيَوْمِ الْآخِرِ وَعَمِلَ صَالِحًا فَلَهُمْ أَجْرُهُمْ عِندَ رَبِّهِمْ وَلَا خَوْفٌ عَلَيْهِمْ وَلَا هُمْ يَحْزَنُونَ (62)
Inna allatheena amanoo waallatheena hadoo waalnnasara waalssabieena man amana biAllahi waalyawmi alakhiri waAAamila salihan falahum ajruhum AAinda rabbihim wala khawfun AAalayhim wala hum yahzanoona
Lo! those who believe ( in that which is revealed unto thee , 
Muhammad ) , and those who are Jews , and Christians , 
and Sabaeans whoever believeth in Allah and the Last Day 
and doeth right surely their reward is with their Lord , and 
there shall no fear come upon them neither shall they grieve .

---
2.63
وَإِذْ أَخَذْنَا مِيثَاقَكُمْ وَرَفَعْنَا فَوْقَكُمُ الطُّورَ خُذُوا مَا آتَيْنَاكُم بِقُوَّةٍ وَاذْكُرُوا مَا فِيهِ لَعَلَّكُمْ تَتَّقُونَ (63)
Waith akhathna meethaqakum warafaAAna fawqakumu alttoora khuthoo ma ataynakum biquwwatin waothkuroo ma feehi laAAallakum tattaqoona
And ( remember , O children of Israel ) when We made a 
covenant with you and caused the Mount to tower above 
you , ( saying ) : Hold fast that which We have given you , 
and remember that which is therein , that ye may ward off 
( evil ) .

---
2.64
ثُمَّ تَوَلَّيْتُم مِّن بَعْدِ ذَٰلِكَ ۖ فَلَوْلَا فَضْلُ اللَّهِ عَلَيْكُمْ وَرَحْمَتُهُ لَكُنتُم مِّنَ الْخَاسِرِينَ (64)
Thumma tawallaytum min baAAdi thalika falawla fadlu Allahi AAalaykum warahmatuhu lakuntum mina alkhasireena
Then , even after that , ye turned away , and if it had not 
been for the grace of Allah and His mercy ye had been 
among the losers .

---
2.65
وَلَقَدْ عَلِمْتُمُ الَّذِينَ اعْتَدَوْا مِنكُمْ فِي السَّبْتِ فَقُلْنَا لَهُمْ كُونُوا قِرَدَةً خَاسِئِينَ (65)
Walaqad AAalimtumu allatheena iAAtadaw minkum fee alssabti faqulna lahum koonoo qiradatan khasieena
And ye know of those of you who broke the Sabbath , bow 
We said unto them : Be ye apes , despised and hated!

---
2.66
فَجَعَلْنَاهَا نَكَالًا لِّمَا بَيْنَ يَدَيْهَا وَمَا خَلْفَهَا وَمَوْعِظَةً لِّلْمُتَّقِينَ (66)
FajaAAalnaha nakalan lima bayna yadayha wama khalfaha wamawAAithatan lilmuttaqeena
And We made it an example to their own and to succeeding 
generations , and an admonition to the God fearing .

---
2.67
وَإِذْ قَالَ مُوسَىٰ لِقَوْمِهِ إِنَّ اللَّهَ يَأْمُرُكُمْ أَن تَذْبَحُوا بَقَرَةً ۖ قَالُوا أَتَتَّخِذُنَا هُزُوًا ۖ قَالَ أَعُوذُ بِاللَّهِ أَنْ أَكُونَ مِنَ الْجَاهِلِينَ (67)
Waith qala moosa liqawmihi inna Allaha yamurukum an tathbahoo baqaratan qaloo atattakhithuna huzuwan qala aAAoothu biAllahi an akoona mina aljahileena
And when Moses said unto his people : Lo! Allah 
commandeth you that ye sacrifice a cow , they said : Dost 
thou make game of us? He answered : Allah forbid that I 
should be among the foolish!

---
2.68
قَالُوا ادْعُ لَنَا رَبَّكَ يُبَيِّن لَّنَا مَا هِيَ ۚ قَالَ إِنَّهُ يَقُولُ إِنَّهَا بَقَرَةٌ لَّا فَارِضٌ وَلَا بِكْرٌ عَوَانٌ بَيْنَ ذَٰلِكَ ۖ فَافْعَلُوا مَا تُؤْمَرُونَ (68)
Qaloo odAAu lana rabbaka yubayyin lana ma hiya qala innahu yaqoolu innaha baqaratun la faridun wala bikrun AAawanun bayna thalika faifAAaloo ma tumaroona
They said : Pray for us unto thy Lord that He make clear to 
us what ( cow ) she is . ( Moses ) answered : Lo! He saith , 
Verily she is a cow neither with calf nor immature ; ( she is ) 
between the two conditions ; so do that which ye are 
commanded .

---
2.69
قَالُوا ادْعُ لَنَا رَبَّكَ يُبَيِّن لَّنَا مَا لَوْنُهَا ۚ قَالَ إِنَّهُ يَقُولُ إِنَّهَا بَقَرَةٌ صَفْرَاءُ فَاقِعٌ لَّوْنُهَا تَسُرُّ النَّاظِرِينَ (69)
Qaloo odAAu lana rabbaka yubayyin lana ma lawnuha qala innahu yaqoolu innaha baqaratun safrao faqiAAun lawnuha tasurru alnnathireena
They said : Pray for us unto thy Lord that He make clear 
to us of what color she is . ( Moses ) answered : Lo! He 
saith : Verily she is a yellow cow . Bright is her color , 
gladdening beholders .

---
2.70
قَالُوا ادْعُ لَنَا رَبَّكَ يُبَيِّن لَّنَا مَا هِيَ إِنَّ الْبَقَرَ تَشَابَهَ عَلَيْنَا وَإِنَّا إِن شَاءَ اللَّهُ لَمُهْتَدُونَ (70)
Qaloo odAAu lana rabbaka yubayyin lana ma hiya inna albaqara tashabaha AAalayna wainna in shaa Allahu lamuhtadoona
They said : Pray for us unto thy Lord that He make clear 
to us what ( cow ) she is . Lo! cows are much alike to us ; 
and lo! if Allah wills , we may be led aright .

---
2.71
قَالَ إِنَّهُ يَقُولُ إِنَّهَا بَقَرَةٌ لَّا ذَلُولٌ تُثِيرُ الْأَرْضَ وَلَا تَسْقِي الْحَرْثَ مُسَلَّمَةٌ لَّا شِيَةَ فِيهَا ۚ قَالُوا الْآنَ جِئْتَ بِالْحَقِّ ۚ فَذَبَحُوهَا وَمَا كَادُوا يَفْعَلُونَ (71)
Qala innahu yaqoolu innaha baqaratun la thaloolun tutheeru alarda wala tasqee alhartha musallamatun la shiyata feeha qaloo alana jita bialhaqqi fathabahooha wama kadoo yafAAaloona
( Moses ) answered : Lo! He saith : Verily she is a cow 
unyoked ; she plougheth not the soil nor watereth the tilth ; 
whole and without mark . They said : Now thou bringest the 
truth . So they sacrificed her , though almost they did not .

---
2.72
وَإِذْ قَتَلْتُمْ نَفْسًا فَادَّارَأْتُمْ فِيهَا ۖ وَاللَّهُ مُخْرِجٌ مَّا كُنتُمْ تَكْتُمُونَ (72)
Waith qataltum nafsan faiddaratum feeha waAllahu mukhrijun ma kuntum taktumoona
And ( remember ) when ye slew a man and disagreed 
concerning it and Allah brought forth that which ye were 
hiding .

---
2.73
فَقُلْنَا اضْرِبُوهُ بِبَعْضِهَا ۚ كَذَٰلِكَ يُحْيِي اللَّهُ الْمَوْتَىٰ وَيُرِيكُمْ آيَاتِهِ لَعَلَّكُمْ تَعْقِلُونَ (73)
Faqulna idriboohu bibaAAdiha kathalika yuhyee Allahu almawta wayureekum ayatihi laAAallakum taAAqiloona
And We said : Smite him with some of it . Thus Allah 
bringeth the dead to life and showeth you His portents 
so that ye may understand .

---
2.74
ثُمَّ قَسَتْ قُلُوبُكُم مِّن بَعْدِ ذَٰلِكَ فَهِيَ كَالْحِجَارَةِ أَوْ أَشَدُّ قَسْوَةً ۚ وَإِنَّ مِنَ الْحِجَارَةِ لَمَا يَتَفَجَّرُ مِنْهُ الْأَنْهَارُ ۚ وَإِنَّ مِنْهَا لَمَا يَشَّقَّقُ فَيَخْرُجُ مِنْهُ الْمَاءُ ۚ وَإِنَّ مِنْهَا لَمَا يَهْبِطُ مِنْ خَشْيَةِ اللَّهِ ۗ وَمَا اللَّهُ بِغَافِلٍ عَمَّا تَعْمَلُونَ (74)
Thumma qasat quloobukum min baAAdi thalika fahiya kaalhijarati aw ashaddu qaswatan wainna mina alhijarati lama yatafajjaru minhu alanharu wainna minha lama yashshaqqaqu fayakhruju minhu almao wainna minha lama yahbitu min khashyati Allahi wama Allahu bighafilin AAamma taAAmaloona
Then , even after that , your hearts were hardened and 
became as rocks , or worse than rocks , for hardness . 
For indeed there are rocks from out which rivers gush , 
and indeed there are rocks which split asunder so that 
water Soweth from them . And indeed there are rocks 
which fall down for the fear of Allah . Allah is not unaware 
of what ye do .

---
2.75
۞ أَفَتَطْمَعُونَ أَن يُؤْمِنُوا لَكُمْ وَقَدْ كَانَ فَرِيقٌ مِّنْهُمْ يَسْمَعُونَ كَلَامَ اللَّهِ ثُمَّ يُحَرِّفُونَهُ مِن بَعْدِ مَا عَقَلُوهُ وَهُمْ يَعْلَمُونَ (75)
AfatatmaAAoona an yuminoo lakum waqad kana fareequn minhum yasmaAAoona kalama Allahi thumma yuharrifoonahu min baAAdi ma AAaqaloohu wahum yaAAlamoona
Have ye any hope that they will be true to you when a 
party of them used to listen to the Word of Allah , then 
used to change it , after they had understood it knowingly?

---
2.76
وَإِذَا لَقُوا الَّذِينَ آمَنُوا قَالُوا آمَنَّا وَإِذَا خَلَا بَعْضُهُمْ إِلَىٰ بَعْضٍ قَالُوا أَتُحَدِّثُونَهُم بِمَا فَتَحَ اللَّهُ عَلَيْكُمْ لِيُحَاجُّوكُم بِهِ عِندَ رَبِّكُمْ ۚ أَفَلَا تَعْقِلُونَ (76)
Waitha laqoo allatheena amanoo qaloo amanna waitha khala baAAduhum ila baAAdin qaloo atuhaddithoonahum bima fataha Allahu AAalaykum liyuhajjookum bihi AAinda rabbikum afala taAAqiloona
And when they fall in with those who believe , they say : 
We believe . But when they go apart one with another they 
say : Prate ye to them of that which Allah hath disclosed to 
you that they may contend with you before your Lord 
concerning it? Have ye then no sense?

---
2.77
أَوَلَا يَعْلَمُونَ أَنَّ اللَّهَ يَعْلَمُ مَا يُسِرُّونَ وَمَا يُعْلِنُونَ (77)
Awala yaAAlamoona anna Allaha yaAAlamu ma yusirroona wama yuAAlinoona
Are they then unaware that Allah knoweth that which they 
keep hidden and that which they proclaim?

---
2.78
وَمِنْهُمْ أُمِّيُّونَ لَا يَعْلَمُونَ الْكِتَابَ إِلَّا أَمَانِيَّ وَإِنْ هُمْ إِلَّا يَظُنُّونَ (78)
Waminhum ommiyyoona la yaAAlamoona alkitaba illa amaniyya wain hum illa yathunnoona
Among them are unlettered folk who know the scripture 
not except from hearsay . They but guess .

---
2.79
فَوَيْلٌ لِّلَّذِينَ يَكْتُبُونَ الْكِتَابَ بِأَيْدِيهِمْ ثُمَّ يَقُولُونَ هَٰذَا مِنْ عِندِ اللَّهِ لِيَشْتَرُوا بِهِ ثَمَنًا قَلِيلًا ۖ فَوَيْلٌ لَّهُم مِّمَّا كَتَبَتْ أَيْدِيهِمْ وَوَيْلٌ لَّهُم مِّمَّا يَكْسِبُونَ (79)
Fawaylun lillatheena yaktuboona alkitaba biaydeehim thumma yaqooloona hatha min AAindi Allahi liyashtaroo bihi thamanan qaleelan fawaylun lahum mimma katabat aydeehim wawaylun lahum mimma yaksiboona
Therefore woe be unto those who write the Scripture with 
their hands anthem say , "This is from Allah , " that they may 
purchase a small gain therewith . Woe unto them for that 
their hands have written , and woe unto them for that they 
earn thereby .

---
2.80
وَقَالُوا لَن تَمَسَّنَا النَّارُ إِلَّا أَيَّامًا مَّعْدُودَةً ۚ قُلْ أَتَّخَذْتُمْ عِندَ اللَّهِ عَهْدًا فَلَن يُخْلِفَ اللَّهُ عَهْدَهُ ۖ أَمْ تَقُولُونَ عَلَى اللَّهِ مَا لَا تَعْلَمُونَ (80)
Waqaloo lan tamassana alnnaru illa ayyaman maAAdoodatan qul attakhathtum AAinda Allahi AAahdan falan yukhlifa Allahu AAahdahu am taqooloona AAala Allahi ma la taAAlamoona
And they say : The fire ( of punishment ) will not touch 
save for a certain number of days . Say : Have ye received 
a covenant from Allah truly Allah will not break His covenant 
or tell ye concerning Allah that which ye know not?

---
2.81
بَلَىٰ مَن كَسَبَ سَيِّئَةً وَأَحَاطَتْ بِهِ خَطِيئَتُهُ فَأُولَٰئِكَ أَصْحَابُ النَّارِ ۖ هُمْ فِيهَا خَالِدُونَ (81)
Bala man kasaba sayyiatan waahatat bihi khateeatuhu faolaika ashabu alnnari hum feeha khalidoona
Nay , but whosoever hath done evil and his sin surroundeth 
him ; such are rightful owners of the Fire ; they will abide 
therein .

---
2.82
وَالَّذِينَ آمَنُوا وَعَمِلُوا الصَّالِحَاتِ أُولَٰئِكَ أَصْحَابُ الْجَنَّةِ ۖ هُمْ فِيهَا خَالِدُونَ (82)
Waallatheena amanoo waAAamiloo alssalihati olaika ashabu aljannati hum feeha khalidoona
And those who believe and do good works : such are rightful 
owners of the Garden . They will abide therein .

---
2.83
وَإِذْ أَخَذْنَا مِيثَاقَ بَنِي إِسْرَائِيلَ لَا تَعْبُدُونَ إِلَّا اللَّهَ وَبِالْوَالِدَيْنِ إِحْسَانًا وَذِي الْقُرْبَىٰ وَالْيَتَامَىٰ وَالْمَسَاكِينِ وَقُولُوا لِلنَّاسِ حُسْنًا وَأَقِيمُوا الصَّلَاةَ وَآتُوا الزَّكَاةَ ثُمَّ تَوَلَّيْتُمْ إِلَّا قَلِيلًا مِّنكُمْ وَأَنتُم مُّعْرِضُونَ (83)
Waith akhathna meethaqa banee israeela la taAAbudoona illa Allaha wabialwalidayni ihsanan wathee alqurba waalyatama waalmasakeeni waqooloo lilnnasi husnan waaqeemoo alssalata waatoo alzzakata thumma tawallaytum illa qaleelan minkum waantum muAAridoona
And ( remember ) when We made a covenant with the 
Children of Israel , ( saying ) : Worship none save Allah 
( only ) , and be good to parents and to kindred and to 
orphans and the needy , and speak kindly to mankind ; 
and establish worship and pay the poor due . Then , 
after that , ye slid back , save a few of you , being averse .

---
2.84
وَإِذْ أَخَذْنَا مِيثَاقَكُمْ لَا تَسْفِكُونَ دِمَاءَكُمْ وَلَا تُخْرِجُونَ أَنفُسَكُم مِّن دِيَارِكُمْ ثُمَّ أَقْرَرْتُمْ وَأَنتُمْ تَشْهَدُونَ (84)
Waith akhathna meethaqakum la tasfikoona dimaakum wala tukhrijoona anfusakum min diyarikum thumma aqrartum waantum tashhadoona
And when We made with you a covenant ( saying ) : Shed 
not the blood of your people nor turn ( a party of ) your 
people out of your dwellings . Then ye ratified ( Our covenant ) 
and ye were witnesses ( thereto ) .

---
2.85
ثُمَّ أَنتُمْ هَٰؤُلَاءِ تَقْتُلُونَ أَنفُسَكُمْ وَتُخْرِجُونَ فَرِيقًا مِّنكُم مِّن دِيَارِهِمْ تَظَاهَرُونَ عَلَيْهِم بِالْإِثْمِ وَالْعُدْوَانِ وَإِن يَأْتُوكُمْ أُسَارَىٰ تُفَادُوهُمْ وَهُوَ مُحَرَّمٌ عَلَيْكُمْ إِخْرَاجُهُمْ ۚ أَفَتُؤْمِنُونَ بِبَعْضِ الْكِتَابِ وَتَكْفُرُونَ بِبَعْضٍ ۚ فَمَا جَزَاءُ مَن يَفْعَلُ ذَٰلِكَ مِنكُمْ إِلَّا خِزْيٌ فِي الْحَيَاةِ الدُّنْيَا ۖ وَيَوْمَ الْقِيَامَةِ يُرَدُّونَ إِلَىٰ أَشَدِّ الْعَذَابِ ۗ وَمَا اللَّهُ بِغَافِلٍ عَمَّا تَعْمَلُونَ (85)
Thumma antum haolai taqtuloona anfusakum watukhrijoona fareeqan minkum min diyarihim tathaharoona AAalayhim bialithmi waalAAudwani wain yatookum osara tufadoohum wahuwa muharramun AAalaykum ikhrajuhum afatuminoona bibaAAdi alkitabi watakfuroona bibaAAdin fama jazao man yafAAalu thalika minkum illa khizyun fee alhayati alddunya wayawma alqiyamati yuraddoona ila ashaddi alAAathabi wama Allahu bighafilin AAamma taAAmaloona
Yet ye it is who stay each other and drive out a party of your 
people from their homes , supporting one another against 
them by sin and transgression , and if they came to you as 
captives ye would ransom them , whereas their expulsion 
was itself unlawful for you . Believe ye in part of the Scripture
and disbelieve ye in part thereof? And what is the reward of 
those who do so save ignominy in the life of the world , and 
on the Day of Resurrection they will be consigned to the 
most grievous doom . For Allah is not unaware of what ye do .

---
2.86
أُولَٰئِكَ الَّذِينَ اشْتَرَوُا الْحَيَاةَ الدُّنْيَا بِالْآخِرَةِ ۖ فَلَا يُخَفَّفُ عَنْهُمُ الْعَذَابُ وَلَا هُمْ يُنصَرُونَ (86)
Olaika allatheena ishtarawoo alhayata alddunya bialakhirati fala yukhaffafu AAanhumu alAAathabu wala hum yunsaroona
Such are those who buy the life of the world at the price 
of the Hereafter : Their punishment will not be lightened , 
neither will they have support .

---
2.87
وَلَقَدْ آتَيْنَا مُوسَى الْكِتَابَ وَقَفَّيْنَا مِن بَعْدِهِ بِالرُّسُلِ ۖ وَآتَيْنَا عِيسَى ابْنَ مَرْيَمَ الْبَيِّنَاتِ وَأَيَّدْنَاهُ بِرُوحِ الْقُدُسِ ۗ أَفَكُلَّمَا جَاءَكُمْ رَسُولٌ بِمَا لَا تَهْوَىٰ أَنفُسُكُمُ اسْتَكْبَرْتُمْ فَفَرِيقًا كَذَّبْتُمْ وَفَرِيقًا تَقْتُلُونَ (87)
Walaqad atayna moosa alkitaba waqaffayna min baAAdihi bialrrusuli waatayna AAeesa ibna maryama albayyinati waayyadnahu biroohi alqudusi afakullama jaakum rasoolun bima la tahwa anfusukumu istakbartum fafareeqan kaththabtum wafareeqan taqtuloona
And verily We gave unto Moses the Scripture and We 
caused a train of messengers to follow after him , and 
We gave unto Jesus , son of Mary , clear proofs 
( of Allah ' s sovereignty ) , and We supported him with 
the holy Spirit is it ever so , that , when there cometh unto 
you a messenger ( from Allah ) with that which ye 
yourselves desire not , ye grow arrogant , and some ye 
disbelieve and some ye slay?

---
2.88
وَقَالُوا قُلُوبُنَا غُلْفٌ ۚ بَل لَّعَنَهُمُ اللَّهُ بِكُفْرِهِمْ فَقَلِيلًا مَّا يُؤْمِنُونَ (88)
Waqaloo quloobuna ghulfun bal laAAanahumu Allahu bikufrihim faqaleelan ma yuminoona
And they say : Our hearts are hardened . Nay , but Allah 
hath cursed them for their unbelief . Little is that which they 
believe .

---
2.89
وَلَمَّا جَاءَهُمْ كِتَابٌ مِّنْ عِندِ اللَّهِ مُصَدِّقٌ لِّمَا مَعَهُمْ وَكَانُوا مِن قَبْلُ يَسْتَفْتِحُونَ عَلَى الَّذِينَ كَفَرُوا فَلَمَّا جَاءَهُم مَّا عَرَفُوا كَفَرُوا بِهِ ۚ فَلَعْنَةُ اللَّهِ عَلَى الْكَافِرِينَ (89)
Walamma jaahum kitabun min AAindi Allahi musaddiqun lima maAAahum wakanoo min qablu yastaftihoona AAala allatheena kafaroo falamma jaahum ma AAarafoo kafaroo bihi falaAAnatu Allahi AAala alkafireena
And when there cometh unto them a Scripture from Allah , 
confirming that in their possession though before that they 
were asking for a signal triumph over those who disbelieved 
and when there cometh unto them that which they know 
( to be the Truth ) they disbelieve therein . The curse of Allah 
is on disbelievers .

---
2.90
بِئْسَمَا اشْتَرَوْا بِهِ أَنفُسَهُمْ أَن يَكْفُرُوا بِمَا أَنزَلَ اللَّهُ بَغْيًا أَن يُنَزِّلَ اللَّهُ مِن فَضْلِهِ عَلَىٰ مَن يَشَاءُ مِنْ عِبَادِهِ ۖ فَبَاءُوا بِغَضَبٍ عَلَىٰ غَضَبٍ ۚ وَلِلْكَافِرِينَ عَذَابٌ مُّهِينٌ (90)
Bisama ishtaraw bihi anfusahum an yakfuroo bima anzala Allahu baghyan an yunazzila Allahu min fadlihi AAala man yashao min AAibadihi fabaoo bighadabin AAala ghadabin walilkafireena AAathabun muheenun
Evil is that for which they sell their souls : that they should 
disbelieve in that which Allah hath revealed , grudging that 
Allah should reveal of His bounty unto whom He will of His 
bondmen . They have incurred anger upon anger . For 
disbelievers is a shameful doom .

---
2.91
وَإِذَا قِيلَ لَهُمْ آمِنُوا بِمَا أَنزَلَ اللَّهُ قَالُوا نُؤْمِنُ بِمَا أُنزِلَ عَلَيْنَا وَيَكْفُرُونَ بِمَا وَرَاءَهُ وَهُوَ الْحَقُّ مُصَدِّقًا لِّمَا مَعَهُمْ ۗ قُلْ فَلِمَ تَقْتُلُونَ أَنبِيَاءَ اللَّهِ مِن قَبْلُ إِن كُنتُم مُّؤْمِنِينَ (91)
Waitha qeela lahum aminoo bima anzala Allahu qaloo numinu bima onzila AAalayna wayakfuroona bima waraahu wahuwa alhaqqu musaddiqan lima maAAahum qul falima taqtuloona anbiyaa Allahi min qablu in kuntum mumineena
And when it is said unto them . Believe in that which Allah 
hath revealed , they say : We believe in that which was 
revealed unto us . And they disbelieve in that which cometh 
after it , though it is the truth confirming that which they 
possess . Say ( unto them , O Muhammad ) : Why then 
slew ye the Prophets of Allah aforetime , if ye are ( indeed ) 
believers?

---
2.92
۞ وَلَقَدْ جَاءَكُم مُّوسَىٰ بِالْبَيِّنَاتِ ثُمَّ اتَّخَذْتُمُ الْعِجْلَ مِن بَعْدِهِ وَأَنتُمْ ظَالِمُونَ (92)
Walaqad jaakum moosa bialbayyinati thumma ittakhathtumu alAAijla min baAAdihi waantum thalimoona
And Moses came unto you with clear proofs 
( of Allah ' s sovereignty ) , yet , while he was away , ye 
chose the calf ( for worship ) and ye were wrongdoers .

---
2.93
وَإِذْ أَخَذْنَا مِيثَاقَكُمْ وَرَفَعْنَا فَوْقَكُمُ الطُّورَ خُذُوا مَا آتَيْنَاكُم بِقُوَّةٍ وَاسْمَعُوا ۖ قَالُوا سَمِعْنَا وَعَصَيْنَا وَأُشْرِبُوا فِي قُلُوبِهِمُ الْعِجْلَ بِكُفْرِهِمْ ۚ قُلْ بِئْسَمَا يَأْمُرُكُم بِهِ إِيمَانُكُمْ إِن كُنتُم مُّؤْمِنِينَ (93)
Waith akhathna meethaqakum warafaAAna fawqakumu alttoora khuthoo ma ataynakum biquwwatin waismaAAoo qaloo samiAAna waAAasayna waoshriboo fee quloobihimu alAAijla bikufrihim qul bisama yamurukum bihi eemanukum in kuntum mumineena
And when We made with you a covenant and caused the 
Mount to tower above you , ( saying ) : Hold fast by that which 
We have given you , and hear ( Our Word ) , they said : We 
hear and we rebel . And ( worship of ) the calf was made to 
sink into their hearts because of their rejection 
( of the Covenant ) . Say ( unto them ) : Evil is that which your
belief enjoineth on you , if ye are believers .

---
2.94
قُلْ إِن كَانَتْ لَكُمُ الدَّارُ الْآخِرَةُ عِندَ اللَّهِ خَالِصَةً مِّن دُونِ النَّاسِ فَتَمَنَّوُا الْمَوْتَ إِن كُنتُمْ صَادِقِينَ (94)
Qul in kanat lakumu alddaru alakhiratu AAinda Allahi khalisatan min dooni alnnasi fatamannawoo almawta in kuntum sadiqeena
Say ( unto them ) : If the abode of the Hereafter in the 
providence of Allah is indeed for you alone and not for 
others of mankind ( as ye pretend ) , then long for death 
( for ye must long for death ) if ye are truthful .

---
2.95
وَلَن يَتَمَنَّوْهُ أَبَدًا بِمَا قَدَّمَتْ أَيْدِيهِمْ ۗ وَاللَّهُ عَلِيمٌ بِالظَّالِمِينَ (95)
Walan yatamannawhu abadan bima qaddamat aydeehim waAllahu AAaleemun bialththalimeena
But they will never long for it , because of that which their 
own hands have sent before them . Allah is Aware of 
evildoers .

---
2.96
وَلَتَجِدَنَّهُمْ أَحْرَصَ النَّاسِ عَلَىٰ حَيَاةٍ وَمِنَ الَّذِينَ أَشْرَكُوا ۚ يَوَدُّ أَحَدُهُمْ لَوْ يُعَمَّرُ أَلْفَ سَنَةٍ وَمَا هُوَ بِمُزَحْزِحِهِ مِنَ الْعَذَابِ أَن يُعَمَّرَ ۗ وَاللَّهُ بَصِيرٌ بِمَا يَعْمَلُونَ (96)
Walatajidannahum ahrasa alnnasi AAala hayatin wamina allatheena ashrakoo yawaddu ahaduhum law yuAAammaru alfa sanatin wama huwa bimuzahzihihi mina alAAathabi an yuAAammara waAllahu baseerun bima yaAAmaloona
And thou wilt find them greediest of mankind for life and 
( greedier ) than the idolaters . ( Each ) one of them would 
like to be allowed to live a thousand years . And to live 
( a thousand years ) would by no means remove him from 
the doom . Allah is Seer of what they do .

---
2.97
قُلْ مَن كَانَ عَدُوًّا لِّجِبْرِيلَ فَإِنَّهُ نَزَّلَهُ عَلَىٰ قَلْبِكَ بِإِذْنِ اللَّهِ مُصَدِّقًا لِّمَا بَيْنَ يَدَيْهِ وَهُدًى وَبُشْرَىٰ لِلْمُؤْمِنِينَ (97)
Qul man kana AAaduwwan lijibreela fainnahu nazzalahu AAala qalbika biithni Allahi musaddiqan lima bayna yadayhi wahudan wabushra lilmumineena
Say ( O Muhammad , to mankind ) : Who is an enemy to 
Gabriel! For he it is who bath revealed ( this Scripture ) to 
thy heart by Allah ' s leave , confirming that which was 
( re- vealed ) before it , and a guidance and glad tidings to 
believers ;

---
2.98
مَن كَانَ عَدُوًّا لِّلَّهِ وَمَلَائِكَتِهِ وَرُسُلِهِ وَجِبْرِيلَ وَمِيكَالَ فَإِنَّ اللَّهَ عَدُوٌّ لِّلْكَافِرِينَ (98)
Man kana AAaduwwan lillahi wamalaikatihi warusulihi wajibreela wameekala fainna Allaha AAaduwwun lilkafireena
Who is an enemy to Allah , and His angels and His 
messengers , and Gabriel and Michael! Then , lo! Allah 
( Him- self ) is an enemy to the disbelievers .

---
2.99
وَلَقَدْ أَنزَلْنَا إِلَيْكَ آيَاتٍ بَيِّنَاتٍ ۖ وَمَا يَكْفُرُ بِهَا إِلَّا الْفَاسِقُونَ (99)
Walaqad anzalna ilayka ayatin bayyinatin wama yakfuru biha illa alfasiqoona
Verily We have revealed unto thee clear tokens , and only 
miscreants will disbelieve in them .

---
2.100
أَوَكُلَّمَا عَاهَدُوا عَهْدًا نَّبَذَهُ فَرِيقٌ مِّنْهُم ۚ بَلْ أَكْثَرُهُمْ لَا يُؤْمِنُونَ (100)
Awakullama AAahadoo AAahdan nabathahu fareequn minhum bal aktharuhum la yuminoona
Is it ever so that when ye make a covenant a party of you 
set it aside? The truth is , most of them believe not .