5b. Al-Maidah (51 to 100)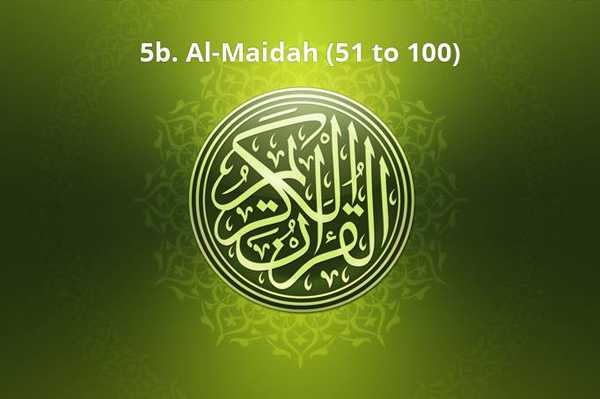 O ye who believe! Take not the Jews and Christians for
friends . They are friends one to another . He among you …
5.51
۞ يَا أَيُّهَا الَّذِينَ آمَنُوا لَا تَتَّخِذُوا الْيَهُودَ وَالنَّصَارَىٰ أَوْلِيَاءَ ۘ بَعْضُهُمْ أَوْلِيَاءُ بَعْضٍ ۚ وَمَن يَتَوَلَّهُم مِّنكُمْ فَإِنَّهُ مِنْهُمْ ۗ إِنَّ اللَّهَ لَا يَهْدِي الْقَوْمَ الظَّالِمِينَ (51)
Ya ayyuha allatheena amanoo la tattakhithoo alyahooda waalnnasara awliyaa baAAduhum awliyao baAAdin waman yatawallahum minkum fainnahu minhum inna Allaha la yahdee alqawma alththalimeena
O ye who believe! Take not the Jews and Christians for 
friends . They are friends one to another . He among you 
who taketh them for friends is ( one ) of them . Lo! Allah 
guideth not wrongdoing folk .

---
5.52
فَتَرَى الَّذِينَ فِي قُلُوبِهِم مَّرَضٌ يُسَارِعُونَ فِيهِمْ يَقُولُونَ نَخْشَىٰ أَن تُصِيبَنَا دَائِرَةٌ ۚ فَعَسَى اللَّهُ أَن يَأْتِيَ بِالْفَتْحِ أَوْ أَمْرٍ مِّنْ عِندِهِ فَيُصْبِحُوا عَلَىٰ مَا أَسَرُّوا فِي أَنفُسِهِمْ نَادِمِينَ (52)
Fatara allatheena fee quloobihim maradun yusariAAoona feehim yaqooloona nakhsha an tuseebana dairatun faAAasa Allahu an yatiya bialfathi aw amrin min AAindihi fayusbihoo AAala ma asarroo fee anfusihim nadimeena
And thou seest those in whose heart is a disease race
toward them , saying : We fear lest a change of fortune 
befall us . And it may happen that Allah will vouchsafe 
( unto thee ) the victory , or a commandment from His 
presence . Then will they repent of their secret thoughts .

---
5.53
وَيَقُولُ الَّذِينَ آمَنُوا أَهَٰؤُلَاءِ الَّذِينَ أَقْسَمُوا بِاللَّهِ جَهْدَ أَيْمَانِهِمْ ۙ إِنَّهُمْ لَمَعَكُمْ ۚ حَبِطَتْ أَعْمَالُهُمْ فَأَصْبَحُوا خَاسِرِينَ (53)
Wayaqoolu allatheena amanoo ahaolai allatheena aqsamoo biAllahi jahda aymanihim innahum lamaAAakum habitat aAAmaluhum faasbahoo khasireena
Then will the believers say ( unto the people of the Scripture ) : 
Are these they who swore by Allah their most binding oaths 
that they were surely with you? Their works have failed , and 
they have become the losers .

---
5.54
يَا أَيُّهَا الَّذِينَ آمَنُوا مَن يَرْتَدَّ مِنكُمْ عَن دِينِهِ فَسَوْفَ يَأْتِي اللَّهُ بِقَوْمٍ يُحِبُّهُمْ وَيُحِبُّونَهُ أَذِلَّةٍ عَلَى الْمُؤْمِنِينَ أَعِزَّةٍ عَلَى الْكَافِرِينَ يُجَاهِدُونَ فِي سَبِيلِ اللَّهِ وَلَا يَخَافُونَ لَوْمَةَ لَائِمٍ ۚ ذَٰلِكَ فَضْلُ اللَّهِ يُؤْتِيهِ مَن يَشَاءُ ۚ وَاللَّهُ وَاسِعٌ عَلِيمٌ (54)
Ya ayyuha allatheena amanoo man yartadda minkum AAan deenihi fasawfa yatee Allahu biqawmin yuhibbuhum wayuhibboonahu athillatin AAala almumineena aAAizzatin AAala alkafireena yujahidoona fee sabeeli Allahi wala yakhafoona lawmata laimin thalika fadlu Allahi yuteehi man yashao waAllahu wasiAAun AAaleemun
O ye who believe! Whoso of you becometh a renegade from 
his religion , ( know that in his stead ) Allah will bring a people 
whom He loveth and who love Him , humble toward believers , 
stern toward disbelievers , striving in the way of Allah and fearing 
not the blame of any blamer . Such is the grace of Allah which 
He giveth unto whom He will . Allah is All Embracing , All Knowing .

---
5.55
إِنَّمَا وَلِيُّكُمُ اللَّهُ وَرَسُولُهُ وَالَّذِينَ آمَنُوا الَّذِينَ يُقِيمُونَ الصَّلَاةَ وَيُؤْتُونَ الزَّكَاةَ وَهُمْ رَاكِعُونَ (55)
Innama waliyyukumu Allahu warasooluhu waallatheena amanoo allatheena yuqeemoona alssalata wayutoona alzzakata wahum rakiAAoona
Your friend can be only Allah ; and His messenger and 
those who believe , who establish worship and pay the 
poor due , and bow down ( in prayer ) .

---
5.56
وَمَن يَتَوَلَّ اللَّهَ وَرَسُولَهُ وَالَّذِينَ آمَنُوا فَإِنَّ حِزْبَ اللَّهِ هُمُ الْغَالِبُونَ (56)
Waman yatawalla Allaha warasoolahu waallatheena amanoo fainna hizba Allahi humu alghaliboona
And whoso taketh Allah and His messenger and those 
who believe for friend ( will know that ) , lo! the party of 
Allah , they are the victorious .

---
5.57
يَا أَيُّهَا الَّذِينَ آمَنُوا لَا تَتَّخِذُوا الَّذِينَ اتَّخَذُوا دِينَكُمْ هُزُوًا وَلَعِبًا مِّنَ الَّذِينَ أُوتُوا الْكِتَابَ مِن قَبْلِكُمْ وَالْكُفَّارَ أَوْلِيَاءَ ۚ وَاتَّقُوا اللَّهَ إِن كُنتُم مُّؤْمِنِينَ (57)
Ya ayyuha allatheena amanoo la tattakhithoo allatheena ittakhathoo deenakum huzuwan walaAAiban mina allatheena ootoo alkitaba min qablikum waalkuffara awliyaa waittaqoo Allaha in kuntum mumineena
O ye who believe! Choose not for friends such of those 
who received the Scripture before you , and of the 
disbelievers , as make a jest and sport of your religion . 
But keep your duty to Allah if ye are true believers .

---
5.58
وَإِذَا نَادَيْتُمْ إِلَى الصَّلَاةِ اتَّخَذُوهَا هُزُوًا وَلَعِبًا ۚ ذَٰلِكَ بِأَنَّهُمْ قَوْمٌ لَّا يَعْقِلُونَ (58)
Waitha nadaytum ila alssalati ittakhathooha huzuwan walaAAiban thalika biannahum qawmun la yaAAqiloona
And when ye call to prayer they take it for a jest and sport . 
That is because they are a folk who understand not .

---
5.59
قُلْ يَا أَهْلَ الْكِتَابِ هَلْ تَنقِمُونَ مِنَّا إِلَّا أَنْ آمَنَّا بِاللَّهِ وَمَا أُنزِلَ إِلَيْنَا وَمَا أُنزِلَ مِن قَبْلُ وَأَنَّ أَكْثَرَكُمْ فَاسِقُونَ (59)
Qul ya ahla alkitabi hal tanqimoona minna illa an amanna biAllahi wama onzila ilayna wama onzila min qablu waanna aktharakum fasiqoona
Say : O , People of the Scripture! Do ye blame us for aught 
else than that we believe in Allah and that which is revealed 
unto us and that which was revealed aforetime , and because
most of you are evil livers?

---
5.60
قُلْ هَلْ أُنَبِّئُكُم بِشَرٍّ مِّن ذَٰلِكَ مَثُوبَةً عِندَ اللَّهِ ۚ مَن لَّعَنَهُ اللَّهُ وَغَضِبَ عَلَيْهِ وَجَعَلَ مِنْهُمُ الْقِرَدَةَ وَالْخَنَازِيرَ وَعَبَدَ الطَّاغُوتَ ۚ أُولَٰئِكَ شَرٌّ مَّكَانًا وَأَضَلُّ عَن سَوَاءِ السَّبِيلِ (60)
Qul hal onabbiokum bisharrin min thalika mathoobatan AAinda Allahi man laAAanahu Allahu waghadiba AAalayhi wajaAAala minhumu alqiradata waalkhanazeera waAAabada alttaghooti olaika sharrun makanan waadallu AAan sawai alssabeeli
Shall I tell thee of a worse ( case ) than theirs for retribution 
with Allah? Worse ( is the case of him ) whom Allah hath 
cursed , him on whom His wrath hath fallen! Worse is he 
of whose sort Allah hath turned some to apes and swine , 
and who serveth idols . Such are in worse plight and further 
astray from the plain road .

---
5.61
وَإِذَا جَاءُوكُمْ قَالُوا آمَنَّا وَقَد دَّخَلُوا بِالْكُفْرِ وَهُمْ قَدْ خَرَجُوا بِهِ ۚ وَاللَّهُ أَعْلَمُ بِمَا كَانُوا يَكْتُمُونَ (61)
Waitha jaookum qaloo amanna waqad dakhaloo bialkufri wahum qad kharajoo bihi waAllahu aAAlamu bima kanoo yaktumoona
When they come unto you ( Muslims ) , they say : We 
believe ; but they came in unbelief and they went out in the 
same ; and Allah knoweth best what they were hiding .

---
5.62
وَتَرَىٰ كَثِيرًا مِّنْهُمْ يُسَارِعُونَ فِي الْإِثْمِ وَالْعُدْوَانِ وَأَكْلِهِمُ السُّحْتَ ۚ لَبِئْسَ مَا كَانُوا يَعْمَلُونَ (62)
Watara katheeran minhum yusariAAoona fee alithmi waalAAudwani waaklihimu alssuhta labisa ma kanoo yaAAmaloona
And thou seest many of them vying one with another in sin 
and transgression and their devouring of illicit gain . Verily 
evil is what they do .

---
5.63
لَوْلَا يَنْهَاهُمُ الرَّبَّانِيُّونَ وَالْأَحْبَارُ عَن قَوْلِهِمُ الْإِثْمَ وَأَكْلِهِمُ السُّحْتَ ۚ لَبِئْسَ مَا كَانُوا يَصْنَعُونَ (63)
Lawla yanhahumu alrrabbaniyyoona waalahbaru AAan qawlihimu alithma waaklihimu alssuhta labisa ma kanoo yasnaAAoona
Why do not the rabbis and the priests forbid their evil 
speaking and their devouring of illicit gain? Verily evil is 
their handiwork .

---
5.64
وَقَالَتِ الْيَهُودُ يَدُ اللَّهِ مَغْلُولَةٌ ۚ غُلَّتْ أَيْدِيهِمْ وَلُعِنُوا بِمَا قَالُوا ۘ بَلْ يَدَاهُ مَبْسُوطَتَانِ يُنفِقُ كَيْفَ يَشَاءُ ۚ وَلَيَزِيدَنَّ كَثِيرًا مِّنْهُم مَّا أُنزِلَ إِلَيْكَ مِن رَّبِّكَ طُغْيَانًا وَكُفْرًا ۚ وَأَلْقَيْنَا بَيْنَهُمُ الْعَدَاوَةَ وَالْبَغْضَاءَ إِلَىٰ يَوْمِ الْقِيَامَةِ ۚ كُلَّمَا أَوْقَدُوا نَارًا لِّلْحَرْبِ أَطْفَأَهَا اللَّهُ ۚ وَيَسْعَوْنَ فِي الْأَرْضِ فَسَادًا ۚ وَاللَّهُ لَا يُحِبُّ الْمُفْسِدِينَ (64)
Waqalati alyahoodu yadu Allahi maghloolatun ghullat aydeehim waluAAinoo bima qaloo bal yadahu mabsootatani yunfiqu kayfa yashao walayazeedanna katheeran minhum ma onzila ilayka min rabbika tughyanan wakufran waalqayna baynahumu alAAadawata waalbaghdaa ila yawmi alqiyamati kullama awqadoo naran lilharbi atfaaha Allahu wayasAAawna fee alardi fasadan waAllahu la yuhibbu almufsideena
The Jews say : Allah ' s hand is fettered . Their hands are 
fettered and they are accursed for saying so . Nay , but both 
His hands are spread out wide in bounty . He bestoweth as 
He will . That which bath been revealed unto thee from thy 
Lord is certain to increase the contumacy and disbelief of 
many of them , and We have cast among them enmity and 
hatred till the Day of Resurrection . As often as they light a 
fire for war , Allah extinguisheth it . Their effort is for 
corruption in the land , and Allah loveth not corrupters .

---
5.65
وَلَوْ أَنَّ أَهْلَ الْكِتَابِ آمَنُوا وَاتَّقَوْا لَكَفَّرْنَا عَنْهُمْ سَيِّئَاتِهِمْ وَلَأَدْخَلْنَاهُمْ جَنَّاتِ النَّعِيمِ (65)
Walaw anna ahla alkitabi amanoo waittaqaw lakaffarna AAanhum sayyiatihim walaadkhalnahum jannati alnnaAAeemi
If only the People of the Scripture would believe and ward 
off ( evil ) , surely We should remit their sins from them 
and surely We should bring them into Gardens of Delight .

---
5.66
وَلَوْ أَنَّهُمْ أَقَامُوا التَّوْرَاةَ وَالْإِنجِيلَ وَمَا أُنزِلَ إِلَيْهِم مِّن رَّبِّهِمْ لَأَكَلُوا مِن فَوْقِهِمْ وَمِن تَحْتِ أَرْجُلِهِم ۚ مِّنْهُمْ أُمَّةٌ مُّقْتَصِدَةٌ ۖ وَكَثِيرٌ مِّنْهُمْ سَاءَ مَا يَعْمَلُونَ (66)
Walaw annahum aqamoo alttawrata waalinjeela wama onzila ilayhim min rabbihim laakaloo min fawqihim wamin tahti arjulihim minhum ommatun muqtasidatun wakatheerun minhum saa ma yaAAmaloona
If they had observed the Torah and the Gospel and that 
which was revealed unto them from their Lord , they would 
surely have been nourished from above them and from 
beneath their feet . Among them there are people who are 
moderate , but many of them are of evil conduct .

---
5.67
۞ يَا أَيُّهَا الرَّسُولُ بَلِّغْ مَا أُنزِلَ إِلَيْكَ مِن رَّبِّكَ ۖ وَإِن لَّمْ تَفْعَلْ فَمَا بَلَّغْتَ رِسَالَتَهُ ۚ وَاللَّهُ يَعْصِمُكَ مِنَ النَّاسِ ۗ إِنَّ اللَّهَ لَا يَهْدِي الْقَوْمَ الْكَافِرِينَ (67)
Ya ayyuha alrrasoolu balligh ma onzila ilayka min rabbika wain lam tafAAal fama ballaghta risalatahu waAllahu yaAAsimuka mina alnnasi inna Allaha la yahdee alqawma alkafireena
O Messenger! Make known that which hath been revealed 
unto thee from thy Lord , for if thou do it not , thou will not 
have conveyed His message . Allah will protect thee from 
mankind . Lo! Allah guideth not the disbelieving folk .

---
5.68
قُلْ يَا أَهْلَ الْكِتَابِ لَسْتُمْ عَلَىٰ شَيْءٍ حَتَّىٰ تُقِيمُوا التَّوْرَاةَ وَالْإِنجِيلَ وَمَا أُنزِلَ إِلَيْكُم مِّن رَّبِّكُمْ ۗ وَلَيَزِيدَنَّ كَثِيرًا مِّنْهُم مَّا أُنزِلَ إِلَيْكَ مِن رَّبِّكَ طُغْيَانًا وَكُفْرًا ۖ فَلَا تَأْسَ عَلَى الْقَوْمِ الْكَافِرِينَ (68)
Qul ya ahla alkitabi lastum AAala shayin hatta tuqeemoo alttawrata waalinjeela wama onzila ilaykum min rabbikum walayazeedanna katheeran minhum ma onzila ilayka min rabbika tughyanan wakufran fala tasa AAala alqawmi alkafireena
Say : O People of the Scripture! Ye have naught 
( of guidance ) till ye observe the Torah and the Gospel 
and that which was revealed unto you from your Lord . 
That which is revealed unto thee ( Muhammad ) from thy 
Lord is certain to increase the contumacy and disbelief of 
many of them . But grieve not for the disbelieving folk .

---
5.69
إِنَّ الَّذِينَ آمَنُوا وَالَّذِينَ هَادُوا وَالصَّابِئُونَ وَالنَّصَارَىٰ مَنْ آمَنَ بِاللَّهِ وَالْيَوْمِ الْآخِرِ وَعَمِلَ صَالِحًا فَلَا خَوْفٌ عَلَيْهِمْ وَلَا هُمْ يَحْزَنُونَ (69)
Inna allatheena amanoo waallatheena hadoo waalssabioona waalnnasara man amana biAllahi waalyawmi alakhiri waAAamila salihan fala khawfun AAalayhim wala hum yahzanoona
Lo! those who believe , and those who are Jews , 
and Sabaeans , and Christians whosoever believeth in 
Allah and the Last Day and doeth right there shall no fear 
come upon them neither shall they grieve .

---
5.70
لَقَدْ أَخَذْنَا مِيثَاقَ بَنِي إِسْرَائِيلَ وَأَرْسَلْنَا إِلَيْهِمْ رُسُلًا ۖ كُلَّمَا جَاءَهُمْ رَسُولٌ بِمَا لَا تَهْوَىٰ أَنفُسُهُمْ فَرِيقًا كَذَّبُوا وَفَرِيقًا يَقْتُلُونَ (70)
Laqad akhathna meethaqa banee israeela waarsalna ilayhim rusulan kullama jaahum rasoolun bima la tahwa anfusuhum fareeqan kaththaboo wafareeqan yaqtuloona
We made a covenant of old with the Children of Israel 
and We sent unto them messengers . As often as a 
messenger came unto them with that which their souls 
desired not ( they became rebellious ) . Some ( of them ) 
they denied and some they slew .

---
5.71
وَحَسِبُوا أَلَّا تَكُونَ فِتْنَةٌ فَعَمُوا وَصَمُّوا ثُمَّ تَابَ اللَّهُ عَلَيْهِمْ ثُمَّ عَمُوا وَصَمُّوا كَثِيرٌ مِّنْهُمْ ۚ وَاللَّهُ بَصِيرٌ بِمَا يَعْمَلُونَ (71)
Wahasiboo alla takoona fitnatun faAAamoo wasammoo thumma taba Allahu AAalayhim thumma AAamoo wasammoo katheerun minhum waAllahu baseerun bima yaAAmaloona
They thought no harm would come of it , so they were 
willfully blind and deaf . And afterward Allah turned 
( in mercy ) toward them . Now ( even after that ) are 
many of them willfully blind and deaf . Allah is Seer of 
what they do .

---
5.72
لَقَدْ كَفَرَ الَّذِينَ قَالُوا إِنَّ اللَّهَ هُوَ الْمَسِيحُ ابْنُ مَرْيَمَ ۖ وَقَالَ الْمَسِيحُ يَا بَنِي إِسْرَائِيلَ اعْبُدُوا اللَّهَ رَبِّي وَرَبَّكُمْ ۖ إِنَّهُ مَن يُشْرِكْ بِاللَّهِ فَقَدْ حَرَّمَ اللَّهُ عَلَيْهِ الْجَنَّةَ وَمَأْوَاهُ النَّارُ ۖ وَمَا لِلظَّالِمِينَ مِنْ أَنصَارٍ (72)
Laqad kafara allatheena qaloo inna Allaha huwa almaseehu ibnu maryama waqala almaseehu ya banee israeela oAAbudoo Allaha rabbee warabbakum innahu man yushrik biAllahi faqad harrama Allahu AAalayhi aljannata wamawahu alnnaru wama lilththalimeena min ansarin
They surely disbelieve who say : Lo! Allah is the Messiah , 
son of Mary . The Messiah ( himself ) said : O Children of 
Israel , worship Allah , my Lord and your Lord . Lo! whoso 
ascribeth partners unto Allah , for him Allah hath forbidden 
Paradise . His abode is the Fire . For evildoers there will
be no helpers .

---
5.73
لَّقَدْ كَفَرَ الَّذِينَ قَالُوا إِنَّ اللَّهَ ثَالِثُ ثَلَاثَةٍ ۘ وَمَا مِنْ إِلَٰهٍ إِلَّا إِلَٰهٌ وَاحِدٌ ۚ وَإِن لَّمْ يَنتَهُوا عَمَّا يَقُولُونَ لَيَمَسَّنَّ الَّذِينَ كَفَرُوا مِنْهُمْ عَذَابٌ أَلِيمٌ (73)
Laqad kafara allatheena qaloo inna Allaha thalithu thalathatin wama min ilahin illa ilahun wahidun wain lam yantahoo AAamma yaqooloona layamassanna allatheena kafaroo minhum AAathabun aleemun
They surely disbelieve who say : Lo! Allah is the third of 
three ; when there is no God save the One God . If they 
desist not from so saying a painful doom will fall on those 
of them who disbelieve .

---
5.74
أَفَلَا يَتُوبُونَ إِلَى اللَّهِ وَيَسْتَغْفِرُونَهُ ۚ وَاللَّهُ غَفُورٌ رَّحِيمٌ (74)
Afala yatooboona ila Allahi wayastaghfiroonahu waAllahu ghafoorun raheemun
Will they not rather turn unto Allah and seek forgiveness of 
Him? For Allah is Forgiving , Merciful .

---
5.75
مَّا الْمَسِيحُ ابْنُ مَرْيَمَ إِلَّا رَسُولٌ قَدْ خَلَتْ مِن قَبْلِهِ الرُّسُلُ وَأُمُّهُ صِدِّيقَةٌ ۖ كَانَا يَأْكُلَانِ الطَّعَامَ ۗ انظُرْ كَيْفَ نُبَيِّنُ لَهُمُ الْآيَاتِ ثُمَّ انظُرْ أَنَّىٰ يُؤْفَكُونَ (75)
Ma almaseehu ibnu maryama illa rasoolun qad khalat min qablihi alrrusulu waommuhu siddeeqatun kana yakulani alttaAAama onthur kayfa nubayyinu lahumu alayati thumma onthur anna yufakoona
The Messiah , son of Mary , was no other than a messenger , 
messengers ( the like of whom ) had passed away before him . 
And his mother was a saintly woman . And they both used to 
eat ( earthly ) food . See how we make the revelations clear for 
them , and see how they are turned away!

---
5.76
قُلْ أَتَعْبُدُونَ مِن دُونِ اللَّهِ مَا لَا يَمْلِكُ لَكُمْ ضَرًّا وَلَا نَفْعًا ۚ وَاللَّهُ هُوَ السَّمِيعُ الْعَلِيمُ (76)
Qul ataAAbudoona min dooni Allahi ma la yamliku lakum darran wala nafAAan waAllahu huwa alssameeAAu alAAaleemu
Say : Serve ye in place of Allah that which possesseth for 
you neither hurt nor use? Allah it is Who is the Hearer , the 
Knower .

---
5.77
قُلْ يَا أَهْلَ الْكِتَابِ لَا تَغْلُوا فِي دِينِكُمْ غَيْرَ الْحَقِّ وَلَا تَتَّبِعُوا أَهْوَاءَ قَوْمٍ قَدْ ضَلُّوا مِن قَبْلُ وَأَضَلُّوا كَثِيرًا وَضَلُّوا عَن سَوَاءِ السَّبِيلِ (77)
Qul ya ahla alkitabi la taghloo fee deenikum ghayra alhaqqi wala tattabiAAoo ahwaa qawmin qad dalloo min qablu waadalloo katheeran wadalloo AAan sawai alssabeeli
Say : O People of the Scripture! Stress not in your religion 
other than the truth , and follow not the vain desires of folk 
who erred of old and led many astray , and erred from a 
plain road .

---
5.78
لُعِنَ الَّذِينَ كَفَرُوا مِن بَنِي إِسْرَائِيلَ عَلَىٰ لِسَانِ دَاوُودَ وَعِيسَى ابْنِ مَرْيَمَ ۚ ذَٰلِكَ بِمَا عَصَوا وَّكَانُوا يَعْتَدُونَ (78)
LuAAina allatheena kafaroo min banee israeela AAala lisani dawooda waAAeesa ibni maryama thalika bima AAasaw wakanoo yaAAtadoona
Those of the children of Israel who went astray were 
cursed by the tongue of David , and of Jesus , son of Mary . 
That was because they rebelled and used to transgress .

---
5.79
كَانُوا لَا يَتَنَاهَوْنَ عَن مُّنكَرٍ فَعَلُوهُ ۚ لَبِئْسَ مَا كَانُوا يَفْعَلُونَ (79)
Kanoo la yatanahawna AAan munkarin faAAaloohu labisa ma kanoo yafAAaloona
They restrained not one another from the wickedness they 
did . Verily evil was that they used to do!

---
5.80
تَرَىٰ كَثِيرًا مِّنْهُمْ يَتَوَلَّوْنَ الَّذِينَ كَفَرُوا ۚ لَبِئْسَ مَا قَدَّمَتْ لَهُمْ أَنفُسُهُمْ أَن سَخِطَ اللَّهُ عَلَيْهِمْ وَفِي الْعَذَابِ هُمْ خَالِدُونَ (80)
Tara katheeran minhum yatawallawna allatheena kafaroo labisa ma qaddamat lahum anfusuhum an sakhita Allahu AAalayhim wafee alAAathabi hum khalidoona
Thou seest many of them making friends with those who 
disbelieve . surely ill for them is that which they themselves 
send on before them : that Allah will be wroth with them and 
in the doom they will abide .

---
5.81
وَلَوْ كَانُوا يُؤْمِنُونَ بِاللَّهِ وَالنَّبِيِّ وَمَا أُنزِلَ إِلَيْهِ مَا اتَّخَذُوهُمْ أَوْلِيَاءَ وَلَٰكِنَّ كَثِيرًا مِّنْهُمْ فَاسِقُونَ (81)
Walaw kanoo yuminoona biAllahi waalnnabiyyi wama onzila ilayhi ma ittakhathoohum awliyaa walakinna katheeran minhum fasiqoona
If they believed in Allah and the Prophet and that which is 
revealed unto him , they would not choose them for their 
friends . But many of them are of evil conduct .

---
5.82
۞ لَتَجِدَنَّ أَشَدَّ النَّاسِ عَدَاوَةً لِّلَّذِينَ آمَنُوا الْيَهُودَ وَالَّذِينَ أَشْرَكُوا ۖ وَلَتَجِدَنَّ أَقْرَبَهُم مَّوَدَّةً لِّلَّذِينَ آمَنُوا الَّذِينَ قَالُوا إِنَّا نَصَارَىٰ ۚ ذَٰلِكَ بِأَنَّ مِنْهُمْ قِسِّيسِينَ وَرُهْبَانًا وَأَنَّهُمْ لَا يَسْتَكْبِرُونَ (82)
Latajidanna ashadda alnnasi AAadawatan lillatheena amanoo alyahooda waallatheena ashrakoo walatajidanna aqrabahum mawaddatan lillatheena amanoo allatheena qaloo inna nasara thalika bianna minhum qisseeseena waruhbanan waannahum la yastakbiroona
Thou wilt find the most vehement of mankind in hostility to 
those who , believe ( to be ) the Jews and the idolaters . 
And thou wilt find the nearest of them in affection to those 
who believe ( to be ) those who say : Lo! We are Christians . 
That is because there are among them priests and monks , 
and because they are not proud .

---
5.83
وَإِذَا سَمِعُوا مَا أُنزِلَ إِلَى الرَّسُولِ تَرَىٰ أَعْيُنَهُمْ تَفِيضُ مِنَ الدَّمْعِ مِمَّا عَرَفُوا مِنَ الْحَقِّ ۖ يَقُولُونَ رَبَّنَا آمَنَّا فَاكْتُبْنَا مَعَ الشَّاهِدِينَ (83)
Waitha samiAAoo ma onzila ila alrrasooli tara aAAyunahum tafeedu mina alddamAAi mimma AAarafoo mina alhaqqi yaqooloona rabbana amanna faoktubna maAAa alshshahideena
When they listen to that which hath been revealed unto the 
messenger , thou seest their eyes overflow with tears 
because of their recognition of the Truth . They say : Our 
Lord , we believe . Inscribe us as among the witnesses .

---
5.84
وَمَا لَنَا لَا نُؤْمِنُ بِاللَّهِ وَمَا جَاءَنَا مِنَ الْحَقِّ وَنَطْمَعُ أَن يُدْخِلَنَا رَبُّنَا مَعَ الْقَوْمِ الصَّالِحِينَ (84)
Wama lana la numinu biAllahi wama jaana mina alhaqqi wanatmaAAu an yudkhilana rabbuna maAAa alqawmi alssaliheena
How should we not believe in Allah and that which hath 
come unto us of the Truth . And ( how should we not ) 
hope that our Lord will bring us in along with righteous folk?

---
5.85
فَأَثَابَهُمُ اللَّهُ بِمَا قَالُوا جَنَّاتٍ تَجْرِي مِن تَحْتِهَا الْأَنْهَارُ خَالِدِينَ فِيهَا ۚ وَذَٰلِكَ جَزَاءُ الْمُحْسِنِينَ (85)
Faathabahumu Allahu bima qaloo jannatin tajree min tahtiha alanharu khalideena feeha wathalika jazao almuhsineena
Allah hath rewarded them for that their saying . Gardens 
underneath which rivers flow , wherein they will abide for 
ever . That is the reward of the good .

---
5.86
وَالَّذِينَ كَفَرُوا وَكَذَّبُوا بِآيَاتِنَا أُولَٰئِكَ أَصْحَابُ الْجَحِيمِ (86)
Waallatheena kafaroo wakaththaboo biayatina olaika ashabu aljaheemi
But those who disbelieve and deny Our revelations , 
they are owners of hell fire .

---
5.87
يَا أَيُّهَا الَّذِينَ آمَنُوا لَا تُحَرِّمُوا طَيِّبَاتِ مَا أَحَلَّ اللَّهُ لَكُمْ وَلَا تَعْتَدُوا ۚ إِنَّ اللَّهَ لَا يُحِبُّ الْمُعْتَدِينَ (87)
Ya ayyuha allatheena amanoo la tuharrimoo tayyibati ma ahalla Allahu lakum wala taAAtadoo inna Allaha la yuhibbu almuAAtadeena
O ye who believe! Forbid not the good things which Allah 
hath made lawful for you , and transgress not . Lo! Allah 
loveth not transgressors .

---
5.88
وَكُلُوا مِمَّا رَزَقَكُمُ اللَّهُ حَلَالًا طَيِّبًا ۚ وَاتَّقُوا اللَّهَ الَّذِي أَنتُم بِهِ مُؤْمِنُونَ (88)
Wakuloo mimma razaqakumu Allahu halalan tayyiban waittaqoo Allaha allathee antum bihi muminoona
Eat of that which Allah hath bestowed on you as food 
lawful and good , and keep your duty to Allah in Whom 
ye are believers .

---
5.89
لَا يُؤَاخِذُكُمُ اللَّهُ بِاللَّغْوِ فِي أَيْمَانِكُمْ وَلَٰكِن يُؤَاخِذُكُم بِمَا عَقَّدتُّمُ الْأَيْمَانَ ۖ فَكَفَّارَتُهُ إِطْعَامُ عَشَرَةِ مَسَاكِينَ مِنْ أَوْسَطِ مَا تُطْعِمُونَ أَهْلِيكُمْ أَوْ كِسْوَتُهُمْ أَوْ تَحْرِيرُ رَقَبَةٍ ۖ فَمَن لَّمْ يَجِدْ فَصِيَامُ ثَلَاثَةِ أَيَّامٍ ۚ ذَٰلِكَ كَفَّارَةُ أَيْمَانِكُمْ إِذَا حَلَفْتُمْ ۚ وَاحْفَظُوا أَيْمَانَكُمْ ۚ كَذَٰلِكَ يُبَيِّنُ اللَّهُ لَكُمْ آيَاتِهِ لَعَلَّكُمْ تَشْكُرُونَ (89)
La yuakhithukumu Allahu biallaghwi fee aymanikum walakin yuakhithukum bima AAaqqadtumu alaymana fakaffaratuhu itAAamu AAasharati masakeena min awsati ma tutAAimoona ahleekum aw kiswatuhum aw tahreeru raqabatin faman lam yajid fasiyamu thalathati ayyamin thalika kaffaratu aymanikum itha halaftum waihfathoo aymanakum kathalika yubayyinu Allahu lakum ayatihi laAAallakum tashkuroona
Allah will not take you to task for that which is unintentional 
in your oaths , but He will take you to task for the oaths 
which ye swear in earnest . The expiation thereof is the 
feeding of ten of the needy with the average of that wherewith 
ye feed your own folk , or the clothing of them , or the 
liberation of a slave , and for him who findeth not 
( the wherewithal to do so ) then a three day fast . This is the 
expiation of your oaths when ye have sworn ; and keep your 
oaths . Thus Allah expoundeth unto you His revelations in 
order that ye may give thanks .

---
5.90
يَا أَيُّهَا الَّذِينَ آمَنُوا إِنَّمَا الْخَمْرُ وَالْمَيْسِرُ وَالْأَنصَابُ وَالْأَزْلَامُ رِجْسٌ مِّنْ عَمَلِ الشَّيْطَانِ فَاجْتَنِبُوهُ لَعَلَّكُمْ تُفْلِحُونَ (90)
Ya ayyuha allatheena amanoo innama alkhamru waalmaysiru waalansabu waalazlamu rijsun min AAamali alshshaytani faijtaniboohu laAAallakum tuflihoona
O ye who believe! Strong drink and games of chance and 
idols and divining arrows are only an infamy of Satan ' s 
handiwork . Leave it aside in order that ye may succeed .

---
5.91
إِنَّمَا يُرِيدُ الشَّيْطَانُ أَن يُوقِعَ بَيْنَكُمُ الْعَدَاوَةَ وَالْبَغْضَاءَ فِي الْخَمْرِ وَالْمَيْسِرِ وَيَصُدَّكُمْ عَن ذِكْرِ اللَّهِ وَعَنِ الصَّلَاةِ ۖ فَهَلْ أَنتُم مُّنتَهُونَ (91)
Innama yureedu alshshaytanu an yooqiAAa baynakumu alAAadawata waalbaghdaa fee alkhamri waalmaysiri wayasuddakum AAan thikri Allahi waAAani alssalati fahal antum muntahoona
Satan seeketh only to cast among you enmity and hatred 
by means of strong drink and games of chance , and to 
turn you from remembrance of Allah and from ( His ) 
worship . Will ye then have done?

---
5.92
وَأَطِيعُوا اللَّهَ وَأَطِيعُوا الرَّسُولَ وَاحْذَرُوا ۚ فَإِن تَوَلَّيْتُمْ فَاعْلَمُوا أَنَّمَا عَلَىٰ رَسُولِنَا الْبَلَاغُ الْمُبِينُ (92)
WaateeAAoo Allaha waateeAAoo alrrasoola waihtharoo fain tawallaytum faiAAlamoo annama AAala rasoolina albalaghu almubeenu
Obey Allah and obey the messenger , and beware! But if ye 
turn away , then know that the duty of Our messenger is 
only plain conveyance ( of the message ) .

---
5.93
لَيْسَ عَلَى الَّذِينَ آمَنُوا وَعَمِلُوا الصَّالِحَاتِ جُنَاحٌ فِيمَا طَعِمُوا إِذَا مَا اتَّقَوا وَّآمَنُوا وَعَمِلُوا الصَّالِحَاتِ ثُمَّ اتَّقَوا وَّآمَنُوا ثُمَّ اتَّقَوا وَّأَحْسَنُوا ۗ وَاللَّهُ يُحِبُّ الْمُحْسِنِينَ (93)
Laysa AAala allatheena amanoo waAAamiloo alssalihati junahun feema taAAimoo itha ma ittaqaw waamanoo waAAamiloo alssalihati thumma ittaqaw waamanoo thumma ittaqaw waahsanoo waAllahu yuhibbu almuhsineena
There shall be no sin ( imputed ) unto those who believe 
and do good works for what they may have eaten 
( in the past ) . So be mindful of your duty ( to Allah ) , and 
do good works ; and again : be mindful of your duty , and 
believe ; and once again : be mindful of your duty , and do 
right . Allah loveth the good .

---
5.94
يَا أَيُّهَا الَّذِينَ آمَنُوا لَيَبْلُوَنَّكُمُ اللَّهُ بِشَيْءٍ مِّنَ الصَّيْدِ تَنَالُهُ أَيْدِيكُمْ وَرِمَاحُكُمْ لِيَعْلَمَ اللَّهُ مَن يَخَافُهُ بِالْغَيْبِ ۚ فَمَنِ اعْتَدَىٰ بَعْدَ ذَٰلِكَ فَلَهُ عَذَابٌ أَلِيمٌ (94)
Ya ayyuha allatheena amanoo layabluwannakumu Allahu bishayin mina alssaydi tanaluhu aydeekum warimahukum liyaAAlama Allahu man yakhafuhu bialghaybi famani iAAtada baAAda thalika falahu AAathabun aleemun
O ye who believe! Allah will surely try you somewhat 
( in the matter ) of the game which ye take with your hands 
and your spears , that Allah may know him who feareth 
Him in secret . Whoso transgresseth after this , for him 
there is a painful doom .

---
5.95
يَا أَيُّهَا الَّذِينَ آمَنُوا لَا تَقْتُلُوا الصَّيْدَ وَأَنتُمْ حُرُمٌ ۚ وَمَن قَتَلَهُ مِنكُم مُّتَعَمِّدًا فَجَزَاءٌ مِّثْلُ مَا قَتَلَ مِنَ النَّعَمِ يَحْكُمُ بِهِ ذَوَا عَدْلٍ مِّنكُمْ هَدْيًا بَالِغَ الْكَعْبَةِ أَوْ كَفَّارَةٌ طَعَامُ مَسَاكِينَ أَوْ عَدْلُ ذَٰلِكَ صِيَامًا لِّيَذُوقَ وَبَالَ أَمْرِهِ ۗ عَفَا اللَّهُ عَمَّا سَلَفَ ۚ وَمَنْ عَادَ فَيَنتَقِمُ اللَّهُ مِنْهُ ۗ وَاللَّهُ عَزِيزٌ ذُو انتِقَامٍ (95)
Ya ayyuha allatheena amanoo la taqtuloo alssayda waantum hurumun waman qatalahu minkum mutaAAammidan fajazaon mithlu ma qatala mina alnnaAAami yahkumu bihi thawa AAadlin minkum hadyan baligha alkaAAbati aw kaffaratun taAAamu masakeena aw AAadlu thalika siyaman liyathooqa wabala amrihi AAafa Allahu AAamma salafa waman AAada fayantaqimu Allahu minhu waAllahu AAazeezun thoo intiqamin
O ye who believe! Kill no wild game while ye are on the 
pilgrimage . Whoso of you killeth it of set purpose he shall 
pay its forfeit in the equivalent of that which he hath killed ,
of domestic animals , the judge to be two men among you 
known for justice ; ( the forfeit ) to be brought as an offering 
to the Ka ' bah ; or , for expiation , he shall feed poor 
persons , or the equivalent thereof in fasting , that he may 
taste the evil consequences of his deed . Allah forgiveth 
whatever ( of this kind ) may have happened in the past , 
but whoso relapseth , Allah will take retribution from him . 
Allah is Mighty , Able to Requite ( the wrong ) .

---
5.96
أُحِلَّ لَكُمْ صَيْدُ الْبَحْرِ وَطَعَامُهُ مَتَاعًا لَّكُمْ وَلِلسَّيَّارَةِ ۖ وَحُرِّمَ عَلَيْكُمْ صَيْدُ الْبَرِّ مَا دُمْتُمْ حُرُمًا ۗ وَاتَّقُوا اللَّهَ الَّذِي إِلَيْهِ تُحْشَرُونَ (96)
Ohilla lakum saydu albahri wataAAamuhu mataAAan lakum walilssayyarati wahurrima AAalaykum saydu albarri ma dumtum huruman waittaqoo Allaha allathee ilayhi tuhsharoona
To hunt and to eat the fish of the sea is made lawful for 
you , a provision for you and for seafarers ; but to hunt on 
land is forbidden you so long as ye are on the pilgrimage . 
Be mindful of your duty to Allah , unto Whom ye will be 
gathered .

---
5.97
۞ جَعَلَ اللَّهُ الْكَعْبَةَ الْبَيْتَ الْحَرَامَ قِيَامًا لِّلنَّاسِ وَالشَّهْرَ الْحَرَامَ وَالْهَدْيَ وَالْقَلَائِدَ ۚ ذَٰلِكَ لِتَعْلَمُوا أَنَّ اللَّهَ يَعْلَمُ مَا فِي السَّمَاوَاتِ وَمَا فِي الْأَرْضِ وَأَنَّ اللَّهَ بِكُلِّ شَيْءٍ عَلِيمٌ (97)
JaAAala Allahu alkaAAbata albayta alharama qiyaman lilnnasi waalshshahra alharama waalhadya waalqalaida thalika litaAAlamoo anna Allaha yaAAlamu ma fee alssamawati wama fee alardi waanna Allaha bikulli shayin AAaleemun
Allah hath appointed the Ka ' bah , the Sacred House , 
a standard for mankind , and the Sacred Month and the 
offerings and the garlands . That is so that ye may know 
that Allah knoweth whatsoever is in the heavens and 
whatsoever is in the earth , and that Allah is Knower
of all things .

---
5.98
اعْلَمُوا أَنَّ اللَّهَ شَدِيدُ الْعِقَابِ وَأَنَّ اللَّهَ غَفُورٌ رَّحِيمٌ (98)
IAAlamoo anna Allaha shadeedu alAAiqabi waanna Allaha ghafoorun raheemun
Know that Allah is severe in punishment , but that Allah 
( also ) is Forgiving , Merciful .

---
5.99
مَّا عَلَى الرَّسُولِ إِلَّا الْبَلَاغُ ۗ وَاللَّهُ يَعْلَمُ مَا تُبْدُونَ وَمَا تَكْتُمُونَ (99)
Ma AAala alrrasooli illa albalaghu waAllahu yaAAlamu ma tubdoona wama taktumoona
The duty of the messenger is only to convey ( the message ) . 
Allah knoweth what ye proclaim and what ye hide .

---
5.100
قُل لَّا يَسْتَوِي الْخَبِيثُ وَالطَّيِّبُ وَلَوْ أَعْجَبَكَ كَثْرَةُ الْخَبِيثِ ۚ فَاتَّقُوا اللَّهَ يَا أُولِي الْأَلْبَابِ لَعَلَّكُمْ تُفْلِحُونَ (100)
Qul la yastawee alkhabeethu waalttayyibu walaw aAAjabaka kathratu alkhabeethi faittaqoo Allaha ya olee alalbabi laAAallakum tuflihoona
Say : The evil , and the good are not alike even though the 
plenty of the evil attract thee . So be mindful of your duty to 
Allah , O men of understanding , that ye may succeed .
नम्र निवेदन: वेबसाइट को और बेहतर बनाने हेतु अपने कीमती सुझाव कॉमेंट बॉक्स में लिखें, यह आपको अच्छा लगा हो तो अपनें मित्रों के साथ अवश्य शेयर करें। धन्यवाद।