5a. Al-Maidah (1 to 50)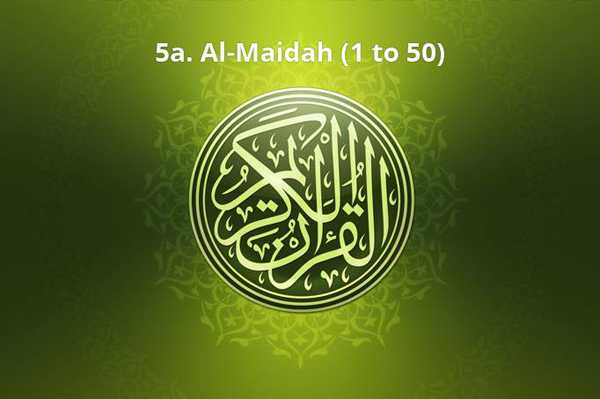 O ye who believe! Fulfil your undertakings . The beast of
cattle is made lawful unto you ( for food ) except that which …
5.1
يَا أَيُّهَا الَّذِينَ آمَنُوا أَوْفُوا بِالْعُقُودِ ۚ أُحِلَّتْ لَكُم بَهِيمَةُ الْأَنْعَامِ إِلَّا مَا يُتْلَىٰ عَلَيْكُمْ غَيْرَ مُحِلِّي الصَّيْدِ وَأَنتُمْ حُرُمٌ ۗ إِنَّ اللَّهَ يَحْكُمُ مَا يُرِيدُ (1)
Ya ayyuha allatheena amanoo awfoo bialAAuqoodi ohillat lakum baheematu alanAAami illa ma yutla AAalaykum ghayra muhillee alssaydi waantum hurumun inna Allaha yahkumu ma yureedu
O ye who believe! Fulfil your undertakings . The beast of 
cattle is made lawful unto you ( for food ) except that which 
is announced unto you ( herein ) , game being unlawful 
when ye are on pilgrimage . Lo! Allah ordaineth that which 
pleaseth Him .

---
5.2
يَا أَيُّهَا الَّذِينَ آمَنُوا لَا تُحِلُّوا شَعَائِرَ اللَّهِ وَلَا الشَّهْرَ الْحَرَامَ وَلَا الْهَدْيَ وَلَا الْقَلَائِدَ وَلَا آمِّينَ الْبَيْتَ الْحَرَامَ يَبْتَغُونَ فَضْلًا مِّن رَّبِّهِمْ وَرِضْوَانًا ۚ وَإِذَا حَلَلْتُمْ فَاصْطَادُوا ۚ وَلَا يَجْرِمَنَّكُمْ شَنَآنُ قَوْمٍ أَن صَدُّوكُمْ عَنِ الْمَسْجِدِ الْحَرَامِ أَن تَعْتَدُوا ۘ وَتَعَاوَنُوا عَلَى الْبِرِّ وَالتَّقْوَىٰ ۖ وَلَا تَعَاوَنُوا عَلَى الْإِثْمِ وَالْعُدْوَانِ ۚ وَاتَّقُوا اللَّهَ ۖ إِنَّ اللَّهَ شَدِيدُ الْعِقَابِ (2)
Ya ayyuha allatheena amanoo la tuhilloo shaAAaira Allahi wala alshshahra alharama wala alhadya wala alqalaida wala ammeena albayta alharama yabtaghoona fadlan min rabbihim waridwanan waitha halaltum faistadoo wala yajrimannakum shanaanu qawmin an saddookum AAani almasjidi alharami an taAAtadoo wataAAawanoo AAala albirri waalttaqwa wala taAAawanoo AAala alithmi waalAAudwani waittaqoo Allaha inna Allaha shadeedu alAAiqabi
O ye who believe! Profane not Allah ' s monuments nor the 
Sacred Month nor the offerings nor the garlands , nor those 
repairing to the Sacred House , seeking the grace and 
pleasure of Allah . But when ye have left the sacred territory , 
then go hunting ( if ye will ) . And let not your hatred of a folk 
who ( once ) stopped your going to the Inviolable Place of 
Worship seduce you to transgress ; but help ye one another 
unto righteousness and pious duty . Help not one another 
unto sin and transgression , but keep your duty to Allah . Lo! 
Allah is severe in punishment .

---
5.3
حُرِّمَتْ عَلَيْكُمُ الْمَيْتَةُ وَالدَّمُ وَلَحْمُ الْخِنزِيرِ وَمَا أُهِلَّ لِغَيْرِ اللَّهِ بِهِ وَالْمُنْخَنِقَةُ وَالْمَوْقُوذَةُ وَالْمُتَرَدِّيَةُ وَالنَّطِيحَةُ وَمَا أَكَلَ السَّبُعُ إِلَّا مَا ذَكَّيْتُمْ وَمَا ذُبِحَ عَلَى النُّصُبِ وَأَن تَسْتَقْسِمُوا بِالْأَزْلَامِ ۚ ذَٰلِكُمْ فِسْقٌ ۗ الْيَوْمَ يَئِسَ الَّذِينَ كَفَرُوا مِن دِينِكُمْ فَلَا تَخْشَوْهُمْ وَاخْشَوْنِ ۚ الْيَوْمَ أَكْمَلْتُ لَكُمْ دِينَكُمْ وَأَتْمَمْتُ عَلَيْكُمْ نِعْمَتِي وَرَضِيتُ لَكُمُ الْإِسْلَامَ دِينًا ۚ فَمَنِ اضْطُرَّ فِي مَخْمَصَةٍ غَيْرَ مُتَجَانِفٍ لِّإِثْمٍ ۙ فَإِنَّ اللَّهَ غَفُورٌ رَّحِيمٌ (3)
Hurrimat AAalaykumu almaytatu waalddamu walahmu alkhinzeeri wama ohilla lighayri Allahi bihi waalmunkhaniqatu waalmawqoothatu waalmutaraddiyatu waalnnateehatu wama akala alssabuAAu illa ma thakkaytum wama thubiha AAala alnnusubi waan tastaqsimoo bialazlami thalikum fisqun alyawma yaisa allatheena kafaroo min deenikum fala takhshawhum waikhshawni alyawma akmaltu lakum deenakum waatmamtu AAalaykum niAAmatee waradeetu lakumu alislama deenan famani idturra fee makhmasatin ghayra mutajanifin liithmin fainna Allaha ghafoorun raheemun
Forbidden unto you ( for food ) are carrion and blood and 
swine flesh , and that which hath been dedicated unto any 
other than Allah , and the strangled , and the dead through 
beating , and the dead through falling from a height , and 
that which hath been killed by ( the goring of ) horns , and 
the devoured of wild beasts , saving that which ye make 
lawful ( by the death stroke ) , and that which hath been 
immolated unto idols . And ( forbidden is it ) that ye swear 
by the divining arrows . This is an abomination . This day 
are those who disbelieve in despair of ( ever harming ) your 
religion ; so fear them not , fear Me! This day have I perfected 
your religion for you and completed My favor unto you , and 
have chosen for you as religion AL- ISLAM . Whoso is forced 
by hunger , not by will , to sin : ( for him ) lo! Allah is Forgiving , 
Merciful .

---
5.4
يَسْأَلُونَكَ مَاذَا أُحِلَّ لَهُمْ ۖ قُلْ أُحِلَّ لَكُمُ الطَّيِّبَاتُ ۙ وَمَا عَلَّمْتُم مِّنَ الْجَوَارِحِ مُكَلِّبِينَ تُعَلِّمُونَهُنَّ مِمَّا عَلَّمَكُمُ اللَّهُ ۖ فَكُلُوا مِمَّا أَمْسَكْنَ عَلَيْكُمْ وَاذْكُرُوا اسْمَ اللَّهِ عَلَيْهِ ۖ وَاتَّقُوا اللَّهَ ۚ إِنَّ اللَّهَ سَرِيعُ الْحِسَابِ (4)
Yasaloonaka matha ohilla lahum qul ohilla lakumu alttayyibatu wama AAallamtum mina aljawarihi mukallibeena tuAAallimoonahunna mimma AAallamakumu Allahu fakuloo mimma amsakna AAalaykum waothkuroo isma Allahi AAalayhi waittaqoo Allaha inna Allaha sareeAAu alhisabi
They ask thee ( O Muhammad ) what is made lawful for 
them . Say : ( all ) good things are made lawful for you . 
And those beasts and birds of prey which ye have trained 
as hounds are trained , ye teach them that which Allah 
taught you ; so eat of that which they catch for you and 
mention Allah ' s name upon it , and observe your duty to 
Allah . Lo! Allah is swift to take account .

---
5.5
الْيَوْمَ أُحِلَّ لَكُمُ الطَّيِّبَاتُ ۖ وَطَعَامُ الَّذِينَ أُوتُوا الْكِتَابَ حِلٌّ لَّكُمْ وَطَعَامُكُمْ حِلٌّ لَّهُمْ ۖ وَالْمُحْصَنَاتُ مِنَ الْمُؤْمِنَاتِ وَالْمُحْصَنَاتُ مِنَ الَّذِينَ أُوتُوا الْكِتَابَ مِن قَبْلِكُمْ إِذَا آتَيْتُمُوهُنَّ أُجُورَهُنَّ مُحْصِنِينَ غَيْرَ مُسَافِحِينَ وَلَا مُتَّخِذِي أَخْدَانٍ ۗ وَمَن يَكْفُرْ بِالْإِيمَانِ فَقَدْ حَبِطَ عَمَلُهُ وَهُوَ فِي الْآخِرَةِ مِنَ الْخَاسِرِينَ (5)
Alyawma ohilla lakumu alttayyibatu wataAAamu allatheena ootoo alkitaba hillun lakum wataAAamukum hillun lahum waalmuhsanatu mina almuminati waalmuhsanatu mina allatheena ootoo alkitaba min qablikum itha ataytumoohunna ojoorahunna muhsineena ghayra musafiheena wala muttakhithee akhdanin waman yakfur bialeemani faqad habita AAamaluhu wahuwa fee alakhirati mina alkhasireena
This day are ( all ) good things made lawful for you . The 
food of those who have received the Scripture is lawful for 
you , and your food is lawful for them . And so are the 
virtuous women of the believers and the virtuous women of 
those who received the Scripture before you ( lawful for you ) 
when ye give them their marriage portions and live with them 
in honor , not in fornication , nor taking them as secret 
concubines . Whoso denieth the faith , his work is vain and 
he will be among the losers in the Hereafter .

---
5.6
يَا أَيُّهَا الَّذِينَ آمَنُوا إِذَا قُمْتُمْ إِلَى الصَّلَاةِ فَاغْسِلُوا وُجُوهَكُمْ وَأَيْدِيَكُمْ إِلَى الْمَرَافِقِ وَامْسَحُوا بِرُءُوسِكُمْ وَأَرْجُلَكُمْ إِلَى الْكَعْبَيْنِ ۚ وَإِن كُنتُمْ جُنُبًا فَاطَّهَّرُوا ۚ وَإِن كُنتُم مَّرْضَىٰ أَوْ عَلَىٰ سَفَرٍ أَوْ جَاءَ أَحَدٌ مِّنكُم مِّنَ الْغَائِطِ أَوْ لَامَسْتُمُ النِّسَاءَ فَلَمْ تَجِدُوا مَاءً فَتَيَمَّمُوا صَعِيدًا طَيِّبًا فَامْسَحُوا بِوُجُوهِكُمْ وَأَيْدِيكُم مِّنْهُ ۚ مَا يُرِيدُ اللَّهُ لِيَجْعَلَ عَلَيْكُم مِّنْ حَرَجٍ وَلَٰكِن يُرِيدُ لِيُطَهِّرَكُمْ وَلِيُتِمَّ نِعْمَتَهُ عَلَيْكُمْ لَعَلَّكُمْ تَشْكُرُونَ (6)
Ya ayyuha allatheena amanoo itha qumtum ila alssalati faighsiloo wujoohakum waaydiyakum ila almarafiqi waimsahoo biruoosikum waarjulakum ila alkaAAbayni wain kuntum junuban faittahharoo wain kuntum marda aw AAala safarin aw jaa ahadun minkum mina alghaiti aw lamastumu alnnisaa falam tajidoo maan fatayammamoo saAAeedan tayyiban faimsahoo biwujoohikum waaydeekum minhu ma yureedu Allahu liyajAAala AAalaykum min harajin walakin yureedu liyutahhirakum waliyutimma niAAmatahu AAalaykum laAAallakum tashkuroona
O ye who believe! When ye rise up for prayer , wash your 
face , and your hands up to the elbows , and lightly rub your 
heads and ( wash ) your feet up to the ankles . And if ye are 
unclean , purify yourselves . And if ye are sick or on a journey , 
or one of you cometh from the closet , or ye have had contact 
with women , and ye find not water , then go to clean , high 
ground and rub your faces and your hands with some of it . 
Allah would not place a burden on you , but He would purify 
you and would perfect His grace upon you , that ye may give 
thanks .

---
5.7
وَاذْكُرُوا نِعْمَةَ اللَّهِ عَلَيْكُمْ وَمِيثَاقَهُ الَّذِي وَاثَقَكُم بِهِ إِذْ قُلْتُمْ سَمِعْنَا وَأَطَعْنَا ۖ وَاتَّقُوا اللَّهَ ۚ إِنَّ اللَّهَ عَلِيمٌ بِذَاتِ الصُّدُورِ (7)
Waothkuroo niAAmata Allahi AAalaykum wameethaqahu allathee wathaqakum bihi ith qultum samiAAna waataAAna waittaqoo Allaha inna Allaha AAaleemun bithati alssudoori
Remember Allah ' s grace upon you and His covenant by 
which He bound you when ye said : We hear and we obey ; 
and keep your duty to Allah . Allah knoweth what is in the 
breasts ( of men ) .

---
5.8
يَا أَيُّهَا الَّذِينَ آمَنُوا كُونُوا قَوَّامِينَ لِلَّهِ شُهَدَاءَ بِالْقِسْطِ ۖ وَلَا يَجْرِمَنَّكُمْ شَنَآنُ قَوْمٍ عَلَىٰ أَلَّا تَعْدِلُوا ۚ اعْدِلُوا هُوَ أَقْرَبُ لِلتَّقْوَىٰ ۖ وَاتَّقُوا اللَّهَ ۚ إِنَّ اللَّهَ خَبِيرٌ بِمَا تَعْمَلُونَ (8)
Ya ayyuha allatheena amanoo koonoo qawwameena lillahi shuhadaa bialqisti wala yajrimannakum shanaanu qawmin AAala alla taAAdiloo iAAdiloo huwa aqrabu lilttaqwa waittaqoo Allaha inna Allaha khabeerun bima taAAmaloona
O ye who believe! Be steadfast witnesses for Allah in equity , 
and let not hatred of any people seduce you that ye deal not 
justly . Deal justly , that is nearer to your duty . Observe your 
duty to Allah . Lo! Allah is Informed of what ye do .

---
5.9
وَعَدَ اللَّهُ الَّذِينَ آمَنُوا وَعَمِلُوا الصَّالِحَاتِ ۙ لَهُم مَّغْفِرَةٌ وَأَجْرٌ عَظِيمٌ (9)
WaAAada Allahu allatheena amanoo waAAamiloo alssalihati lahum maghfiratun waajrun AAatheemun
Allah hath promised those who believe and do good works : 
Theirs will be forgiveness and immense reward .

---
5.10
وَالَّذِينَ كَفَرُوا وَكَذَّبُوا بِآيَاتِنَا أُولَٰئِكَ أَصْحَابُ الْجَحِيمِ (10)
Waallatheena kafaroo wakaththaboo biayatina olaika ashabu aljaheemi
And they who disbelieve and deny Our revelations , such 
are rightful owners of hell .

---
5.11
يَا أَيُّهَا الَّذِينَ آمَنُوا اذْكُرُوا نِعْمَتَ اللَّهِ عَلَيْكُمْ إِذْ هَمَّ قَوْمٌ أَن يَبْسُطُوا إِلَيْكُمْ أَيْدِيَهُمْ فَكَفَّ أَيْدِيَهُمْ عَنكُمْ ۖ وَاتَّقُوا اللَّهَ ۚ وَعَلَى اللَّهِ فَلْيَتَوَكَّلِ الْمُؤْمِنُونَ (11)
Ya ayyuha allatheena amanoo othkuroo niAAmata Allahi AAalaykum ith hamma qawmun an yabsutoo ilaykum aydiyahum fakaffa aydiyahum AAankum waittaqoo Allaha waAAala Allahi falyatawakkali almuminoona
O ye who believe! Remember Allah ' s favor unto you , 
how a people were minded to stretch out their hands 
against you but He withheld their hands from you ; and
keep your duty to Allah . In Allah let believers put their trust .

---
5.12
۞ وَلَقَدْ أَخَذَ اللَّهُ مِيثَاقَ بَنِي إِسْرَائِيلَ وَبَعَثْنَا مِنْهُمُ اثْنَيْ عَشَرَ نَقِيبًا ۖ وَقَالَ اللَّهُ إِنِّي مَعَكُمْ ۖ لَئِنْ أَقَمْتُمُ الصَّلَاةَ وَآتَيْتُمُ الزَّكَاةَ وَآمَنتُم بِرُسُلِي وَعَزَّرْتُمُوهُمْ وَأَقْرَضْتُمُ اللَّهَ قَرْضًا حَسَنًا لَّأُكَفِّرَنَّ عَنكُمْ سَيِّئَاتِكُمْ وَلَأُدْخِلَنَّكُمْ جَنَّاتٍ تَجْرِي مِن تَحْتِهَا الْأَنْهَارُ ۚ فَمَن كَفَرَ بَعْدَ ذَٰلِكَ مِنكُمْ فَقَدْ ضَلَّ سَوَاءَ السَّبِيلِ (12)
Walaqad akhatha Allahu meethaqa banee israeela wabaAAathna minhumu ithnay AAashara naqeeban waqala Allahu innee maAAakum lain aqamtumu alssalata waataytumu alzzakata waamantum birusulee waAAazzartumoohum waaqradtumu Allaha qardan hasanan laokaffiranna AAankum sayyiatikum walaodkhilannakum jannatin tajree min tahtiha alanharu faman kafara baAAda thalika minkum faqad dalla sawaa alssabeeli
Allah made a covenant of old with the Children of Israel and 
We raised among them twelve chieftains : and Allah said : 
Lo! I am with you . If ye establish worship and pay the poor 
due , and believe in My messengers and support them , and 
lend unto Allah a kindly loan , surely I shall remit your sins , 
and surely I shall bring you into gardens underneath which 
rivers flow . Whoso among you disbelieveth after this will go 
astray from a plain road .

---
5.13
فَبِمَا نَقْضِهِم مِّيثَاقَهُمْ لَعَنَّاهُمْ وَجَعَلْنَا قُلُوبَهُمْ قَاسِيَةً ۖ يُحَرِّفُونَ الْكَلِمَ عَن مَّوَاضِعِهِ ۙ وَنَسُوا حَظًّا مِّمَّا ذُكِّرُوا بِهِ ۚ وَلَا تَزَالُ تَطَّلِعُ عَلَىٰ خَائِنَةٍ مِّنْهُمْ إِلَّا قَلِيلًا مِّنْهُمْ ۖ فَاعْفُ عَنْهُمْ وَاصْفَحْ ۚ إِنَّ اللَّهَ يُحِبُّ الْمُحْسِنِينَ (13)
Fabima naqdihim meethaqahum laAAannahum wajaAAalna quloobahum qasiyatan yuharrifoona alkalima AAan mawadiAAihi wanasoo haththan mimma thukkiroo bihi wala tazalu tattaliAAu AAala khainatin minhum illa qaleelan minhum faoAAfu AAanhum waisfah inna Allaha yuhibbu almuhsineena
And because of their breaking their covenant , We have 
cursed them and made hard their hearts . They change 
words from their context and forget a part of that where of 
they were admonished . Thou wilt not cease to discover 
treachery from all save a few of them . But bear with them 
and pardon them . Lo! Allah loveth the kindly .

---
5.14
وَمِنَ الَّذِينَ قَالُوا إِنَّا نَصَارَىٰ أَخَذْنَا مِيثَاقَهُمْ فَنَسُوا حَظًّا مِّمَّا ذُكِّرُوا بِهِ فَأَغْرَيْنَا بَيْنَهُمُ الْعَدَاوَةَ وَالْبَغْضَاءَ إِلَىٰ يَوْمِ الْقِيَامَةِ ۚ وَسَوْفَ يُنَبِّئُهُمُ اللَّهُ بِمَا كَانُوا يَصْنَعُونَ (14)
Wamina allatheena qaloo inna nasara akhathna meethaqahum fanasoo haththan mimma thukkiroo bihi faaghrayna baynahumu alAAadawata waalbaghdaa ila yawmi alqiyamati wasawfa yunabbiohumu Allahu bima kanoo yasnaAAoona
And with those who say : "Lo! we are Christians , " We 
made a covenant , but they forgot a part of that whereof 
they were admonished . Therefor We have stirred up 
enmity and hatred among them till the Day of Resurrection , 
when Allah will inform them of their handiwork .

---
5.15
يَا أَهْلَ الْكِتَابِ قَدْ جَاءَكُمْ رَسُولُنَا يُبَيِّنُ لَكُمْ كَثِيرًا مِّمَّا كُنتُمْ تُخْفُونَ مِنَ الْكِتَابِ وَيَعْفُو عَن كَثِيرٍ ۚ قَدْ جَاءَكُم مِّنَ اللَّهِ نُورٌ وَكِتَابٌ مُّبِينٌ (15)
Ya ahla alkitabi qad jaakum rasooluna yubayyinu lakum katheeran mimma kuntum tukhfoona mina alkitabi wayaAAfoo AAan katheerin qad jaakum mina Allahi noorun wakitabun mubeenun
O people of the Scripture! Now hath Our messenger come 
unto you , expounding unto you much of that which ye used 
to hide in the Scripture , and forgiving much . Now hath 
come unto you light from Allah and a plain Scripture

---
5.16
يَهْدِي بِهِ اللَّهُ مَنِ اتَّبَعَ رِضْوَانَهُ سُبُلَ السَّلَامِ وَيُخْرِجُهُم مِّنَ الظُّلُمَاتِ إِلَى النُّورِ بِإِذْنِهِ وَيَهْدِيهِمْ إِلَىٰ صِرَاطٍ مُّسْتَقِيمٍ (16)
Yahdee bihi Allahu mani ittabaAAa ridwanahu subula alssalami wayukhrijuhum mina alththulumati ila alnnoori biithnihi wayahdeehim ila siratin mustaqeemin
Whereby Allah guideth him who seeketh His good pleasure 
unto paths of peace . He bringeth them out of darkness unto 
light by His decree , and guideth them unto a straight path .

---
5.17
لَّقَدْ كَفَرَ الَّذِينَ قَالُوا إِنَّ اللَّهَ هُوَ الْمَسِيحُ ابْنُ مَرْيَمَ ۚ قُلْ فَمَن يَمْلِكُ مِنَ اللَّهِ شَيْئًا إِنْ أَرَادَ أَن يُهْلِكَ الْمَسِيحَ ابْنَ مَرْيَمَ وَأُمَّهُ وَمَن فِي الْأَرْضِ جَمِيعًا ۗ وَلِلَّهِ مُلْكُ السَّمَاوَاتِ وَالْأَرْضِ وَمَا بَيْنَهُمَا ۚ يَخْلُقُ مَا يَشَاءُ ۚ وَاللَّهُ عَلَىٰ كُلِّ شَيْءٍ قَدِيرٌ (17)
Laqad kafara allatheena qaloo inna Allaha huwa almaseehu ibnu maryama qul faman yamliku mina Allahi shayan in arada an yuhlika almaseeha ibna maryama waommahu waman fee alardi jameeAAan walillahi mulku alssamawati waalardi wama baynahuma yakhluqu ma yashao waAllahu AAala kulli shayin qadeerun
They indeed have disbelieved who say : Lo! Allah is the 
Messiah , son of Mary . Say : Who then can do aught against 
Allah , if He had willed to destroy the Messiah son of Mary , 
and his mother and everyone on earth? Allah ' s is the 
Sovereignty of the heavens and the earth and all that is 
between them . He createth what He will . And Allah is Able 
to do all things .

---
5.18
وَقَالَتِ الْيَهُودُ وَالنَّصَارَىٰ نَحْنُ أَبْنَاءُ اللَّهِ وَأَحِبَّاؤُهُ ۚ قُلْ فَلِمَ يُعَذِّبُكُم بِذُنُوبِكُم ۖ بَلْ أَنتُم بَشَرٌ مِّمَّنْ خَلَقَ ۚ يَغْفِرُ لِمَن يَشَاءُ وَيُعَذِّبُ مَن يَشَاءُ ۚ وَلِلَّهِ مُلْكُ السَّمَاوَاتِ وَالْأَرْضِ وَمَا بَيْنَهُمَا ۖ وَإِلَيْهِ الْمَصِيرُ (18)
Waqalati alyahoodu waalnnasara nahnu abnao Allahi waahibbaohu qul falima yuAAaththibukum bithunoobikum bal antum basharun mimman khalaqa yaghfiru liman yashao wayuAAaththibu man yashao walillahi mulku alssamawati waalardi wama baynahuma wailayhi almaseeru
The Jews and Christians say : We are sons of Allah and His 
loved ones . Say ; Why then doth He chastise you for your 
sins? Nay , ye are but mortals of His creating . He forgiveth 
whom He will , and chastiseth whom He will . Allah ' s is the 
Sovereignty of the heavens and the earth and all that is 
between them , and unto Him is the journeying .

---
5.19
يَا أَهْلَ الْكِتَابِ قَدْ جَاءَكُمْ رَسُولُنَا يُبَيِّنُ لَكُمْ عَلَىٰ فَتْرَةٍ مِّنَ الرُّسُلِ أَن تَقُولُوا مَا جَاءَنَا مِن بَشِيرٍ وَلَا نَذِيرٍ ۖ فَقَدْ جَاءَكُم بَشِيرٌ وَنَذِيرٌ ۗ وَاللَّهُ عَلَىٰ كُلِّ شَيْءٍ قَدِيرٌ (19)
Ya ahla alkitabi qad jaakum rasooluna yubayyinu lakum AAala fatratin mina alrrusuli an taqooloo ma jaana min basheerin wala natheerin faqad jaakum basheerun wanatheerun waAllahu AAala kulli shayin qadeerun
O people of the Scripture! Now hath Our messenger come 
unto you to make things plain after an interval ( of cessation ) 
of the messengers , lest ye should say : There came not unto 
us a messenger of cheer nor any warner . Now hath a 
messenger of cheer and a warner come unto you . Allah is 
Able to do all things .

---
5.20
وَإِذْ قَالَ مُوسَىٰ لِقَوْمِهِ يَا قَوْمِ اذْكُرُوا نِعْمَةَ اللَّهِ عَلَيْكُمْ إِذْ جَعَلَ فِيكُمْ أَنبِيَاءَ وَجَعَلَكُم مُّلُوكًا وَآتَاكُم مَّا لَمْ يُؤْتِ أَحَدًا مِّنَ الْعَالَمِينَ (20)
Waith qala moosa liqawmihi ya qawmi othkuroo niAAmata Allahi AAalaykum ith jaAAala feekum anbiyaa wajaAAalakum mulookan waatakum ma lam yuti ahadan mina alAAalameena
And ( remember ) when Moses said unto his people : 
O my people ! Remember Allah ' s favor unto you , how 
He placed among you Prophets , and He made you Kings , 
and gave you that ( which ) He gave not to any ( other ) of 
( His ) creatures .

---
5.21
يَا قَوْمِ ادْخُلُوا الْأَرْضَ الْمُقَدَّسَةَ الَّتِي كَتَبَ اللَّهُ لَكُمْ وَلَا تَرْتَدُّوا عَلَىٰ أَدْبَارِكُمْ فَتَنقَلِبُوا خَاسِرِينَ (21)
Ya qawmi odkhuloo alarda almuqaddasata allatee kataba Allahu lakum wala tartaddoo AAala adbarikum fatanqaliboo khasireena
O my people! Go into the holy land which Allah hath 
ordained for you . Turn not in flight , for surely ye turn 
back as losers :

---
5.22
قَالُوا يَا مُوسَىٰ إِنَّ فِيهَا قَوْمًا جَبَّارِينَ وَإِنَّا لَن نَّدْخُلَهَا حَتَّىٰ يَخْرُجُوا مِنْهَا فَإِن يَخْرُجُوا مِنْهَا فَإِنَّا دَاخِلُونَ (22)
Qaloo ya moosa inna feeha qawman jabbareena wainna lan nadkhulaha hatta yakhrujoo minha fain yakhrujoo minha fainna dakhiloona
They said : O Moses! Lo! a giant people ( dwell ) therein , 
and lo! we go not in till they go forth from thence . When 
they go forth , then we will enter ( not till then ) .

---
5.23
قَالَ رَجُلَانِ مِنَ الَّذِينَ يَخَافُونَ أَنْعَمَ اللَّهُ عَلَيْهِمَا ادْخُلُوا عَلَيْهِمُ الْبَابَ فَإِذَا دَخَلْتُمُوهُ فَإِنَّكُمْ غَالِبُونَ ۚ وَعَلَى اللَّهِ فَتَوَكَّلُوا إِن كُنتُم مُّؤْمِنِينَ (23)
Qala rajulani mina allatheena yakhafoona anAAama Allahu AAalayhima odkhuloo AAalayhimu albaba faitha dakhaltumoohu fainnakum ghaliboona waAAala Allahi fatawakkaloo in kuntum mumineena
Then outspake two of those who feared ( their Lord , men ) 
unto whom Allah had been gracious : Enter in upon them by 
the gate , for if ye enter by it , lo! ye will be victorious . So put 
your trust ( in Allah ) if ye are indeed believers .

---
5.24
قَالُوا يَا مُوسَىٰ إِنَّا لَن نَّدْخُلَهَا أَبَدًا مَّا دَامُوا فِيهَا ۖ فَاذْهَبْ أَنتَ وَرَبُّكَ فَقَاتِلَا إِنَّا هَاهُنَا قَاعِدُونَ (24)
Qaloo ya moosa inna lan nadkhulaha abadan ma damoo feeha faithhab anta warabbuka faqatila inna hahuna qaAAidoona
They said : O Moses! We will never enter ( the land ) while 
they are in it . So go thou and thy Lord and fight! We will sit 
here .

---
5.25
قَالَ رَبِّ إِنِّي لَا أَمْلِكُ إِلَّا نَفْسِي وَأَخِي ۖ فَافْرُقْ بَيْنَنَا وَبَيْنَ الْقَوْمِ الْفَاسِقِينَ (25)
Qala rabbi innee la amliku illa nafsee waakhee faofruq baynana wabayna alqawmi alfasiqeena
He said : My Lord! I have control of none but myself and my 
brother , so distinguish between us and the wrongdoing folk .

---
5.26
قَالَ فَإِنَّهَا مُحَرَّمَةٌ عَلَيْهِمْ ۛ أَرْبَعِينَ سَنَةً ۛ يَتِيهُونَ فِي الْأَرْضِ ۚ فَلَا تَأْسَ عَلَى الْقَوْمِ الْفَاسِقِينَ (26)
Qala fainnaha muharramatun AAalayhim arbaAAeena sanatan yateehoona fee alardi fala tasa AAala alqawmi alfasiqeena
( Their Lord ) said : For this the land will surely be forbidden 
them for forty years that they will . wander in the earth , 
bewildered . So grieve not over the wrongdoing folk .

---
5.27
۞ وَاتْلُ عَلَيْهِمْ نَبَأَ ابْنَيْ آدَمَ بِالْحَقِّ إِذْ قَرَّبَا قُرْبَانًا فَتُقُبِّلَ مِنْ أَحَدِهِمَا وَلَمْ يُتَقَبَّلْ مِنَ الْآخَرِ قَالَ لَأَقْتُلَنَّكَ ۖ قَالَ إِنَّمَا يَتَقَبَّلُ اللَّهُ مِنَ الْمُتَّقِينَ (27)
Waotlu AAalayhim nabaa ibnay adama bialhaqqi ith qarraba qurbanan fatuqubbila min ahadihima walam yutaqabbal mina alakhari qala laaqtulannaka qala innama yataqabbalu Allahu mina almuttaqeena
But recite unto them with truth the tale of the two sons of 
Adam , how they offered each a sacrifice , and it was 
accepted from the one of them and it was not accepted 
from the other . ( The one ) said : I will surely kill thee . 
( The other ) answered : Allah accepteth only from those 
who ward off ( evil ) .

---
5.28
لَئِن بَسَطتَ إِلَيَّ يَدَكَ لِتَقْتُلَنِي مَا أَنَا بِبَاسِطٍ يَدِيَ إِلَيْكَ لِأَقْتُلَكَ ۖ إِنِّي أَخَافُ اللَّهَ رَبَّ الْعَالَمِينَ (28)
Lain basatta ilayya yadaka litaqtulanee ma ana bibasitin yadiya ilayka liaqtulaka innee akhafu Allaha rabba alAAalameena
Even if thou stretch out thy hand against me to kill me , I 
shall not stretch out my hand against thee to kill thee , lo! I 
fear Allah , the Lord of the Worlds .

---
5.29
إِنِّي أُرِيدُ أَن تَبُوءَ بِإِثْمِي وَإِثْمِكَ فَتَكُونَ مِنْ أَصْحَابِ النَّارِ ۚ وَذَٰلِكَ جَزَاءُ الظَّالِمِينَ (29)
Innee oreedu an tabooa biithmee waithmika fatakoona min ashabi alnnari wathalika jazao alththalimeena
Lo! I would rather thou shouldst bear the punishment of the 
sin against me and thine own sin and become one of the 
owners of the Fire . That is the reward of evil doers .

---
5.30
فَطَوَّعَتْ لَهُ نَفْسُهُ قَتْلَ أَخِيهِ فَقَتَلَهُ فَأَصْبَحَ مِنَ الْخَاسِرِينَ (30)
FatawwaAAat lahu nafsuhu qatla akheehi faqatalahu faasbaha mina alkhasireena
But ( the other ' s ) mind imposed on him the killing of his 
brother , so he slew him and became one of the losers .

---
5.31
فَبَعَثَ اللَّهُ غُرَابًا يَبْحَثُ فِي الْأَرْضِ لِيُرِيَهُ كَيْفَ يُوَارِي سَوْءَةَ أَخِيهِ ۚ قَالَ يَا وَيْلَتَا أَعَجَزْتُ أَنْ أَكُونَ مِثْلَ هَٰذَا الْغُرَابِ فَأُوَارِيَ سَوْءَةَ أَخِي ۖ فَأَصْبَحَ مِنَ النَّادِمِينَ (31)
FabaAAatha Allahu ghuraban yabhathu fee alardi liyuriyahu kayfa yuwaree sawata akheehi qala ya waylata aAAajaztu an akoona mithla hatha alghurabi faowariya sawata akhee faasbaha mina alnnadimeena
Then Allah sent a raven scratching up the ground , to show 
him how to hide his brother ' s naked corpse . He said : Woe 
unto me! Am I not able to be as this raven and so hide my 
brother ' s naked corpse? And he became repentant .

---
5.32
مِنْ أَجْلِ ذَٰلِكَ كَتَبْنَا عَلَىٰ بَنِي إِسْرَائِيلَ أَنَّهُ مَن قَتَلَ نَفْسًا بِغَيْرِ نَفْسٍ أَوْ فَسَادٍ فِي الْأَرْضِ فَكَأَنَّمَا قَتَلَ النَّاسَ جَمِيعًا وَمَنْ أَحْيَاهَا فَكَأَنَّمَا أَحْيَا النَّاسَ جَمِيعًا ۚ وَلَقَدْ جَاءَتْهُمْ رُسُلُنَا بِالْبَيِّنَاتِ ثُمَّ إِنَّ كَثِيرًا مِّنْهُم بَعْدَ ذَٰلِكَ فِي الْأَرْضِ لَمُسْرِفُونَ (32)
Min ajli thalika katabna AAala banee israeela annahu man qatala nafsan bighayri nafsin aw fasadin fee alardi fakaannama qatala alnnasa jameeAAan waman ahyaha fakaannama ahya alnnasa jameeAAan walaqad jaa thum rusuluna bialbayyinati thumma inna katheeran minhum baAAda thalika fee alardi lamusrifoona
For that cause We decreed for the Children of Israel that 
whosoever killeth a human being for other than man 
slaughter or corruption in the earth , it shall be as if be had 
killed all mankind , and whoso saveth the life of one , it 
shall be as if he had : saved the life of all mankind . Our 
messengers came unto them of old with clear proofs 
( of Allah ' s sovereignty ) , but afterwards lo! many of them 
became prodigals in the earth .

---
5.33
إِنَّمَا جَزَاءُ الَّذِينَ يُحَارِبُونَ اللَّهَ وَرَسُولَهُ وَيَسْعَوْنَ فِي الْأَرْضِ فَسَادًا أَن يُقَتَّلُوا أَوْ يُصَلَّبُوا أَوْ تُقَطَّعَ أَيْدِيهِمْ وَأَرْجُلُهُم مِّنْ خِلَافٍ أَوْ يُنفَوْا مِنَ الْأَرْضِ ۚ ذَٰلِكَ لَهُمْ خِزْيٌ فِي الدُّنْيَا ۖ وَلَهُمْ فِي الْآخِرَةِ عَذَابٌ عَظِيمٌ (33)
Innama jazao allatheena yuhariboona Allaha warasoolahu wayasAAawna fee alardi fasadan an yuqattaloo aw yusallaboo aw tuqattaAAa aydeehim waarjuluhum min khilafin aw yunfaw mina alardi thalika lahum khizyun fee alddunya walahum fee alakhirati AAathabun AAatheemun
The only reward of those who make war upon Allah and His 
messenger and strive after corruption in the land will be that 
they will be killed or crucified , or have their hands and feet on 
alternate sides cut off , or will be expelled out of the land . 
Such will be their degradation in the world , and in the 
Hereafter theirs will be an awful doom ;

---
5.34
إِلَّا الَّذِينَ تَابُوا مِن قَبْلِ أَن تَقْدِرُوا عَلَيْهِمْ ۖ فَاعْلَمُوا أَنَّ اللَّهَ غَفُورٌ رَّحِيمٌ (34)
Illa allatheena taboo min qabli an taqdiroo AAalayhim faiAAlamoo anna Allaha ghafoorun raheemun
Save those who repent before ye overpower them . For 
know that Allah is Forgiving , Merciful .

---
5.35
يَا أَيُّهَا الَّذِينَ آمَنُوا اتَّقُوا اللَّهَ وَابْتَغُوا إِلَيْهِ الْوَسِيلَةَ وَجَاهِدُوا فِي سَبِيلِهِ لَعَلَّكُمْ تُفْلِحُونَ (35)
Ya ayyuha allatheena amanoo ittaqoo Allaha waibtaghoo ilayhi alwaseelata wajahidoo fee sabeelihi laAAallakum tuflihoona
O ye who believe! Be mindful of your duty to Allah , and 
seek the way of approach unto Him , and strive in His 
way in order that ye may succeed .

---
5.36
إِنَّ الَّذِينَ كَفَرُوا لَوْ أَنَّ لَهُم مَّا فِي الْأَرْضِ جَمِيعًا وَمِثْلَهُ مَعَهُ لِيَفْتَدُوا بِهِ مِنْ عَذَابِ يَوْمِ الْقِيَامَةِ مَا تُقُبِّلَ مِنْهُمْ ۖ وَلَهُمْ عَذَابٌ أَلِيمٌ (36)
Inna allatheena kafaroo law anna lahum ma fee alardi jameeAAan wamithlahu maAAahu liyaftadoo bihi min AAathabi yawmi alqiyamati ma tuqubbila minhum walahum AAathabun aleemun
As for those who disbelieve , lo! if all that is in the were 
theirs , and as much again therewith , to ransom them 
from the doom on the day of Resurrection , it would not 
be accepted from them . Theirs will be a painful doom .

---
5.37
يُرِيدُونَ أَن يَخْرُجُوا مِنَ النَّارِ وَمَا هُم بِخَارِجِينَ مِنْهَا ۖ وَلَهُمْ عَذَابٌ مُّقِيمٌ (37)
Yureedoona an yakhrujoo mina alnnari wama hum bikharijeena minha walahum AAathabun muqeemun
They will wish to come forth from the Fire , but they will 
not come forth from it . Theirs will be a lasting doom .

---
5.38
وَالسَّارِقُ وَالسَّارِقَةُ فَاقْطَعُوا أَيْدِيَهُمَا جَزَاءً بِمَا كَسَبَا نَكَالًا مِّنَ اللَّهِ ۗ وَاللَّهُ عَزِيزٌ حَكِيمٌ (38)
Waalssariqu waalssariqatu faiqtaAAoo aydiyahuma jazaan bima kasaba nakalan mina Allahi waAllahu AAazeezun hakeemun
As for the thief , both male and female , cut off their hands . 
It is the reward of their own deeds , an exemplary 
punishment from Allah . Allah is Mighty , Wise .

---
5.39
فَمَن تَابَ مِن بَعْدِ ظُلْمِهِ وَأَصْلَحَ فَإِنَّ اللَّهَ يَتُوبُ عَلَيْهِ ۗ إِنَّ اللَّهَ غَفُورٌ رَّحِيمٌ (39)
Faman taba min baAAdi thulmihi waaslaha fainna Allaha yatoobu AAalayhi inna Allaha ghafoorun raheemun
But whoso repenteth after his wrongdoing and amendeth , 
lo! Allah will relent toward him . Lo! Allah is Forgiving , 
Merciful .

---
5.40
أَلَمْ تَعْلَمْ أَنَّ اللَّهَ لَهُ مُلْكُ السَّمَاوَاتِ وَالْأَرْضِ يُعَذِّبُ مَن يَشَاءُ وَيَغْفِرُ لِمَن يَشَاءُ ۗ وَاللَّهُ عَلَىٰ كُلِّ شَيْءٍ قَدِيرٌ (40)
Alam taAAlam anna Allaha lahu mulku alssamawati waalardi yuAAaththibu man yashao wayaghfiru liman yashao waAllahu AAala kulli shayin qadeerun
Knowest thou not that unto Allah belongeth the Sovereignty 
of the heavens and the earth? He punisheth whom He will , 
and forgiveth whom He will . Allah is Able to do all things .

---
5.41
۞ يَا أَيُّهَا الرَّسُولُ لَا يَحْزُنكَ الَّذِينَ يُسَارِعُونَ فِي الْكُفْرِ مِنَ الَّذِينَ قَالُوا آمَنَّا بِأَفْوَاهِهِمْ وَلَمْ تُؤْمِن قُلُوبُهُمْ ۛ وَمِنَ الَّذِينَ هَادُوا ۛ سَمَّاعُونَ لِلْكَذِبِ سَمَّاعُونَ لِقَوْمٍ آخَرِينَ لَمْ يَأْتُوكَ ۖ يُحَرِّفُونَ الْكَلِمَ مِن بَعْدِ مَوَاضِعِهِ ۖ يَقُولُونَ إِنْ أُوتِيتُمْ هَٰذَا فَخُذُوهُ وَإِن لَّمْ تُؤْتَوْهُ فَاحْذَرُوا ۚ وَمَن يُرِدِ اللَّهُ فِتْنَتَهُ فَلَن تَمْلِكَ لَهُ مِنَ اللَّهِ شَيْئًا ۚ أُولَٰئِكَ الَّذِينَ لَمْ يُرِدِ اللَّهُ أَن يُطَهِّرَ قُلُوبَهُمْ ۚ لَهُمْ فِي الدُّنْيَا خِزْيٌ ۖ وَلَهُمْ فِي الْآخِرَةِ عَذَابٌ عَظِيمٌ (41)
Ya ayyuha alrrasoolu la yahzunka allatheena yusariAAoona fee alkufri mina allatheena qaloo amanna biafwahihim walam tumin quloobuhum wamina allatheena hadoo sammaAAoona lilkathibi sammaAAoona liqawmin akhareena lam yatooka yuharrifoona alkalima min baAAdi mawadiAAihi yaqooloona in ooteetum hatha fakhuthoohu wain lam tutawhu faihtharoo waman yuridi Allahu fitnatahu falan tamlika lahu mina Allahi shayan olaika allatheena lam yuridi Allahu an yutahhira quloobahum lahum fee alddunya khizyun walahum fee alakhirati AAathabun AAatheemun
O Messenger! Let not them grieve thee who vie one with 
another in the race to disbelief , of such as say with their 
mouths : "We believe , " but their hearts believe not , and 
of the Jews : listeners for the sake of falsehood , listeners 
on behalf of other folk who come not unto thee , changing 
words from their context and saying : If this be given unto 
you , receive it but if this be not given unto you , then 
beware! He whom Allah doometh unto sin , thou 
( by thine efforts ) wilt avail him naught against Allah . 
Those are they for whom the will of Allah is that He cleanse 
not their hearts . Theirs in the world will be ignominy , and 
in the Hereafter an awful doom ;

---
5.42
سَمَّاعُونَ لِلْكَذِبِ أَكَّالُونَ لِلسُّحْتِ ۚ فَإِن جَاءُوكَ فَاحْكُم بَيْنَهُمْ أَوْ أَعْرِضْ عَنْهُمْ ۖ وَإِن تُعْرِضْ عَنْهُمْ فَلَن يَضُرُّوكَ شَيْئًا ۖ وَإِنْ حَكَمْتَ فَاحْكُم بَيْنَهُم بِالْقِسْطِ ۚ إِنَّ اللَّهَ يُحِبُّ الْمُقْسِطِينَ (42)
SammaAAoona lilkathibi akkaloona lilssuhti fain jaooka faohkum baynahum aw aAArid AAanhum wain tuAArid AAanhum falan yadurrooka shayan wain hakamta faohkum baynahum bialqisti inna Allaha yuhibbu almuqsiteena
Listeners for the sake of falsehood! Greedy for illicit gain! 
If then they have recourse unto thee ( Muhammad ) judge 
between them or disclaim jurisdiction . If thou disclaimest 
jurisdiction , then they cannot harm thee at all . But if thou 
judgest , judge between them with equity . Lo! Allah loveth 
the equitable .

---
5.43
وَكَيْفَ يُحَكِّمُونَكَ وَعِندَهُمُ التَّوْرَاةُ فِيهَا حُكْمُ اللَّهِ ثُمَّ يَتَوَلَّوْنَ مِن بَعْدِ ذَٰلِكَ ۚ وَمَا أُولَٰئِكَ بِالْمُؤْمِنِينَ (43)
Wakayfa yuhakkimoonaka waAAindahumu alttawratu feeha hukmu Allahi thumma yatawallawna min baAAdi thalika wama olaika bialmumineena
How come they unto thee for judgment when they have 
the Torah , wherein Allah hath delivered judgment 
( for them ) ? Yet even after that they turn away . Such 
( folk ) are not believers .

---
5.44
إِنَّا أَنزَلْنَا التَّوْرَاةَ فِيهَا هُدًى وَنُورٌ ۚ يَحْكُمُ بِهَا النَّبِيُّونَ الَّذِينَ أَسْلَمُوا لِلَّذِينَ هَادُوا وَالرَّبَّانِيُّونَ وَالْأَحْبَارُ بِمَا اسْتُحْفِظُوا مِن كِتَابِ اللَّهِ وَكَانُوا عَلَيْهِ شُهَدَاءَ ۚ فَلَا تَخْشَوُا النَّاسَ وَاخْشَوْنِ وَلَا تَشْتَرُوا بِآيَاتِي ثَمَنًا قَلِيلًا ۚ وَمَن لَّمْ يَحْكُم بِمَا أَنزَلَ اللَّهُ فَأُولَٰئِكَ هُمُ الْكَافِرُونَ (44)
Inna anzalna alttawrata feeha hudan wanoorun yahkumu biha alnnabiyyoona allatheena aslamoo lillatheena hadoo waalrrabbaniyyoona waalahbaru bima istuhfithoo min kitabi Allahi wakanoo AAalayhi shuhadaa fala takhshawoo alnnasa waikhshawni wala tashtaroo biayatee thamanan qaleelan waman lam yahkum bima anzala Allahu faolaika humu alkafiroona
Lo! We did reveal the Torah , wherein is guidance and a 
light , by which the Prophets who surrendered ( unto Allah ) 
judged the Jews , and the rabbis and the priests ( judged ) 
by such of Allah ' s Scripture as they were bidden to observe ,
and thereunto were they witnesses . So fear not mankind , 
but fear Me . And barter not My revelations for a little gain . 
Whoso judgeth not by that which Allah hath revealed : such 
are disbelievers .

---
5.45
وَكَتَبْنَا عَلَيْهِمْ فِيهَا أَنَّ النَّفْسَ بِالنَّفْسِ وَالْعَيْنَ بِالْعَيْنِ وَالْأَنفَ بِالْأَنفِ وَالْأُذُنَ بِالْأُذُنِ وَالسِّنَّ بِالسِّنِّ وَالْجُرُوحَ قِصَاصٌ ۚ فَمَن تَصَدَّقَ بِهِ فَهُوَ كَفَّارَةٌ لَّهُ ۚ وَمَن لَّمْ يَحْكُم بِمَا أَنزَلَ اللَّهُ فَأُولَٰئِكَ هُمُ الظَّالِمُونَ (45)
Wakatabna AAalayhim feeha anna alnnafsa bialnnafsi waalAAayna bialAAayni waalanfa bialanfi waalothuna bialothuni waalssinna bialssinni waaljurooha qisasun faman tasaddaqa bihi fahuwa kaffaratun lahu waman lam yahkum bima anzala Allahu faolaika humu alththalimoona
And We prescribed for them therein : The life for the life , 
and the eye for the eye , and the nose for the nose , and the 
ear for the ear , and the tooth for the tooth , and for wounds 
retaliation . But whoso forgoeth it ( in the way of charity ) it 
shall be expiation for him . Whoso judgeth not by that which 
Allah hath revealed : such are wrong doers .

---
5.46
وَقَفَّيْنَا عَلَىٰ آثَارِهِم بِعِيسَى ابْنِ مَرْيَمَ مُصَدِّقًا لِّمَا بَيْنَ يَدَيْهِ مِنَ التَّوْرَاةِ ۖ وَآتَيْنَاهُ الْإِنجِيلَ فِيهِ هُدًى وَنُورٌ وَمُصَدِّقًا لِّمَا بَيْنَ يَدَيْهِ مِنَ التَّوْرَاةِ وَهُدًى وَمَوْعِظَةً لِّلْمُتَّقِينَ (46)
Waqaffayna AAala atharihim biAAeesa ibni maryama musaddiqan lima bayna yadayhi mina alttawrati waataynahu alinjeela feehi hudan wanoorun wamusaddiqan lima bayna yadayhi mina alttawrati wahudan wamawAAithatan lilmuttaqeena
And We caused Jesus , son of Mary , to follow in their 
footsteps , confirming that which was ( revealed ) before 
him , and We bestowed on him the Gospel wherein is 
guidance and a light , confirming that which was ( revealed ) 
before it in the Torah a guidance and an admonition unto 
those who ward off ( evil ) .

---
5.47
وَلْيَحْكُمْ أَهْلُ الْإِنجِيلِ بِمَا أَنزَلَ اللَّهُ فِيهِ ۚ وَمَن لَّمْ يَحْكُم بِمَا أَنزَلَ اللَّهُ فَأُولَٰئِكَ هُمُ الْفَاسِقُونَ (47)
Walyahkum ahlu alinjeeli bima anzala Allahu feehi waman lam yahkum bima anzala Allahu faolaika humu alfasiqoona
Let the People of the Gospel judge by that which Allah 
hath revealed therein . Whoso judgeth not by that which 
Allah hath revealed ; such are evil livers .

---
5.48
وَأَنزَلْنَا إِلَيْكَ الْكِتَابَ بِالْحَقِّ مُصَدِّقًا لِّمَا بَيْنَ يَدَيْهِ مِنَ الْكِتَابِ وَمُهَيْمِنًا عَلَيْهِ ۖ فَاحْكُم بَيْنَهُم بِمَا أَنزَلَ اللَّهُ ۖ وَلَا تَتَّبِعْ أَهْوَاءَهُمْ عَمَّا جَاءَكَ مِنَ الْحَقِّ ۚ لِكُلٍّ جَعَلْنَا مِنكُمْ شِرْعَةً وَمِنْهَاجًا ۚ وَلَوْ شَاءَ اللَّهُ لَجَعَلَكُمْ أُمَّةً وَاحِدَةً وَلَٰكِن لِّيَبْلُوَكُمْ فِي مَا آتَاكُمْ ۖ فَاسْتَبِقُوا الْخَيْرَاتِ ۚ إِلَى اللَّهِ مَرْجِعُكُمْ جَمِيعًا فَيُنَبِّئُكُم بِمَا كُنتُمْ فِيهِ تَخْتَلِفُونَ (48)
Waanzalna ilayka alkitaba bialhaqqi musaddiqan lima bayna yadayhi mina alkitabi wamuhayminan AAalayhi faohkum baynahum bima anzala Allahu wala tattabiAA ahwaahum AAamma jaaka mina alhaqqi likullin jaAAalna minkum shirAAatan waminhajan walaw shaa Allahu lajaAAalakum ommatan wahidatan walakin liyabluwakum fee ma atakum faistabiqoo alkhayrati ila Allahi marjiAAukum jameeAAan fayunabbiokum bima kuntum feehi takhtalifoona
And unto thee have We revealed the Scripture 
with the truth , confirming whatever Scripture was before it , 
and a watcher over it . So judge between them by that which 
Allah hath revealed , and follow not their desires away from 
the truth which hath come unto thee . For each We have 
appointed a divine law and a traced out way . Had Allah willed 
He could have made you one community . But that He may 
try you by that which He hath given you 
( He hath made you as ye are ) . So vie one with another in 
good works . Unto Allah ye will all return , and He will then 
inform you of that wherein ye differ .

---
5.49
وَأَنِ احْكُم بَيْنَهُم بِمَا أَنزَلَ اللَّهُ وَلَا تَتَّبِعْ أَهْوَاءَهُمْ وَاحْذَرْهُمْ أَن يَفْتِنُوكَ عَن بَعْضِ مَا أَنزَلَ اللَّهُ إِلَيْكَ ۖ فَإِن تَوَلَّوْا فَاعْلَمْ أَنَّمَا يُرِيدُ اللَّهُ أَن يُصِيبَهُم بِبَعْضِ ذُنُوبِهِمْ ۗ وَإِنَّ كَثِيرًا مِّنَ النَّاسِ لَفَاسِقُونَ (49)
Waani ohkum baynahum bima anzala Allahu wala tattabiAA ahwaahum waihtharhum an yaftinooka AAan baAAdi ma anzala Allahu ilayka fain tawallaw faiAAlam annama yureedu Allahu an yuseebahum bibaAAdi thunoobihim wainna katheeran mina alnnasi lafasiqoona
So judge between them by that which Allah hath revealed , 
and follow not their desires , but beware of them lest they 
seduce thee from some part of that which Allah hath 
revealed unto thee . And if they turn away , then know that 
Allah ' s will is to smite them for some sin of theirs . Lo! 
many of mankind are evil livers .

---
5.50
أَفَحُكْمَ الْجَاهِلِيَّةِ يَبْغُونَ ۚ وَمَنْ أَحْسَنُ مِنَ اللَّهِ حُكْمًا لِّقَوْمٍ يُوقِنُونَ (50)
Afahukma aljahiliyyati yabghoona waman ahsanu mina Allahu hukman liqawmin yooqinoona
Is it a judgment of the time of ( pagan ) ignorance that they
are seeking? Who is better than Allah for judgment to a 
people who have certainty ( in their belief ) ?
नम्र निवेदन: वेबसाइट को और बेहतर बनाने हेतु अपने कीमती सुझाव कॉमेंट बॉक्स में लिखें, यह आपको अच्छा लगा हो तो अपनें मित्रों के साथ अवश्य शेयर करें। धन्यवाद।