4c. An-Nisa (101 to 150)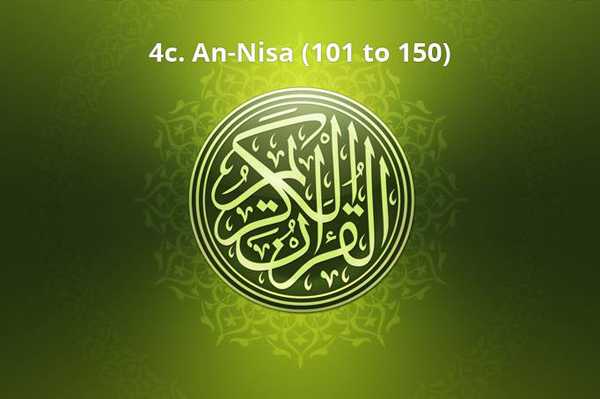 And when ye go forth in the land , it is no sin for you to curtail 
( your ) worship if ye fear that those who disbelieve may …
4.101
وَإِذَا ضَرَبْتُمْ فِي الْأَرْضِ فَلَيْسَ عَلَيْكُمْ جُنَاحٌ أَن تَقْصُرُوا مِنَ الصَّلَاةِ إِنْ خِفْتُمْ أَن يَفْتِنَكُمُ الَّذِينَ كَفَرُوا ۚ إِنَّ الْكَافِرِينَ كَانُوا لَكُمْ عَدُوًّا مُّبِينًا (101)
Waitha darabtum fee alardi falaysa AAalaykum junahun an taqsuroo mina alssalati in khiftum an yaftinakumu allatheena kafaroo inna alkafireena kanoo lakum AAaduwwan mubeenan
And when ye go forth in the land , it is no sin for you to curtail 
( your ) worship if ye fear that those who disbelieve may 
attack you . In truth the disbelievers are an open enemy to you .

---
4.102
وَإِذَا كُنتَ فِيهِمْ فَأَقَمْتَ لَهُمُ الصَّلَاةَ فَلْتَقُمْ طَائِفَةٌ مِّنْهُم مَّعَكَ وَلْيَأْخُذُوا أَسْلِحَتَهُمْ فَإِذَا سَجَدُوا فَلْيَكُونُوا مِن وَرَائِكُمْ وَلْتَأْتِ طَائِفَةٌ أُخْرَىٰ لَمْ يُصَلُّوا فَلْيُصَلُّوا مَعَكَ وَلْيَأْخُذُوا حِذْرَهُمْ وَأَسْلِحَتَهُمْ ۗ وَدَّ الَّذِينَ كَفَرُوا لَوْ تَغْفُلُونَ عَنْ أَسْلِحَتِكُمْ وَأَمْتِعَتِكُمْ فَيَمِيلُونَ عَلَيْكُم مَّيْلَةً وَاحِدَةً ۚ وَلَا جُنَاحَ عَلَيْكُمْ إِن كَانَ بِكُمْ أَذًى مِّن مَّطَرٍ أَوْ كُنتُم مَّرْضَىٰ أَن تَضَعُوا أَسْلِحَتَكُمْ ۖ وَخُذُوا حِذْرَكُمْ ۗ إِنَّ اللَّهَ أَعَدَّ لِلْكَافِرِينَ عَذَابًا مُّهِينًا (102)
Waitha kunta feehim faaqamta lahumu alssalata faltaqum taifatun minhum maAAaka walyakhuthoo aslihatahum faitha sajadoo falyakoonoo min waraikum waltati taifatun okhra lam yusalloo falyusalloo maAAaka walyakhuthoo hithrahum waaslihatahum wadda allatheena kafaroo law taghfuloona AAan aslihatikum waamtiAAatikum fayameeloona AAalaykum maylatan wahidatan wala junaha AAalaykum in kana bikum athan min matarin aw kuntum marda an tadaAAoo aslihatakum wakhuthoo hithrakum inna Allaha aAAadda lilkafireena AAathaban muheenan
And when thou ( O Muhammad ) art among them and arrangest 
( their ) worship for them , let only a party of them stand with 
thee ( to worship ) and let them take their arms . Then when 
they have performed their prostrations let them fall to the rear 
and let another party come that hath not worshipped and let 
them worship with thee , and let them take their precaution and 
their arms . Those who disbelieve long for you to neglect your 
arms and your baggage that they may attack you once for all . 
It is no sin for you to lay aside your arms , if rain impedeth you 
or ye are sick . But take your precaution . Lo! Allah prepareth 
for the disbelievers shameful punishment .

---
4.103
فَإِذَا قَضَيْتُمُ الصَّلَاةَ فَاذْكُرُوا اللَّهَ قِيَامًا وَقُعُودًا وَعَلَىٰ جُنُوبِكُمْ ۚ فَإِذَا اطْمَأْنَنتُمْ فَأَقِيمُوا الصَّلَاةَ ۚ إِنَّ الصَّلَاةَ كَانَتْ عَلَى الْمُؤْمِنِينَ كِتَابًا مَّوْقُوتًا (103)
Faitha qadaytumu alssalata faothkuroo Allaha qiyaman waquAAoodan waAAala junoobikum faitha itmanantum faaqeemoo alssalata inna alssalata kanat AAala almumineena kitaban mawqootan
When ye have performed the act of worship , remember 
Allah , standing , sitting and reclining . And when ye are in 
safety , observe proper worship . Worship at fixed hours 
hath been enjoined on the believers .

---
4.104
وَلَا تَهِنُوا فِي ابْتِغَاءِ الْقَوْمِ ۖ إِن تَكُونُوا تَأْلَمُونَ فَإِنَّهُمْ يَأْلَمُونَ كَمَا تَأْلَمُونَ ۖ وَتَرْجُونَ مِنَ اللَّهِ مَا لَا يَرْجُونَ ۗ وَكَانَ اللَّهُ عَلِيمًا حَكِيمًا (104)
Wala tahinoo fee ibtighai alqawmi in takoonoo talamoona fainnahum yalamoona kama talamoona watarjoona mina Allahi ma la yarjoona wakana Allahu AAaleeman hakeeman
Relent not in pursuit of the enemy . If ye are suffering , lo! 
they suffer even as ye suffer and ye hope from Allah that for 
which they cannot hope . Allah is ever Knower , Wise .

---
4.105
إِنَّا أَنزَلْنَا إِلَيْكَ الْكِتَابَ بِالْحَقِّ لِتَحْكُمَ بَيْنَ النَّاسِ بِمَا أَرَاكَ اللَّهُ ۚ وَلَا تَكُن لِّلْخَائِنِينَ خَصِيمًا (105)
Inna anzalna ilayka alkitaba bialhaqqi litahkuma bayna alnnasi bima araka Allahu wala takun lilkhaineena khaseeman
Lo! We reveal unto thee the Scripture with the truth , that 
thou mayst judge between mankind by that which Allah 
showeth thee . And be not thou a pledder for the treacherous ;

---
4.106
وَاسْتَغْفِرِ اللَّهَ ۖ إِنَّ اللَّهَ كَانَ غَفُورًا رَّحِيمًا (106)
Waistaghfiri Allaha inna Allaha kana ghafooran raheeman
And seek forgiveness of Allah . Lo! Allah is ever Forgiving , 
Merciful .

---
4.107
وَلَا تُجَادِلْ عَنِ الَّذِينَ يَخْتَانُونَ أَنفُسَهُمْ ۚ إِنَّ اللَّهَ لَا يُحِبُّ مَن كَانَ خَوَّانًا أَثِيمًا (107)
Wala tujadil AAani allatheena yakhtanoona anfusahum inna Allaha la yuhibbu man kana khawwanan atheeman
And plead not on behalf of ( people ) who deceive 
themselves . Lo! Allah loveth not one who is treacherous 
and sinful .

---
4.108
يَسْتَخْفُونَ مِنَ النَّاسِ وَلَا يَسْتَخْفُونَ مِنَ اللَّهِ وَهُوَ مَعَهُمْ إِذْ يُبَيِّتُونَ مَا لَا يَرْضَىٰ مِنَ الْقَوْلِ ۚ وَكَانَ اللَّهُ بِمَا يَعْمَلُونَ مُحِيطًا (108)
Yastakhfoona mina alnnasi wala yastakhfoona mina Allahi wahuwa maAAahum ith yubayyitoona ma la yarda mina alqawli wakana Allahu bima yaAAmaloona muheetan
They seek to hide from men and seek not to hide from 
Allah . He is with them when by night they hold discourse 
displeasing unto Him . Allah ever surroundeth what they do .

---
4.109
هَا أَنتُمْ هَٰؤُلَاءِ جَادَلْتُمْ عَنْهُمْ فِي الْحَيَاةِ الدُّنْيَا فَمَن يُجَادِلُ اللَّهَ عَنْهُمْ يَوْمَ الْقِيَامَةِ أَم مَّن يَكُونُ عَلَيْهِمْ وَكِيلًا (109)
Haantum haolai jadaltum AAanhum fee alhayati alddunya faman yujadilu Allaha AAanhum yawma alqiyamati am man yakoonu AAalayhim wakeelan
Lo! ye are they who pleaded for them in the life of the world . 
But who will plead with Allah for them on the Day of 
Resurrection , or who will then be their defender?

---
4.110
وَمَن يَعْمَلْ سُوءًا أَوْ يَظْلِمْ نَفْسَهُ ثُمَّ يَسْتَغْفِرِ اللَّهَ يَجِدِ اللَّهَ غَفُورًا رَّحِيمًا (110)
Waman yaAAmal sooan aw yathlim nafsahu thumma yastaghfiri Allaha yajidi Allaha ghafooran raheeman
Yet whoso doeth evil or wrongeth his own soul , then seeketh 
pardon of Allah , will find Allah Forgiving , Merciful .

---
4.111
وَمَن يَكْسِبْ إِثْمًا فَإِنَّمَا يَكْسِبُهُ عَلَىٰ نَفْسِهِ ۚ وَكَانَ اللَّهُ عَلِيمًا حَكِيمًا (111)
Waman yaksib ithman fainnama yaksibuhu AAala nafsihi wakana Allahu AAaleeman hakeeman
Whoso committeth sin committeth it only against himself . 
Allah is ever Knower , Wise .

---
4.112
وَمَن يَكْسِبْ خَطِيئَةً أَوْ إِثْمًا ثُمَّ يَرْمِ بِهِ بَرِيئًا فَقَدِ احْتَمَلَ بُهْتَانًا وَإِثْمًا مُّبِينًا (112)
Waman yaksib khateeatan aw ithman thumma yarmi bihi bareean faqadi ihtamala buhtanan waithman mubeenan
And whoso committeth a delinquency or crime , then 
throweth ( the blame ) thereof upon the innocent , hath 
burdened himself with falsehood and a flagrant crime .

---
4.113
وَلَوْلَا فَضْلُ اللَّهِ عَلَيْكَ وَرَحْمَتُهُ لَهَمَّت طَّائِفَةٌ مِّنْهُمْ أَن يُضِلُّوكَ وَمَا يُضِلُّونَ إِلَّا أَنفُسَهُمْ ۖ وَمَا يَضُرُّونَكَ مِن شَيْءٍ ۚ وَأَنزَلَ اللَّهُ عَلَيْكَ الْكِتَابَ وَالْحِكْمَةَ وَعَلَّمَكَ مَا لَمْ تَكُن تَعْلَمُ ۚ وَكَانَ فَضْلُ اللَّهِ عَلَيْكَ عَظِيمًا (113)
Walawla fadlu Allahi AAalayka warahmatuhu lahammat taifatun minhum an yudillooka wama yudilloona illa anfusahum wama yadurroonaka min shayin waanzala Allahu AAalayka alkitaba waalhikmata waAAallamaka ma lam takun taAAlamu wakana fadlu Allahi AAalayka AAatheeman
But for the grace of Allah upon thee ( Muhammad ) , and 
His mercy , a party of them had resolved to mislead thee , 
but they will mislead only themselves and they will hurt thee 
not at all . Allah revealeth unto thee the Scripture and 
wisdom , and teacheth thee that which thou knewest not . 
The grace of Allah toward thee hath been infinite .

---
4.114
۞ لَّا خَيْرَ فِي كَثِيرٍ مِّن نَّجْوَاهُمْ إِلَّا مَنْ أَمَرَ بِصَدَقَةٍ أَوْ مَعْرُوفٍ أَوْ إِصْلَاحٍ بَيْنَ النَّاسِ ۚ وَمَن يَفْعَلْ ذَٰلِكَ ابْتِغَاءَ مَرْضَاتِ اللَّهِ فَسَوْفَ نُؤْتِيهِ أَجْرًا عَظِيمًا (114)
La khayra fee katheerin min najwahum illa man amara bisadaqatin aw maAAroofin aw islahin bayna alnnasi waman yafAAal thalika ibtighaa mardati Allahi fasawfa nuteehi ajran AAatheeman
There is no good in much of their secret conferences save 
( in ) him who enjoineth alms giving and kindness and peace 
making among the people . Whoso doeth that , seeking the 
good pleasure of Allah , We shall bestow on him a vast reward .

---
4.115
وَمَن يُشَاقِقِ الرَّسُولَ مِن بَعْدِ مَا تَبَيَّنَ لَهُ الْهُدَىٰ وَيَتَّبِعْ غَيْرَ سَبِيلِ الْمُؤْمِنِينَ نُوَلِّهِ مَا تَوَلَّىٰ وَنُصْلِهِ جَهَنَّمَ ۖ وَسَاءَتْ مَصِيرًا (115)
Waman yushaqiqi alrrasoola min baAAdi ma tabayyana lahu alhuda wayattabiAA ghayra sabeeli almumineena nuwallihi ma tawalla wanuslihi jahannama wasaat maseeran
And whoso opposeth the messenger after the guidance 
( of Allah ) hath been manifested unto him , and followeth 
other than the believer ' s way , We appoint for him that 
unto which he himself hath turned , and expose him unto 
hell a hapless journey ' s end!

---
4.116
إِنَّ اللَّهَ لَا يَغْفِرُ أَن يُشْرَكَ بِهِ وَيَغْفِرُ مَا دُونَ ذَٰلِكَ لِمَن يَشَاءُ ۚ وَمَن يُشْرِكْ بِاللَّهِ فَقَدْ ضَلَّ ضَلَالًا بَعِيدًا (116)
Inna Allaha la yaghfiru an yushraka bihi wayaghfiru ma doona thalika liman yashao waman yushrik biAllahi faqad dalla dalalan baAAeedan
Lo! Allah pardoneth not that partners should be ascribed 
unto him . He pardoneth all save that to whom He will . Whoso 
ascribeth partners unto Allah hath wandered far astray .

---
4.117
إِن يَدْعُونَ مِن دُونِهِ إِلَّا إِنَاثًا وَإِن يَدْعُونَ إِلَّا شَيْطَانًا مَّرِيدًا (117)
In yadAAoona min doonihi illa inathan wain yadAAoona illa shaytanan mareedan
They invoke in His stead only females ; they pray to none 
else than Satan , a rebel

---
4.118
لَّعَنَهُ اللَّهُ ۘ وَقَالَ لَأَتَّخِذَنَّ مِنْ عِبَادِكَ نَصِيبًا مَّفْرُوضًا (118)
LaAAanahu Allahu waqala laattakhithanna min AAibadika naseeban mafroodan
Whom Allah cursed , and he said : Surely I will take of 
Thy bondmen an appointed portion ,

---
4.119
وَلَأُضِلَّنَّهُمْ وَلَأُمَنِّيَنَّهُمْ وَلَآمُرَنَّهُمْ فَلَيُبَتِّكُنَّ آذَانَ الْأَنْعَامِ وَلَآمُرَنَّهُمْ فَلَيُغَيِّرُنَّ خَلْقَ اللَّهِ ۚ وَمَن يَتَّخِذِ الشَّيْطَانَ وَلِيًّا مِّن دُونِ اللَّهِ فَقَدْ خَسِرَ خُسْرَانًا مُّبِينًا (119)
Walaodillannahum walaomanniyannahum walaamurannahum falayubattikunna athana alanAAami walaamurannahum falayughayyirunna khalqa Allahi waman yattakhithi alshshaytana waliyyan min dooni Allahi faqad khasira khusranan mubeenan
And surely I will lead them astray , and surely I will arouse 
desires in them , and surely I will command them and they 
will cut the cattle ' s ears , and surely I will command them 
and they will change Allah ' s creation . Whoso chooseth 
Satan for a patron instead of Allah is verily a loser and his 
loss is manifest .

---
4.120
يَعِدُهُمْ وَيُمَنِّيهِمْ ۖ وَمَا يَعِدُهُمُ الشَّيْطَانُ إِلَّا غُرُورًا (120)
YaAAiduhum wayumanneehim wama yaAAiduhumu alshshaytanu illa ghurooran
He promiseth them and stirreth up desires in them , and 
Satan promiseth them only to beguile .

---
4.121
أُولَٰئِكَ مَأْوَاهُمْ جَهَنَّمُ وَلَا يَجِدُونَ عَنْهَا مَحِيصًا (121)
Olaika mawahum jahannamu wala yajidoona AAanha maheesan
For such , their habitation will be hell , and they will find no 
refuge therefrom .

---
4.122
وَالَّذِينَ آمَنُوا وَعَمِلُوا الصَّالِحَاتِ سَنُدْخِلُهُمْ جَنَّاتٍ تَجْرِي مِن تَحْتِهَا الْأَنْهَارُ خَالِدِينَ فِيهَا أَبَدًا ۖ وَعْدَ اللَّهِ حَقًّا ۚ وَمَنْ أَصْدَقُ مِنَ اللَّهِ قِيلًا (122)
Waallatheena amanoo waAAamiloo alssalihati sanudkhiluhum jannatin tajree min tahtiha alanharu khalideena feeha abadan waAAda Allahi haqqan waman asdaqu mina Allahi qeelan
But as for those who believe and do good works We shall 
bring them into gardens underneath which rivers flow , 
wherein they will abide for ever . It is a promise from Allah 
in truth ; and who can be more truthful than Allah in utterance?

---
4.123
لَّيْسَ بِأَمَانِيِّكُمْ وَلَا أَمَانِيِّ أَهْلِ الْكِتَابِ ۗ مَن يَعْمَلْ سُوءًا يُجْزَ بِهِ وَلَا يَجِدْ لَهُ مِن دُونِ اللَّهِ وَلِيًّا وَلَا نَصِيرًا (123)
Laysa biamaniyyikum wala amaniyyi ahli alkitabi man yaAAmal sooan yujza bihi wala yajid lahu min dooni Allahi waliyyan wala naseeran
It will not be in accordance with your desires , nor the desires 
of the People of the Scripture . He who doeth wrong will have 
the recompense thereof , and will not find against Allah any 
protecting friend or helper .

---
4.124
وَمَن يَعْمَلْ مِنَ الصَّالِحَاتِ مِن ذَكَرٍ أَوْ أُنثَىٰ وَهُوَ مُؤْمِنٌ فَأُولَٰئِكَ يَدْخُلُونَ الْجَنَّةَ وَلَا يُظْلَمُونَ نَقِيرًا (124)
Waman yaAAmal mina alssalihati min thakarin aw ontha wahuwa muminun faolaika yadkhuloona aljannata wala yuthlamoona naqeeran
And whoso doeth good works , whether of male or female ,
and he ( or she ) is a believer , such will enter paradise and 
they will not be wronged the dint in a date stone .

---
4.125
وَمَنْ أَحْسَنُ دِينًا مِّمَّنْ أَسْلَمَ وَجْهَهُ لِلَّهِ وَهُوَ مُحْسِنٌ وَاتَّبَعَ مِلَّةَ إِبْرَاهِيمَ حَنِيفًا ۗ وَاتَّخَذَ اللَّهُ إِبْرَاهِيمَ خَلِيلًا (125)
Waman ahsanu deenan mimman aslama wajhahu lillahi wahuwa muhsinun waittabaAAa millata ibraheema haneefan waittakhatha Allahu ibraheema khaleelan
Who is better in religion than he who surrendereth his purpose
to Allah while doing good ( to men ) and followeth the tradition 
of Abraham , the upright? Allah ( Himself ) chose Abraham for 
friend .

---
4.126
وَلِلَّهِ مَا فِي السَّمَاوَاتِ وَمَا فِي الْأَرْضِ ۚ وَكَانَ اللَّهُ بِكُلِّ شَيْءٍ مُّحِيطًا (126)
Walillahi ma fee alssamawati wama fee alardi wakana Allahu bikulli shayin muheetan
Unto Allah belongeth whatsoever is in the heavens and 
whatsoever is in the earth . Allah ever surroundeth all things .

---
4.127
وَيَسْتَفْتُونَكَ فِي النِّسَاءِ ۖ قُلِ اللَّهُ يُفْتِيكُمْ فِيهِنَّ وَمَا يُتْلَىٰ عَلَيْكُمْ فِي الْكِتَابِ فِي يَتَامَى النِّسَاءِ اللَّاتِي لَا تُؤْتُونَهُنَّ مَا كُتِبَ لَهُنَّ وَتَرْغَبُونَ أَن تَنكِحُوهُنَّ وَالْمُسْتَضْعَفِينَ مِنَ الْوِلْدَانِ وَأَن تَقُومُوا لِلْيَتَامَىٰ بِالْقِسْطِ ۚ وَمَا تَفْعَلُوا مِنْ خَيْرٍ فَإِنَّ اللَّهَ كَانَ بِهِ عَلِيمًا (127)
Wayastaftoonaka fee alnnisai quli Allahu yufteekum feehinna wama yutla AAalaykum fee alkitabi fee yatama alnnisai allatee la tutoonahunna ma kutiba lahunna watarghaboona an tankihoohunna waalmustadAAafeena mina alwildani waan taqoomoo lilyatama bialqisti wama tafAAaloo min khayrin fainna Allaha kana bihi AAaleeman
They consult thee concerning women . Say : Allah give to you 
decree concerning them , and the Scripture which hath been 
recited unto you ( giveth decree ) , concerning female orphans 
unto whom ye give not that which is ordained for them though 
ye desire to marry them , and ( concerning ) the weak among 
children , and that ye should deal justly with orphans . 
Whatever good ye do , lo! Allah is ever Aware of it .

---
4.128
وَإِنِ امْرَأَةٌ خَافَتْ مِن بَعْلِهَا نُشُوزًا أَوْ إِعْرَاضًا فَلَا جُنَاحَ عَلَيْهِمَا أَن يُصْلِحَا بَيْنَهُمَا صُلْحًا ۚ وَالصُّلْحُ خَيْرٌ ۗ وَأُحْضِرَتِ الْأَنفُسُ الشُّحَّ ۚ وَإِن تُحْسِنُوا وَتَتَّقُوا فَإِنَّ اللَّهَ كَانَ بِمَا تَعْمَلُونَ خَبِيرًا (128)
Waini imraatun khafat min baAAliha nushoozan aw iAAradan fala junaha AAalayhima an yusliha baynahuma sulhan waalssulhu khayrun waohdirati alanfusu alshshuhha wain tuhsinoo watattaqoo fainna Allaha kana bima taAAmaloona khabeeran
If a woman feareth ill treatment from her husband , or 
desertion , it is no sin for them twain if they make terms of 
peace between themselves . Peace is better . But greed 
hath been made present in the minds ( of men ) . If ye do 
good and keep from evil , Lo! Allah is ever Informed of 
what ye do .

---
4.129
وَلَن تَسْتَطِيعُوا أَن تَعْدِلُوا بَيْنَ النِّسَاءِ وَلَوْ حَرَصْتُمْ ۖ فَلَا تَمِيلُوا كُلَّ الْمَيْلِ فَتَذَرُوهَا كَالْمُعَلَّقَةِ ۚ وَإِن تُصْلِحُوا وَتَتَّقُوا فَإِنَّ اللَّهَ كَانَ غَفُورًا رَّحِيمًا (129)
Walan tastateeAAoo an taAAdiloo bayna alnnisai walaw harastum fala tameeloo kulla almayli fatatharooha kaalmuAAallaqati wain tuslihoo watattaqoo fainna Allaha kana ghafooran raheeman
Ye will not be able to deal equally between ( your ) wives , 
however much ye wish ( to do so ) : But turn not altogether 
away ( from one ) , leaving her as in suspense . If ye do 
good and keep from evil , lo! Allah is ever Forgiving , Merciful .

---
4.130
وَإِن يَتَفَرَّقَا يُغْنِ اللَّهُ كُلًّا مِّن سَعَتِهِ ۚ وَكَانَ اللَّهُ وَاسِعًا حَكِيمًا (130)
Wain yatafarraqa yughni Allahu kullan min saAAatihi wakana Allahu wasiAAan hakeeman
But if they separate , Allah will compensate each out of His 
abundance . Allah is ever All Embracing , All Knowing .

---
4.131
وَلِلَّهِ مَا فِي السَّمَاوَاتِ وَمَا فِي الْأَرْضِ ۗ وَلَقَدْ وَصَّيْنَا الَّذِينَ أُوتُوا الْكِتَابَ مِن قَبْلِكُمْ وَإِيَّاكُمْ أَنِ اتَّقُوا اللَّهَ ۚ وَإِن تَكْفُرُوا فَإِنَّ لِلَّهِ مَا فِي السَّمَاوَاتِ وَمَا فِي الْأَرْضِ ۚ وَكَانَ اللَّهُ غَنِيًّا حَمِيدًا (131)
Walillahi ma fee alssamawati wama fee alardi walaqad wassayna allatheena ootoo alkitaba min qablikum waiyyakum ani ittaqoo Allaha wain takfuroo fainna lillahi ma fee alssamawati wama fee alardi wakana Allahu ghaniyyan hameedan
Unto Allah belongeth whatsoever is in the heavens and
whatsoever is in the earth And We charged those who 
received the Scripture before you , and ( We charge ) you , 
that ye keep your duty toward Allah . And if ye disbelieve , 
lo! unto Allah belongeth whatsoever is in the heavens and 
whatsoever is in the earth , and Allah is ever Absolute , 
Owner of Praise .

---
4.132
وَلِلَّهِ مَا فِي السَّمَاوَاتِ وَمَا فِي الْأَرْضِ ۚ وَكَفَىٰ بِاللَّهِ وَكِيلًا (132)
Walillahi ma fee alssamawati wama fee alardi wakafa biAllahi wakeelan
Unto Allah belongeth whatsoever is in the heavens and
whatsoever is in the earth . And Allah is sufficient as Defender .

---
4.133
إِن يَشَأْ يُذْهِبْكُمْ أَيُّهَا النَّاسُ وَيَأْتِ بِآخَرِينَ ۚ وَكَانَ اللَّهُ عَلَىٰ ذَٰلِكَ قَدِيرًا (133)
In yasha yuthhibkum ayyuha alnnasu wayati biakhareena wakana Allahu AAala thalika qadeeran
If He will , He can remove you , O people , and produce others 
( in your stead ) . Allah is Able to do that .

---
4.134
مَّن كَانَ يُرِيدُ ثَوَابَ الدُّنْيَا فَعِندَ اللَّهِ ثَوَابُ الدُّنْيَا وَالْآخِرَةِ ۚ وَكَانَ اللَّهُ سَمِيعًا بَصِيرًا (134)
Man kana yureedu thawaba alddunya faAAinda Allahi thawabu alddunya waalakhirati wakana Allahu sameeAAan baseeran
Whoso desireth the reward of the world , ( let him know that ) 
with Allah is the reward of the world and the Hereafter . Allah 
is ever Hearer , Seer .

---
4.135
۞ يَا أَيُّهَا الَّذِينَ آمَنُوا كُونُوا قَوَّامِينَ بِالْقِسْطِ شُهَدَاءَ لِلَّهِ وَلَوْ عَلَىٰ أَنفُسِكُمْ أَوِ الْوَالِدَيْنِ وَالْأَقْرَبِينَ ۚ إِن يَكُنْ غَنِيًّا أَوْ فَقِيرًا فَاللَّهُ أَوْلَىٰ بِهِمَا ۖ فَلَا تَتَّبِعُوا الْهَوَىٰ أَن تَعْدِلُوا ۚ وَإِن تَلْوُوا أَوْ تُعْرِضُوا فَإِنَّ اللَّهَ كَانَ بِمَا تَعْمَلُونَ خَبِيرًا (135)
Ya ayyuha allatheena amanoo koonoo qawwameena bialqisti shuhadaa lillahi walaw AAala anfusikum awi alwalidayni waalaqrabeena in yakun ghaniyyan aw faqeeran faAllahu awla bihima fala tattabiAAoo alhawa an taAAdiloo wain talwoo aw tuAAridoo fainna Allaha kana bima taAAmaloona khabeeran
O ye who believe ! Be ye staunch in justice , witnesses for 
Allah , even though it be against yourselves or ( your ) parents 
or ( your ) kindred , whether ( the case be of ) a rich man or a 
poor man , for Allah is nearer unto both ( than ye are ) . So 
follow not passion lest ye lapse ( from truth ) and if ye lapse or 
fall away , then lo! Allah is ever Informed of what ye do .

---
4.136
يَا أَيُّهَا الَّذِينَ آمَنُوا آمِنُوا بِاللَّهِ وَرَسُولِهِ وَالْكِتَابِ الَّذِي نَزَّلَ عَلَىٰ رَسُولِهِ وَالْكِتَابِ الَّذِي أَنزَلَ مِن قَبْلُ ۚ وَمَن يَكْفُرْ بِاللَّهِ وَمَلَائِكَتِهِ وَكُتُبِهِ وَرُسُلِهِ وَالْيَوْمِ الْآخِرِ فَقَدْ ضَلَّ ضَلَالًا بَعِيدًا (136)
Ya ayyuha allatheena amanoo aminoo biAllahi warasoolihi waalkitabi allathee nazzala AAala rasoolihi waalkitabi allathee anzala min qablu waman yakfur biAllahi wamalaikatihi wakutubihi warusulihi waalyawmi alakhiri faqad dalla dalalan baAAeedan
O ye who believe! Believe in Allah and His messenger and 
the Scripture which He hath revealed unto His messenger , 
and the Scripture which He revealed aforetime . Whoso 
disbelieveth in Allah and His angels and His scriptures and 
His messengers and the Last Day , he verily hath wandered 
far astray .

---
4.137
إِنَّ الَّذِينَ آمَنُوا ثُمَّ كَفَرُوا ثُمَّ آمَنُوا ثُمَّ كَفَرُوا ثُمَّ ازْدَادُوا كُفْرًا لَّمْ يَكُنِ اللَّهُ لِيَغْفِرَ لَهُمْ وَلَا لِيَهْدِيَهُمْ سَبِيلًا (137)
Inna allatheena amanoo thumma kafaroo thumma amanoo thumma kafaroo thumma izdadoo kufran lam yakuni Allahu liyaghfira lahum wala liyahdiyahum sabeelan
Lo! those who believe , then disbelieve and then ( again ) 
believe , then disbelieve , and then increase in disbelief , 
Allah will never pardon them , nor will He guide them unto 
a way .

---
4.138
بَشِّرِ الْمُنَافِقِينَ بِأَنَّ لَهُمْ عَذَابًا أَلِيمًا (138)
Bashshiri almunafiqeena bianna lahum AAathaban aleeman
Bear unto the hypocrites the tidings that for them there is a 
painful doom ;

---
4.139
الَّذِينَ يَتَّخِذُونَ الْكَافِرِينَ أَوْلِيَاءَ مِن دُونِ الْمُؤْمِنِينَ ۚ أَيَبْتَغُونَ عِندَهُمُ الْعِزَّةَ فَإِنَّ الْعِزَّةَ لِلَّهِ جَمِيعًا (139)
Allatheena yattakhithoona alkafireena awliyaa min dooni almumineena ayabtaghoona AAindahumu alAAizzata fainna alAAizzata lillahi jameeAAan
Those who choose disbelievers for their friends instead of 
believers! Do they look for power at their hands? Lo! all 
power appertaineth to Allah .

---
4.140
وَقَدْ نَزَّلَ عَلَيْكُمْ فِي الْكِتَابِ أَنْ إِذَا سَمِعْتُمْ آيَاتِ اللَّهِ يُكْفَرُ بِهَا وَيُسْتَهْزَأُ بِهَا فَلَا تَقْعُدُوا مَعَهُمْ حَتَّىٰ يَخُوضُوا فِي حَدِيثٍ غَيْرِهِ ۚ إِنَّكُمْ إِذًا مِّثْلُهُمْ ۗ إِنَّ اللَّهَ جَامِعُ الْمُنَافِقِينَ وَالْكَافِرِينَ فِي جَهَنَّمَ جَمِيعًا (140)
Waqad nazzala AAalaykum fee alkitabi an itha samiAAtum ayati Allahi yukfaru biha wayustahzao biha fala taqAAudoo maAAahum hatta yakhoodoo fee hadeethin ghayrihi innakum ithan mithluhum inna Allaha jamiAAu almunafiqeena waalkafireena fee jahannama jameeAAan
He hath already revealed unto you in the Scripture that , when 
ye hear the revelations of Allah rejected and derided , ( ye ) sit 
not with them ( who disbelieve and mock ) until they engage in 
some other conversation . Lo ! in that case ( if ye stayed ) ye 
would be like unto them . Lo! Allah will gather hypocrites and 
disbelievers , all together , into hell ;

---
4.141
الَّذِينَ يَتَرَبَّصُونَ بِكُمْ فَإِن كَانَ لَكُمْ فَتْحٌ مِّنَ اللَّهِ قَالُوا أَلَمْ نَكُن مَّعَكُمْ وَإِن كَانَ لِلْكَافِرِينَ نَصِيبٌ قَالُوا أَلَمْ نَسْتَحْوِذْ عَلَيْكُمْ وَنَمْنَعْكُم مِّنَ الْمُؤْمِنِينَ ۚ فَاللَّهُ يَحْكُمُ بَيْنَكُمْ يَوْمَ الْقِيَامَةِ ۗ وَلَن يَجْعَلَ اللَّهُ لِلْكَافِرِينَ عَلَى الْمُؤْمِنِينَ سَبِيلًا (141)
Allatheena yatarabbasoona bikum fain kana lakum fathun mina Allahi qaloo alam nakun maAAakum wain kana lilkafireena naseebun qaloo alam nastahwith AAalaykum wanamnaAAkum mina almumineena faAllahu yahkumu baynakum yawma alqiyamati walan yajAAala Allahu lilkafireena AAala almumineena sabeelan
Those who wait upon occasion in regard to you and , if a 
victory cometh unto you from Allah , say : Are we not with 
you? and if the disbelievers meet with a success say : Had 
we not the mastery of you , and did we not protect you from 
the believers? Allah will judge between you at the Day of 
Resurrection , and Allah will not give the disbelievers any way 
( of success ) against the believers .

---
4.142
إِنَّ الْمُنَافِقِينَ يُخَادِعُونَ اللَّهَ وَهُوَ خَادِعُهُمْ وَإِذَا قَامُوا إِلَى الصَّلَاةِ قَامُوا كُسَالَىٰ يُرَاءُونَ النَّاسَ وَلَا يَذْكُرُونَ اللَّهَ إِلَّا قَلِيلًا (142)
Inna almunafiqeena yukhadiAAoona Allaha wahuwa khadiAAuhum waitha qamoo ila alssalati qamoo kusala yuraoona alnnasa wala yathkuroona Allaha illa qaleelan
Lo! the hypocrites seek to beguile Allah , but it is Allah who 
beguileth them . When they stand up to worship they perform 
it languidly and to be seen of men , and are mindful of Allah 
but little ;

---
4.143
مُّذَبْذَبِينَ بَيْنَ ذَٰلِكَ لَا إِلَىٰ هَٰؤُلَاءِ وَلَا إِلَىٰ هَٰؤُلَاءِ ۚ وَمَن يُضْلِلِ اللَّهُ فَلَن تَجِدَ لَهُ سَبِيلًا (143)
Muthabthabeena bayna thalika la ila haolai wala ila haolai waman yudlili Allahu falan tajida lahu sabeelan
Swaying between this ( and that ) , ( belonging ) neither to 
these nor to those . He whom Allah causeth to go astray , thou 
( O Muhammad ) wilt not find a way for him :

---
4.144
يَا أَيُّهَا الَّذِينَ آمَنُوا لَا تَتَّخِذُوا الْكَافِرِينَ أَوْلِيَاءَ مِن دُونِ الْمُؤْمِنِينَ ۚ أَتُرِيدُونَ أَن تَجْعَلُوا لِلَّهِ عَلَيْكُمْ سُلْطَانًا مُّبِينًا (144)
Ya ayyuha allatheena amanoo la tattakhithoo alkafireena awliyaa min dooni almumineena atureedoona an tajAAaloo lillahi AAalaykum sultanan mubeenan
O ye who believe! Choose not disbelievers for ( your ) 
friends in place of believers . Would ye give Allah a clear 
warrant against you?

---
4.145
إِنَّ الْمُنَافِقِينَ فِي الدَّرْكِ الْأَسْفَلِ مِنَ النَّارِ وَلَن تَجِدَ لَهُمْ نَصِيرًا (145)
Inna almunafiqeena fee alddarki alasfali mina alnnari walan tajida lahum naseeran
Lo! the hypocrites ( will be ) in the lowest deep of the fire , 
and thou wilt find no helper for them ;

---
4.146
إِلَّا الَّذِينَ تَابُوا وَأَصْلَحُوا وَاعْتَصَمُوا بِاللَّهِ وَأَخْلَصُوا دِينَهُمْ لِلَّهِ فَأُولَٰئِكَ مَعَ الْمُؤْمِنِينَ ۖ وَسَوْفَ يُؤْتِ اللَّهُ الْمُؤْمِنِينَ أَجْرًا عَظِيمًا (146)
Illa allatheena taboo waaslahoo waiAAtasamoo biAllahi waakhlasoo deenahum lillahi faolaika maAAa almumineena wasawfa yuti Allahu almumineena ajran AAatheeman
Save those who repent and amend and hold fast to Allah 
and make their religion pure for Allah ( only ) . Those are 
with the believers . And Allah will bestow on the believers 
an immense reward .

---
4.147
مَّا يَفْعَلُ اللَّهُ بِعَذَابِكُمْ إِن شَكَرْتُمْ وَآمَنتُمْ ۚ وَكَانَ اللَّهُ شَاكِرًا عَلِيمًا (147)
Ma yafAAalu Allahu biAAathabikum in shakartum waamantum wakana Allahu shakiran AAaleeman
What concern hath Allah for your punishment if ye are thankful 
( for His mercies ) and believe ( in Him ) ? Allah was ever 
Responsive , Aware .

---
4.148
۞ لَّا يُحِبُّ اللَّهُ الْجَهْرَ بِالسُّوءِ مِنَ الْقَوْلِ إِلَّا مَن ظُلِمَ ۚ وَكَانَ اللَّهُ سَمِيعًا عَلِيمًا (148)
La yuhibbu Allahu aljahra bialssooi mina alqawli illa man thulima wakana Allahu sameeAAan AAaleeman
Allah loveth not the utterance of harsh speech save by one 
who hath been wronged . Allah is ever Nearer , Knower .

---
4.149
إِن تُبْدُوا خَيْرًا أَوْ تُخْفُوهُ أَوْ تَعْفُوا عَن سُوءٍ فَإِنَّ اللَّهَ كَانَ عَفُوًّا قَدِيرًا (149)
In tubdoo khayran aw tukhfoohu aw taAAfoo AAan sooin fainna Allaha kana AAafuwwan qadeeran
If ye do good openly or keep it secret , or forgive evil , lo ! 
Allah is Forgiving , Powerful .

---
4.150
إِنَّ الَّذِينَ يَكْفُرُونَ بِاللَّهِ وَرُسُلِهِ وَيُرِيدُونَ أَن يُفَرِّقُوا بَيْنَ اللَّهِ وَرُسُلِهِ وَيَقُولُونَ نُؤْمِنُ بِبَعْضٍ وَنَكْفُرُ بِبَعْضٍ وَيُرِيدُونَ أَن يَتَّخِذُوا بَيْنَ ذَٰلِكَ سَبِيلًا (150)
Inna allatheena yakfuroona biAllahi warusulihi wayureedoona an yufarriqoo bayna Allahi warusulihi wayaqooloona numinu bibaAAdin wanakfuru bibaAAdin wayureedoona an yattakhithoo bayna thalika sabeelan
Lo! those who disbelieve in Allah and His messengers , and 
seek to make distinction between Allah and His messengers , 
and say : We believe in some and disbelieve in others , and 
seek to choose a way in between ;
नम्र निवेदन: वेबसाइट को और बेहतर बनाने हेतु अपने कीमती सुझाव कॉमेंट बॉक्स में लिखें, यह आपको अच्छा लगा हो तो अपनें मित्रों के साथ अवश्य शेयर करें। धन्यवाद।