2a. Al-Baqarah (1 to 50)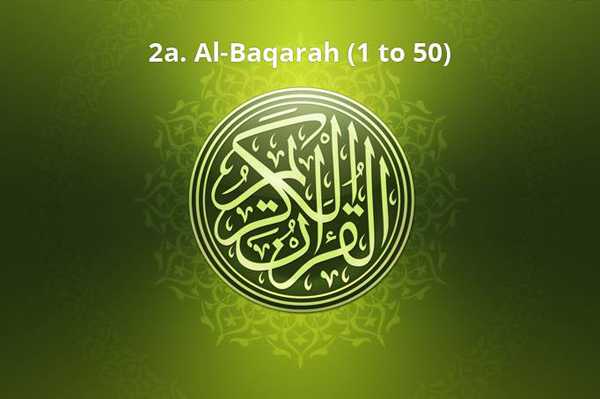 This Surah contains 286 verses, rendering it the longest Surah in the Holy Qur'an. It is indisputable that this Surah was not revealed all at once, but partially and in increments as necessitated by the various Islamic social circumstances and conditions found at different times in Medina.
2.1
Aliflammeem
---
2.2
ذَٰلِكَ الْكِتَابُ لَا رَيْبَ ۛ فِيهِ ۛ هُدًى لِّلْمُتَّقِينَ (2
Thalika alkitabu la rayba feehi hudan lilmuttaqeena
This is the Scripture whereof there is no doubt , 
a guidance unto those who ward off ( evil ) .

---
2.3
الَّذِينَ يُؤْمِنُونَ بِالْغَيْبِ وَيُقِيمُونَ الصَّلَاةَ وَمِمَّا رَزَقْنَاهُمْ يُنفِقُونَ (3
Allatheena yuminoona bialghaybi wayuqeemoona alssalata wamimma razaqnahum yunfiqoona
Who believe in the unseen , and establish worship , 
and spend of that We have bestowed upon them ;

---
2.4
وَالَّذِينَ يُؤْمِنُونَ بِمَا أُنزِلَ إِلَيْكَ وَمَا أُنزِلَ مِن قَبْلِكَ وَبِالْآخِرَةِ هُمْ يُوقِنُونَ (4
Waallatheena yuminoona bima onzila ilayka wama onzila min qablika wabialakhirati hum yooqinoona
And who believe in that which is revealed unto thee
( Muhammad ) and that which was revealed before 
thee , and are certain of the Hereafter .

---
2.5
أُولَٰئِكَ عَلَىٰ هُدًى مِّن رَّبِّهِمْ ۖ وَأُولَٰئِكَ هُمُ الْمُفْلِحُونَ (5
Olaika AAala hudan min rabbihim waolaika humu almuflihoona
These depend on guidance from their Lord . 
These are the successful .

---
2.6
إِنَّ الَّذِينَ كَفَرُوا سَوَاءٌ عَلَيْهِمْ أَأَنذَرْتَهُمْ أَمْ لَمْ تُنذِرْهُمْ لَا يُؤْمِنُونَ (6
Inna allatheena kafaroo sawaon AAalayhim aanthartahum am lam tunthirhum la yuminoona
As for the disbelievers , whether thou warn them or 
thou warn them not it is all one for them ; they believe not .

---
2.7
خَتَمَ اللَّهُ عَلَىٰ قُلُوبِهِمْ وَعَلَىٰ سَمْعِهِمْ ۖ وَعَلَىٰ أَبْصَارِهِمْ غِشَاوَةٌ ۖ وَلَهُمْ عَذَابٌ عَظِيمٌ (7
Khatama Allahu AAala quloobihim waAAala samAAihim waAAala absarihim ghishawatun walahum AAathabun AAatheemun
Allah hath sealed their hearing and their hearts , 
and on their eyes there is a covering . 
Theirs will be an awful doom .

---
2.8
وَمِنَ النَّاسِ مَن يَقُولُ آمَنَّا بِاللَّهِ وَبِالْيَوْمِ الْآخِرِ وَمَا هُم بِمُؤْمِنِينَ (8
Wamina alnnasi man yaqoolu amanna biAllahi wabialyawmi alakhiri wama hum bimumineena
And of mankind are some who say : We believe in Allah 
and the Last Day , when they believe not .

---
2.9
يُخَادِعُونَ اللَّهَ وَالَّذِينَ آمَنُوا وَمَا يَخْدَعُونَ إِلَّا أَنفُسَهُمْ وَمَا يَشْعُرُونَ (9
YukhadiAAoona Allaha waallatheena amanoo wama yakhdaAAoona illa anfusahum wama yashAAuroona
They think to beguile Allah and those who believe , 
and they beguile nonesave themselves ; but they perceive not .

---
2.10
فِي قُلُوبِهِم مَّرَضٌ فَزَادَهُمُ اللَّهُ مَرَضًا ۖ وَلَهُمْ عَذَابٌ أَلِيمٌ بِمَا كَانُوا يَكْذِبُونَ (10
Fee quloobihim maradun fazadahumu Allahu maradan walahum AAathabun aleemun bima kanoo yakthiboona
In their hearts is a disease , and Allah increaseth their 
disease . A painful doom theirs because they lie .

---
2.11
وَإِذَا قِيلَ لَهُمْ لَا تُفْسِدُوا فِي الْأَرْضِ قَالُوا إِنَّمَا نَحْنُ مُصْلِحُونَ (11)
Waitha qeela lahum la tufsidoo fee alardi qaloo innama nahnu muslihoona
And when it is said unto them : Make not mischief in the 
earth , they say : We are peacemakers only .

---
2.12
أَلَا إِنَّهُمْ هُمُ الْمُفْسِدُونَ وَلَٰكِن لَّا يَشْعُرُونَ (12)
Ala innahum humu almufsidoona walakin la yashAAuroona
Are not they indeed the mischief makers? But they 
perceive not .

---
2.13
وَإِذَا قِيلَ لَهُمْ آمِنُوا كَمَا آمَنَ النَّاسُ قَالُوا أَنُؤْمِنُ كَمَا آمَنَ السُّفَهَاءُ ۗ أَلَا إِنَّهُمْ هُمُ السُّفَهَاءُ وَلَٰكِن لَّا يَعْلَمُونَ (13)
Waitha qeela lahum aminoo kama amana alnnasu qaloo anuminu kama amana alssufahao ala innahum humu alssufahao walakin la yaAAlamoona
And when it is said unto them : Believe as the people 
believe , they say : Shall we believe as the foolish believe? 
Are not they indeed the foolish? But they know not .

---
2.14
وَإِذَا لَقُوا الَّذِينَ آمَنُوا قَالُوا آمَنَّا وَإِذَا خَلَوْا إِلَىٰ شَيَاطِينِهِمْ قَالُوا إِنَّا مَعَكُمْ إِنَّمَا نَحْنُ مُسْتَهْزِئُونَ (14)
Waitha laqoo allatheena amanoo qaloo amanna waitha khalaw ila shayateenihim qaloo inna maAAakum innama nahnu mustahzioona
And when they fall in with those who believe , they say : 
We believe ; but when they go apart to their devils they 
declare : Lo! we are with you ; verily we did but mock .

---
2.15
اللَّهُ يَسْتَهْزِئُ بِهِمْ وَيَمُدُّهُمْ فِي طُغْيَانِهِمْ يَعْمَهُونَ (15)
Allahu yastahzio bihim wayamudduhum fee tughyanihim yaAAmahoona
Allah ( Himself ) doth mock them , leaving them to wander 
blindly on in their contumacy .

---
2.16
أُولَٰئِكَ الَّذِينَ اشْتَرَوُا الضَّلَالَةَ بِالْهُدَىٰ فَمَا رَبِحَت تِّجَارَتُهُمْ وَمَا كَانُوا مُهْتَدِينَ (16)
Olaika allatheena ishtarawoo alddalalata bialhuda fama rabihat tijaratuhum wama kanoo muhtadeena
These are they who purchase error at the price of guidance , 
so their commerce doth not prosper , neither are they 
guided .

---
2.17
مَثَلُهُمْ كَمَثَلِ الَّذِي اسْتَوْقَدَ نَارًا فَلَمَّا أَضَاءَتْ مَا حَوْلَهُ ذَهَبَ اللَّهُ بِنُورِهِمْ وَتَرَكَهُمْ فِي ظُلُمَاتٍ لَّا يُبْصِرُونَ (17)
Mathaluhum kamathali allathee istawqada naran falamma adaat ma hawlahu thahaba Allahu binoorihim watarakahum fee thulumatin la yubsiroona
Their likeness is as the likeness of one who kindleth fire , 
and when it sheddeth its light around him Allah taketh 
away their light and leaveth them in darkness , where they 
cannot see ,

---
2.18
صُمٌّ بُكْمٌ عُمْيٌ فَهُمْ لَا يَرْجِعُونَ (18)
Summun bukmun AAumyun fahum la yarjiAAoona
Deaf , dumb and blind ; and they return not

---
2.19
أَوْ كَصَيِّبٍ مِّنَ السَّمَاءِ فِيهِ ظُلُمَاتٌ وَرَعْدٌ وَبَرْقٌ يَجْعَلُونَ أَصَابِعَهُمْ فِي آذَانِهِم مِّنَ الصَّوَاعِقِ حَذَرَ الْمَوْتِ ۚ وَاللَّهُ مُحِيطٌ بِالْكَافِرِينَ (19)
Aw kasayyibin mina alssamai feehi thulumatun waraAAdun wabarqun yajAAaloona asabiAAahum fee athanihim mina alssawaAAiqi hathara almawti waAllahu muheetun bialkafireena
Or like a rainstorm from the sky , wherein is darkness , 
thunder and the flash of lightning . They thrust their fingers 
in their ears by reason of the thunder-claps , for fear of dead 
Allah encompasseth the disbelievers ( in His guidance ) .

---
2.20
يَكَادُ الْبَرْقُ يَخْطَفُ أَبْصَارَهُمْ ۖ كُلَّمَا أَضَاءَ لَهُم مَّشَوْا فِيهِ وَإِذَا أَظْلَمَ عَلَيْهِمْ قَامُوا ۚ وَلَوْ شَاءَ اللَّهُ لَذَهَبَ بِسَمْعِهِمْ وَأَبْصَارِهِمْ ۚ إِنَّ اللَّهَ عَلَىٰ كُلِّ شَيْءٍ قَدِيرٌ (20)
Yakadu albarqu yakhtafu absarahum kullama adaa lahum mashaw feehi waitha athlama AAalayhim qamoo walaw shaa Allahu lathahaba bisamAAihim waabsarihim inna Allaha AAala kulli shayin qadeerun
The lightning almost snatcheth away their sight from them . 
As often as it flasheth forth for them they walk therein , and 
when it darkeneth against them they stand still . If Allah 
willed , He could destroy their hearing and their sight Lo! 
Allah is Able to do all things .

---
2.21
يَا أَيُّهَا النَّاسُ اعْبُدُوا رَبَّكُمُ الَّذِي خَلَقَكُمْ وَالَّذِينَ مِن قَبْلِكُمْ لَعَلَّكُمْ تَتَّقُونَ (21)
Ya ayyuha alnnasu oAAbudoo rabbakumu allathee khalaqakum waallatheena min qablikum laAAallakum tattaqoona
O mankind! Worship your Lord , Who hath created you and 
those before you , so that ye may ward off ( evil ) .

---
2.22
الَّذِي جَعَلَ لَكُمُ الْأَرْضَ فِرَاشًا وَالسَّمَاءَ بِنَاءً وَأَنزَلَ مِنَ السَّمَاءِ مَاءً فَأَخْرَجَ بِهِ مِنَ الثَّمَرَاتِ رِزْقًا لَّكُمْ ۖ فَلَا تَجْعَلُوا لِلَّهِ أَندَادًا وَأَنتُمْ تَعْلَمُونَ (22)
Allathee jaAAala lakumu alarda firashan waalssamaa binaan waanzala mina alssamai maan faakhraja bihi mina alththamarati rizqan lakum fala tajAAaloo lillahi andadan waantum taAAlamoona
Who hath appointed the earth a resting-place for you , 
and the sky a canopy ; and causeth water to pour down 
from the sky , thereby producing fruits as food for you . 
And do not set up rivals to Allah when ye know ( better ) .

---
2.23
وَإِن كُنتُمْ فِي رَيْبٍ مِّمَّا نَزَّلْنَا عَلَىٰ عَبْدِنَا فَأْتُوا بِسُورَةٍ مِّن مِّثْلِهِ وَادْعُوا شُهَدَاءَكُم مِّن دُونِ اللَّهِ إِن كُنتُمْ صَادِقِينَ (23)
Wain kuntum fee raybin mimma nazzalna AAala AAabdina fatoo bisooratin min mithlihi waodAAoo shuhadaakum min dooni Allahi in kuntum sadiqeena
And if ye are in doubt concerning that which We reveal 
unto Our slave ( Muhammad ) , then produce a sura or 
the like thereof , and call your witnesses beside Allah if 
ye are truthful .

---
2.24
فَإِن لَّمْ تَفْعَلُوا وَلَن تَفْعَلُوا فَاتَّقُوا النَّارَ الَّتِي وَقُودُهَا النَّاسُ وَالْحِجَارَةُ ۖ أُعِدَّتْ لِلْكَافِرِينَ (24)
Fain lam tafAAaloo walan tafAAaloo faittaqoo alnnara allatee waqooduha alnnasu waalhijaratu oAAiddat lilkafireena
And if ye do it not and ye can never do it - enguard 
yourselves against the fire prepared for disbelievers , 
whose fuel is of men and stones .

---
2.25
وَبَشِّرِ الَّذِينَ آمَنُوا وَعَمِلُوا الصَّالِحَاتِ أَنَّ لَهُمْ جَنَّاتٍ تَجْرِي مِن تَحْتِهَا الْأَنْهَارُ ۖ كُلَّمَا رُزِقُوا مِنْهَا مِن ثَمَرَةٍ رِّزْقًا ۙ قَالُوا هَٰذَا الَّذِي رُزِقْنَا مِن قَبْلُ ۖ وَأُتُوا بِهِ مُتَشَابِهًا ۖ وَلَهُمْ فِيهَا أَزْوَاجٌ مُّطَهَّرَةٌ ۖ وَهُمْ فِيهَا خَالِدُونَ (25)
Wabashshiri allatheena amanoo waAAamiloo alssalihati anna lahum jannatin tajree min tahtiha alanharu kullama ruziqoo minha min thamaratin rizqan qaloo hatha allathee ruziqna min qablu waotoo bihi mutashabihan walahum feeha azwajun mutahharatun wahum feeha khalidoona
And give glad tidings ( O Muhammad ) unto those who 
believe and do good works ; that theirs are Gardens 
underneath which rivers flow ; as often as they are regaled 
with food of the fruit thereof , they say : This is what was 
given us aforetime ; and it is given to them in resemblance . 
There for them are pure companions ; there for ever they 
abide .

---
2.26
۞ إِنَّ اللَّهَ لَا يَسْتَحْيِي أَن يَضْرِبَ مَثَلًا مَّا بَعُوضَةً فَمَا فَوْقَهَا ۚ فَأَمَّا الَّذِينَ آمَنُوا فَيَعْلَمُونَ أَنَّهُ الْحَقُّ مِن رَّبِّهِمْ ۖ وَأَمَّا الَّذِينَ كَفَرُوا فَيَقُولُونَ مَاذَا أَرَادَ اللَّهُ بِهَٰذَا مَثَلًا ۘ يُضِلُّ بِهِ كَثِيرًا وَيَهْدِي بِهِ كَثِيرًا ۚ وَمَا يُضِلُّ بِهِ إِلَّا الْفَاسِقِينَ (26)
Inna Allaha la yastahyee an yadriba mathalan ma baAAoodatan fama fawqaha faamma allatheena amanoo fayaAAlamoona annahu alhaqqu min rabbihim waamma allatheena kafaroo fayaqooloona matha arada Allahu bihatha mathalan yudillu bihi katheeran wayahdee bihi katheeran wama yudillu bihi illa alfasiqeena
Lo! Allah disdaineth not to coin the similitude even of a gnat . 
Those who believe know that it is the truth from their Lord ; 
but those who disbelieve say : What doth Allah wish 
( to teach ) by such a similitude? He misleadeth many 
thereby , and He guideth many thereby ; and He misleadeth 
thereby only miscreants ;

---
2.27
الَّذِينَ يَنقُضُونَ عَهْدَ اللَّهِ مِن بَعْدِ مِيثَاقِهِ وَيَقْطَعُونَ مَا أَمَرَ اللَّهُ بِهِ أَن يُوصَلَ وَيُفْسِدُونَ فِي الْأَرْضِ ۚ أُولَٰئِكَ هُمُ الْخَاسِرُونَ (27)
Allatheena yanqudoona AAahda Allahi min baAAdi meethaqihi wayaqtaAAoona ma amara Allahu bihi an yoosala wayufsidoona fee alardi olaika humu alkhasiroona
Those who break the covenant of Allah after ratifying it and 
sever that which Allah ordered to be joined , and ( who ) 
make mischief in the earth : Those are they who are the 
losers

---
2.28
كَيْفَ تَكْفُرُونَ بِاللَّهِ وَكُنتُمْ أَمْوَاتًا فَأَحْيَاكُمْ ۖ ثُمَّ يُمِيتُكُمْ ثُمَّ يُحْيِيكُمْ ثُمَّ إِلَيْهِ تُرْجَعُونَ (28)
Kayfa takfuroona biAllahi wakuntum amwatan faahyakum thumma yumeetukum thumma yuhyeekum thumma ilayhi turjaAAoona
How disbelieve ye in Allah when ye were dead and He gave 
life to you! Then he will give you death , then life again , and 
then unto Him ye will return .

---
2.29
هُوَ الَّذِي خَلَقَ لَكُم مَّا فِي الْأَرْضِ جَمِيعًا ثُمَّ اسْتَوَىٰ إِلَى السَّمَاءِ فَسَوَّاهُنَّ سَبْعَ سَمَاوَاتٍ ۚ وَهُوَ بِكُلِّ شَيْءٍ عَلِيمٌ (29)
Huwa allathee khalaqa lakum ma fee alardi jameeAAan thumma istawa ila alssamai fasawwahunna sabAAa samawatin wahuwa bikulli shayin AAaleemun
He it is Who created for you all that is in the earth . Then 
turned He to the heaven , and fashioned it as seven 
heavens . And He is Knower of all things .

---
2.30
وَإِذْ قَالَ رَبُّكَ لِلْمَلَائِكَةِ إِنِّي جَاعِلٌ فِي الْأَرْضِ خَلِيفَةً ۖ قَالُوا أَتَجْعَلُ فِيهَا مَن يُفْسِدُ فِيهَا وَيَسْفِكُ الدِّمَاءَ وَنَحْنُ نُسَبِّحُ بِحَمْدِكَ وَنُقَدِّسُ لَكَ ۖ قَالَ إِنِّي أَعْلَمُ مَا لَا تَعْلَمُونَ (30)
Waith qala rabbuka lilmalaikati innee jaAAilun fee alardi khaleefatan qaloo atajAAalu feeha man yufsidu feeha wayasfiku alddimaa wanahnu nusabbihu bihamdika wanuqaddisu laka qala innee aAAlamu ma la taAAlamoona
And when thy Lord said unto the angels : Lo! I am about to 
place a viceroy in the earth , they said : wilt Thou place 
therein one who will do harm therein and will shed blood , 
while we , we hymn Thy praise and sanctify Thee? He said : 
Surely I know that which ye know not .

---
2.31
وَعَلَّمَ آدَمَ الْأَسْمَاءَ كُلَّهَا ثُمَّ عَرَضَهُمْ عَلَى الْمَلَائِكَةِ فَقَالَ أَنبِئُونِي بِأَسْمَاءِ هَٰؤُلَاءِ إِن كُنتُمْ صَادِقِينَ (31)
WaAAallama adama alasmaa kullaha thumma AAaradahum AAala almalaikati faqala anbioonee biasmai haolai in kuntum sadiqeena
And He taught Adam all the names , then showed them to 
the angels , saying : Inform me of the names of these , if ye 
are truthful .

---
2.32
قَالُوا سُبْحَانَكَ لَا عِلْمَ لَنَا إِلَّا مَا عَلَّمْتَنَا ۖ إِنَّكَ أَنتَ الْعَلِيمُ الْحَكِيمُ (32)
Qaloo subhanaka la AAilma lana illa ma AAallamtana innaka anta alAAaleemu alhakeemu
They said : Be glorified! We have no knowledge saving that 
which Thou hast taught us . Lo! Thou , only Thou , art the 
Knower , the Wise .

---
2.33
قَالَ يَا آدَمُ أَنبِئْهُم بِأَسْمَائِهِمْ ۖ فَلَمَّا أَنبَأَهُم بِأَسْمَائِهِمْ قَالَ أَلَمْ أَقُل لَّكُمْ إِنِّي أَعْلَمُ غَيْبَ السَّمَاوَاتِ وَالْأَرْضِ وَأَعْلَمُ مَا تُبْدُونَ وَمَا كُنتُمْ تَكْتُمُونَ (33)
Qala ya adamu anbihum biasmaihim falamma anbaahum biasmaihim qala alam aqul lakum innee aAAlamu ghayba alssamawati waalardi waaAAlamu ma tubdoona wama kuntum taktumoona
He said : O Adam! Inform them of their names , and when 
he had informed them of their names , He said : Did I not 
tell you that I know the secret of the heavens and the earth? 
And I know that which ye disclose and which ye hide .

---
2.34
وَإِذْ قُلْنَا لِلْمَلَائِكَةِ اسْجُدُوا لِآدَمَ فَسَجَدُوا إِلَّا إِبْلِيسَ أَبَىٰ وَاسْتَكْبَرَ وَكَانَ مِنَ الْكَافِرِينَ (34)
Waith qulna lilmalaikati osjudoo liadama fasajadoo illa ibleesa aba waistakbara wakana mina alkafireena
And when We said unto the angels : Prostrate yourselves 
before Adam , they fell prostrate , all save Iblis He demurred 
through pride , and so became a disbeliever .

---
2.35
وَقُلْنَا يَا آدَمُ اسْكُنْ أَنتَ وَزَوْجُكَ الْجَنَّةَ وَكُلَا مِنْهَا رَغَدًا حَيْثُ شِئْتُمَا وَلَا تَقْرَبَا هَٰذِهِ الشَّجَرَةَ فَتَكُونَا مِنَ الظَّالِمِينَ (35)
Waqulna ya adamu oskun anta wazawjuka aljannata wakula minha raghadan haythu shituma wala taqraba hathihi alshshajarata fatakoona mina alththalimeena
And We said : O Adam! Dwell thou and thy wife in the 
Garden , and eat ye freely ( of the fruits ) thereof where 
ye will ; but come not nigh this tree lest ye become 
wrongdoers .

---
2.36
فَأَزَلَّهُمَا الشَّيْطَانُ عَنْهَا فَأَخْرَجَهُمَا مِمَّا كَانَا فِيهِ ۖ وَقُلْنَا اهْبِطُوا بَعْضُكُمْ لِبَعْضٍ عَدُوٌّ ۖ وَلَكُمْ فِي الْأَرْضِ مُسْتَقَرٌّ وَمَتَاعٌ إِلَىٰ حِينٍ (36)
Faazallahuma alshshaytanu AAanha faakhrajahuma mimma kana feehi waqulna ihbitoo baAAdukum libaAAdin AAaduwwun walakum fee alardi mustaqarrun wamataAAun ila heenin
But Satan caused them to deflect therefrom and expelled 
them from the ( happy ) state in which they were ; and We 
said : Fall down , one of you a foe unto the other! There 
shall be for you on earth a habitation and provision for a tune .

---
2.37
فَتَلَقَّىٰ آدَمُ مِن رَّبِّهِ كَلِمَاتٍ فَتَابَ عَلَيْهِ ۚ إِنَّهُ هُوَ التَّوَّابُ الرَّحِيمُ (37)
Fatalaqqa adamu min rabbihi kalimatin fataba AAalayhi innahu huwa alttawwabu alrraheemu
Then Adam received from his Lord words ( of revelation ) , 
and He relented toward him . Lo! He is the Relenting the 
Merciful .

---
2.38
قُلْنَا اهْبِطُوا مِنْهَا جَمِيعًا ۖ فَإِمَّا يَأْتِيَنَّكُم مِّنِّي هُدًى فَمَن تَبِعَ هُدَايَ فَلَا خَوْفٌ عَلَيْهِمْ وَلَا هُمْ يَحْزَنُونَ (38)
Qulna ihbitoo minha jameeAAan faimma yatiyannakum minnee hudan faman tabiAAa hudaya fala khawfun AAalayhim wala hum yahzanoona
We said : Go down , all of you , from hence ; but verily there 
cometh unto you from Me a guidance ; and whoso followeth 
My guidance , there shall no fear come upon them neither 
shall they grieve .

---
2.39
وَالَّذِينَ كَفَرُوا وَكَذَّبُوا بِآيَاتِنَا أُولَٰئِكَ أَصْحَابُ النَّارِ ۖ هُمْ فِيهَا خَالِدُونَ (39)
Waallatheena kafaroo wakaththaboo biayatina olaika ashabu alnnari hum feeha khalidoona
But they who disbelieve , and deny our revelations , such 
are rightful owners of the Fire . They will abide therein .

---
2.40
يَا بَنِي إِسْرَائِيلَ اذْكُرُوا نِعْمَتِيَ الَّتِي أَنْعَمْتُ عَلَيْكُمْ وَأَوْفُوا بِعَهْدِي أُوفِ بِعَهْدِكُمْ وَإِيَّايَ فَارْهَبُونِ (40)
Ya banee israeela othkuroo niAAmatiya allatee anAAamtu AAalaykum waawfoo biAAahdee oofi biAAahdikum waiyyaya fairhabooni
O Children of Israel! Remember My favor wherewith I 
favored you , and fulfil your ( part of the ) covenant , I 
shall fulfil My ( part of the ) covenant and fear Me .

---
2.41
وَآمِنُوا بِمَا أَنزَلْتُ مُصَدِّقًا لِّمَا مَعَكُمْ وَلَا تَكُونُوا أَوَّلَ كَافِرٍ بِهِ ۖ وَلَا تَشْتَرُوا بِآيَاتِي ثَمَنًا قَلِيلًا وَإِيَّايَ فَاتَّقُونِ (41)
Waaminoo bima anzaltu musaddiqan lima maAAakum wala takoonoo awwala kafirin bihi wala tashtaroo biayatee thamanan qaleelan waiyyaya faittaqooni
And believe in that which I reveal , confirming that which 
ye possess already ( of the Scripture ) , and be not first to 
disbelieve therein , and part not with My revelations for a 
trifling price , and keep your duty unto Me .

---
2.42
وَلَا تَلْبِسُوا الْحَقَّ بِالْبَاطِلِ وَتَكْتُمُوا الْحَقَّ وَأَنتُمْ تَعْلَمُونَ (42)
Wala talbisoo alhaqqa bialbatili wataktumoo alhaqqa waantum taAAlamoona
Confound not truth with falsehood , nor knowingly conceal 
the truth .

---
2.43
وَأَقِيمُوا الصَّلَاةَ وَآتُوا الزَّكَاةَ وَارْكَعُوا مَعَ الرَّاكِعِينَ (43)
Waaqeemoo alssalata waatoo alzzakata wairkaAAoo maAAa alrrakiAAeena
Establish worship , pay the poor-due , and bow your
heads with those who bow ( in worship ) .

---
2.44
۞ أَتَأْمُرُونَ النَّاسَ بِالْبِرِّ وَتَنسَوْنَ أَنفُسَكُمْ وَأَنتُمْ تَتْلُونَ الْكِتَابَ ۚ أَفَلَا تَعْقِلُونَ (44)
Atamuroona alnnasa bialbirri watansawna anfusakum waantum tatloona alkitaba afala taAAqiloona
Enjoin ye righteousness upon mankind while ye 
yourselves forget ( to practise it ) ? And ye are readers 
of the Scripture! Have ye then no sense?

---
2.45
وَاسْتَعِينُوا بِالصَّبْرِ وَالصَّلَاةِ ۚ وَإِنَّهَا لَكَبِيرَةٌ إِلَّا عَلَى الْخَاشِعِينَ (45)
WaistaAAeenoo bialssabri waalssalati wainnaha lakabeeratun illa AAala alkhashiAAeena
Seek help in patience and prayer ; and truly it is hard 
save for the humble-minded ,

---
2.46
الَّذِينَ يَظُنُّونَ أَنَّهُم مُّلَاقُو رَبِّهِمْ وَأَنَّهُمْ إِلَيْهِ رَاجِعُونَ (46)
Allatheena yathunnoona annahum mulaqoo rabbihim waannahum ilayhi rajiAAoona
Who know that they will have to meet their Lord , and that 
unto Him they are returning .

---
2.47
يَا بَنِي إِسْرَائِيلَ اذْكُرُوا نِعْمَتِيَ الَّتِي أَنْعَمْتُ عَلَيْكُمْ وَأَنِّي فَضَّلْتُكُمْ عَلَى الْعَالَمِينَ (47)
Ya banee israeela othkuroo niAAmatiya allatee anAAamtu AAalaykum waannee faddaltukum AAala alAAalameena
O Children of Israel! Remember My favor wherewith I 
favored you and how I preferred you to ( all ) creatures .

---
2.48
وَاتَّقُوا يَوْمًا لَّا تَجْزِي نَفْسٌ عَن نَّفْسٍ شَيْئًا وَلَا يُقْبَلُ مِنْهَا شَفَاعَةٌ وَلَا يُؤْخَذُ مِنْهَا عَدْلٌ وَلَا هُمْ يُنصَرُونَ (48)
Waittaqoo yawman la tajzee nafsun AAan nafsin shayan wala yuqbalu minha shafaAAatun wala yukhathu minha AAadlun wala hum yunsaroona
And guard yourselves against a day when no soul will in 
aught avail another , nor will intercession be accepted from it ,
nor will compensation be received from it , nor will they he
helped .

---
2.49
وَإِذْ نَجَّيْنَاكُم مِّنْ آلِ فِرْعَوْنَ يَسُومُونَكُمْ سُوءَ الْعَذَابِ يُذَبِّحُونَ أَبْنَاءَكُمْ وَيَسْتَحْيُونَ نِسَاءَكُمْ ۚ وَفِي ذَٰلِكُم بَلَاءٌ مِّن رَّبِّكُمْ عَظِيمٌ (49)
Waith najjaynakum min ali firAAawna yasoomoonakum sooa alAAathabi yuthabbihoona abnaakum wayastahyoona nisaakum wafee thalikum balaon min rabbikum AAatheemun
And ( remember ) when We did deliver you from 
Pharaoh ' s folk , who were afflicting you with dreadful 
torment , slaying your sons and sparing your women : 
That was a tremendous trial from your Lord .
---
2.50
وَإِذْ فَرَقْنَا بِكُمُ الْبَحْرَ فَأَنجَيْنَاكُمْ وَأَغْرَقْنَا آلَ فِرْعَوْنَ وَأَنتُمْ تَنظُرُونَ (50)
Waith faraqna bikumu albahra faanjaynakum waaghraqna ala firAAawna waantum tanthuroona
And when We brought you through the sea and rescued 
you , and drowned the folk of Pharaoh in your sight .
नम्र निवेदन: वेबसाइट को और बेहतर बनाने हेतु अपने कीमती सुझाव कॉमेंट बॉक्स में लिखें, यह आपको अच्छा लगा हो तो अपनें मित्रों के साथ अवश्य शेयर करें। धन्यवाद।