11a. Hud (1 to 50)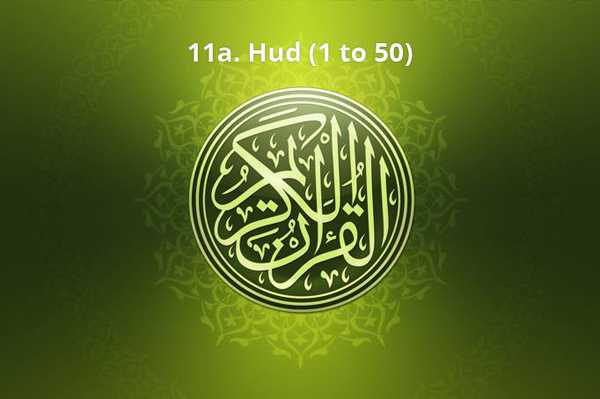 Alif . Lam . Ra . ( This is ) a Scripture the revelations
whereof are perfected and then expounded . ( It cometh ) …
11.1
الر ۚ كِتَابٌ أُحْكِمَتْ آيَاتُهُ ثُمَّ فُصِّلَتْ مِن لَّدُنْ حَكِيمٍ خَبِيرٍ (1)
Aliflamra kitabun ohkimat ayatuhu thumma fussilat min ladun hakeemin khabeerin
Alif . Lam . Ra . ( This is ) a Scripture the revelations 
whereof are perfected and then expounded . ( It cometh ) 
from One Wise , Informed ,

---
11.2
أَلَّا تَعْبُدُوا إِلَّا اللَّهَ ۚ إِنَّنِي لَكُم مِّنْهُ نَذِيرٌ وَبَشِيرٌ (2)
Alla taAAbudoo illa Allaha innanee lakum minhu natheerun wabasheerun
( Saying ) : Serve none but Allah . Lo! I am Unto you from 
Him a warner and a bringer of good tidings .

---
11.3
وَأَنِ اسْتَغْفِرُوا رَبَّكُمْ ثُمَّ تُوبُوا إِلَيْهِ يُمَتِّعْكُم مَّتَاعًا حَسَنًا إِلَىٰ أَجَلٍ مُّسَمًّى وَيُؤْتِ كُلَّ ذِي فَضْلٍ فَضْلَهُ ۖ وَإِن تَوَلَّوْا فَإِنِّي أَخَافُ عَلَيْكُمْ عَذَابَ يَوْمٍ كَبِيرٍ (3)
Waani istaghfiroo rabbakum thumma tooboo ilayhi yumattiAAkum mataAAan hasanan ila ajalin musamman wayuti kulla thee fadlin fadlahu wain tawallaw fainee akhafu AAalaykum AAathaba yawmin kabeerin
And ( bidding you ) : Ask pardon of your Lord and turn to 
Him repentant . He will cause you to enjoy a fair estate 
until a time appointed . He giveth His bounty unto every 
bountiful one . But if ye turn away , Lo! ( then ) I fear for 
you the retribution of an awful Day .

---
11.4
إِلَى اللَّهِ مَرْجِعُكُمْ ۖ وَهُوَ عَلَىٰ كُلِّ شَيْءٍ قَدِيرٌ (4)
Ila Allahi marjiAAukum wahuwa AAala kulli shayin qadeerun
Unto Allah is your return , and He is able to do all things .

---
11.5
أَلَا إِنَّهُمْ يَثْنُونَ صُدُورَهُمْ لِيَسْتَخْفُوا مِنْهُ ۚ أَلَا حِينَ يَسْتَغْشُونَ ثِيَابَهُمْ يَعْلَمُ مَا يُسِرُّونَ وَمَا يُعْلِنُونَ ۚ إِنَّهُ عَلِيمٌ بِذَاتِ الصُّدُورِ (5)
Ala innahum yathnoona sudoorahum liyastakhfoo minhu ala heena yastaghshoona thiyabahum yaAAlamu ma yusirroona wama yuAAlinoona innahu AAaleemun bithati alssudoori
Lo! now they fold up their breasts that they may hide 
( their thoughts ) from Him . At the very moment when they 
cover themselves with their clothing , Allah knoweth that 
which they keep hidden and that which they proclaim . Lo! 
He is Aware of what is in the breasts ( of men ) .

---
11.6
۞ وَمَا مِن دَابَّةٍ فِي الْأَرْضِ إِلَّا عَلَى اللَّهِ رِزْقُهَا وَيَعْلَمُ مُسْتَقَرَّهَا وَمُسْتَوْدَعَهَا ۚ كُلٌّ فِي كِتَابٍ مُّبِينٍ (6)
Wama min dabbatin fee alardi illa AAala Allahi rizquha wayaAAlamu mustaqarraha wamustawdaAAaha kullun fee kitabin mubeenin
And there is not a beast in the earth but the sustenance 
thereof dependeth on Allah . He knoweth its habitation and 
its repository . All is in a clear record .

---
11.7
وَهُوَ الَّذِي خَلَقَ السَّمَاوَاتِ وَالْأَرْضَ فِي سِتَّةِ أَيَّامٍ وَكَانَ عَرْشُهُ عَلَى الْمَاءِ لِيَبْلُوَكُمْ أَيُّكُمْ أَحْسَنُ عَمَلًا ۗ وَلَئِن قُلْتَ إِنَّكُم مَّبْعُوثُونَ مِن بَعْدِ الْمَوْتِ لَيَقُولَنَّ الَّذِينَ كَفَرُوا إِنْ هَٰذَا إِلَّا سِحْرٌ مُّبِينٌ (7)
Wahuwa allathee khalaqa alssamawati waalarda fee sittati ayyamin wakana AAarshuhu AAala almai liyabluwakum ayyukum ahsanu AAamalan walain qulta innakum mabAAoothoona min baAAdi almawti layaqoolanna allatheena kafaroo in hatha illa sihrun mubeenun
And He it is Who created the heavens and the earth in 
six Days and His Throne was upon the water that He 
might try you , which of you is best in conduct . Yet if 
thou ( O Muhammad ) sayest : Lo! ye will be raised again 
after death ! those who disbelieve will surely say : This is 
naught but mere magic .

---
11.8
وَلَئِنْ أَخَّرْنَا عَنْهُمُ الْعَذَابَ إِلَىٰ أُمَّةٍ مَّعْدُودَةٍ لَّيَقُولُنَّ مَا يَحْبِسُهُ ۗ أَلَا يَوْمَ يَأْتِيهِمْ لَيْسَ مَصْرُوفًا عَنْهُمْ وَحَاقَ بِهِم مَّا كَانُوا بِهِ يَسْتَهْزِئُونَ (8)
Walain akhkharna AAanhumu alAAathaba ila ommatin maAAdoodatin layaqoolunna ma yahbisuhu ala yawma yateehim laysa masroofan AAanhum wahaqa bihim ma kanoo bihi yastahzioona
And if We delay for them the doom until a reckoned time , 
they will surely say : What withholdeth it? Verily on the 
day when it cometh unto them , it cannot be averted from 
them , and that which they derided will surround them .

---
11.9
وَلَئِنْ أَذَقْنَا الْإِنسَانَ مِنَّا رَحْمَةً ثُمَّ نَزَعْنَاهَا مِنْهُ إِنَّهُ لَيَئُوسٌ كَفُورٌ (9)
Walain athaqna alinsana minna rahmatan thumma nazaAAnaha minhu innahu layaoosun kafoorun
And if We cause man to taste some mercy from Us and 
afterward withdraw it from him , lo! he is despairing , 
thankless .

---
11.10
وَلَئِنْ أَذَقْنَاهُ نَعْمَاءَ بَعْدَ ضَرَّاءَ مَسَّتْهُ لَيَقُولَنَّ ذَهَبَ السَّيِّئَاتُ عَنِّي ۚ إِنَّهُ لَفَرِحٌ فَخُورٌ (10)
Walain athaqnahu naAAmaa baAAda darraa massathu layaqoolanna thahaba alssayyiatu AAannee innahu lafarihun fakhoorun
And if We cause him to taste grace after some misfortune 
that had befallen him , he saith : The ills have gone from me . 
Lo! he is exultant , boastful ;

---
11.11
إِلَّا الَّذِينَ صَبَرُوا وَعَمِلُوا الصَّالِحَاتِ أُولَٰئِكَ لَهُم مَّغْفِرَةٌ وَأَجْرٌ كَبِيرٌ (11)
Illa allatheena sabaroo waAAamiloo alssalihati olaika lahum maghfiratun waajrun kabeerun
Save those who persevere and do good works . Theirs 
will be forgiveness and a great reward .

---
11.12
فَلَعَلَّكَ تَارِكٌ بَعْضَ مَا يُوحَىٰ إِلَيْكَ وَضَائِقٌ بِهِ صَدْرُكَ أَن يَقُولُوا لَوْلَا أُنزِلَ عَلَيْهِ كَنزٌ أَوْ جَاءَ مَعَهُ مَلَكٌ ۚ إِنَّمَا أَنتَ نَذِيرٌ ۚ وَاللَّهُ عَلَىٰ كُلِّ شَيْءٍ وَكِيلٌ (12)
FalaAAallaka tarikun baAAda ma yooha ilayka wadaiqun bihi sadruka an yaqooloo lawla onzila AAalayhi kanzun aw jaa maAAahu malakun innama anta natheerun waAllahu AAala kulli shayin wakeelun
A likely thing , that thou wouldst forsake aught of that 
which hath been revealed unto thee , and that thy breast 
should be straitened for it , because they say : Why hath 
not a treasure been sent down for him , or an angel come 
with him? Thou art but a warner , and Allah is in charge 
of all things .

---
11.13
أَمْ يَقُولُونَ افْتَرَاهُ ۖ قُلْ فَأْتُوا بِعَشْرِ سُوَرٍ مِّثْلِهِ مُفْتَرَيَاتٍ وَادْعُوا مَنِ اسْتَطَعْتُم مِّن دُونِ اللَّهِ إِن كُنتُمْ صَادِقِينَ (13)
Am yaqooloona iftarahu qul fatoo biAAashri suwarin mithlihi muftarayatin waodAAoo mani istataAAtum min dooni Allahi in kuntum sadiqeena
Or they say : He hath invented it . Say : Then bring ten 
surahs , the like thereof , invented , and call on everyone 
ye can beside Allah , if ye are truthful!

---
11.14
فَإِلَّمْ يَسْتَجِيبُوا لَكُمْ فَاعْلَمُوا أَنَّمَا أُنزِلَ بِعِلْمِ اللَّهِ وَأَن لَّا إِلَٰهَ إِلَّا هُوَ ۖ فَهَلْ أَنتُم مُّسْلِمُونَ (14)
Fai llam yastajeeboo lakum faiAAlamoo annama onzila biAAilmi Allahi waan la ilaha illa huwa fahal antum muslimoona
And if they answer not your prayer , then know that it is 
revealed only in the knowledge of Allah ; and that there is 
no God save Him . Will ye then be ( of ) those who 
surrender?

---
11.15
مَن كَانَ يُرِيدُ الْحَيَاةَ الدُّنْيَا وَزِينَتَهَا نُوَفِّ إِلَيْهِمْ أَعْمَالَهُمْ فِيهَا وَهُمْ فِيهَا لَا يُبْخَسُونَ (15)
Man kana yureedu alhayata alddunya wazeenataha nuwaffi ilayhim aAAmalahum feeha wahum feeha la yubkhasoona
Whoso desireth the life of the world and its pomp , 
We shall repay them their deeds herein , and therein 
they will not be wronged .

---
11.16
أُولَٰئِكَ الَّذِينَ لَيْسَ لَهُمْ فِي الْآخِرَةِ إِلَّا النَّارُ ۖ وَحَبِطَ مَا صَنَعُوا فِيهَا وَبَاطِلٌ مَّا كَانُوا يَعْمَلُونَ (16)
Olaika allatheena laysa lahum fee alakhirati illa alnnaru wahabita ma sanaAAoo feeha wabatilun ma kanoo yaAAmaloona
Those are they for whom is naught in the Hereafter 
save the Fire . ( All ) that they contrive here is vain and 
( all ) that they are wont to do is fruitless .

---
11.17
أَفَمَن كَانَ عَلَىٰ بَيِّنَةٍ مِّن رَّبِّهِ وَيَتْلُوهُ شَاهِدٌ مِّنْهُ وَمِن قَبْلِهِ كِتَابُ مُوسَىٰ إِمَامًا وَرَحْمَةً ۚ أُولَٰئِكَ يُؤْمِنُونَ بِهِ ۚ وَمَن يَكْفُرْ بِهِ مِنَ الْأَحْزَابِ فَالنَّارُ مَوْعِدُهُ ۚ فَلَا تَكُ فِي مِرْيَةٍ مِّنْهُ ۚ إِنَّهُ الْحَقُّ مِن رَّبِّكَ وَلَٰكِنَّ أَكْثَرَ النَّاسِ لَا يُؤْمِنُونَ (17)
Afaman kana AAala bayyinatin min rabbihi wayatloohu shahidun minhu wamin qablihi kitabu moosa imaman warahmatan olaika yuminoona bihi waman yakfur bihi mina alahzabi faalnnaru mawAAiduhu fala taku fee miryatin minhu innahu alhaqqu min rabbika walakinna akthara alnnasi la yuminoona
Is he ( to be counted equal with them ) who relieth on a 
clear proof from his Lord , and a witness from Him reciteth 
it , and before it was the Book of Moses , an example and 
a mercy? such believe therein , and Whoso disbelieveth 
therein of the clans , the Fire is his appointed place . So 
be not thou in doubt concerning it . Lo! it is the Truth from 
thy Lord ; but most of mankind believe not .

---
11.18
وَمَنْ أَظْلَمُ مِمَّنِ افْتَرَىٰ عَلَى اللَّهِ كَذِبًا ۚ أُولَٰئِكَ يُعْرَضُونَ عَلَىٰ رَبِّهِمْ وَيَقُولُ الْأَشْهَادُ هَٰؤُلَاءِ الَّذِينَ كَذَبُوا عَلَىٰ رَبِّهِمْ ۚ أَلَا لَعْنَةُ اللَّهِ عَلَى الظَّالِمِينَ (18)
Waman athlamu mimmani iftara AAala Allahi kathiban olaika yuAAradoona AAala rabbihim wayaqoolu alashhadu haolai allatheena kathaboo AAala rabbihim ala laAAnatu Allahi AAala alththalimeena
Who doeth greater wrong than he who inventeth a lie 
concerning Allah? Such will be brought before their Lord , 
and the witnesses will say : These are they who lied 
concerning their Lord . Now the curse of Allah is upon 
wrong-doers ,

---
11.19
الَّذِينَ يَصُدُّونَ عَن سَبِيلِ اللَّهِ وَيَبْغُونَهَا عِوَجًا وَهُم بِالْآخِرَةِ هُمْ كَافِرُونَ (19)
Allatheena yasuddoona AAan sabeeli Allahi wayabghoonaha AAiwajan wahum bialakhirati hum kafiroona
Who debar ( men ) from the way of Allah and would have 
it crooked , and who are disbelievers in the Hereafter .

---
11.20
أُولَٰئِكَ لَمْ يَكُونُوا مُعْجِزِينَ فِي الْأَرْضِ وَمَا كَانَ لَهُم مِّن دُونِ اللَّهِ مِنْ أَوْلِيَاءَ ۘ يُضَاعَفُ لَهُمُ الْعَذَابُ ۚ مَا كَانُوا يَسْتَطِيعُونَ السَّمْعَ وَمَا كَانُوا يُبْصِرُونَ (20)
Olaika lam yakoonoo muAAjizeena fee alardi wama kana lahum min dooni Allahi min awliyaa yudaAAafu lahumu alAAathabu ma kanoo yastateeAAoona alssamAAa wama kanoo yubsiroona
Such will not escape in the earth , nor have they any 
protecting friends beside Allah . For them the torment will 
be double . They could not bear to hear , and they used 
not to see .

---
11.21
أُولَٰئِكَ الَّذِينَ خَسِرُوا أَنفُسَهُمْ وَضَلَّ عَنْهُم مَّا كَانُوا يَفْتَرُونَ (21)
Olaika allatheena khasiroo anfusahum wadalla AAanhum ma kanoo yaftaroona
Such are they who have lost their souls , and that which 
they used to invent hath failed them .

---
11.22
لَا جَرَمَ أَنَّهُمْ فِي الْآخِرَةِ هُمُ الْأَخْسَرُونَ (22)
La jarama annahum fee alakhirati humu alakhsaroona
Assuredly in the Hereafter they will be the greatest losers .

---
11.23
إِنَّ الَّذِينَ آمَنُوا وَعَمِلُوا الصَّالِحَاتِ وَأَخْبَتُوا إِلَىٰ رَبِّهِمْ أُولَٰئِكَ أَصْحَابُ الْجَنَّةِ ۖ هُمْ فِيهَا خَالِدُونَ (23)
Inna allatheena amanoo waAAamiloo alsalihati waakhbatoo ila rabbihim olaika ashabu aljannati hum feeha khalidoona
Lo! those who believe and do good works and humble 
themselves before their Lord : such are rightful owners 
of the Garden ; they will abide therein .

---
11.24
۞ مَثَلُ الْفَرِيقَيْنِ كَالْأَعْمَىٰ وَالْأَصَمِّ وَالْبَصِيرِ وَالسَّمِيعِ ۚ هَلْ يَسْتَوِيَانِ مَثَلًا ۚ أَفَلَا تَذَكَّرُونَ (24)
Mathalu alfareeqayni kaalaAAma waalasammi waalbaseeri waalssameeAAi hal yastawiyani mathalan afala tathakkaroona
The similitude of the two parties is as the blind and the 
deaf and the seer and the hearer . Are they equal in 
similitude? Will ye not then be admonished?

---
11.25
وَلَقَدْ أَرْسَلْنَا نُوحًا إِلَىٰ قَوْمِهِ إِنِّي لَكُمْ نَذِيرٌ مُّبِينٌ (25)
Walaqad arsalna noohan ila qawmihi innee lakum natheerun mubeenun
And We sent Noah unto his folk ( and he said ) : I am a 
plain warner unto you .

---
11.26
أَن لَّا تَعْبُدُوا إِلَّا اللَّهَ ۖ إِنِّي أَخَافُ عَلَيْكُمْ عَذَابَ يَوْمٍ أَلِيمٍ (26)
An la taAAbudoo illa Allaha innee akhafu AAalaykum AAathaba yawmin aleemin
That ye serve none , save Allah . Lo! I fear for you the 
retribution of a painful Day .

---
11.27
فَقَالَ الْمَلَأُ الَّذِينَ كَفَرُوا مِن قَوْمِهِ مَا نَرَاكَ إِلَّا بَشَرًا مِّثْلَنَا وَمَا نَرَاكَ اتَّبَعَكَ إِلَّا الَّذِينَ هُمْ أَرَاذِلُنَا بَادِيَ الرَّأْيِ وَمَا نَرَىٰ لَكُمْ عَلَيْنَا مِن فَضْلٍ بَلْ نَظُنُّكُمْ كَاذِبِينَ (27)
Faqala almalao allatheena kafaroo min qawmihi ma naraka illa basharan mithlana wama naraka ittabaAAaka illa allatheena hum arathiluna badiya alrrayi wama nara lakum AAalayna min fadlin bal nathunnukum kathibeena
The chieftains of his folk , who disbelieved , said : We see 
thee but a mortal like us , and we see not that any follow 
thee save the most abject among us , without reflection . 
We behold in you no merit above us nay , we deem you liars .

---
11.28
قَالَ يَا قَوْمِ أَرَأَيْتُمْ إِن كُنتُ عَلَىٰ بَيِّنَةٍ مِّن رَّبِّي وَآتَانِي رَحْمَةً مِّنْ عِندِهِ فَعُمِّيَتْ عَلَيْكُمْ أَنُلْزِمُكُمُوهَا وَأَنتُمْ لَهَا كَارِهُونَ (28)
Qala ya qawmi araaytum in kuntu AAala bayyinatin min rabbee waatanee rahmatan min AAindihi faAAummiyat AAalaykum anulzimukumooha waantum laha karihoona
He said : O my people! Bethink you , if I rely on a clear 
proof from my Lord and there hath come unto me a mercy 
from His presence , and it hath been made obscure to 
you , can we compel you to accept it when ye are averse 
thereto?

---
11.29
وَيَا قَوْمِ لَا أَسْأَلُكُمْ عَلَيْهِ مَالًا ۖ إِنْ أَجْرِيَ إِلَّا عَلَى اللَّهِ ۚ وَمَا أَنَا بِطَارِدِ الَّذِينَ آمَنُوا ۚ إِنَّهُم مُّلَاقُو رَبِّهِمْ وَلَٰكِنِّي أَرَاكُمْ قَوْمًا تَجْهَلُونَ (29)
Waya qawmi la asalukum AAalayhi malan in ajriya illa AAala Allahi wama ana bitaridi allatheena amanoo innahum mulaqoo rabbihim walakinnee arakum qawman tajhaloona
And O my people! I ask of you no wealth therefor . My 
reward is the concern only of Allah , and I am not going to 
thrust away those who believe Lo! they have to meet their 
Lord but I see you a folk that are ignorant .

---
11.30
وَيَا قَوْمِ مَن يَنصُرُنِي مِنَ اللَّهِ إِن طَرَدتُّهُمْ ۚ أَفَلَا تَذَكَّرُونَ (30)
Waya qawmi man yansurunee mina Allahi in taradtuhum afala tathakkaroona
And , O my people! who would deliver me from Allah if I 
thrust them away? Will ye not then reflect?

---
11.31
وَلَا أَقُولُ لَكُمْ عِندِي خَزَائِنُ اللَّهِ وَلَا أَعْلَمُ الْغَيْبَ وَلَا أَقُولُ إِنِّي مَلَكٌ وَلَا أَقُولُ لِلَّذِينَ تَزْدَرِي أَعْيُنُكُمْ لَن يُؤْتِيَهُمُ اللَّهُ خَيْرًا ۖ اللَّهُ أَعْلَمُ بِمَا فِي أَنفُسِهِمْ ۖ إِنِّي إِذًا لَّمِنَ الظَّالِمِينَ (31)
Wala aqoolu lakum AAindee khazainu Allahi wala aAAlamu alghayba wala aqoolu innee malakun wala aqoolu lillatheena tazdaree aAAyunukum lan yutiyahumu Allahu khayran Allahu aAAlamu bima fee anfusihim innee ithan lamina alththalimeena
I say not unto you : "I have the treasures of Allah" nor "I 
have knowledge of the Unseen , " nor say I : "Lo! I am an 
angel!" Nor say I unto those whom your eyes scorn that 
Allah will not give them good Allah knoweth best what is 
their hearts Lo! then indeed I should be of the wrong doers .

---
11.32
قَالُوا يَا نُوحُ قَدْ جَادَلْتَنَا فَأَكْثَرْتَ جِدَالَنَا فَأْتِنَا بِمَا تَعِدُنَا إِن كُنتَ مِنَ الصَّادِقِينَ (32)
Qaloo ya noohu qad jadaltana faaktharta jidalana fatina bima taAAiduna in kunta mina alssadiqeena
They said : O Noah! Thou hast disputed with us and 
multiplied disputation with us ; now bring upon Us that 
where with thou threatenest us , if thou art of the truthful .

---
11.33
قَالَ إِنَّمَا يَأْتِيكُم بِهِ اللَّهُ إِن شَاءَ وَمَا أَنتُم بِمُعْجِزِينَ (33)
Qala innama yateekum bihi Allahu in shaa wama antum bimuAAjizeena
He said : Only Allah will bring it Upon you if He will , and 
ye can by no means escape .

---
11.34
وَلَا يَنفَعُكُمْ نُصْحِي إِنْ أَرَدتُّ أَنْ أَنصَحَ لَكُمْ إِن كَانَ اللَّهُ يُرِيدُ أَن يُغْوِيَكُمْ ۚ هُوَ رَبُّكُمْ وَإِلَيْهِ تُرْجَعُونَ (34)
Wala yanfaAAukum nushee in aradtu an ansaha lakum in kana Allahu yureedu an yughwiyakum huwa rabbukum wailayhi turjaAAoona
My counsel will not profit you if I were minded to advise 
you , if Allah ' s will is to keep you astray . He is your 
lord and unto Him ye will be brought hack .

---
11.35
أَمْ يَقُولُونَ افْتَرَاهُ ۖ قُلْ إِنِ افْتَرَيْتُهُ فَعَلَيَّ إِجْرَامِي وَأَنَا بَرِيءٌ مِّمَّا تُجْرِمُونَ (35)
Am yaqooloona iftarahu qul ini iftaraytuhu faAAalayya ijramee waana bareeon mimma tujrimoona
Or say they ( again ) He hath invented it? Say : If I have 
invented it , upon me be my crimes , but I am innocent 
of ( all ) that ye commit .

---
11.35
وَأُوحِيَ إِلَىٰ نُوحٍ أَنَّهُ لَن يُؤْمِنَ مِن قَوْمِكَ إِلَّا مَن قَدْ آمَنَ فَلَا تَبْتَئِسْ بِمَا كَانُوا يَفْعَلُونَ (36)
Waoohiya ila noohin annahu lan yumina min qawmika illa man qad amana fala tabtais bima kanoo yafAAaloona
And it was inspired in Noah , ( saying ) : No one of the 
folk will believe save him who hath believed already . Be 
not distressed because of what they do .

---
11.37
وَاصْنَعِ الْفُلْكَ بِأَعْيُنِنَا وَوَحْيِنَا وَلَا تُخَاطِبْنِي فِي الَّذِينَ ظَلَمُوا ۚ إِنَّهُم مُّغْرَقُونَ (37)
WaisnaAAi alfulka biaAAyunina wawahyina wala tukhatibnee fee allatheena thalamoo innahum mughraqoona
Build the ship under Our Eyes and by Our inspiration , 
and speak not unto Me on behalf of those who do wrong . 
Lo! they wilt be drowned .

---
11.38
وَيَصْنَعُ الْفُلْكَ وَكُلَّمَا مَرَّ عَلَيْهِ مَلَأٌ مِّن قَوْمِهِ سَخِرُوا مِنْهُ ۚ قَالَ إِن تَسْخَرُوا مِنَّا فَإِنَّا نَسْخَرُ مِنكُمْ كَمَا تَسْخَرُونَ (38)
WayasnaAAu alfulka wakullama marra AAalayhi malaon min qawmihi sakhiroo minhu qala in taskharoo minna fainna naskharu minkum kama taskharoona
And he was building the ship , and every time that 
chieftains of his people passed him , they made mock 
of him . He said : Though ye make mock of us , yet we 
mock at you even as ye mock ;

---
11.39
فَسَوْفَ تَعْلَمُونَ مَن يَأْتِيهِ عَذَابٌ يُخْزِيهِ وَيَحِلُّ عَلَيْهِ عَذَابٌ مُّقِيمٌ (39)
Fasawfa taAAlamoona man yateehi AAathabun yukhzeehi wayahillu AAalayhi AAathabun muqeemun
And ye shall know to whom a punishment that will confound 
him cometh , and upon whom a lasting doom will fall .

---
11.40
حَتَّىٰ إِذَا جَاءَ أَمْرُنَا وَفَارَ التَّنُّورُ قُلْنَا احْمِلْ فِيهَا مِن كُلٍّ زَوْجَيْنِ اثْنَيْنِ وَأَهْلَكَ إِلَّا مَن سَبَقَ عَلَيْهِ الْقَوْلُ وَمَنْ آمَنَ ۚ وَمَا آمَنَ مَعَهُ إِلَّا قَلِيلٌ (40)
Hatta itha jaa amruna wafara alttannooru qulna ihmil feeha min kullin zawjayni ithnayni waahlaka illa man sabaqa AAalayhi alqawlu waman amana wama amana maAAahu illa qaleelun
( Thus it was ) till , when Our commandment came to pass 
and the oven gushed forth water , We said : Load therein 
two of every kind , a pair ( the male and female ) , and thy 
household , save him against whom the word hath gone 
forth already , and those who believe . And but a few were 
they who believed with him .

---
11.41
۞ وَقَالَ ارْكَبُوا فِيهَا بِسْمِ اللَّهِ مَجْرَاهَا وَمُرْسَاهَا ۚ إِنَّ رَبِّي لَغَفُورٌ رَّحِيمٌ (41)
Waqala irkaboo feeha bismi Allahi majraha wamursaha inna rabbee laghafoorun raheemun
And he said : Embark therein! In the name of Allah be its 
course and its mooring . Lo! my Lord is Forgiving , Merciful .

---
11.42
وَهِيَ تَجْرِي بِهِمْ فِي مَوْجٍ كَالْجِبَالِ وَنَادَىٰ نُوحٌ ابْنَهُ وَكَانَ فِي مَعْزِلٍ يَا بُنَيَّ ارْكَب مَّعَنَا وَلَا تَكُن مَّعَ الْكَافِرِينَ (42)
Wahiya tajree bihim fee mawjin kaaljibali wanada noohunu ibnahu wakana fee maAAzilin ya bunayya irkab maAAana wala takun maAAa alkafireena
And it sailed with them amid waves like mountains , and 
Noah cried unto his son and he was standing aloof : O my 
son! Come ride with us , and be not with the disbelievers .

---
11.43
قَالَ سَآوِي إِلَىٰ جَبَلٍ يَعْصِمُنِي مِنَ الْمَاءِ ۚ قَالَ لَا عَاصِمَ الْيَوْمَ مِنْ أَمْرِ اللَّهِ إِلَّا مَن رَّحِمَ ۚ وَحَالَ بَيْنَهُمَا الْمَوْجُ فَكَانَ مِنَ الْمُغْرَقِينَ (43)
Qala saawee ila jabalin yaAAsimunee mina almai qala la AAasima alyawma min amri Allahi illa man rahima wahala baynahuma almawju fakana mina almughraqeena
He said : I shall betake me to some mountain that will 
save me from the water . ( Noah ) said : This day there is
none that saveth from the commandment of Allah save him 
on whom He hath had mercy . And the wave came in 
between them , so he was among the drowned .

---
11.44
وَقِيلَ يَا أَرْضُ ابْلَعِي مَاءَكِ وَيَا سَمَاءُ أَقْلِعِي وَغِيضَ الْمَاءُ وَقُضِيَ الْأَمْرُ وَاسْتَوَتْ عَلَى الْجُودِيِّ ۖ وَقِيلَ بُعْدًا لِّلْقَوْمِ الظَّالِمِينَ (44)
Waqeela ya ardu iblaAAee maaki waya samao aqliAAee wagheeda almao waqudiya alamru waistawat AAala aljoodiyyi waqeela buAAdan lilqawmi alththalimeena
And it was said : O earth! Swallow thy water and , O sky! 
be cleared of clouds! And the water was made to subside . 
And the commandment was fulfilled . And it ( the ship ) 
came to rest upon ( the mount ) Al-Judi and it was said : 
A far removal for wrongdoing folk!

---
11.45
وَنَادَىٰ نُوحٌ رَّبَّهُ فَقَالَ رَبِّ إِنَّ ابْنِي مِنْ أَهْلِي وَإِنَّ وَعْدَكَ الْحَقُّ وَأَنتَ أَحْكَمُ الْحَاكِمِينَ (45)
Wanada noohun rabbahu faqala rabbi inna ibnee min ahlee wainna waAAdaka alhaqqu waanta ahkamu alhakimeena
And Noah cried unto his Lord and said : My Lord! Lo! 
my son is of my household! Surely Thy promise is the 
Truth and Thou art the Most Just of Judges .

---
11.46
قَالَ يَا نُوحُ إِنَّهُ لَيْسَ مِنْ أَهْلِكَ ۖ إِنَّهُ عَمَلٌ غَيْرُ صَالِحٍ ۖ فَلَا تَسْأَلْنِ مَا لَيْسَ لَكَ بِهِ عِلْمٌ ۖ إِنِّي أَعِظُكَ أَن تَكُونَ مِنَ الْجَاهِلِينَ (46)
Qala ya noohu innahu laysa min ahlika innahu AAamalun ghayru salihin fala tasalni ma laysa laka bihi AAilmun innee aAAithuka an takoona mina aljahileena
He said : O Noah! Lo! he is not of thy household ; lo! he 
is of evil conduct , so ask not of Me that whereof thou 
hast no knowledge . I admonish thee lest thou be among 
the ignorant .


---
11.47
قَالَ رَبِّ إِنِّي أَعُوذُ بِكَ أَنْ أَسْأَلَكَ مَا لَيْسَ لِي بِهِ عِلْمٌ ۖ وَإِلَّا تَغْفِرْ لِي وَتَرْحَمْنِي أَكُن مِّنَ الْخَاسِرِينَ (47)
Qala rabbi innee aAAoothu bika an asalaka ma laysa lee bihi AAilmun wailla taghfir lee watarhamnee akun mina alkhasireena
He said : My Lord! Lo! in Thee do I seek refuge ( from 
the sin ) that I should ask off Thee that whereof I have 
no knowledge . Unless Thou forgive me and have mercy 
on me I shall he among the lost .

---
11.48
قِيلَ يَا نُوحُ اهْبِطْ بِسَلَامٍ مِّنَّا وَبَرَكَاتٍ عَلَيْكَ وَعَلَىٰ أُمَمٍ مِّمَّن مَّعَكَ ۚ وَأُمَمٌ سَنُمَتِّعُهُمْ ثُمَّ يَمَسُّهُم مِّنَّا عَذَابٌ أَلِيمٌ (48)
Qeela ya noohu ihbit bisalamin minna wabarakatin AAalayka waAAala omamin mimman maAAaka waomamun sanumattiAAuhum thumma yamassuhum minna AAathabun aleemun
It was said ( unto him ) : O Noah! Go thou down ( from the 
mountain ) with peace from Us and blessings upon thee and 
some nations ( that will spring ) from those with thee . 
( There will be other ) nations unto whom We shall give 
enjoyment a long while and then a painful doom from Us 
will overtake them .

---
11.49
تِلْكَ مِنْ أَنبَاءِ الْغَيْبِ نُوحِيهَا إِلَيْكَ ۖ مَا كُنتَ تَعْلَمُهَا أَنتَ وَلَا قَوْمُكَ مِن قَبْلِ هَٰذَا ۖ فَاصْبِرْ ۖ إِنَّ الْعَاقِبَةَ لِلْمُتَّقِينَ (49)
Tilka min anbai alghaybi nooheeha ilayka ma kunta taAAlamuha anta wala qawmuka min qabli hatha faisbir inna alAAaqibata lilmuttaqeena
This is of the tidings of the Unseen which We inspire in 
thee ( Muhammad ) . Thou thyself knewest it not , nor 
did thy folk ( know it ) before this . Then have patience . 
Lo! the sequel is for those who ward on ( evil )

---
11.50
وَإِلَىٰ عَادٍ أَخَاهُمْ هُودًا ۚ قَالَ يَا قَوْمِ اعْبُدُوا اللَّهَ مَا لَكُم مِّنْ إِلَٰهٍ غَيْرُهُ ۖ إِنْ أَنتُمْ إِلَّا مُفْتَرُونَ (50)
Waila AAadin akhahum hoodan qala ya qawmi oAAbudoo Allaha ma lakum min ilahin ghayruhu in antum illa muftaroona
And unto ( the tribe of ) Aad ( We sent ) their brother , 
Hud . He said : O my people! Serve Allah! Ye have no 
other God save Him . Lo! ye do but invent!